Future of the Business World: The Sweet Allure of Mission-driven Baking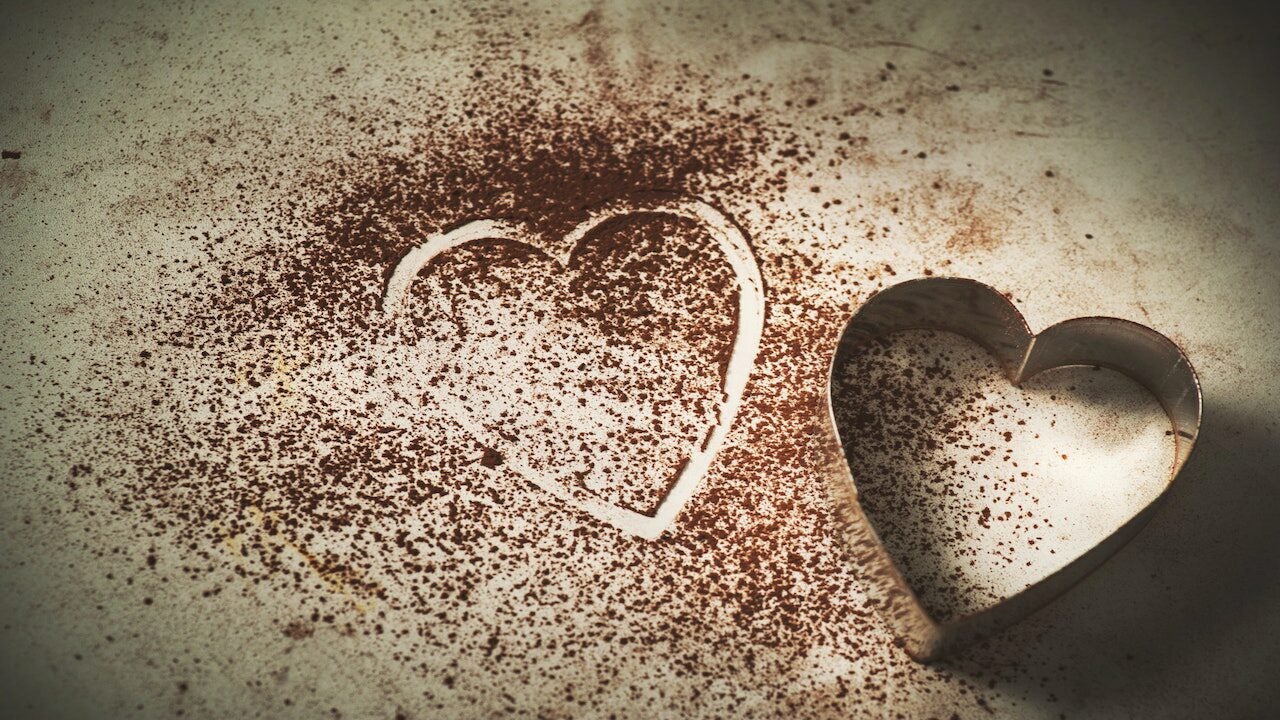 One of the best examples of social entrepreneurship is the humble bake sale, presenting an enticing spread of cakes and cookies on a table and selling them to raise money for a cause, like your school's senior class trip or donations to a local charity.
For some, that one table of baked goods just isn't enough. A recent New York Times article explored bake sale activism, noting that during the pandemic and recent socially-inspired crusades, pastry chefs and bakers have been "leading the industry into activism, transforming bake sales into blockbuster political fund-raisers for a variety of causes." Baked goods and community activism make for an inspiring mix.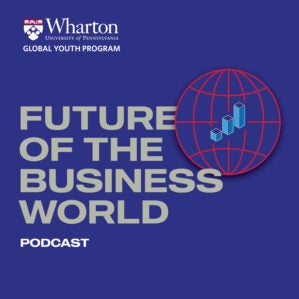 In this month's Future of the Business World podcast, we meet two young women who have embraced their cultures and love of baking to make a difference in their home cities of Sacramento, California and Austin, Texas. To listen to our conversation, click the podcast at the top of this transcript. An edited transcript of our conversation appears below.
Wharton Global Youth: Hello and Welcome to Future of the Business World! I'm Diana Drake with the Wharton Global Youth Program at The Wharton School, University of Pennsylvania.
Wharton Global Youth is wrapping up this year's Summer High School Programs, where we met thousands of high school students from around the world who spent time learning and exploring business and finance online with us at Wharton. Our guests today were among them.
I'm calling today's discussion theme mission-driven baking. Two of my favorite things: delicious baked goods infused with social good. It doesn't get much better than that.
Both our guests are embracing that mission from different parts of the U.S.
Sarah Zeng is a high school senior from Austin, Texas and co-founder of Dough Re Mi Cookies. Since May 2020, Dough Re Mi has raised more than $7,500 to help the Austin Community.
Yasna Mukundan is a high school senior from Sacramento, California, and founder of Baklavas With a Mission. Yasna and her organization have worked with several nonprofits to, as she says, "help our community one baklava at a time."
Sarah, Yasi, welcome to Future of the Business World! While you ladies share a passion for baking, I'm sure your social entrepreneurship Journeys have been unique. I'm excited to hear your stories!
How did you take that leap from a love for baking to launching mission-driven ventures? Sarah, let's Start with Dough Re Mi Cookies. Tell me a little bit about how you got started.
Sarah Zeng: Last year around April 2020 we were in the middle of quarantine and both me and my cofounder were spending a lot of time at home baking with our families and baking with friends. A lot of our plans for the summer got canceled, so we were thinking about something we could do together. We came up with the idea of creating a business together. First, we considered a lot of different options like opening an Etsy shop or doing some kind of service, but we finally settled on cookies because it's a great versatile dessert that everybody loves. We got started brainstorming and opened in May 2020.
Wharton Global Youth: What is your cofounder's name?
Sarah: Alice Huang.
Wharton Global Youth: Yasi, tell us about Baklavas With a Mission.
Yasna "Yasi" Mukundan: I've always loved to bake and my mom is Iranian, so I would always make traditional Iranian desserts. We would always post them on Facebook for a joke saying, 'Oh, this is for sale.' My baklava that I posted in the summer of 2018 just took off. So many people wanted to order it and were wondering where they could buy it from. Obviously, I'm not going to deprive people of such a delicious treat, so I sold them and realized I could use this money for something bigger than myself. Unfortunately, the Carr Fire happened during that summer, so I ended up raising over $650 and donated it to the Shasta Regional Foundation that summer, and I've been continuing since then.
Wharton Global Youth: Sarah, I also caught you and Alice featured on a Disney Channel "Use Your Voice" segment. So cool! How did that come about?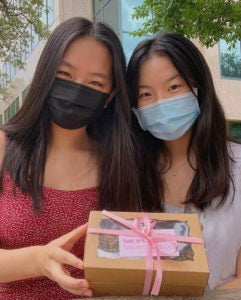 Sarah: Disney actually reached out to us one day and asked us if we wanted to do a segment with them in accordance with Asian American Pacific Heritage Month. We thought it was a great opportunity, so we agreed.
Wharton Global Youth: How are your ventures structured? Are they both non-profits? And how did you determine what percentage of your proceeds to give back to the community?
Sarah: Our business is for-profit, but we donate 80% of our proceeds to United Way of Greater Austin. At the beginning when we were coming up with our business model, we decided that 80% would be a generous amount to give but have enough left over for our weekly and business expenses.
Yasna: [My business] is for-profit. In communication with the organizations or charities that I'm going to donate to, I ask how much money they would like or sometimes they would prefer a product. So, I make a goal and I donate a fixed amount. I put the remaining profits back into the business. I don't take a salary. We have to use it to buy ingredients and pay for our website.
Wharton Global Youth: I want to get into that nitty-gritty business stuff in a minute. I'm curious that both of you are connected to your communities in interesting ways— Sacramento, California and Austin, Texas. What has mission-driven baking and what you've created taught you about community in general and your communities specifically? Have you discovered things you never knew or observed about the world around you? How has COVID changed your community perspective?
Yasna: It has taught me that this community is bigger than myself, but it's also something I can participate in rather than just being a spectator towards it. I can make an impact despite my age. Typically, the people who are making an impact within our community are adults. It also showed me that everyone is willing to help each other. When I was first starting, if influencers within the Sacramento area found my business they would shout me out and buy my product. People were so willing to help each other grow as a community. I try to do that now if there's a new business. A new Bobo shop just opened in our area and I shouted them out on my social media because we need to help each other.
Sarah: Starting this business has not only shown me more of Austin – I've gotten outside an area I live in to do deliveries every week – but it's also shown me some of the people in my community I never really knew about. It's easy to get stuck in your own little bubble of your community. Reaching out to the rest of the city and seeing all the different people who are there to support your business is really heart-warming. And seeing all these people during COVID in a time when people really crave human connection is special to me.
Wharton Global Youth: Your cultures have also played a role in the development of your businesses. Talk a bit about how your heritage has played into things and how it has been a part of your entrepreneurial decisions and designs. Sarah, you and your cofounder actually met in a Chinese dance class, right?
Sarah: Actually, we went to middle school together for one year before she moved and Chinese dance was a way for us to keep connected seeing each other once a week. I think our cultures didn't play in at first when we were brainstorming about the business, but later on we found ways to tie our culture in, whether that be through cookie flavors, and we also did a collaboration with another local small business for [Chinese] Lunar New Year. So through these opportunities we've been able to tie our heritage back into what we've been doing.
Yasna: My heritage is honestly everything to this business. I would not have been able to create it if it wasn't for my background. My mom is Iranian, as I mentioned before, and my dad is Indian. Not your typical mix. My baklava was influenced by my Iranian heritage, but the baklava syrup which is a vital part of the baklava, was influenced by the desserts in India.
Wharton Global Youth: Perhaps some of our listeners don't know what baklava is. Can you describe it?
Yasna: Baklava is a traditional Middle Eastern dessert with flaky phyllo dough and a nut mixture layer in between. And then it is topped with a sugar syrup typical of like cardamom and rosewater flavors.
Wharton Global Youth: Learning from failure is an important entrepreneurial trait. Have you failed through this process and how have you learned to persevere? Sarah, I seem to recall something about a hopelessly mushy strawberry cheesecake cookie?
Sarah: Some of our smaller failures definitely came in the form of testing out a cookie flavor and not having it work out — or coming across some kind of hurdle with a customer. Actually, one of our biggest hurdles in our business journey so far has been breaking even [when product costs and revenues from selling your product are equal]. When we first started, we put a lot of money into making the website look good and making sure that we had great products, and that took quite a bit of investment. Breaking even was one of our biggest struggles, but we made it through in the end.
Wharton Global Youth: Would you attribute some of that to business decisions during COVID? I'm wondering about the supply chain or knowing the raw materials you needed on a daily and weekly basis in order to make your product.
Sarah: We learned a lot about the types of materials we should be getting and the brand. Since we're a small business, everything is on a small scale so it was manageable for us to obtain these ingredients. But we also had to learn more about finances: logging income and expenses and making sound financial decisions.
Yasna: Like Sarah said, we've had issues with products not working out. One of the biggest challenges we've had is working on my baklava syrup. It's actually very unique to my business. None of our competitors have a syrup like ours. And I had to go through so many different measurements and ingredients and a bunch of trial and error. It took around three months. It would sometimes not work out. The syrup would be too runny and go straight through the baklava or it would crystalize at the bottom, which is not what you want for a baklava. You want it to still be crunchy.
Wharton Global Youth: Have you now reached nirvana with your baklava syrup?
Yasna: Yes, customers actually buy it by the bottle now and use it on their own desserts.
Wharton Global Youth: As long as we're talking about product, Sarah, what is the most popular cookie that you sell?
Sarah: I don't think there's one most-popular cookie. Some of our most popular flavors have been a trail mix-inspired cookie and then also a classic gingerbread around the holidays.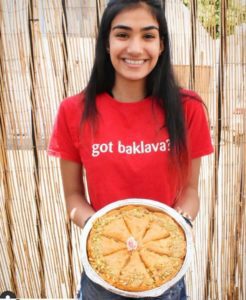 Wharton Global Youth: A few months ago, we featured a Wharton MBA Ben Berman in our online business journal. During COVID, Ben launched Good Pizza, where he makes pizzas from his apartment and lowers them to customers for charity donations. I asked Ben how he could be a shrewd and driven business person and still make a genuine and meaningful social impact? He said his business training was perfect preparation for Good Pizza—I'll quote him: "For me, pizza is my vehicle for doing good right now, and that's a lot of fun. But I also get to flex my business skills as I work to develop a presence on social media, engage with lawyers and potential investors" and much more.
Both of you were part of our Business Leadership Academy this summer, and I'm guessing you have business aspirations. Have you also flexed your business skills with your social enterprises? What have you learned? How has social media and a vibrant web presence influenced your growth and development?
Sarah: Through my business, I learned a lot about hands-on business skills that are hard to learn in the classroom. Some of those included managing finances and making different financial decisions and comparing different prices and raw ingredients. Social media was also really important for us when we first got started. It was a way for us to get the word out to our community. With social media being so widespread and prevalent in today's society, it was a great tool for us to keep up with our customers and engage with them. Later on, we also explored different forms of marketing, like email marketing and reaching out to our past customers. That also turned out really well for us.
Yasna: I've flexed, if you will, my business skills through marketing my products, designing my logo and building my website. And also growing my social media presence within my community. I also have to communicate with the potential organizations or charities and shops that would like to host our products.
Wharton Global Youth: Where do you see this intersection of business and social impact in your own lives moving forward? I know you're interested in business. And I see you are mission-driven because of the great work you've been doing with both of your businesses. Do you see this as a dual mission that you would like to continue pursuing?
Sarah: Yes, I think this intersection of business and social impact is definitely something I'd like to keep pursuing throughout my life, whether that be through my own small businesses or working with other people to fulfill that same kind of mission. It's something that's really important and something that our community needs right now.
Wharton Global Youth: Yasi, do you agree that these dual missions are important?
Yasna: They're very important, especially for times like these when people need to step up and work together. It's something that's very much needed.
Wharton Global Youth: So, What's next for Baklavas With a Mission and Dough Re Mi? Where do you see them headed?
Yasna: Now we're in the process of shipping our baklavas nationwide. It's something that I really wanted to do for a long time and we're slowly starting to move in with our baklavas and I'd like to bring in other products, too.
Wharton Global Youth: It sounds like this is not just a passion project for you.
Yasna: Yes, it's something I definitely want to continue when I'm in university.
Sarah: My co-founder and I have not laid out a plan for the future. We really just want to keep engaging with our community. We started selling at a farmer's market this summer and that's been a great way for us to make these personal connections and see some of our customers face-to-face.
Wharton Global Youth:: That brings up a great point. We've heard a lot about your perspective on this. Can we get a window on the perspective of your communities? Can you tell a story from the past year or two of running your baking businesses that really stays with you? Maybe somebody you met or an impact that you made.
Sarah: In July 2020 we got an article written about us in the Austin American Statesman newspaper. That was our first big media feature and really kick-started our business, just getting the word out to the community. That week we had more than 40 orders and I was up until 4 a.m. baking cookies. We do all the baking ourselves and sometimes when we do need a bit of help we'll have our parents help us. But the majority of the baking is done by us.
Yasna: I was interviewed by Good Day Sacramento this June and a lot of my customers and my peers and teachers watched the segment. It was really heart-warming because they all contacted me through either my email or the Baklavas With a Mission Instagram page to say they were proud of what I was doing. And I also got a lot of orders that week, as well. And, as Sarah said, I stayed up really late that week.
Wharton Global Youth: I'm picturing you guys with aprons and flour on your face just putting it all out there in the kitchen, which is great. Do you have teams that help you? Have your families been instrumental in the success of your businesses? Tell me about the collaborative effort that goes toward this.
Yasna: My mom helps me on busy weeks. She's my baking assistant and it's super fun because we get a lot of bonding time out of it.
Sarah: I only recently got my driver's license and my cofounder doesn't have her license yet. So, when we do deliveries on the weekends our parents usually drive us. That's definitely how they've supported us the most and it's been really important to us. Just spending that time with them on Saturdays is a great bonding moment.
Wharton Global Youth: Where are you guys headed? Are you interested in studying business further?
Sarah: Personally, I'm into a lot of things. Of course I'm interested in business. I really like marketing and design. I've also had an interest in health care from a young age. The three main interests I have are business, health care and art. I hope in my future I can combine the three and pursue something I love.
Yasna: I'm not decided. I like to keep an open mind. I'm really interested in business and fashion, so I want to do something with those two fields when I'm older.
Wharton Global Youth: One question I like to ask all of the innovators we interview on Future of the Business World is…If you could change one thing in the world, what would it be? Sarah, let's start with you.
Sarah: If I could change one thing in the world, it would be opening up more understanding between people. A lot of the small-scale and large-scale conflicts we have in the world stem from miscommunication or some barrier of communication. Having people understand each other more would be so instrumental in changing a lot of things.
Yasna: I would vote for equal chance at education. I value education a lot and I believe that everyone should have an equal chance at it, despite gender, race, socio-economic class or location.
Wharton Global Youth: We're going to end with our lightning round: Since we have two of you, I'll alternate questions. Try to answer them as quickly as possible.
Yasi, what is your favorite company slogan?
Yasna: Nike's Just Do It.
Wharton Global Youth: Sarah, other than your smartphone, a technology you cannot live without?
Sarah: Any kind of appliance that has to do with cooking because I really like cooking, and also it's necessary for us to survive.
Wharton Global Youth:: Yasi: How do you define leadership?
Yasna: Understanding people and their strengths and utilizing it in the most efficient way possible.
Wharton Global Youth: Sarah, same question?
Sarah: Leadership for me means putting yourself on the same level as your team and definitely working together with them. I think dissolving any kinds of levels or barriers between people.
Wharton Global Youth: Yasi, something about you that would surprise us?
Yasna: I watch anime in my free time.
Wharton Global Youth: Sarah, what would you be caught binge-watching at midnight?
Sarah: I recently watched Young Royals on Netflix, which I really enjoyed.
Wharton Global Youth: Yasi, the business person you would most like to take to lunch and why?
Yasna: Katrina Lake, founder of Stitch Fix. I love the model of her company and would like to ask questions about that.
Wharton Global Youth: Sarah, You are starting a talk show…who is your first interview guest?
Sarah: Probably the boy group BTS. I really like their music and the meaning behind it and what they stand for.
Wharton Global Youth: Yasi, what is your favorite variety of baklava?
Yasna: Cinnamon baklava all the way. That is my absolute favorite.
Wharton Global Youth: Sarah, your favorite type of cookie?
Sarah: I'm not really a person who picks favorites, but I really like snickerdoodles.
Wharton Global Youth: It's been wonderful talking to both of you and learning about your mission-driven baking. I wish you both a lot of luck in everything you do and in your business endeavors. Thanks for talking with us on Future of the Business World.
Conversation Starters
What are some similarities between Dough Re Mi and Baklavas With a Mission? Differences?
Is baking a legitimate business? Why or why not?
How have you learned more about your community? Do you have a business or a project that helps you see your surroundings differently? Share your story in the Comment section of this article.