Wharton Global Youth Program
Residential Programs  —  Online Programs  —  College Credit Opportunities
The Wharton Global Youth Program mobilizes the extensive opportunities of the Wharton academic community to educate and inspire pre-collegiate students to explore business practices, analyze the world's complex challenges, and take the first steps in becoming leaders who will transform the global economy.
High school students in residence during the summer
Video, audio, and articles of Wharton faculty teaching business and finance concepts
For Credit
Wharton Pre-Baccalaureate Program
Earn college credits and enroll in Wharton courses in the Pre-Baccalaureate Program, designed for exceptional rising high school seniors. Taught by Wharton instructors and supported by academic advisors, students in the program get to experience education at a top-ranked business school in a small class environment.
Feb. 22, 2021
for Spring 2 Session
April 15, 2021
for Summer 1 Session
May 28, 2021
for Summer 2 Session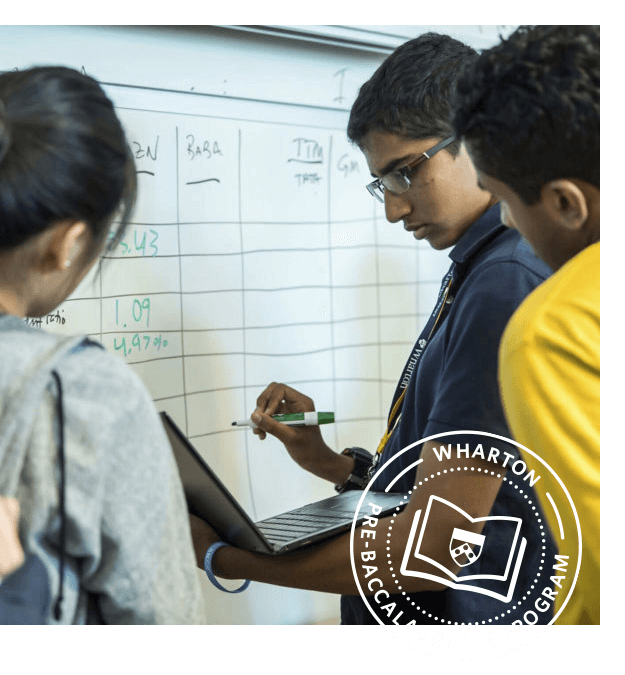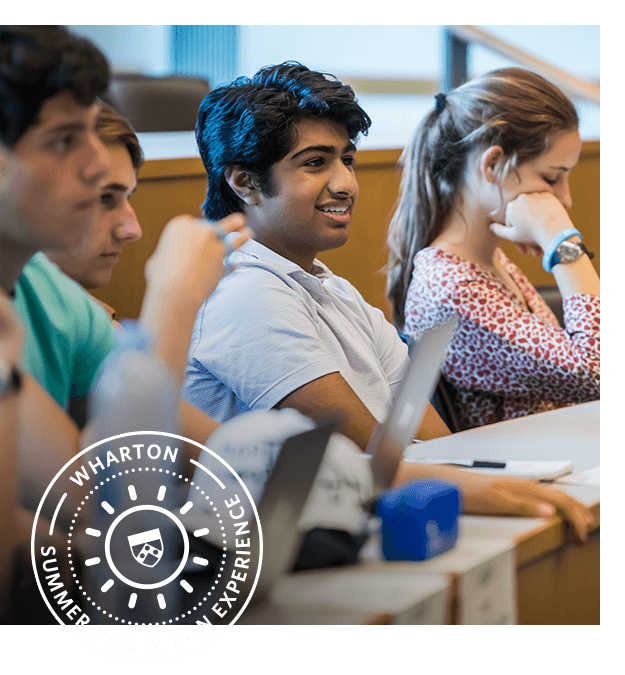 Non-Credit
Summer Immersion Experiences
The Wharton Summer High School Programs are immersive, pre-collegiate experiences for students currently enrolled in grades 9–11. Led by Wharton faculty and instructional staff, these programs explore topics driven by Wharton research and teaching. Students get the chance to engage with our rigorous business education while studying and networking with global peers, all before they head to college.
Essentials of Finance

Wharton Business Leadership Academy

Data Science Academy

Moneyball Academy

Sports Business Academy
Future of the Business World

Moneyball Academy: Training Camp
Knowledge@Wharton High School
Find hundreds of articles, videos, lesson plans, and more on Knowledge@Wharton High School, an online portal that introduces high school students and educators to business concepts, personal finance, and college/career preparation.
News
Nearly 70 commenters engaged with their peers during the "responsive commenting" round of our annual Comment & Win contest, which challenges high school students to read our online business journal and comment with reflection and connection. After spending a few days lost in students' persuasive arguments and insights, here we highlight the winners, runners-up and honorable mentions from Round 2.
Podcast Episode
When Karan Dalal, also a high school student this summer in our Wharton Business Leadership Academy, began spending more quality time with his dog Teddy during quarantine, the inspiration hit. Karan and his friend collaborated on an idea for the pet-technology market that helps owners quickly locate their lost dogs. And thus was born PetCode, the "smart pet tag for smarter pet care."Karan discusses his year of product design and business development.
Featured Content
Non-fungible tokens have taken the passion economy by storm and intrigued investors far and wide.NFTs, as they're known, make it possible for people to own and collect digital goods–everything from art and memes, to basketball video footage and music.Stamped with digital codes that mark their authenticity, they are stored on the blockchain. People are paying big bucks to invest in the rare "moment marketplace," but will that bubble soon burst?

Resources for Educators
Wharton Global Youth Program provides resources and training for teachers both inside and outside the high school classroom, including professional development opportunities and teaching tools. Offerings include lesson plans and articles with conversation starters, monthly themed toolkits, a comprehensive video glossary, and student competitions.