On-Campus Programs
The Residential Experience
Wharton Global Youth On-Campus Programs provide a comprehensive residential and academic summer experience.
Summer 2023 COVID-19 Considerations
The University of Pennsylvania remains committed to following data and science and making decisions that are in the best interest of public health. We will continue our commitment to promoting the highest standards of safety and wellbeing by requiring all participants to be fully vaccinated for residential programs, where allowable by law. Successful implementation of programs requires a tremendous amount of planning and risk mitigation with campus officials, as well as residential and community partners. We will continue to monitor the COVID-19 landscape and review our policies with the best available information.
Below are some of the protocols we're implementing, as well as ways residential program participants can help protect themselves and each other.
Before Arriving to Campus
Prior to arriving on campus, all participants must confirm that they have been symptom-free for one week or provide proof of a negative COVID-19 test before arrival. Additionally, we ask that any individuals who may have come into close contact with somebody who recently tested positive for COVID-19 take the appropriate measures (e.g., quarantining) to protect not just their own health but also decrease the risk of potentially exposing other individuals on campus.
Once on Campus
Once on campus, all program participants will be required to follow all preventative safety measures outlined by the University and Summer Discovery, including, but not limited to: the recommended practice for proper facial masking, maintaining personal hygiene such as handwashing, and social distancing, plus any testing required by the University or Summer Discovery.
Please note: These policies are subject to change in response to the ever-changing environment. Visit coronavirus.upenn.edu, the University's dedicated COVID-19 web page, for the latest updates.
Penn Virtual Tour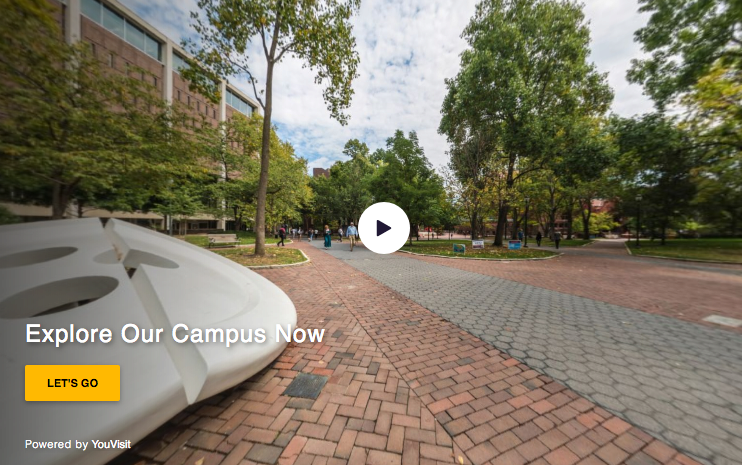 Take a virtual tour of Penn's historic campus. See inside our state-of-the-art classrooms, hear from current students and faculty, and stroll down Locust Walk.
Summer Discovery
Wharton contracts Musiker Summer Discovery Programs to aid in various administrative and residential components of summer programming, including, but not limited to: marketing and recruitment, application hosting, payment and paperwork collection, residential staffing, student safety and supervision, and coordination of extracurricular and social activities. This allows Wharton faculty and staff full resources to perfect the academic curricula of each program and to deliver the most in-depth collegiate experience possible for our summer high school students. Wharton maintains full control of program admissions and content and oversees the residential components by working closely with Summer Discovery staff throughout the year.
Housing
Wharton students will live in one of the Penn residence halls, which is a short walk to the dining hall, academic buildings, and Penn Park. Undergraduate dormitories are fully air-conditioned and feature study and social lounges, laundry facilities, vending machines, and high-speed internet access. Private or shared rooms and bathrooms are available. The residence hall is fully secured by 24-hour campus security and is only accessible with campus ID. The Wharton/Summer Discovery office is centrally located within the dorm to ensure access to counselors and support staff around the clock.
Dining
Meal plans include two meals per day Monday through Friday, and two meals on Sunday in one of Penn's dining halls. Campus dining features a wide selection of dietary choices, including vegetarian, gluten-free and kosher options, and a variety of cafes and restaurants throughout campus.
Health and Safety
In addition to full-time program support staff, Wharton summer high school students are assigned a Residential Counselor (RC) for support and mentorship. RCs live in the dorms and are available 24/7 if needed. There will also be a registered nurse on campus who will assist students with minor injuries, illness, prescription medications, and scheduling necessary medical appointments, if needed. Appointments are made with either the Children's Hospital of Philadelphia or Urgent Care.
Daily sign-ins and room checks are also mandated for student safety. Students may explore Penn's campus and the surrounding University City area within the designated "home area" in small groups, with assurance that RCs are stationed throughout the area for assistance. The University of Pennsylvania works closely with Penn Public Safety and the Penn Police Department to ensure the safety of all students who are on campus. Contact information for these safety resources is given to students upon arrival.
Extracurricular and Social Activities
Outside of the academic day, summer high school students enjoy evening and weekend extracurricular and social activities and trips. Weekend day trips have previously included: Hershey Park, King of Prussia Mall, or a Phillies baseball game. Evening activities are designed to explore the city of Philadelphia's many historic and cultural sites and to build lasting friendships with global peers. On campus activities include karaoke, trivia, soccer, Spikeball and many other indoor and outdoor games and events.
University Facilities and Resources
Wharton summer high school students will have access to academic and recreational resources and facilities during their stay on Penn's campus, including, but not limited to: Penn library systems, university Wifi, learning support resources, campus tours and information sessions, Franklin Field, Hamlin Tennis Center, and Penn Park. (Access to the Pottruck Health and Fitness Center may be available for age-eligible students for an additional fee.) While computer labs are available for student use, we strongly encourage each program participant to bring a personal computer for use during the academic day.
International Students
International students are a welcome addition to Wharton's summer high school programs. Participants are encouraged to obtain a short-stay B-2 TOURIST visa from the American Embassy or Consulate in their home country, if they do not already have one.