You can't build an effective investment strategy without first knowing your client.
From the Wharton School to LA28, the Games of the XXXIV Olympiad: Meet Hilary Ash, W'13!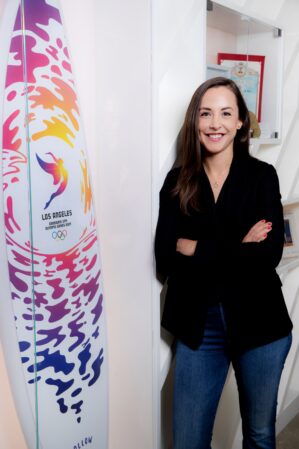 CASE STUDY: You are an analyst team of recent college graduates working at an up-and-coming asset management company, Wharton Global Asset Management (WGAM). The firm currently manages a $100,000,000 portfolio that is invested across several different sectors, representing a broad range of industries and companies. The members of your analyst team hope to one day become portfolio managers who make the final investment decisions for WGAM's portfolio.
WGAM's portfolio manager (your team's teacher/advisor) recently met with a potential client, Hilary Ash, who needs professional help achieving some specific investment goals (which we'll get to in a minute). You hope to be the WGAM team that Hilary ultimately chooses to build her wealth from an initial $100,000 investment.
Introducing Hilary Ash
But first, let's get to know your potential client.
Raised in Los Angeles, CA (U.S.), Hilary, now 32, began her college journey on the pre-med track and the volleyball court at the University of Pennsylvania (Penn) in Philadelphia, PA (U.S.). After taking a few business classes, she discovered her true passion and transferred into Penn's Wharton School, a world leader in business education, her sophomore year. She gravitated toward entrepreneurship and innovation because she was inspired and challenged by the prospect of solving problems with an entrepreneurial mindset.
"I love thinking about business problems and coming up with new solutions, products and ideas."
Sports have always been an important part of Hilary's identity and her family's livelihood (both her father and brother work in the sports industry). She excelled as a student-athlete in college and now co-chairs Penn's women's volleyball board. While attending Wharton, she explored the broad business of sports through internships with the cable sports channel ESPN and the X Games, an international action sports competition. She has also had the opportunity in her career to help create professional talent pipelines in underserved communities and rethink the typical standards, training and requirements required to get jobs in the sports industry.
After graduation, Hilary worked as a consultant for BCG, putting her business problem-solving skills to practice. Through her connections, she found her way to LA28, the Games of the XXXIV Olympiad, where she became the Vice President of Games Delivery and Venue Infrastructure. She and her team manage the venue masterplan strategy for the LA 2028 Olympic and Paralympic games, helping to identify, retrofit, design and build the structures needed to successfully deliver the various Olympic and Paralympic competitions when the global games come to Los Angeles in 2028.
Hilary's Financial Goals
When she's not strategizing about sports infrastructure, Hilary pursues her passions, including travel, real estate and her Labradoodle, Riggins. She and her husband Scott, who married only a year ago, enjoy immersing themselves in unique cultures and travel experiences.
Hilary believes that real estate investment is a way to create generational wealth for her (future) family. She owns two investment properties, one in the U.S. and, more recently, South America. She is eager to use the design skills she is developing in her professional role to renovate the modest South American property after the close of the Olympic and Paralympic Games in August 2028. She would like to allocate (and Ideally grow) 25% of her $100,000 investment to kickstart her South American home renovation. She expects WGAM to generate at least a $15,000 return on the initial $25,000 short-term investment by the end of 2028 to cover anticipated costs.
Hilary would like to combine her deep interests in entrepreneurship, inclusivity and global sports for her longer-term financial goal. She hopes to play a direct role in bringing more money into women's sports and elevating women's positions and influence in an increasingly international industry. Her longer-term financial goal is to open a women-owned sports consulting firm with a dual mission of helping women athletes and industry executives become more successful, while also providing greater sports access (players and fans) to underrepresented communities. She hopes that WGAM's investing expertise can help make that business dream possible in the next 15 years.
"I think we're at such an exciting time right now in women's sports, where we're starting to see a real shift in an appreciation of what it means to buy into women's sports…With the success of the Women's National Team in U.S. soccer and the fight for pay equity, I would love to be able to actually have a direct role in seeing more money flow into women's sports and a proper appreciation for what female athletes can bring to brands and properties. And I want to see the growth in access for player development for young girls, because that builds a well-funded ecosystem."
Your Investment Challenge       
Hilary has heard great things about the creativity and investing knowledge of WGAM's analyst teams and is considering hiring WGAM to manage an investment portfolio of $100,000, which she hopes will help her achieve two fundamental objectives. She told the portfolio manager that WGAM has 10 weeks to put together a detailed portfolio analysis proposal. Your portfolio manager recognizes that it will not be easy to land Hilary as a client. To make the most convincing case to Hilary, everyone on the team must contribute to ensure that WGAM creates the best proposal.
Over the next 10 weeks, your team will develop and test an investment strategy to meet Hilary's stated financial goals. Please keep in mind that Hilary already has a solid retirement investment plan in place, so you need not consider this goal in your strategy. Your team will conduct a thorough analysis of industries and companies to select optimal stocks and Exchange-traded Funds (ETFs) related to your strategy, with the goal of ensuring both long-term and shorter-term profitability for your prospective client. That's right, this year we are introducing a new ETF requirement! Read more about this addition HERE. You will test your investment strategy and get stock market experience using the Wharton Investment Simulator (WInS), where you apply the concepts of investments and portfolio management in a hands-on learning environment, using real-world market data without risking real money.
Remember, your 10 weeks on WInS can only accurately assess the performance of investments that are made for the short-term. So, while you should test your strategy and build your stock portfolio on WInS, most of your strategizing should be longer-term and therefore won't require excessive buying and selling of stocks and ETFs. However, your strategy might include investing guidelines that could influence your decision to sell, even in the short-term.
Your team will start out with a portfolio of $100,000 in virtual cash and will compete against other student teams from all around the world who are trying to land the same client. At the end of the 10 weeks of active trading, you must submit a proposal detailing your recommended investment strategy.
As you strive to win Hilary's business, how will your team stand out against competing teams? How will you create a compelling and clever pitch to convince Hilary to choose your strategy? Judges will review your final investment reports and select top teams. Those teams will be invited to present their strategies to a panel of experts.
---
* Teams are not permitted to contact Hilary, LA28, or anyone else mentioned in this case study as it is grounds for disqualification. The investment scenarios included in this case study have been embellished for the purpose of the competition.