Pre-baccalaureate Program
Jumpstart your college education with Wharton.
The Wharton Pre-baccalaureate Program is an academically intensive opportunity for exceptional high school juniors and seniors to enroll in credit-bearing courses that span the breadth of Wharton's business curriculum. Through a mix of live and independent coursework, engaging real-world activities, and robust university resources, students will experience a world-class education recognized globally for intellectual leadership and innovation.
Earn college credits from any time zone with flexible online courses
Learn directly from Wharton instructors through weekly live class meetings
Explore business topics not available at the high school level
Gain insight into the college academic experience
Access university learning resources and academic advising
Forge friendships and network with diverse peers from around the globe
Prepare for the challenges of highly selective colleges
Accrue additional credits by enrolling again
Summer 2, 2023: June 29 – August 4
            Application Deadline: May 12, 2023
            Decisions released: May 24, 2023
Wharton Global Youth Meetup access: June 5 – August 3, 2023
Fall 1, 2023: August 28 – October 9
             Application Deadline: July 19, 2023
Fall 2, 2023: October 23 – December 6
             Application Deadline: September 7, 2023
Spring  1, 2024: January 16 – February 22
            Application Deadline: November 29, 2023

"This class really opened my eyes to a world of determined individuals and multi-faceted business ventures. I met so many accomplished professors and students who helped diversify my world view."
—Sydney C., Nevada, USA
RIGOROUS COURSEWORK
Pre-baccalaureate courses are selected from across Wharton's academic departments and are designed to instill a deep understanding of how business works. Courses are offered at the introductory level and convey the rigor and relevance of a Wharton undergraduate education.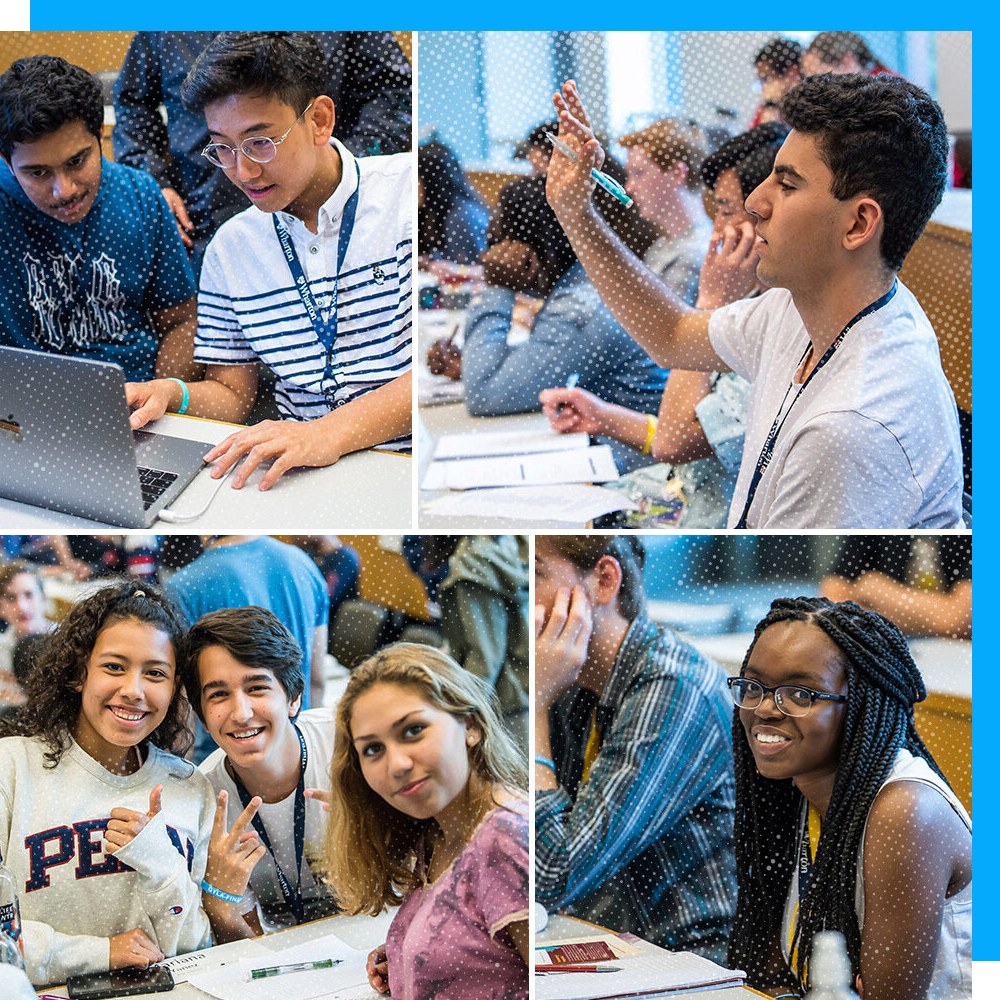 Each course varies in specifics, though all courses include live, weekly class meetings offered on a synchronous basis. During live classes, students will participate in instructor-led lectures and course discussions. Additionally, live meetings may include business simulations, case studies, group projects, or individual assignments. Courses also incorporate some level of asynchronous content, which may include pre-recorded faculty lectures, readings, or assignments.
SMALL CLASS ENVIRONMENT
Courses are made up entirely of high school students in the Pre-baccalaureate Program. All courses are taught by Wharton instructors and class sizes are small to facilitate student engagement and foster dynamic conversations.
UNDERGRADUATE-LEVEL ASSESSMENT
Pre-baccalaureate students are graded on attendance and course participation, quality of assignments, and formal assessments such as quizzes, midterms, and final papers or exams. Attendance at live class meetings is mandatory, as is the completion of all assigned coursework.
Each student is initially registered to receive a traditional letter grade (A–F) for coursework. Upon consultation with an academic advisor, and in accordance with academic policies and deadlines, students may change to a Pass/Fail grading status if deemed necessary.
COLLEGE CREDITS
Upon successful completion of the program and all included therein, Pre-baccalaureate students will generate official University of Pennsylvania/Wharton transcripts outlining courses completed, grades earned, and college credits received, which are transferable to most universities and colleges.
Each Wharton Pre-baccalaureate course awards 0.5 University of Pennsylvania course units, which is equivalent to 2 college credits at most post-secondary institutions. Students may enroll in a maximum of two courses per session, and may continue to enroll in courses and earn credits in subsequent sessions until they graduate from high school, as long as they maintain good academic standing.
ACADEMIC SUPPORT
To assist in academic studies, Pre-baccalaureate students are granted access to university learning resources, including research catalogs, library services, instructor office hours, and academic advising.
Every student is assigned an academic advisor upon admission. This individual will serve as the student's primary program contact and will assist students in navigating university resources, adhering to academic policies and deadlines, and identifying suitable courses. All students will receive an introductory email from their advisor prior to the start of the program and will be invited to attend an introductory advising session, as well as new student orientation, via video conference. Students can feel free to meet with their advisors as often as needed.
INCLUDED IN ALL SUMMER ONLINE HIGH SCHOOL PROGRAMS
Wharton Global Youth Meetup (GYM)
Wharton Global Youth Meetup (GYM) is a creative, extracurricular community open to summer students as a way to connect to one another — and Wharton — before, during, and after their programs. Featuring both live and independent programming, the GYM is designed to ensure virtual participants don't miss out on valuable community building and networking.
*The GYM is included in all online summer programs, except Understanding Your Money.