Wharton Global Youth
Comment & Win Contest
The Wharton Global Youth Program Comment & Win is an annual contest that runs from June to August and is designed to encourage high school-age students to discover Global Youth stories, podcasts and videos, and to develop stronger reflective and persuasive writing skills. Four biweekly rounds of competition include a new theme introduced each round. No registration required!
Compete in

Our

Comment & Win 2022
This year's contest begins on Monday, June 6, 2022 and runs through Friday, August 12, 2022. Students can choose to participate in one or two rounds, or all four. Four-round competitors are entered into the running for a special Grand Prize. 
Hundreds of high school students from around the world have participated in the Comment & Win in the past five years, dazzling the Global Youth team with their provocative, insightful and interesting perspectives on our business and finance content. Check out this article featuring the best of Round 4 in 2021, as well as links to reports about all the previous 2021 rounds. Many commenting threads inspire lively exchanges, prompting students to practice their reflective listening and discourse skills. These are fun to read and difficult to judge!  
What You Need to Know About Round 4, 2022
Round 4, starting on Monday, July 25 and ending at midnight Eastern time on Friday, August 12, 2022, will test your capacity for innovative thinking. How will you make an existing idea better? Explore our many articles and podcasts about youth-led entrepreneurship and think critically about how you might improve upon an idea, whether you want to add features to an app or product, expand a customer base, or possibly even pivot entirely to direct the innovation toward a new, untapped market. It's up to you to figure out how you want to innovate. This Global Youth article on sparking innovative thinking might be helpful. Remember, you are incorporating your idea into a comment related to a specific article. How will you express your innovative thinking clearly and succinctly in that commenting space? We don't have the capacity to read endless 800-word essays. Good luck! You have an extra third week to comment during Round 4. 
You can search our archives HERE (don't be afraid to visit older articles too…we have hundreds!) for innovation in action. And we've also posted some direct links below. Articles might be about products and services or completely changing industries. Sometimes you might have to look closely for the innovative ideas upon which to build. Good luck! And don't fret if your comment doesn't show up the minute you post it. We are regularly reviewing and approving comments from the Global Youth Comment Command Center. It will soon appear. For your commenting consideration:

Listen to Our Future of the Business World Podcasts and Comment on the Written Transcripts — Lots of innovation in those 23 broadcasts!
Our latest FBW Podcast featuring a fashion entrepreneur from Indonesia
Search Articles by Business and Finance Category
The Market for NFT Digital Collectibles
How Innovation Rises from Ruin
The Story of a 'Simple and Elegant' Health Care Startup
Exploring the Balance Between Business and the Environment
Fintech Megatrends Transform Our Relationship with Money
Positive Vibes from the 'Good Pizza' Guy
A Data Project Explores Gun Ownership in New York City
Lessons from the Pandemic's PPE Shortage
Behind the Scenes of a Sneakerhead Startup
This Tech Makes Sure One Bad Apple Doesn't Spoil the Bunch
Discovering the Power of Data to Predict Forest Fires
A Plan for an Augmented Reality App
Biotech Innovation that Feeds the Fish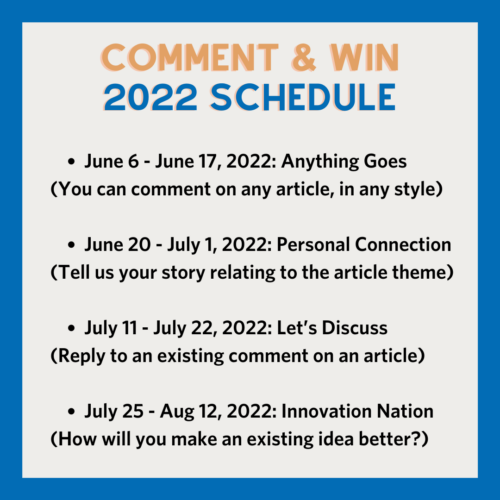 ---
How Do I Win?
Ultimately, students who effectively use Global Youth content to inform their comments, add value to the discussion around the text, express opinions clearly and succinctly, and develop an authentic voice, are selected as winners.  
For us, that voice is everything. Liza Cowan, an English teacher who founded R.E.A.L. Discussion, a discussion-based learning system for secondary schools, has said, "In today's world, the stakes are high: students need to graduate confident that their voices matter and competent at engaging others with inquiry, evidence, and empathy." 
Click HERE to read all about the winners of Round 1 2022! 
Click HERE to read all about the winners of Round 2 2022!
Click HERE to read all about the winners of Round 3 2022! 
Click HERE to read all about the winners of Round 4 2022!
What Do I Win?
Following each two-week round, our judges select a top winner for that round, as well as runners-up and, sometimes, special superlatives (Best use of humor in a comment). Top  Round winners receive a special prize from Wharton School Press and all Round winners receive recognition in a Wharton Global Youth news story, as well as on social media. All Round winners also receive digital Badges to display online. Commenters competing in all four rounds will be eligible for a special Grand Prize in August and the title of Comment & Win 2022 champion.
Do Your Research
Want inspiration? We recommend that you read the articles we've written about past winners. Here's a sampling. Just search up "Comment and Win" on the Wharton Global Youth Program website for many more winning insights.  
For Educators
How will your students spend their summer months? Between their trips to the beach, college summer programs, internships and just hanging out with friends, why not give them the chance to think, write and shine? 
Here's our Comment & Win Classroom Guide and our Comment & Win Teacher Toolkit for some inspiration to engage your students with our annual Comment & Win contest.
Question about this year's contest? Feel free to reach out to commentandwin@wharton.upenn.edu with any questions or concerns.