Wharton Global Youth
Comment & Win Contest
The Wharton Global Youth Program Comment & Win is an annual contest that runs from June to August and is designed to encourage high school-age students to discover Global Youth stories, podcasts and videos, and to develop stronger reflective and persuasive writing skills. Four biweekly rounds of competition include a new theme introduced each round.
Compete in

Our

Comment & Win 2022!
This year's contest begins on Monday, June 6, 2022 and runs through Friday, August 12, 2022. Students can choose to participate in one or two rounds, or all four. Four-round competitors are entered into the running for a special Grand Prize. 
Hundreds of high school students from around the world have participated in the Comment & Win in the past five years, dazzling the Global Youth team with their provocative, insightful and interesting perspectives on our business and finance content. Many commenting threads inspire lively exchanges, prompting students to practice their reflective listening and discourse skills. These are fun to read and difficult to judge!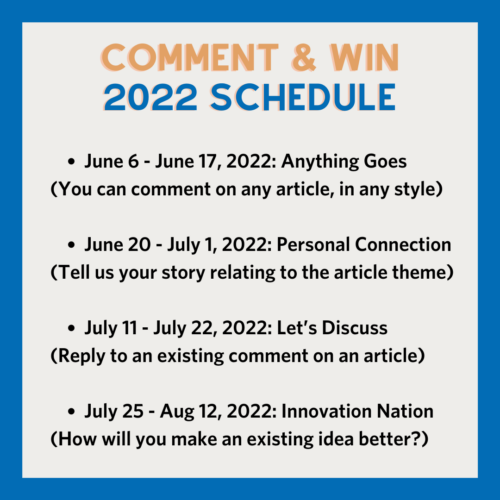 ---
How Do I Win?
Ultimately, students who effectively use Global Youth content to inform their comments, add value to the discussion around the text, express opinions clearly and succinctly, and develop an authentic voice, are selected as winners.  
For us, that voice is everything. Liza Cowan, an English teacher who founded R.E.A.L. Discussion, a discussion-based learning system for secondary schools, has said, "In today's world, the stakes are high: students need to graduate confident that their voices matter and competent at engaging others with inquiry, evidence, and empathy." 
What Do I Win?
Following each two-week round, our judges select a top winner for that round, as well as runners-up and, sometimes, special superlatives (Best use of humor in a comment). Top  Round winners receive a special prize from Wharton School Press and all Round winners receive recognition in a Wharton Global Youth news story, as well as on social media. All Round winners also receive digital Badges to display online. Commenters competing in all four rounds will be eligible for a special Grand Prize in August and the title of Comment & Win 2022 champion.
Do Your Research
Want inspiration? We recommend that you read the articles we've written about past winners. Here's a sampling. Just search up "Comment and Win" on the Wharton Global Youth Program website for many more winning insights.  
For Educators
How will your students spend their summer months? Between their trips to the beach, college summer programs, internships and just hanging out with friends, why not give them the chance to think, write and shine? 
Here's our Comment & Win Classroom Guide and our Comment & Win Teacher Toolkit for some inspiration to engage your students with our annual Comment & Win contest.
Question about this year's contest? Feel free to reach out to commentandwin@wharton.upenn.edu with any questions or concerns.