This mini-site for high school students provides Wharton School-powered videos, readings and activities to inspire deep thought and discussion of global business issues.
Our latest opportunity to Explore Business looks at "Race and The Selling of America," the final discussion in a three-part dialogue about the impact of systemic racism on business and society, and how it can be confronted. "Race and The Selling of America" studies brand and Black culture through the experiences of two prominent players in sports and entertainment. In this discussion, Erika James, Dean of the Wharton School, interviews panelists Kirk Morrison, a former NFL linebacker and co-host of "Forward Progress," a SiriusXM radio program that addresses sports and racial equity in America; and Phillip Sun, co-founder and managing partner of M88, a new talent agency representing artists, actors and creators of color. Wharton marketing professor Americus Reed, handles the Q&A between the LinkedIn Live audience and the panelists.
The activities on this page provide opportunities for high school students to explore "Race and The Selling of America." We have divided the hour-long video discussion into six shorter themed videos, each with worksheets to help guide your exploration of the conversations and concepts.
Enjoy discovering new business insights – and contributing your own ideas to this important conversation.
"Brands across the board are responding to the Black Lives Matter movement and the cultural significance of George Floyd."
— Wharton Dean Erika James

The Full Discussion:
Race & The Selling of America
The NFL Linebacker and the Hollywood Promoter
Wharton Dean Erika James introduces Kirk Morrison and Phillip Sun, who talk about deciding to use their talents to address issues of diversity and inclusion in sports and entertainment.
Brands Respond and Followers Speak Their Truth
Under a spotlight of systemic racism, the sports and entertainment industries are making changes for the next generation, and social media is giving people a powerful voice.
The New World Order in a Post-Hamilton World
Phillip Sun describes an entertainment industry that is starting to acknowledge the diversity that has always existed, while people of color flood the creative space and write stories for their communities.
Football Star Colin Kaepernick Takes a Knee
How former quarterback Colin Kaepernick's game-time protests against police brutality and racial inequality in the U.S. changed the NFL brand and forced people to listen.
Politics in Football and America
While the football gridiron has become a platform for political discussion during divisive times, we still wrestle with relating to each other's perspectives and finding middle ground.
Black Girl Hockey and Supporting Long-term Change
Now that voices are elevated and people are listening, industry leaders must continue to promote the value of diversity, equity and inclusion, on the ballfield and in the boardroom.
For Teachers and Students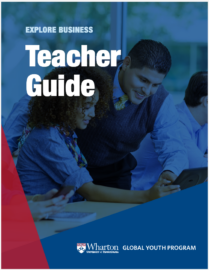 The Teacher Guide is a resource to help educators understand the purpose of Wharton's Beyond Business lecture series on racism and provide guidance for using the videos and worksheets on this page, as well as navigating these issues in the classroom.
The Choice Board allows students to select individual projects and activities that help them reflect on Explore Business themes and apply them to their own experiences. The student activity choices are meant to support in-person and remote classroom learning.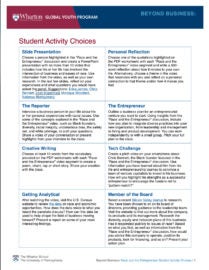 Explore Business with Wharton Global Youth
Our Explore Business mini-sites are gateways to conversations, readings and activities that inspire high school students to think more deeply about issues affecting business and society. Dig into these Wharton-powered learning opportunities wherever and whenever you want to explore timely and compelling topics.