The Embedded Pre-baccalaureate Program
The Embedded Pre-baccalaureate Program provides a unique delivery model for our dual-enrollment pre-baccalaureate program. Instead of individual students applying and enrolling in courses, an entire class of high school students is admitted and takes the course together directly from their high school. Courses maintain the same academic policies and standards as our typical pre- baccalaureate offerings. 
Current Embedded Pre-baccalaureate Program Partners
The Wharton Global Youth Program is collaborating with the National Education Equity Lab and Heights Philadelphia, to educate and inspire high school students in historically underserved communities. We currently offer two courses: Essentials of Personal Finance and Grit Lab 101.
The Essentials of Personal Finance course is led by Professor David Musto and supported by Stevens Center for Innovation in Finance. It is designed to teach personal finance concepts and financial decision making to high school students. Across 10 weeks, students learn everything from defining and calculating simple and compound interest, to how the U.S. tax system works, to exploring ways to fund higher education and negotiate the best available financial aid packages.
Grit Lab 101, a collaboration with the School of Arts and Sciences, is led by Professor Angela Duckworth. Grit Lab has two main objectives: 1) to equip students with generalizable knowledge about the science of passion and perseverance, and (2) to help students apply these insights to their own lives — including applying to college. At the heart of this course are cutting-edge scientific discoveries about how to foster passion and perseverance for long-term goals. As in any college undergraduate course, students will have an opportunity to learn from current research. But unlike most courses, Grit Lab encourages students to apply these ideas to their own lives and reflect on their experiences.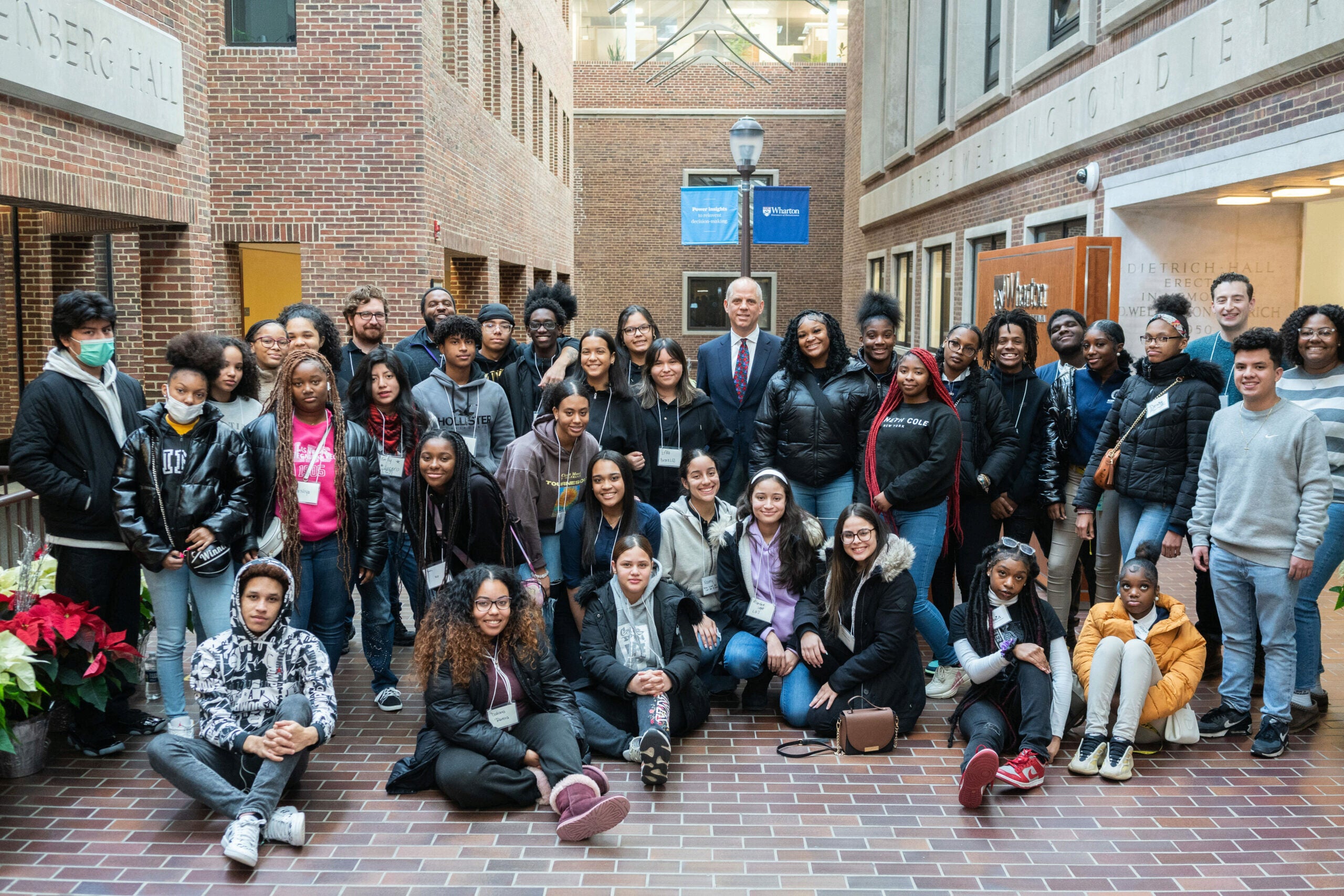 0
Participating high schools
2023-2024 Teaching Fellows and Teaching Assistants
Academy for Conservation and the Environment High School (Brooklyn, NY)
All City Leadership Secondary School (Brooklyn, NY)
American High School (Hialeah, FL)
Benjamin Franklin High School  (Los Angeles, CA)
Booker T. Washington High School  (Miami, FL)
Claremont International High School (Bronx, NY)
Crotona International HS (Bronx, NY)
Cypress Hills Collegiate Preparatory School (Brooklyn, NY)
Flushing International High School (Flushing, NY)
Frederick Douglass Academy II Secondary School (New York, NY)
Hialeah-Miami Lakes Senior High School (Hialeah, FL)
KIPP Academy Lynn Collegiate (Lynn, MA)
Linda Marquez High School- School Of Social Justice (Huntington Park, CA)
Miami Carol City High School (Miami Gardens, FL)
Miami Coral Park Senior High School (Miami, FL)
Miami Southridge Senior High School (Miami, FL)
Morningside High School (Inglewood, CA)
Mott Haven Village Preparatory High School  (Bronx, NY)
North Miami Beach Senior High School (Miami, FL)
Robert Morgan Educational Center (Miami, FL)
School for Classics High School (Brooklyn, NY)
Southwest Miami High School  (Miami, FL)
The Young Women's Leadership School of Queens (Jamaica, NY)
Weaver High School (Hartford, CT)
Kashica Agarwal (Teaching Fellow)
Paul Alade (Teaching Fellow)
Alana Bess (Teaching Assistant)
Djavaneh Bierwirth (Teaching Fellow)
Josh Blatt (Teaching Fellow)
Naomi Bright (Teaching Fellow)
Juliet Bright (Teaching Assistant)
Comari Brown (Teaching Assistant)
Martina Bulgareilli (Teaching Assistant)
Jacob Canelo-Garcia (Teaching Assistant)
Michelle Chen (Teaching Assistant)
Meady Chiem (Teaching Assistant)
James Chin (Teaching Fellow)
Kaitlin Cruz (Teaching Assistant)
Kate Cunha (Teaching Assistant)
Valeria Damis (Teaching Assistant)
Lewis Dunaway (Teaching Fellow)
Helen Fan (Teaching Fellow)
Lisa Friedmann (Teaching Fellow)
Chelsea Hartanto (Teaching Fellow)
Will Henriques (Teaching Fellow)
Erin Hong (Teaching Assistant)
Vedika Jawa (Teaching Assistant)
Unnishankar Jayaprakash (Teaching Fellow)
Manusri Kalakonda (Teaching Assistant)
Amy Lau (Teaching Fellow)
Stephanie Lee (Teaching Fellow)
Rachel Lee (Teaching Assistant)
Lorna Lin (Teaching Assistant)
Kelly Liu (Teaching Assistant)
Tyeirra Lynch (Teaching Assistant)
Amila Mujkic (Teaching Assistant)
Euquil Mutayi (Teaching Assistant)
Warren Ndlovu (Teaching Fellow)
Krunal Patel (Teaching Assistant)
Woodson Powell (Teaching Fellow)
Kathryn Qian (Teaching Fellow)
Adhiti Rajesh (Teaching Fellow)
Valik Rege (Teaching Fellow)
Ernie Rosales (Teaching Fellow)
Arzoo Sethi (Teaching Fellow)
Ankita Shrivastava (Teaching Fellow)
Kesley Spencer (Teaching Fellow)
Eugene Waweru (Teaching Assistant)
Sheng Xu (Teaching Fellow)