This mini-site for high school students provides Wharton School-powered videos, readings and activities to inspire deep thought and discussion of global business issues.
Our latest Explore Business theme looks at how companies are responding to the challenges facing people of color in the U.S., often by pledging money to improve fairness in corporations and communities. In November 2020, the Wharton School gathered a panel of professionals to talk about different aspects of "Race and Corporate Power." On this mini-site, you will find the full video discussion hosted by Wharton Dean Erika James, who interviewed Carla Harris, managing director of Morgan Stanley; Wes Moore, CEO of Robin Hood foundation; and Dalila Wilson-Scott, chief diversity officer of Comcast. University of Pennsylvania's Katherina Rosqueta led the question-and-answer session.
The activities on this page provide opportunities for high school students to explore "Race and Corporate Power." We have divided the hour-long discussion into six shorter themed videos, each with linked worksheets that will help guide your exploration of the conversations and concepts.
Enjoy discovering new business insights – and contributing your own ideas to this important conversation.
"Through this lecture series, Wharton is making a statement on the importance of prioritizing race and inclusion in America and asking firms to consider what it will take to place the issue at the top of the corporate agenda."
— Wharton Dean Erika James

The Full Discussion:
Race and Corporate Power
From a 'First Awakening' to 2020: The Evolution of Diversity
Following Dean James's panelist introductions, investment banker Carla Harris recounts 30 years of diversity awareness and how Morgan Stanley is working to change the narrative.
Philanthropy, Systemic Poverty, and the Power of Data
Robin Hood's Wes Moore lends the community perspective to a discussion about real corporate commitment, stressing the importance of data in telling the story of racial inequities.
Inside Comcast and Its Pledge for Racial Justice
Chief Diversity Officer Dalila Wilson-Scott touches on Comcast's $100-million commitment to racial justice and how philanthropy is just one part of the solution.
Companies and Generation Z Embrace This Moment
The panelists consider why corporations are responding to racial justice issues like never before and how the youth movement is responsible for keeping the conversation alive.
Leading with Authenticity, Courage and Collaboration
Carla Harris and Wes Moore detail the leadership and partnership skills needed to build meaningful relationships and inspire enduring, effective change.
Racial Bias in Hiring Professionals and Collecting Data
University of Pennsylvania's Kat Rosqueta engages panelists with questions that explore the practices behind hiring people of color into top jobs, and addressing the bias that is built into today's algorithms.
For Teachers and Students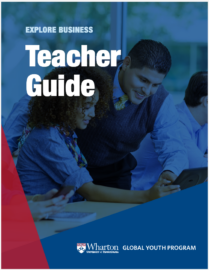 The Teacher Guide is a resource to help educators understand the purpose of Wharton's Beyond Business lecture series on racism and provide guidance for using the videos and worksheets on this page, as well as navigating these issues in the classroom.
The Choice Board allows students to select individual projects and activities that help them reflect on Explore Business themes and apply them to their own experiences. The student activity choices are meant to support in-person and remote classroom learning.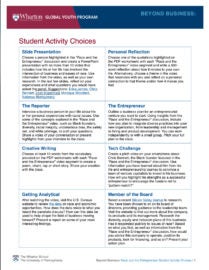 Explore Business with Wharton Global Youth
Our Explore Business mini-sites are gateways to conversations, readings and activities that inspire high school students to think more deeply about issues affecting business and society. Dig into these Wharton-powered learning opportunities wherever and whenever you want to explore timely and compelling topics.