Inside the Macroeconomic Mindset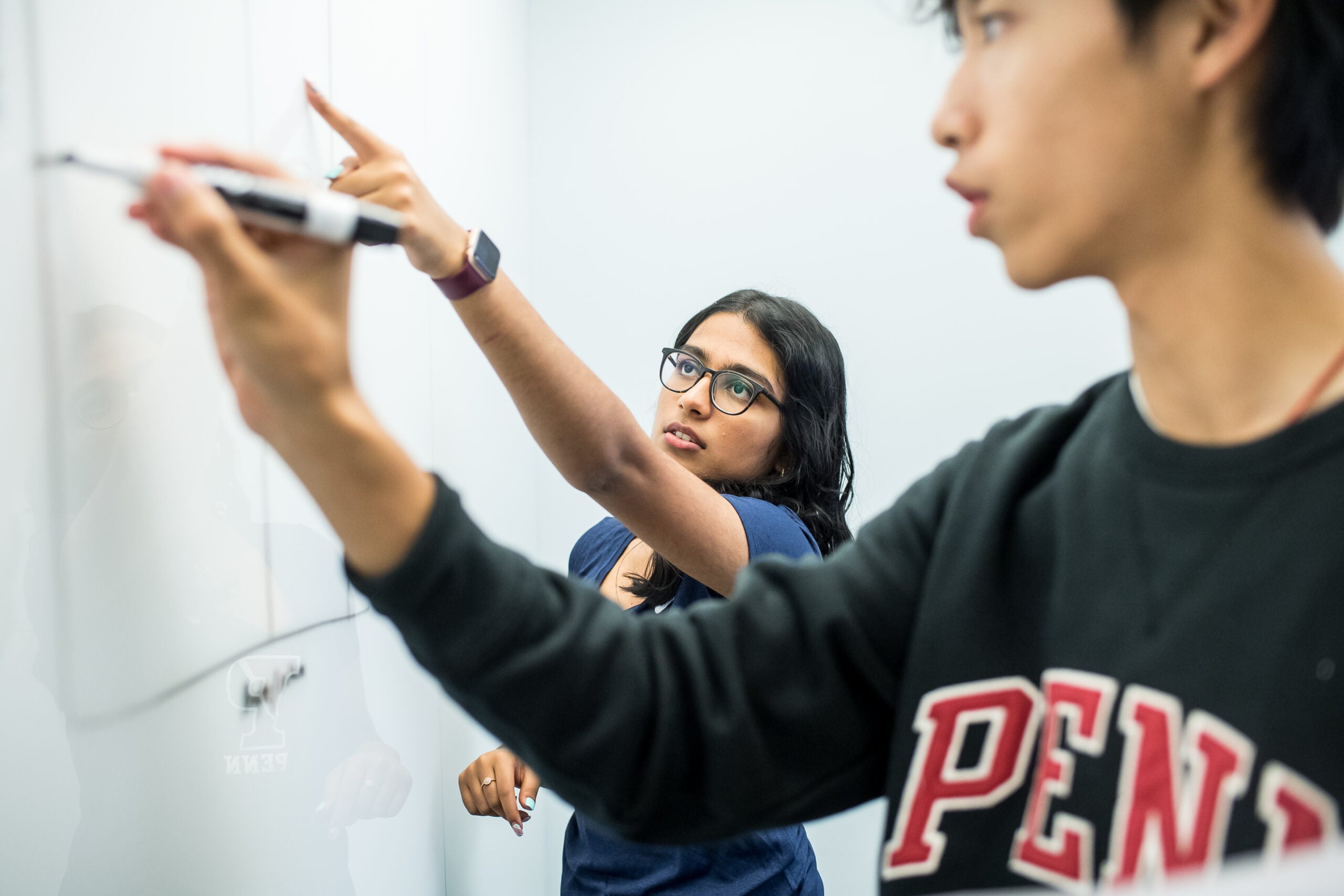 It's time to look at the big picture. Macroeconomics focuses on the movements and trends in the national and global economies, and deals with the performance, structure and behavior of economies. Indicators that are used in interpreting trends in global economies include inflation, price levels, gross domestic product (GDP) and changes in unemployment.
As we enter National Economic Education Month in the U.S., we have been doing some economic eavesdropping. Wharton Global Youth's collective ear has been pressed to the Wharton School walls, listening for valuable insights that might empower future business leaders with macroeconomic muscle. That analysis, combined with so much data, presents a snapshot of economic performance. Here's what we heard.
Back on Target? Inflation, which is the general increase in prices over time, has been a headline-grabber in the U.S. in recent years, peaking at 9.1% in June 2022 and falling sharply since then to under 3.7%. Consumers feel inflation in their wallets, paying higher prices for food, housing, textbooks, and more. Will inflation continue to fall? Wharton MBA Neel Kashkari, president of the Minneapolis Federal Reserve, visited Wharton in September 2023 to discuss the economy and whether numbers will return to the Federal Reserve's targeted 2% annual inflation rate. Kashkari is a voting member on the Federal Open Market Committee, setting interest rate policy for the U.S. "We can definitely get back to 2% inflation," said Kashkari. "I've not seen anything that suggests that we should change the inflation target or that we can't get back to 2% inflation. We can get back to 2% inflation because everybody on the Federal Open Market Committee is committed to getting back to the goal that we set." The wild card to inflation? Recent oil and gas price increases. "These rising energy prices are impacting rates and cutting back purchasing power of consumers," noted Jeremy Siegel, a Wharton professor emeritus of finance and an expert on the economy and financial markets, in a September 2023 WisdomTree blog post.
"If you want to better understand the role that sentiment has on economic activity, GDP growth, labor market decisions, and other fundamentals, it's always better to have more granular and longer-time series data." –Jules van Binsbergen, Wharton Finance Professor
Riding the Rates. Interest rates, or the price you pay to borrow money, are linked to the inflation story, as higher interest rates are typically a Federal Reserve policy response to rising inflation. All eyes have been on the Fed's monetary policy in the past several months – but as Kashkari observed, the economic story has played out unexpectedly. "One of the big surprises for all of us over the last few years is we've raised interest rates by 5.25%," Kashkari noted. "I would have thought – given how quickly we did it — that would have slammed the breaks on the economy. Consumers would be pulling back [on spending] and the labor market would be weakening with that aggressive a tightening cycle. What's happened? The labor market has remained very strong…very low unemployment by any measure, and consumers have remained strong. We keep getting surprised by how much consumers are spending and GDP growth has remained strong…the economy has continued to exceed expectations in its underlying resilience. If the economy is fundamentally much stronger than we realized, on the margin that would tell me rates probably have to go a little bit higher and then be held higher for longer to cool things off. That's why if you look at the updated forecasts, you see a longer high path, but much stronger economic fundamentals beneath it."
Better Forecasts. The practice of economic forecasting is when economists and other financial professionals make predictions about the economy – like whether interest rates will rise or fall. It is heavily dependent on data and models to tell a story about future economic activity. A recent study by Jules H. van Binsbergen, a Wharton finance professor, and colleagues from other business schools around the world, advanced economic forecasting techniques. Van Binsbergen and his co-authors used a machine learning algorithm to produce more accurate and granular forecasts for GDP growth, employment and interest-rate decisions. In their paper, Almost 200 Years of News-Based Economic Sentiment, they customized a machine-learning technique to create an algorithm that analyzed more than a billion articles across 200 million pages of 13,000 U.S. local newspapers from 1850 to 2017 to study indicators reflecting the optimism or pessimism around economic conditions. Economic sentiment refers to people's and companies' attitudes, perceptions and confidence about the state of the economy. "If you want to better understand the role that sentiment has on economic activity, GDP growth, labor market decisions, and other fundamentals, it's always better to have more granular and longer-time series data," said Binsbergen in the Knowledge@Wharton business journal. "We show this sentiment has predictive power for economic activity over and above the standard predictors, such as the so-called yield spread, or the difference between long-term and short-term interest rates."
Hungry for deeper economic data? The Penn Wharton Budget Model provides ongoing economic analysis of public policy's fiscal impact. Most recently, you can check out Budgetary and Macroeconomic Effects of the Build It in America Act and the Budgetary Cost of Climate and Energy Provisions in the Inflation Reduction Act.
Conversation Starters
How have current macroeconomic trends affected your life as a consumer? Share specific examples in the comment section of this article.
Investors often consider macroeconomic factors when assessing the market and building portfolios. Are you an investor? If so, which economic indicators have you been following and how are they informing your investment strategy and stock and ETF selections?
Do you enjoy learning about economics? If so, why?