A Platform for Selling Art and Pursuing Dreams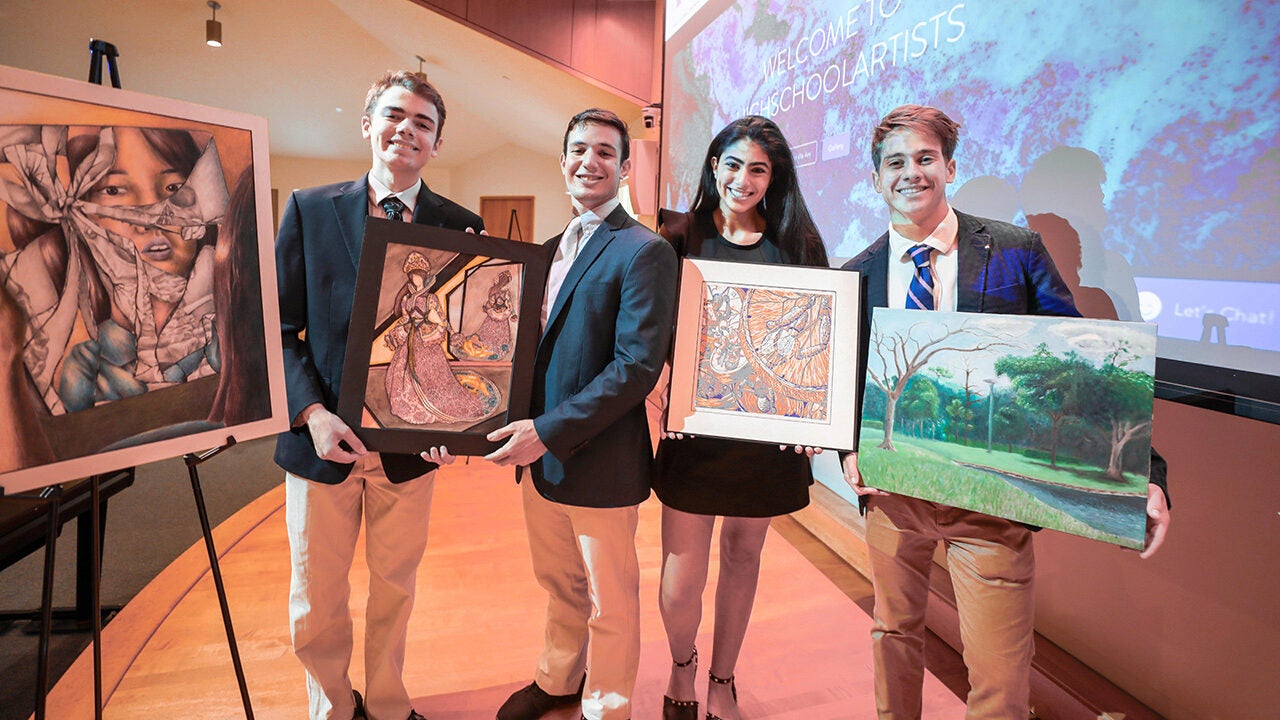 Inspiration for business can come from anywhere. For 18-year-old Adam Stiefel, it came from Snapchat.
He was brainstorming ideas for a business plan to submit for his Investments and Entrepreneurship class at St. Andrew's School in Boca Raton, Florida, when a friend, Katie Boroian, sent him an original piece of artwork on Snap. Stiefel says that he was so impressed with the painting, which depicted the sun rising over the ocean, that he started thinking, "Wow, that's a tangible object that has monetary value." He started thinking that there might be a market for talented teens like Boroian to sell their designs online.
A Winning Idea
And from that one Snapchat, a new business was born. HighSchoolArtists is the only e-commerce site dedicated to marketing and selling original artwork that is conceptualized and created by high school students. "Some students don't believe their artwork is good enough to sell. Some just doubt themselves. We encourage them to put it on there," Stiefel says.
The site has been up and running since April 2019, but the story behind it goes back to that Snapchat moment a few months earlier during the school's winter break. Stiefel, then a senior, entered the class-pitch competition and won. Along the way, he picked up a few classmates to round out his team. Stiefel is founder and CEO; Billy Swann, 18, is the chief operating officer; Chloe Bogen, 18, is the chief marketing officer; and Dalen Michaels, 17, is the chief financial officer.
After winning the class-pitch competition, which was part of the Network for Teaching Entrepreneurship program, they advanced to the newspaper-sponsored 2019 Miami Herald Startup Competition, where they took first place. "We've become very close friends, all our families have become friends. It's been a good experience for all of us," Swann says.
Each team member takes ownership of a task. Stiefel is the boss. Swann, with the help of a "very smart friend," created and launched the professional-grade website that features the art, short bios of each artist, a contact for visitors and an FAQ section for artists interested in selling their work.
As the only artist on the team, Bogen pours her creative knowledge and ideas into the marketing, while Michaels is responsible for crunching the numbers. The team expects to make $40,000 in sales in the first year, with a gross profit of $11,600 and a net of $1,700. By the fifth year, they hope to be making $140,625 in sales with a net profit of $338,968.
The sales projections are based on securing five to 10 artists per high school to place their works on the site. To promote the business and get clients, each team member is using connections with friends, social media and word of mouth. They contact different high schools and ask for permission to pitch the business to students in art classes and art programs, and they plan to buy Facebook advertising once they can afford to do so.
For each sale, 80% goes to the artist and 10% goes to the business owners, who say they plan to put the money back into the site to help it grow. The remaining 10% goes to the artist's school to help incentivize the school to promote the site.
As of June 1, a total of 30 pieces were on the site, and five had been sold. It's no surprise to Stiefel that his talented friend, Boroian, is the top seller. Prices per piece currently range from $50 to $130.
For the team, it's not just about money. It's about the experience of turning a concept into reality, learning to work together and helping young artists find their worth. Many teen artists don't explore their capabilities because they don't have enough money to buy art supplies, Swann says. "With our website, you can sell your artwork to have money to continue to pursue your passion," he notes. "We wanted to create a platform for students to pursue their dreams because they may not have the financial means to do so. We are trying to inspire within the education system, so hopefully we're helping humanity for years to come. "
"They have momentum now, and they have to hit hard this summer. If they don't, I think there's a missed opportunity." — John Daly
The four seniors recently graduated and are heading off to college. Stiefel will study political science and entrepreneurship at Florida State, with plans to go to law school and perhaps work in business law. Swann will study electrical engineering at the University of West Florida. Michaels plans to study international business and entrepreneurship at the University of San Diego, while Bogen is headed to the University of Texas at Austin.
Even though their lives are going in different directions, the team members say they are dedicated to the business. Each member plans to make connections in his or her new cities to reach out to local high schools and find more artists. They want HighSchoolArtists to go nationwide. "The goal is to keep moving forward with it," Stiefel says. "I have a level of passion and enthusiasm that I see with everyone else in the group, also. We want to keep going at it and going at it together."
While early interest from local high school artists suggests a market on the seller side, demand on the buyer side may be more of a challenge. And though the business may not have any direct high-school-focused e-commerce competitors, it is going up against more established online art marketplaces, including Etsy, eBay, Zazzle and Amazon.
Learning from Failure
Their teacher and mentor, John Daly, believes that his enterprising students can make the idea work. But it's going to take hard work and dedication. He has advised them to push hard this summer to reach out to big names in the art world, philanthropists, angel investors – anyone who can help them finance the business and get the word out. "It can't just be self-sustained. It can't just be, 'We have a website up,'" says Daly. "There's additional work that has to be done. You have to get momentum and keep it going. They have momentum now, and they have to hit hard this summer. If they don't, I think there's a missed opportunity."
Swann's advice for other teens who have a business idea is to dismiss the naysayers and go for it. "I'd say just do it because [Facebook founder] Mark Zuckerberg and [Microsoft founder] Bill Gates failed many times before they became successful," he says. "I started two businesses that failed before this, but I learned a lot of skills that were able to carry over."
Stiefel, who also has a few failed endeavors behind him, agrees and offers his own advice: "Talk to everyone you can about your idea. Everyone has a unique perspective, and everyone can help you along the way." He relied on his parents, his teammates, the artists and Daly for valuable input.
Daly, who worked on Wall Street before becoming a business and economics teacher, says that he was impressed with the team's presentation skills, attention to detail and ability to work together.
His advice to budding entrepreneurs is straightforward: "You have to do your research, but you have to be ready to pivot. Any successful business that takes off, I don't think it's a linear process. There was definitely some type of a pivot where they had to move in a slightly different direction or a greatly different direction."
He also cautions against developing tunnel vision, saying entrepreneurs need to be flexible and open. "Sometimes you're foolish with your own pride," he says. "Definitely ask for help."
Related Links
Conversation Starters
Would you sell your artwork on HighSchoolArtists.com? Why or why not?
While the website has had some success in its first few months, it still has a long way to go in establishing a market. With the information from the article and the website, help write a marketing strategy for HighSchoolArtists.com to get the attention of both sellers and buyers in the e-commerce market. Discuss with a group and share your best advice in the comment section of this article.
We see from this story that entrepreneurship is not necessarily a one-person show. In other words, the commitment of the team helped to drive business development. Discuss the value of teamwork in shaping and implementing business ideas. What qualities are essential?