CEO Katlyn Grasso Connects Young Women with Executive Role Models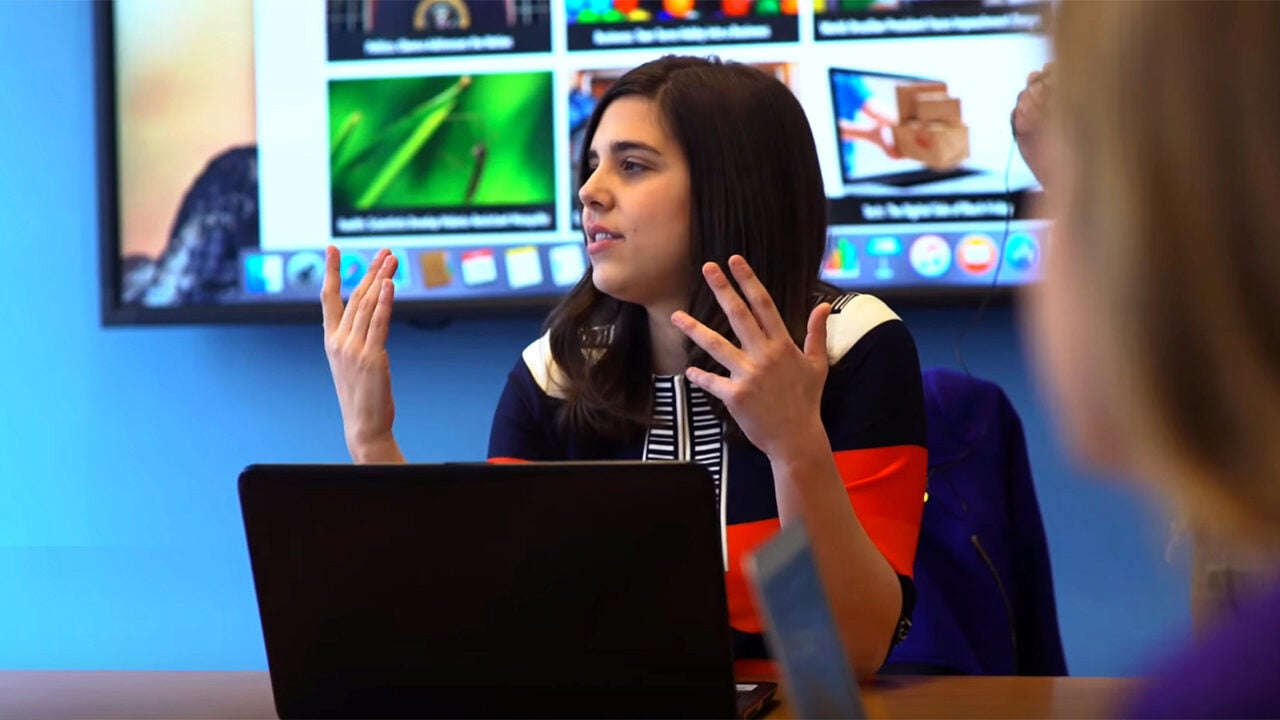 Katlyn Grasso is the founder of GenHERation, a network and online platform that seeks to empower young women by, in part, connecting them with companies and mentors. As CEO, Grasso has created the GenHERation Summer Leadership Series, as well as Discovery Days, immersive summer day trips that provide high school and college women with the opportunity to visit the most innovative companies in America. While an undergrad at Wharton (she graduated in 2015), Grasso also worked with KWHS, leading our student advisory team and conducting video interviews and audio podcasts.
This time, she's the interviewee, joining host Dan Loney on the Knowledge@Wharton Show, which airs on Sirius XM channel 111.
An edited version of the podcast appears below.
Knowledge@Wharton: One of the annual events we're excited now to talk about is the GenHeration Discovery Days. The company and tour was developed by Penn grad Katlyn Grasso to help give young women the opportunity to meet female executives as companies across the U.S., get a sense of what the executives do, as well as their companies, and then maybe come out of this with an idea of a career path that they want to follow. The 2017 summer tour is coming up and we're proud to have Katlyn back in the studio to talk about who's involved, the dates, all of that.
And then also joining us, great to have her with us as well, Debbie Lew, who is one of the executives involved. She's executive director of the Risk Transformation Practice at Ernst & Young. My friend, great to see you again.
Katlyn Grasso: Great to see you. Thanks so much for having me. Good to be back in the studio on a rainy day.
K@W: Let's talk about the background first Katlyn, about how this idea came about and really what you were trying to do in the first place.
Grasso: Great question. So as a whole as a company, GenHERation is a network where young women and companies can connect. And those young women are in high school and college. So when I started the company as an undergrad, I just realized that there was a really big gap in the market. A little over 5% of women who are leading S&P 500 companies as CEOs. And that number has been increasing by one hundredth of a percent every single year. So, it's a really big problem. And I thought there are also these young women from high schools and colleges across the country who are in awe of these executives in companies, but they just don't know how to get their foot in the door.
And it's really nice, you know, I went to Wharton, I'm not complaining, but when you go to a school where you can walk across the street and you have every single major employer, every single day vying for your attention to come and work with them, 98% of students in America don't have that opportunity. And I saw it as a chance to close that gap. We're a little over three years old. We've reached 75,000 young women. And I thought that there's a really unique way that we could bring them together in real life and on our digital platform to see what types of careers are available.
This is our second Discovery Days tour. The last tour was very successful. This year we're visiting seven different cities, hosting 10 trips across those cities with more than 200 female executives, including Debbie at EY. So the whole idea is when we roll into these cities and you sign up for your particular city, maybe in the future we will take everyone all across, but I don't think my team's ready for that quite yet.
K@W: This is over a course of what, about three, three and a half weeks as well?
Grasso: Yes, my poor team, they don't sleep. But everyone's healthy and fed. The idea is when you go into these cities you usually visit four to five companies a day. So to give you an example, in Dallas we'll be visiting Southwest Airlines, AT&T, JC Penny's and EY. And during the time you're doing tours of the companies, meeting their most senior executives, and also doing skill building simulations that allow you to see what it would look like to work at that company, whether it's developing a wire frame for an app at Google or coming up with a new marketing strategy for Southwest Airlines. So, you're actually putting yourself in the position of, I might be 16, but I'm being treated like I'm 25 and applying for a job.
And I think what was so amazing last year and why we're continuing to do this is that after the bus tour ended in August and September rolled around, people started getting job offers, internship offers from being on the bus. If you're seeking employment, you should get a seat on the bus. We have just grown really quickly from that and trying to be the go0to source for access for high school and college women.
K@W: Debbie, what was the thing that really brought you in and thought that this was just a phenomenal program for you and Ernst & Young to be part of?
Debbie Lew: Well, I really loved the mission of GenHERation, of engaging young women together with successful women executives. I'm participating because I hope sharing my story enables career aspirations. I know that many of the young women may be at a place where I was at their age, wondering what career to take, how to get there and what's required for success. So it really gives me the opportunity to share that there are different paths to different careers.
Katlyn, if you recall how surprised the girls were when I shared that I actually have a fine arts degree in dance. And that I've had several careers before I landed at Ernst & Young. And even at Ernst & Young, I've had different careers. You don't have to feel constrained that that degree you're going to get is going to constrain you. You will be more successful if you're just doing what you're passionate about and enjoy. You all know that life is a journey and things can change, so you can have different careers in your journey, and also within one organization like Ernst & Young.
K@W: You mentioned to me in an e-mail yesterday, the fact that you did this last year as well.
Grasso: This is her third year.
K@W: And you are staying in touch with some of the girls that you've met in the first two years?
Lew: Yes, that's right. What's happened is a lot of these girls have sent me LinkedIn invites. And I still connect and correspond with them. Sometimes they'll send me a question. Often they always ask, "Is there an internship program at Ernst & Young?" And I provide information about that. Additionally, the GenHERation program provides raffle prizes of mentoring sessions. And I've mentored one girl in particular. We had a nice session. It was supposed to be like 30 minutes. I think it ended up being over an hour. And since then, once in a while we will e-mail and connect. It's just wonderful connecting and seeing how great these women are.
K@W: Actually one of the questions I was going to ask, I will let [our caller] do it. Michelle is in New York City. Michelle, go ahead.
Michelle: Hi. I'm a junior at NYU and I was wondering how I can participate in Discovery Days because I'm going to be in Oakland, California over the summer.
Grasso: That's a great question, Michelle. Thanks so much for calling in. Hopefully we'll see you on the San Francisco bus. To get involved, you can visit our website, www.genheration.com and you can go and you can click on our Discovery Days tab. And from there we have all of our cities and the dates that we'll be there. We're kicking off July 11th in Seattle and ending on August 8th in Philadelphia. So, there's a lot going on during those four weeks. And all you have to do is upload your résumé, pick the city you want, and [register].
K@W: Does that help you, Michelle?
Michelle: Yes, thank you so much. That is super helpful. That sounds like an amazing opportunity. I didn't realize you were also going to be in San Francisco. So thank you so much.
K@W: And in fact from what I understand you guys are going to be in San Francisco for three days–
Grasso: It's a big day. It's a Wharton-filled day, and I'll tell you why. We're actually kicking off with several prominent female executives from the Wharton community, including Fireside chats with Jackie Reses, the chief human resource officer of Square, Beth Axelrod, the new chief people officer of eBay and the chief diversity officer at Facebook as well. So we're going to be visiting everybody from Facebook to Lucas Film to Airbnb to Pinterest. We've been getting a lot of excitement around our San Francisco days. All cities are equally exciting, but I think in San Francisco there are so many of the brands that the girls interact with that they're like, "I want to get a behind-the-scenes look at Google and Facebook."
K@W: And just the fact that you have so many of those tech companies out there. That's the nature for a lot of students these days. But that kind of plays into another topic that we've talked a lot about is the fact that there aren't as many women in a lot of those tech companies, so being able to connect with a lot of those people out there becomes very important.
Grasso: If you would believe it, the number is almost staggering, but companies like Google and the big tech companies of the world spend $150 million per year on diversity and inclusion initiatives. And that can be from recruiting to raising awareness about their brand to minority groups including women. And there's been such a problem in the Silicon Valley community, that although they're throwing all this money at the problem they're not seeing tangible results. As a whole, there are only 30% of women holding positions at tech companies. Less than 25% of them are in leadership positions. Although they always say women want to get in and stay in and it's just a hard time retaining them, there's not a solid pipeline going in. And it's the reason that most of these companies only recruit from the same ten to 20 schools annually. There might be girls at schools in the middle of the country who are not getting these OCR opportunities who don't even get their foot in the door in learning about all the exciting ways they could become on the path to a tech executive.
K@W: Debbie, you mentioned this before with the fact that you said about the wide range of careers that you had in your timeframe. But just playing off of what Katlyn said, giving young women these opportunities, whether they be in high school or in college like we just heard from, it's an important piece to have for a lot of these women. And I'm guessing that you were kind of in the boat of not having this kind of connection-ability when you were coming out of college.
Lew: Yes, definitely. I think an important part of building a pipeline, especially a pipeline of careers in technology, is having role models. I didn't know what sort of careers were available in technology when I went into technology. I think I just went with my passion of dance and that's why I ended up getting a degree there. But then afterwards, when I started to explore other careers, I found out about all the options in technology. And I started going out and going to professional associations and meeting women. I think that's a very key piece of developing a pipeline, having role models and understanding the possibilities of careers out there.
K@W: When you talk to the students with the Discovery Days about your job, what do you tell them?
Lew: Well, what I tell them is that I have an amazing time with my job, that I picked something that I would enjoy that I'm passionate about, because if you are you'll be more likely to be successful. And also I really encourage girls to go into technology professions because you probably are aware of the pay disparity between men's salaries and women's salaries. But in STEM careers, the pay disparity is less. I think it's like in the 90% versus 70% if you weren't in the STEM careers. So I really do encourage girls to explore careers in that section.
K@W: So, all the cities that you're going to be going to: Seattle–
Grasso: LA.
K@W: San Francisco, Dallas, Chicago, Philly, New York.
Grasso: Correct.
K@W: All in a three and a half week period?
Grasso: Yes. It's really fun. And you know, you don't get to sleep a lot when you're on the road. But I think that's what makes it so exciting. When we go to the cities, this is my favorite part of what we do going to see the girls and really seeing a difference in the impact it has on their lives, because as Debbie saw, what I think we really want to be is sort of the platform for connectivity that allows them to be in front of these executives. I feel like in today's world it's all about employer info sessions and it's all about you've got to give someone the résumé the first second you see them. It's not about that. It's about making genuine connections. So if a 14 year old met Debbie in LA last year, she's not looking for a job. But she should be staying in touch with her and learning from her. And then when that time comes around they have a relationship where she feels comfortable.
I feel like nowadays people are always like, "What can you do for me? I want a job. I just want to know you so I can call you tomorrow and get a job at Ernst & Young." And we don't want it to be about that. We want it to be about finding mentors, role models. The girls have formed these communities themselves that, two girls who went on the trip in New York last year are actually going to be college roommates next year. So it's also a roommate match service.
K@W: With my past background working in baseball I found it interesting, last year you had the Yankees, this year you've decided to take it up a notch and you went to the World Series champions, you went to the Chicago Cubs.
Grasso: Exactly. We have. We gotta add a little bit of something for everyone. We're also working on collaborations with the San Francisco 49ers. I think when you go there, because a lot of people have ideas like if they want to work in sports and they're not a player, there's 100 other jobs you can do.
K@W: People, when they think about working in sports, have this unbelievable grand idea of everything is phenomenal. And they don't realize that it is just like any other company in many respects and it's very hard as well.
Grasso: Actually, this was the mantra that the Yankees used when they were telling us about the job. They said if you want to work in sports when you're first starting out, it's long hours and low pay. So it has to be about your passion, and that's how you use it to move up in the field. But we want to show that, although there's not a girl who's going to be on the Chicago Cubs team this year, that you can be in marketing, you can be a general manager and there's a lot of different careers for you.
K@W: And a lot of this is not just having the conversations, you do a lot of different skill tests and getting the women and the girls really involved in using their brain to think about a variety of different things.
Grasso: Yes. To give you an example, here's something we've done with Ernst & Young last year. Debbie was on this panel. We gave the girls an activity that they had to come up with a business to improve the greater LA community. And they only have 30 minutes and we give them different boxes. "Here's your industry, it's health care. Here's your medium and app. And here's your budget." And they have to think and put it together. And they're pitching to very senior executives at EY and getting feedback. And it's funny that when we go to some of these companies they say, "Oh my gosh, this was an amazing idea, how can we implement this into our actual work?" And to give you an example we just actually– this was an on-line challenge we did where Southwest Airlines, which is the lead sponsor of the tour, asked the girls to redesign their wheelchair boarding process. And girls have to submit idea. And the top ideas actually get to work with the company. Not only is the company getting great ideas, but that's actually a vetting mechanism that they're saying what are the girls thinking about, where are they going to school, and it's a real problem they're trying to solve.
K@W: That's got to be a unique aspect to this Debbie, to see the minds working and the potential of new ideas coming out of something like this.
Lew: What I like about the simulation exercise is that it really does simulate real-world experience. If you were doing a project at Ernst & Young, you're given a problem to solve, you work with a diverse group of people to develop ideas, share insights, you have a limited amount of budget, you have a limited amount of time, so you have constraints. And I'm really amazed every single time, every single year at the results these girls come up with, especially when they're only 16 to 20 years old or whatever, it's just amazing.
K@W: The interesting thing is the age group that you're really looking at. Obviously for the girls that are in college already, obviously they are a year, two years, whatever it may be, away from being in the real world. For the high school girls, it's a little bit different. They may not have that idea of what they want to do right now, but this is a great vehicle to be able to spur that on.
Grasso: I think for the high school girls, it's more about access and exposure. And for the college women it's more about, okay, what are the next steps to get to where someone like Debbie is today. But when we're visiting banks and tech companies, they were like, "I'm not an engineer, I never thought I could work at Google" but you're showing them that you can. Or they might say, "I'm good at math. I didn't know a career at Ernst & Young was right for me." And Ernst & Young, this is the third year they've been a partner with us, and they've been a fantastic partner. Their mantra is "building a better working world." That really comes with gender diversity and inclusion. And it's just so apparent in the activities and the simultaneous they do, and really making the girls feel a part of them and getting their name on the radar.
K@W: Debbie, a lot of what you do in the risk field, from what I read, really is surrounding health care as well, correct?
Lew: Yes, I focus on health care.
K@W: What are the avenues that you have to be aware of these days, especially with the fact that health care has become more and more digitized and the fact, we were actually just talking about this a few minutes ago, is the fact that we're going to get to a point where we're going to have an older generation and health care is going to become a bigger piece of the economy in the next 20 years?
Lew: Definitely. We've been privileged to help a lot of our clients to address some of their challenges in this area. And I think it's really important for us to keep on innovating and growing and being ahead so we could be good strategic advisors to our clients. I mean I specialize in risk management compliance. So we want to make sure that our clients are protected and that they grow strategically with the confidence that they're managing risks and operating within the boundaries of the laws and regulations.
Grasso: And I think to your point, what you and Debbie are hitting on is that these girls, a 16-year-old is looking at careers that may or may not be relevant five years from now with the advent of technology. What women like Debbie and other executives at these companies emphasize is that, what are the core skills you should be developing, whether it's being a critical thinker, being curious, being able to present your thoughts clearly and efficiently. It doesn't matter necessarily that, you know, you didn't have to have that biology degree to be a health care policy analyst ten years in the future. But what types of skills are you developing now so that you can be an asset to any company? And I think that it's not as structured and regimented as it was 10 or 15 years ago.
K@W: Sandra's in Los Angeles. Sandra, welcome.
Sandra: Thank you. My daughter Laura took part in the program in New York City last year. And it was great.
Grasso: Yes!
Sandra: Hi, how are you?
Grasso: Hi, how are you?
Sandra: It was very well organized, very informative. But what I really liked about it was that she had exposure to businesses and women who are giving tips on their careers that she normally wouldn't have been able to have access to frankly. Usually it's just your family and friends. So, it was very worthwhile. And she still talks about things that some of the speakers mentioned. It was very worthwhile.
K@W: And she's in high school or college?
Sandra: She's in high school. She's 17 years old and she's in high school. And I think she'll do it again this year.
Grasso: You'll have to join us in LA.
Sandra: Join us wherever we can fit in the schedule. But it was very worthwhile. And it was well run and the tips that the different women in business, you know, they kind of gave them some good tips. And she still talks about it. We went to the program in New York, and even though you were dealing with jetlag, my daughter was delighted to go every day. It was a great experience that she'll always remember.
K@W: Sandra, thanks very much. Greatly appreciate it. I mean those stories–
Grasso: I didn't tell her to call in.
K@W: Exactly. The great stories, I would think, have to be the ones as you're really starting to develop this over the last couple years of stories like that, from Sandra, about these girls that have this phenomenal experience, especially high school girls who will go into college in the next year or two.
Grasso: Yes. There's a great story– actually they heard about us because we were on this show, so it was–
K@W: We've got a little bit of pull.
Grasso: There was a charter school right outside the Bay Area that serves traditionally Latino and first-generation college students, so even though they're so close to the Bay Area they do not have access to these types of companies. And they sent 18 girls on the buses. The principal of this school had them all write thank you letters to us after. I was reading them the other day [as a way to] get ready for this year. Some of them just make you want to tear up. This one girl who had just gone to college said, "Thank you so much. My parents never graduated past second grade. And I'm the first one in my family to go to college. Before I went on this trip, I only dreamed of seeing executives on TV. They were almost like celebrities for me. And for them to come into my life and impart wisdom and take time to talk to me was life changing." You can't buy those types of things and giving those opportunities to girls.
K@W: You have the seven cities. Obviously you have some cities that you will go back to year in and year out because of where they are and the types of companies that are located, but you have to be thinking about other locations that you want to go to.
Grasso: Definitely. So the new cities we added this year were Seattle, Dallas and Chicago. And so many we're already thinking about next year: Atlanta, Milwaukee, Toronto, maybe London. I don't know. I don't know how we're going to get the bus over there. We're always looking to new ideas. And the thing is certain companies, you know, only Silicon Valley is in San Francisco, but there are so many companies everywhere that we want to start going to more cities and growing. So if there is a city that you think we should be visiting, please reach out to us: info@genheration.com.
K@W: Double decker buses by the way. You can rent one of those.
Grasso: You're getting me a purple double decker bus. You're getting me excited.
K@W: Debbie, wrapping up with you, obviously you're there in LA with Ernst and Young, but there's also the aspect of having these girls think outside of their home areas as well. And understanding they may be coming and talking to you in LA, but their career may take them to Seattle or Dallas or one of these other cities because the opportunities, especially in tech now, the opportunities in tech are so expensive it's not just Silicon Valley anymore.
Lew: Why limit yourself to a city? How about another country? I'm actually from Toronto and I moved to Los Angeles for great opportunities in technology. And Ernst & Young has so many service lines related to technology, that's why I got engaged with Ernst & Young. I had access through volunteering to an executive who recruited me to Ernst and Young. So that story holds true for any women.
Grasso: And to Debbie's point, what we hope to achieve with Discovery Days is taking girls outside of their comfort zone. So you know, like our last caller, if you live in LA and you come to New York and you're in an environment with 50 new girls in a city you don't know, by putting yourself in that situation and you're learning how to become comfortable and adapt to new situations, you can really do anything. So that's why I encourage girls don't feel like, "oh man, I don't have five friends to come with, I'm scared to go" everybody's your friend. And it's a great way to build relationships and see what's possible.
K@W: It's, to a degree, like a one-day summer camp.
Grasso: It is.
K@W: Because you will meet new people and you, as you said, you got a college roommate out of one pairing last year.
Grasso: It will be the best summer camp you ever went to. Imagine fitting like four weeks of summer camp into 14 hours on a bus where like, you know, "we've got to keep it to schedule." But it's great.
K@W: Debbie, thanks very much for giving us your time today there in sunny California while we sit here in rainy Philadelphia, greatly appreciate it.
Lew: Okay, thanks for having me.
K@W: Thank you, look forward to talking to you again. [Katlyn], great to see you my friend.
Grasso: Great to see you.
Related Links
Conversation Starters
What are four ways you might benefit from meeting executives in corporate America and touring businesses, other than potentially landing an internship or job there?
What does Katlyn Grasso mean when she says, "Companies like Google and the big tech companies of the world spend $150 million per year on diversity and inclusion initiatives." How does this relate to the mission of GenHERation and Discovery Days?
Using this article and those linked in the "Related KWHS Stories" tab to the side of this article, research Katlyn Grasso. Who is she? What is she about? When did she know she wanted to be an entrepreneur? How has she developed that mission?