Our 2023 Investment Competition Global Finale Ends in Sweet Victory for DMV's Finest
The story in numbers: 3,200 registered teams from 53 countries, 1,400 submitted final reports, 55 semifinalist teams — all culminating in the international finals of the Wharton Global High School Investment Competition on April 22, 2023, hosted at the Wharton School by the Wharton Global Youth Program.
"And YOU are the Final 10," declared Eli Lesser, Global Youth's executive director (pictured above, left, with the winning team), as he welcomed the top teams to the competition's end game on Saturday, held high above West Philadelphia on the 8th floor of Jon M. Huntsman Hall.
With that, the room of 60 high school students, 10 advisors and a support crew of parents and siblings from five countries — the U.S., Canada, India, South Korea and Czechia — burst into applause and then quickly found their game faces. The time had come to top off 12 weeks of collaboration, learning and investment strategizing with a final chance to pitch for the win.
The first presenters – seven students from team Himalayan Melange at Amity International School in Noida, India — kicked off with the day's only remote presentation. Each team had 10 minutes to pitch their unique investment strategies (tailored to competition client, Peter Wang Hjemdahl); detail their team analysis; make recommendations; and reflect on key competition takeaways. In the ensuing five minutes, they answered incisive questions from the judges.
For the next four hours, teams dazzled the crowd with professional slide decks, stock-filtering algorithms, international market analysis, carefully crafted portfolios, endless Environmental, Social & Governance considerations, and the "critical pillars" of their creative investment strategies. And while it was a Global Finale for the record books, only three teams could claim the top spots.
The winners of the 2022-2023 Wharton Global High School Investment Competition are (drumroll, please):
🏆 1st Place: DMV's Finest, Thomas Jefferson High School for Science and Technology, Virginia, U.S.
🏆 2nd Place: Amity 7 Chakras Investments, Amity Regional High School, Connecticut, U.S.
🏆 3rd Place: NovyPorg_1, Novy PORG, Prague, Czechia
Judge Michael DeFlorio (W'92), chief investment officer of Harvest Partners, pointed out that it took he and his colleagues the full hour and then some over lunch to deliberate and select the winning teams. "When I was asked to judge this competition, I had no idea of the quality of the people in this room," he said. "Everybody really deserved to be here."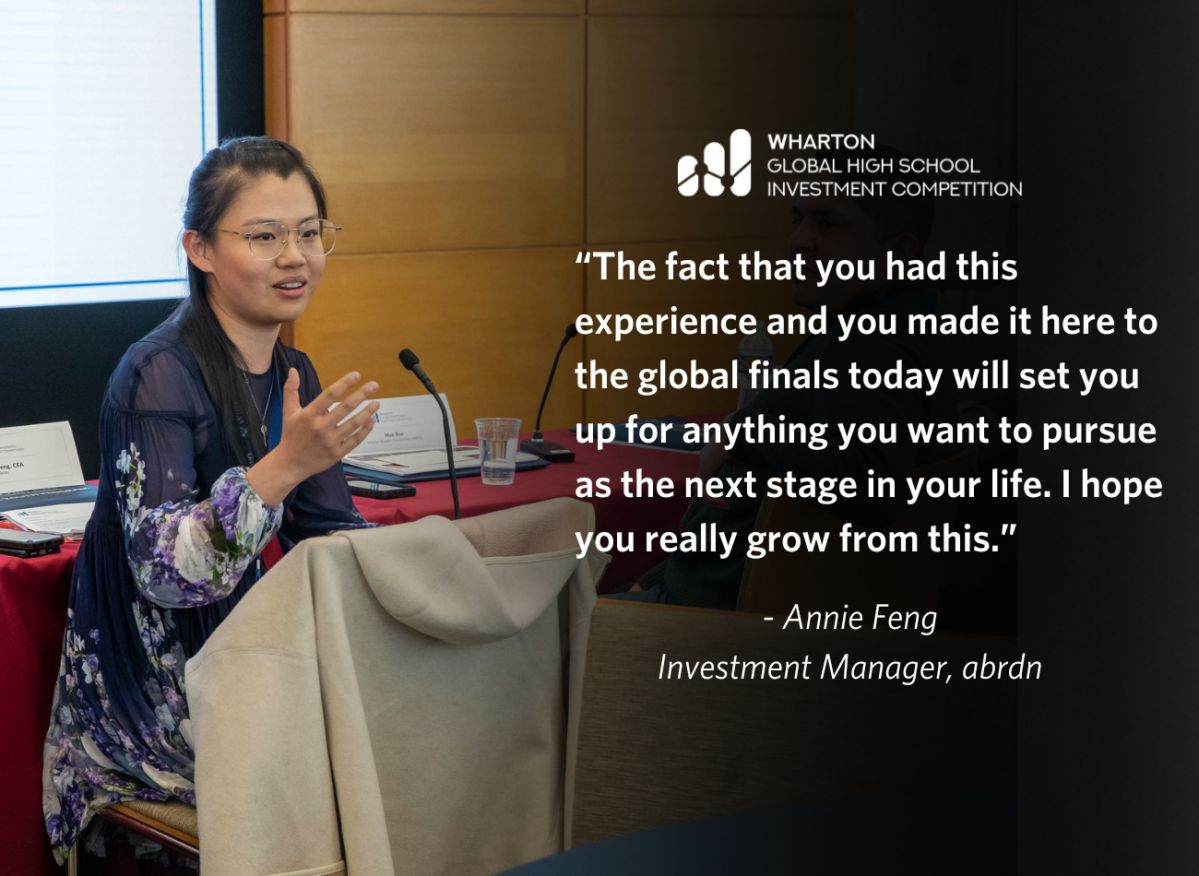 DeFlorio was joined on the judging panel by Muk Rao, product manager and architect with Wharton Research Data Services; Annie Feng, investment manager with abrdn, an asset management company that provided critical support throughout the competition; and Andrea Vittorelli (WG'92), global chairman of JP Morgan Insurance Investment Banking Group.
For DMV's Finest, the victory was especially sweet. While the team reached the final round in 2022, it did not end up placing. This year's team included a few original members, as well as several new additions. "We're ecstatic because it's two years in the making," said team co-leader, Jean Lavigne du Cadet.
Added his teammate and co-leader Om Gole, who also competed in 2022: "It's a perfect story; we really couldn't have written it any better. Though we didn't win last year, we still had the resilience to come back and do it again, and it paid off. Huge shoutout to the new members. We all carried our own weight."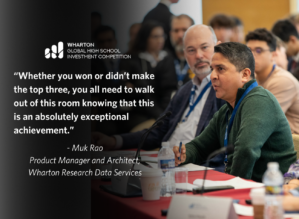 Each member of DMV's winning team will receive a scholarship to a Wharton Global Youth online program, either Future of the Business World or Essentials of Leadership. In addition, one team from their Thomas Jefferson High School for Science and Technology will automatically advance to next year's semifinals (as long as they submit all the deliverables) to defend the school's crown. All finalist teams received trophies.
Fun for Future Investors
Registration for the 2023-2024 Wharton Global High School Investment Competition begins on June 5, 2023. Stay tuned for more information in our Global Youth newsletter and on the Wharton Global Youth Program website.
What will next year bring? As always, a robust financial learning opportunity for an ever-expanding global cohort of earnest young investors – who gain so much more than stock market skills. "We formed this amazing group that worked together like a well-oiled machine, and our friendship will last forever because of the competition," said student Mojmir Zalesak, leader of third-place winner, Novy_Porg1, which competed in previous years without reaching the final rounds. "We're the first-ever team from the Czech Republic to be in the competition finals, and third place is an amazing achievement. We can't wait to share this win with the rest of our country."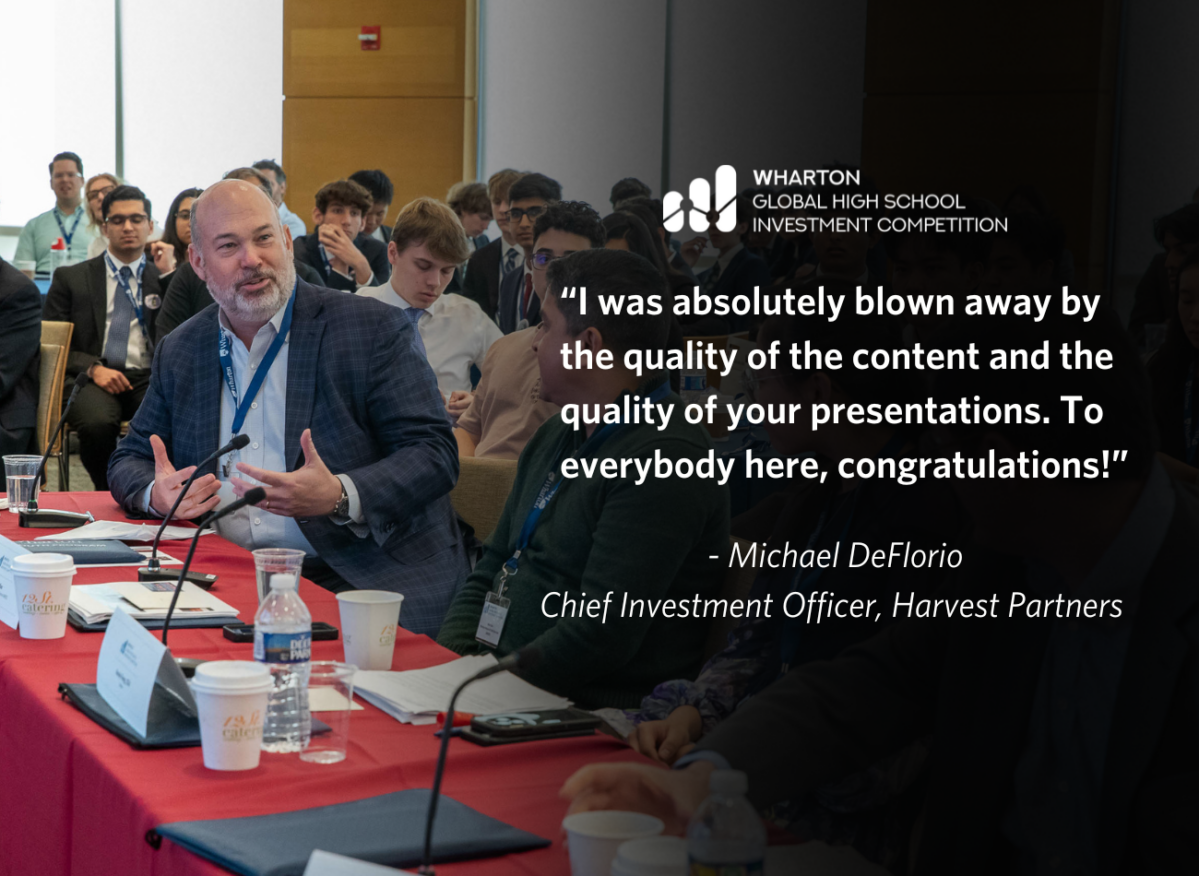 The expanding geographic footprint of the Wharton Global High School Investment Competition is a testament to the Wharton School's global reach, observes Serguei Netessine, Wharton's senior vice dean for innovation and global initiatives and Wharton Global Youth's academic director (pictured above, far right, with the winning team). "Next year," he reveals, "we will build on the success of the Investment Competition with changes and new competitive experiences to continue engaging teenagers around the world and helping them learn business skills even before they go to college."
(Be sure to click HERE to discover how the finalists spent their Learning Day together on April 21, 2023.)