Celebrating the Top 10 Teams in the 2022-2023 Wharton Global High School Investment Competition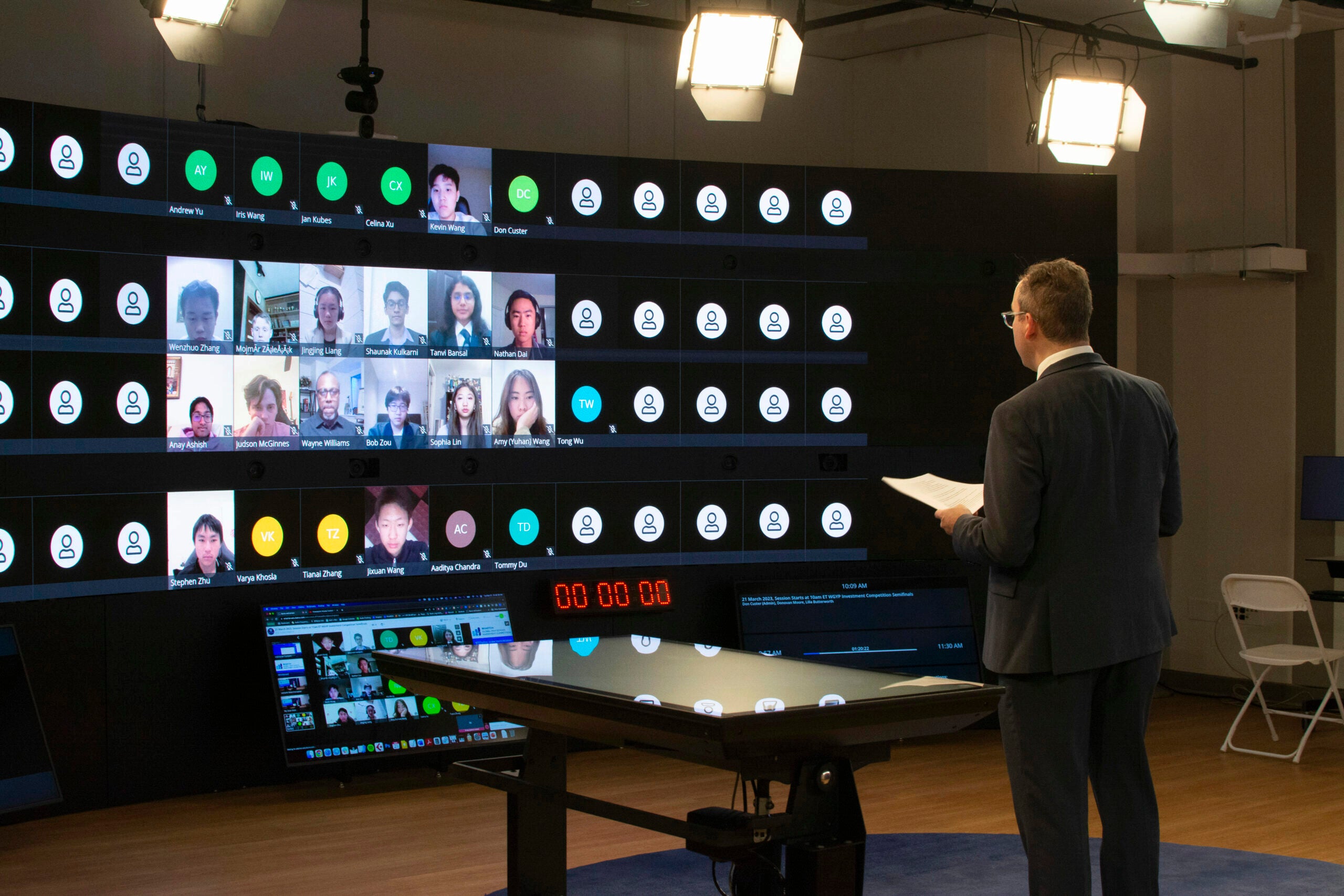 Our Wharton Global Youth team at the Wharton School of the University of Pennsylvania has been riding a wave this week – figuratively and literally (sort of).
We rode a strong wave of student investing talent and enthusiasm, while connecting with the top Wharton Global High School Investment Competition teams in the new WAVE classroom, or Wharton Academic Virtual Environment. This high-tech classroom on Wharton's Philadelphia campus – which we were among the first to use — allows faculty and presenters to link up virtually with students, interacting with them on a vast screen in a fully connected experience.
Starting on Monday, March 20 at 8 a.m., we hosted five virtual events over three days from the WAVE, learning more about the 55 semifinalist student teams in this year's investment competition and announcing the top two teams from each group that would be advancing to the Global Finale on April 21 and 22, 2023.
That's right, we selected our Top 10! And here they are:
Amity 7 Chakras Investments, Amity Regional High School, Woodbridge, CT (U.S.)
Art_of_the_stonk, Memorial High School, Frisco, TX (U.S.)
DMV's Finest, Thomas Jefferson High School for Science and Technology, Alexandria, VA (U.S.)
FRESH.minD, The Harker School, San Jose, CA (U.S.)
Himalayan Melange, Amity International School Noida (India)
JADES Co., Carmel High School, Carmel, IN (U.S.)
K-Turtles, Cheongshim International Academy, Gyeonggi-do (South Korea)
NovyPorg_1, Novy PORG, Prague, Czechia (Czech Republic)
SAMARITAN, St. George's School, Vancouver, BC (Canada)
WMSInvestClub, The Westminster Schools of Atlanta, Georgia (U.S.)
Honoring Our Competitors
Leading up to the winner announcements during this week's virtual events, Global Youth Executive Director Eli Lesser (broadcasting live from the WAVE classroom, pictured above) greeted the online team leaders and judges and introduced them to this year's competition client Peter Hjemdahl in a shared video.
"It's fantastic to see all of your dedication and hard work and effort up to this point," said Hjemdahl, a 2019 Wharton School graduate and social entrepreneur. "I participated in many case competitions in my learning journey…what I really appreciated was the opportunity to dive into such challenging, interesting and different problems that you would have otherwise never encountered."
A total of 15 judges, all finance professionals, spent a few weeks prior to the semifinal events evaluating semifinalist team video presentations to identify the top 10 finalists.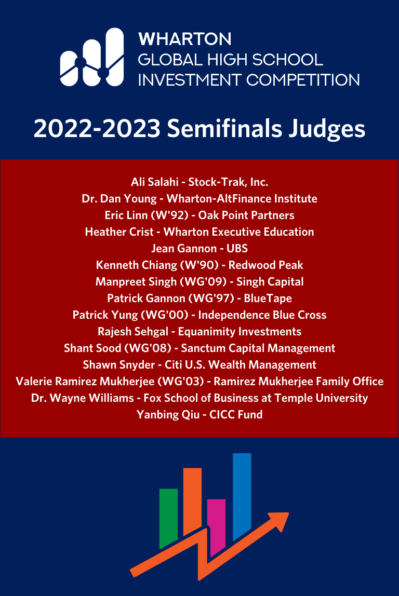 Judge Wayne Williams, assistant professor of accounting at the Fox School of Business, Temple University, joined the virtual semifinals to meet the leaders of the teams he evaluated. "Across the board, the presentations were excellent in terms of creativity and approach," said Dr. Williams, who is also a lead instructor in Global Youth's Essentials of Finance program. "What a difficult market you had to navigate. Many experts even had challenges over the last six months. Congratulations to all of you."
Student team leaders enjoyed a few minutes in the WAVE spotlight to introduce their teams and advisors and talk about their competition experiences. Gurtej B. from team Finance Wolves in Tanzania, Africa, said he felt as though the competition revived his spirt as a leader. "I've been able to become a lot more of an attentive listener," he noted. "It is better to listen to others, as opposed to always thinking that what I believe is right."
Dylan B. from Horace Mann Investors in New York City, U.S., said, "I used to think that creativity meant to be able to find unique solutions to problems on my own. However, the Wharton Global Youth competition showed me just the opposite. Through brainstorming with my teammates and grueling hours of research, I realized that creativity can be achieved through collaboration and hard work."
And Sriya A. of Pennsbury Capital in Pennsylvania, U.S., applauded her team's new financial knowledge. "A big skill we took away from the competition is adaptability in investing," she observed. "We have to analyze both macro and micro events in order to make the appropriate adjustments to our portfolio. In life, there's only one constant, which is change. Adaptability to unexpected situations will benefit us."
Congratulations to the top 10 teams in the 2022-2023 Wharton Global High School Investment Competition!
The top 55 teams will receive semifinalist certificates, a box of Wharton Global Youth swag and a digital badge to display on social media. The 10 finalist teams have now been invited to compete for top honors on Wharton's Philadelphia campus in April, starting with our annual Learning Day on the 21st and the in-person finale on the 22nd. We can't wait for the big event! Stay tuned to our Global Youth website and newsletter for all the details.