Learning Day 2023 Is a Big Hit with Investment Competitors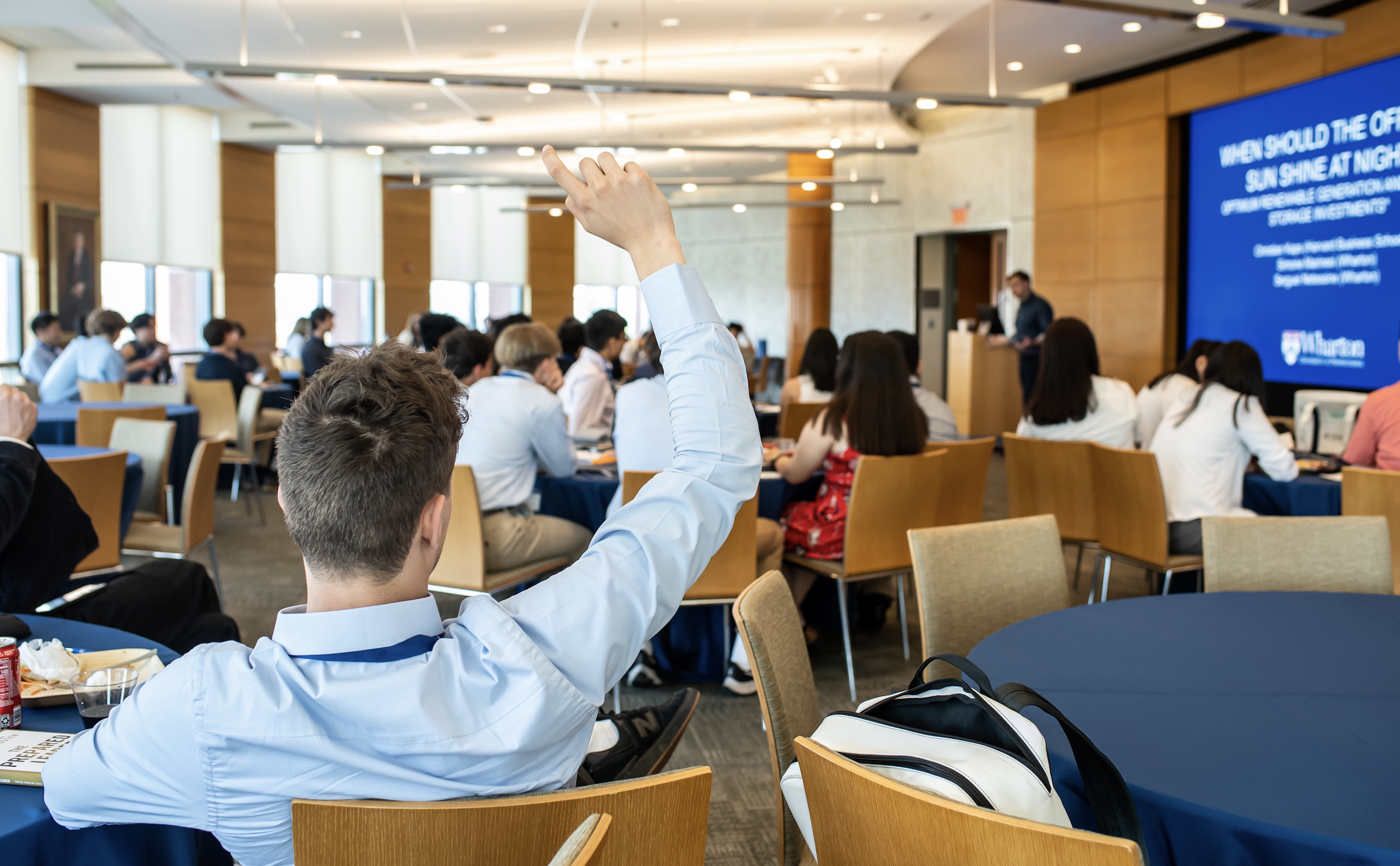 Since the Wharton Global Youth Program launched its annual investment competition in 2012, its mission has persisted: empowering high school students with the knowledge and skills to be financially savvy and professionally exceptional. So, kickstarting our Global Finale weekend each year with a separate Learning Day for our finalists that delivers academic excellence and networking brilliance just makes sense.
'Making Those Connections'
On April 21, 2023, more than 50 high school students traveled (with teachers and parents) from around the world to convene on the Wharton School campus in Philadelphia for a Friday of fun — leading into a fierce Saturday pitting the top 10 teams against each other for the chance at claiming competition gold, silver and bronze.
For many competitors, Friday's Learning Day was a welcome distraction; a chance to celebrate their Top 10 status pre-battle and explore the campus and conference halls of a world leader in business education. Students also met some local celebs, including Erika H. James, Wharton's dean, and, yes, even Ben on the Bench.
Awaiting the start of the day's agenda on the 8th floor of Jon M. Huntsman Hall, students reaching campus from the U.S., Canada, South Korea and the Czech Republic formed circles to shake hands and swap swag with their competition peers. As always, the students set the high-energy level for the day – and rode it enthusiastically until the scheduled 5 p.m. mocktail reception.
"We're really excited you're joining us for a great Learning Day," said Eli Lesser, executive director of the Wharton Global Youth Program. "One of the amazing things about all the programs we do, including the high school investment competition, is that this is a chance to meet some new people. Whether it is on the college campus you choose to attend, in a graduate program or business deal, you will bump into these people again. Start making those connections."
Appropriately, Learning Day participants first headed off on a scavenger hunt, forming teams with new friends and getting to know each other over cryptic clues and snapped selfies at each deciphered location. Members of the winning team scored copies of Dean James's book, The Prepared Leader: Emerge from Any Crisis More Resilient Than Before (Wharton School Press, 2022). Their morning of searching for Wharton landmarks was followed up by a look inside the Wharton experience during a presentation from undergraduates Megha Raman and Ashley Song.
Talking about Business
Learning Day inspired students' curiosity and critical thinking, with academic talks by Wharton faculty and a robust Q&A exchange with Dean James, who praised the group's ability to "navigate and work together in teams," noting it is one of the keys to success in business and life.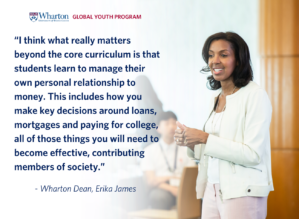 Students asked the dean about everything from business trends and risk-taking in a crisis, to Wharton's undergrad emphasis on academic research and leadership. "I think the notion is that we tell you what you need to know," said Dr. James, who is also an expert in crisis leadership. "Things are happening and changing so quickly in the world that we're taking as much information from kids in high school to know what you're already doing and how you're being prepared. We're learning about you [to inform] what we need. For example, as a generation you have a lot of concern for the planet; you care about climate and societal issues. Those were part of the curriculum at business schools before, but knowing we have a generation of young people who want to integrate that kind of knowledge into their business-school experience, we're modifying our curriculum in those ways."
Serguei Netessine, Wharton's senior vice dean for innovation and global initiatives, Dhirubhai Ambani professor of innovation and entrepreneurship and professor of operations, information and decisions, introduced students to his research on "Sustainable Energy for the World's Poorest Countries."
He pulled from three of his academic papers to address a unifying theme: delivering sustainable energy like solar power to the world's poor. "I wanted to give you a sense of the type of research we do here at Wharton," said Dr. Netessine, as he led the group through his co-authored analysis of sustainable-energy generation, use, and challenges in countries like Rwanda and Ghana. A key conclusion: The countries he has studied, while facing varying degrees of poverty, can benefit from (very different) sustainable-energy solutions, potentially with different business models.
Dr. Patti Williams, the Ira A. Lipman associate professor of marketing and vice dean of Wharton Executive Education, discussed her research on brand purpose and building brands that matter. "Every marketer out there is talking about brand purpose these days," said Dr. Williams, a consumer psychologist who teaches both undergraduates and MBAs at Wharton. "Do they have one? Does it need to be rewritten? What should it be if they're in the process of doing it? I just had the CMO (Chief Marketing Officer) for JPMorgan Chase in my class. They just rewrote their brand purpose because it's super important." Stay tuned for a more detailed overview of Dr. Williams's talk in the Wharton Global Youth online business journal.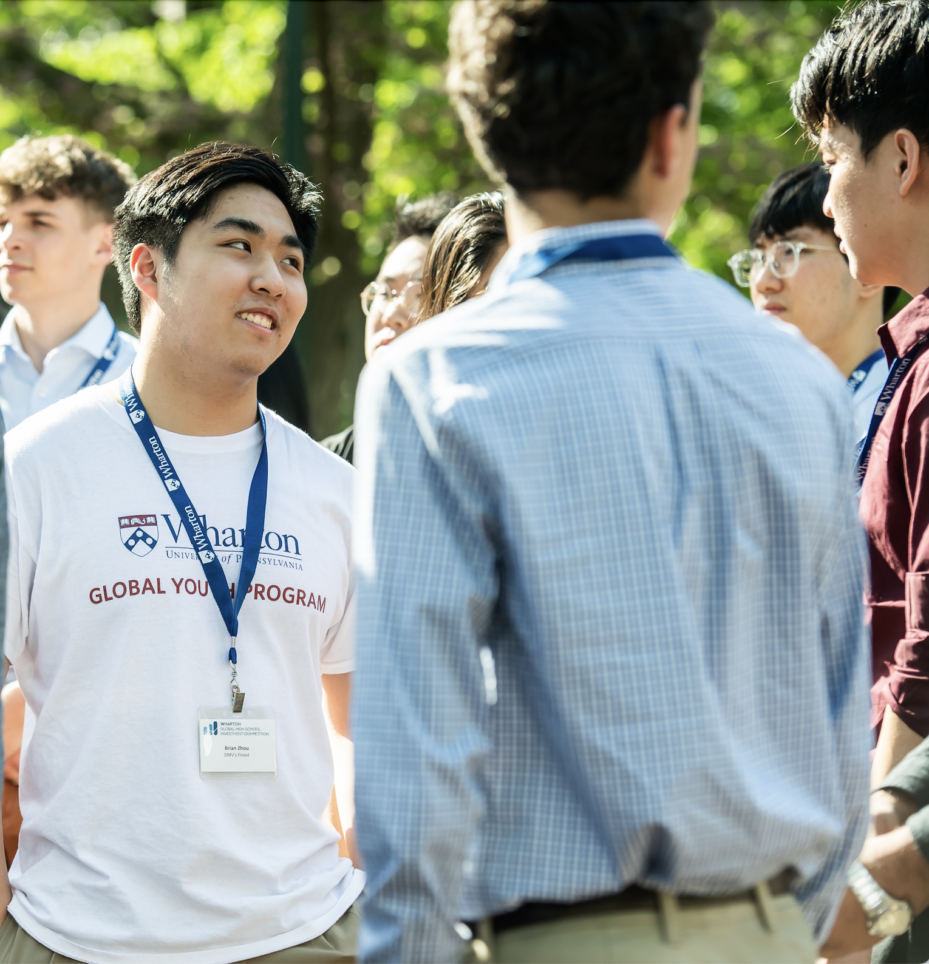 Brian Z., a high school student from Virginia and co-leader of the investment competition team DMV's Finest, led a Learning Day Instagram takeover of the @WhartonYouth account to share all that he and his peers were discovering.
We caught up with him post-takeover. "The Learning Day was great," said Brian, who cited engaging with Dean James as his biggest highlight. "We had a lot of space to get to know everyone else and had fun learning about each other and all that Wharton has to offer… Many of us came out of the Learning Day with new friends and ideas and approaches for investing that we hadn't considered. We are all raving about the experience!" 
(Be sure to click HERE to discover who won the 2022-2023 Wharton Global High School Investment Competition.)