Meet One of the World's Most Well-Traveled Teens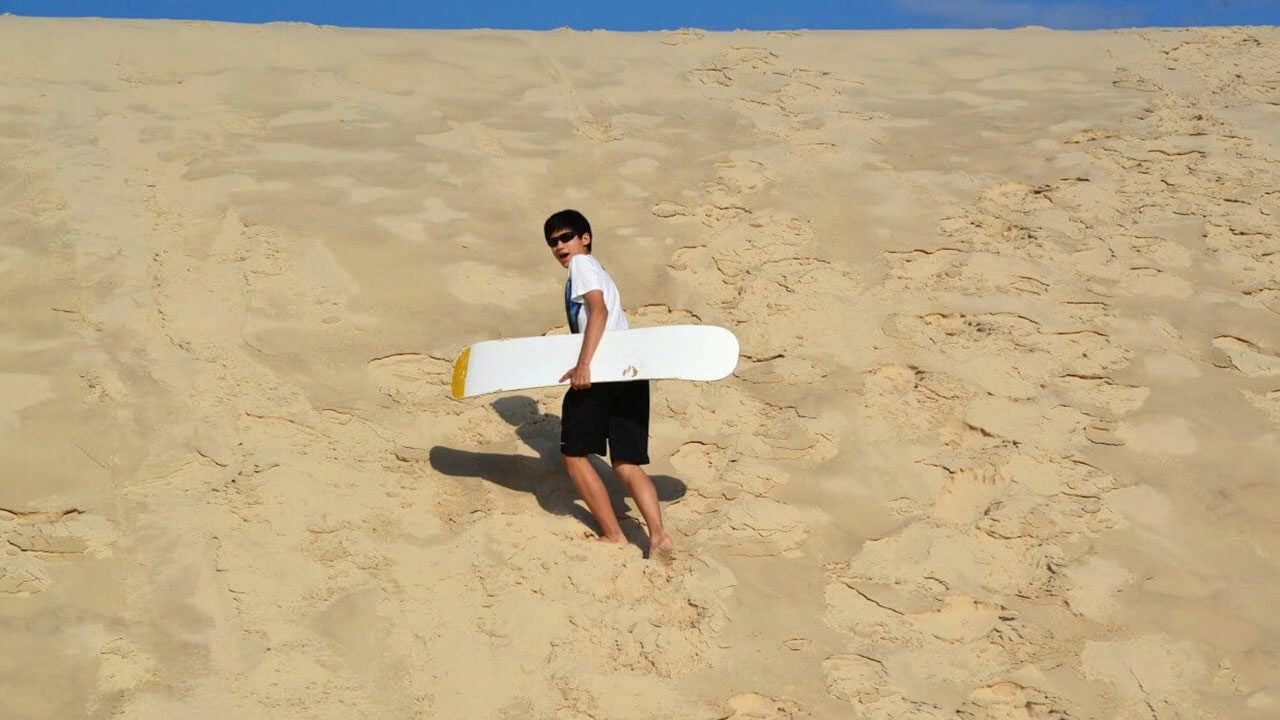 When Jonathan Looi was about to embark on a trip around the world a few years back at the age of 15 (yes, you heard us right!), his mother assigned him a task: Find the best backpack for everybody in the family to carry. Looi, his parents and his sister were preparing for a two-year trip. "I remember doing research and having no idea what [gear] to get," he recalls.
That dilemma inspired Looi, who then lived in Florida and was a high school student at Florida Virtual School, to create TheTravelGearReviews.com, a website that documents his travels and helps people decide what gear they should buy for their vacations. Nearly three years later, Looi is still running the site, garnering 45,000 page views per month. Now 18, he has settled in the Queens borough of New York City with his family following their world tour.
Star Wars Luggage and Toilet Paper
The website has been "growing a ton," notes Looi. "When I first started, I honestly wouldn't have ever expected it. It's kind of crazy. People from around the world are looking at it. It's really cool to think that 20 years ago, no one could've been doing this without the Internet," he says.
Looi generates income through the ads that companies run on his site, though he doesn't want to divulge how much. In addition, as traffic has grown, companies sometimes pitch him products to feature on his website. Looi reviews a range of gear – from Star Wars luggage and international power adapters, to travel toilet paper. He'll write about the strengths and weaknesses of various products. "I'm able to test the gear out while traveling. That's what sets my site apart from other review sites," notes Looi, who, with the help of his parents, has continued to cross the globe to support his business mission.
So far, he has visited 32 countries on five continents. Which experiences left him wanting more? He loved Patagonia in Chile and Argentina, where he hopes to return to hike the glaciers. He also enjoyed riding the Trans-Siberian Railway for seven days – even though he couldn't take a shower. During his trip, he also attended local schools in China (learning some Mandarin Chinese) and Uruguay (learning some Spanish). His family spent eight months visiting every country in South America.
Looi sees lots of advantages to becoming a teen website entrepreneur. "When you're a teenager is a great time to start a website. Before you go to college, you're going to have more free time to work on a site," he notes. "It's a hobby that has turned into a business."
While trekking around the world for two years with his parents, Looi not only maintained his website, he also wrote a book. He didn't finish high school before he left for his adventures. Instead, he took online courses, earning his diploma two years early at the age of 16. He self-published the book How to Graduate High School Early, which is sold as a Kindle edition on Amazon.
Looi admits that he is somewhat of an accidental blogger and reviewer. "I've never been drawn to travel writing," he says. "That didn't appeal to me as much as [running] a gear website." Though he started the website to document where he was traveling, he found himself more keen on writing about the equipment he was using during his travels, rather than what he saw or where he ate, which are the typical features of most travel blogs.
These days, Looi can talk backpacks with the best of them. What's more, he has gleaned valuable business insights – particularly related to online commerce and promotion – that have helped him expand his brand. He shares the following tips with other aspiring teen entrepreneurs:
Create quality content that interests your target audience. "It's important to know what your visitors are looking for. The more people you help, the more traffic you're going to get," says Looi.
Promote your content. Looi suggests that after you write a really good article, share it on social media or by word of mouth. "The whole social media marketing has been pretty helpful for my website. Pinterest has been the most popular," he says. Looi has more than 11,000 followers on Pinterest, with a healthy following on the other channels. He aims to be on social media at least once a day. Not only will he share his own ideas, he'll share posts that he likes and finds ways to interact with followers.
Entice users with evergreen content. "When I write a blog, I don't make it too seasonal. I keep it evergreen. I want my reviews to be relevant two years later," notes Looi. Sometimes, he'll post older articles that past followers have found particularly useful.
Be consistent and fresh. Looi writes two reviews a week to infuse new energy into his site. Even if he isn't traveling to some exotic locale, he will take a day trip around Manhattan to "test drive" a new pair of hiking boots that he plans to review. "Consistency was something my mom stressed even from the start. Returning visitors will always have new stuff to read," he says. In fact, before his parents would let him launch his own website, his mom, Claudia Looi, suggested that he guest-blog on her own travel-related website – travelwritingpro.com — twice a week to prove to her that he was serious about maintaining his own site.
Manage your time wisely! Looi tends to write in the morning. "That's when I feel the most inspiration to write reviews," he notes. He works on his website until lunchtime, replying to emails and writing posts. When he was traveling for two years, it was much more hectic. "We would go out for the day. I would come back to our Airbnb apartment and do schoolwork. Then I would stick a blog post up for that day. It was complicated, but I learned good time management skills," he says.
Looi's next big adventure: college. He has applied to several universities in hopes of heading to campus in September. And he has a pretty good idea of where his strengths lie. "Getting involved with the Internet and coding was a gateway to computer science for me," says Looi.
Related Links
Conversation Starters
Jonathan Looi recommends starting a website as a teen. What might be some of the advantages of starting this type of business so young? Disadvantages? Have you started one? If so, share your story.
What does Looi mean by "evergreen content?"
Looi has lived quite an unconventional life thus far. What are your thoughts about his lifestyle and the prospect of living and exploring outside the accepted high school structure? Do you think this contributed to his entrepreneurial spirit? Why or why not?