Announcing the Regional Winners of Our 2020-2021 Investment Competition!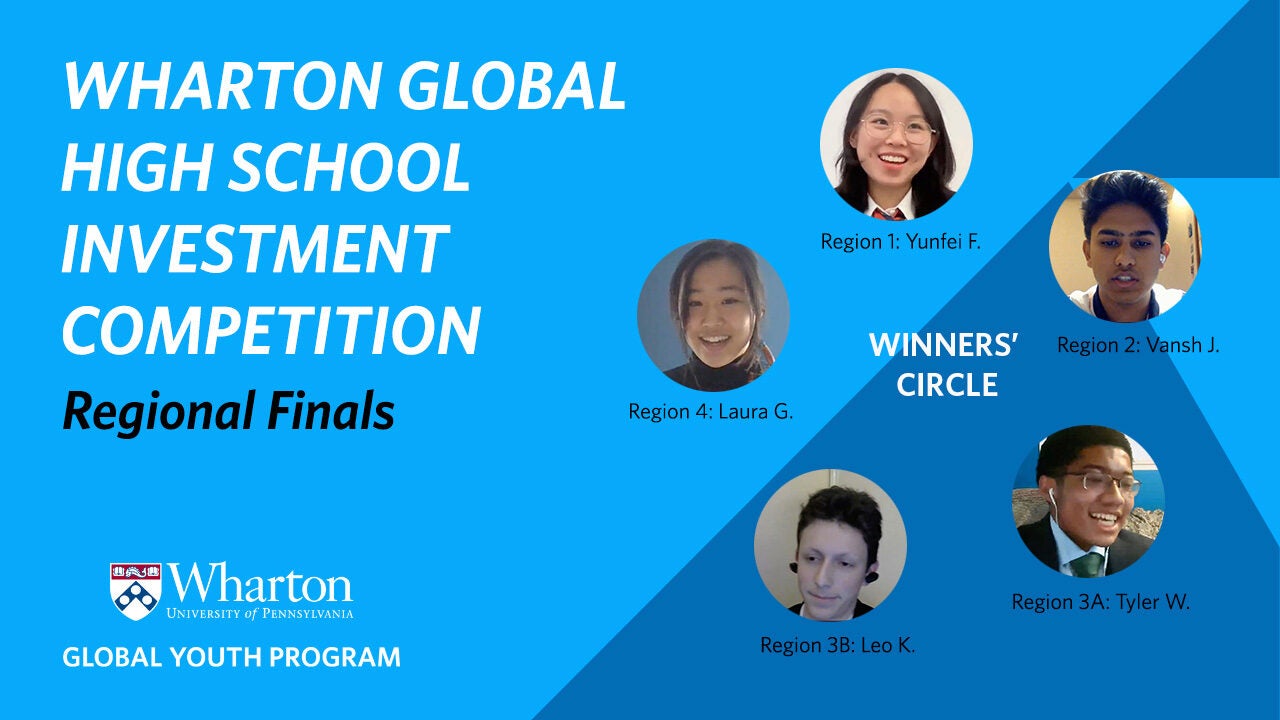 March 22, 2021 kicked off an incredible week for the Wharton Global Youth Program as we celebrated all the hard work and financial brilliance of the 2020-2021 Wharton Global High School Investment Competition finalist teams during five regional finals.
This week's virtual events, led by Wharton Global Youth Executive Director Eli Lesser, featured recorded words of inspiration from this year's investment competition client, Florian Hagenbuch, and live insights from some of the judges, all of whom watched and scored the top 10 investment competition presentations in their individual regions to ultimately select the top 3 winning regional teams.
We also heard from the student team leaders, who introduced their teammates from around the world and delivered thought-provoking advice and ideas about the creativity, financial knowledge and personal growth they experienced throughout their competition journeys.
A special thank you to this year's sponsors, Citibank N.A. Singapore for Regions 1 and 2 and BTG Pactual for Region 4.
During the Region 2 event, Rahul Ghosh, Citi's client segment head for Asia and the EMEA region, said, "Every team's presentation taught me a lot and was different, with nuances. I could see the character of the teams coming through…And especially in this pandemic atmosphere, I could understand to what extent each one of you went beyond your normal life to learn this and get it done." Added Felip Gotlieb, associate partner of BTG Pactual, during the region 4 presentation: "This competition is an example of discipline in our professional lives… You will face many competitions like this and discipline should be key to systematically being in the finals like you are today."
Without further ado, the regional winners of this year's Wharton Global High School Investment Competition are:
Region 1
Polaris2020, The Experimental School Affiliated with Zhuhai No. 1, China (Team Leader: Yunfei F.)
CREDO, International School of Beijing, China (Boheng (Bill) D.)
World No. 1, Shanghai High School International Division, China (John W.)
Region 2
TSRSM Capital, The Shri Ram School, Moulsari, India (Vansh J.)
Fox in the Box Investments, Amity International School, Vasundhara, Sector 6, India (Srishti C.)
The Wolves of Wall Street, Dubai International Academy – Emirates Hills, UAE (Raghav C.)
Region 3A (United States)
Planty Investment, Walton High School, Georgia (Tyler W.)
M&R Investments, Marvin Ridge High School, North Carolina (Esha S.)
MOSAIC, Clarkstown High School North, New York (Sanjay K.)
Region 3B (United States)
Wells Street Capital, Walter Payton College Preparatory High School – Illinois (Leo K.)
Avant-Garde Investments, Tesla STEM High School – Washington (Dhruv S.)
Team CRUX, Coppell High School – Texas (Amita S.)
Region 4
Poutine Potatoes, Saint Robert Catholic High School – Ontario, Canada (Laura G.)
Eagles Value Added, Graded American School of São Paulo, Brazil (Caio S.)
NP_Investment, Novy PORG Gymnazium, Czech Republic (Otakar K.)
The top two teams from each region will advance to the Wharton Global High School Investment Competition Global Finale in May, 2021. Additionally, the top three teams will receive plaques and free access to our online Understanding Your Money course. All finalist teams receive certificates and digital badges to display on their social media and electronic résumés.
Congratulations to the regional winners of the 2020-2021 Wharton Global High School Investment Competition! Stay tuned for all the details about our upcoming Global Finale, as well as information about the opening of registration for our next investment competition this fall. May your new knowledge be the foundation of wise and wonderful financial decisions throughout your lives.