Future of the Business World: Launching a Healthy Sports Drink 'By Gen Z for Gen Z'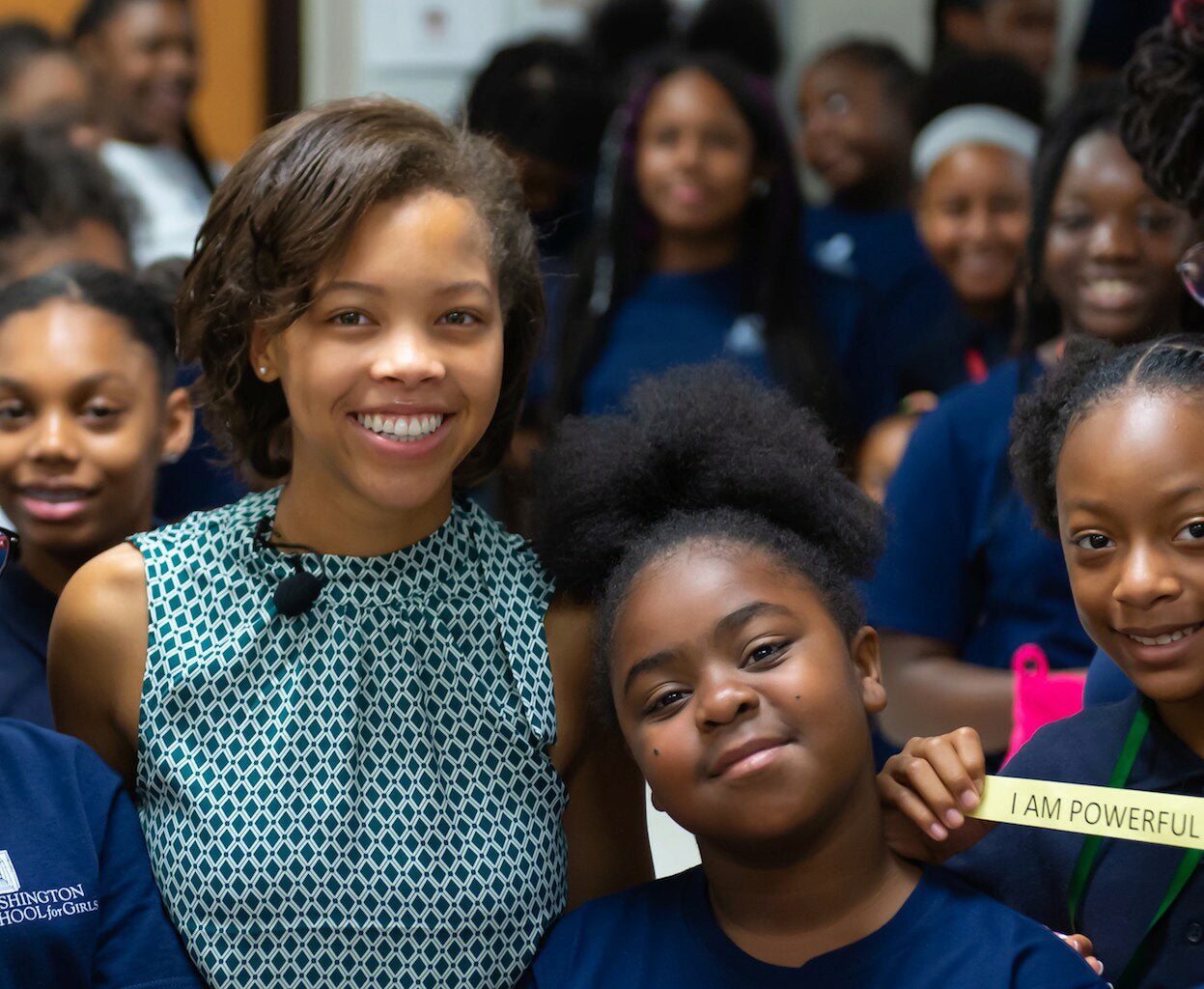 On this month's episode of Future of the Business World (listen by clicking the arrow above), we meet high school senior Alana Andrews, a teen innovator from Virginia who has embraced entrepreneurship with her whole mind and heart. She exudes passion as she shares her story of launching The SWEY Corporation, a healthy sports beverage business with products created by Gen Z for Gen Z that was inspired by her own pre-Diabetes diagnosis.
Alana takes us through her journey of launching her first product line in the spring of 2021, from pricing strategy to building a powerhouse advisory board, all while staying true to her personal brand: "Igniting fearless imagination."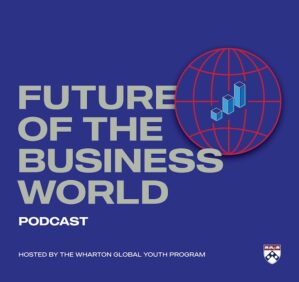 Wharton Global Youth Program: Hello and welcome to Future of the Business World. I'm Diana Drake with the Wharton Global Youth Program at the Wharton School, University of Pennsylvania.
At Wharton Global Youth we introduce high school students to business and finance education in fun and interesting ways. Here, on Future of the Business World, we spend some time getting to know the teen entrepreneurs we meet along the way.
I'm excited to introduce today's guest Alana Andrews, who studied in our Essentials of Leadership program and took a Wharton Pre-Baccalaureate course with us this past summer.
That is by no means all that Alana has been up to this year! The 17-year-old from Virginia launched her own product line in the spring and has been super busy building a robust business.
Alana, it's great to have you on Future of the Business World!
Alana Andrews: Thank you so much. It's great to be here.
Wharton Global Youth: Tell me a little about yourself – where you go to school, your interests and this little acronym I see next to your name: CEO. How have you earned that title?
Alana: I am a senior in Potomac Falls High School in Loudon County, Virginia near the DC Metro area. My passion truly is entrepreneurship. I love the idea of creating something out of nothing, purely from imagination and creativity. I also do enjoy building self-confidence and positivity in the youth. The title CEO came from my entrepreneurship passion leading me to build my company, SWEY.
Wharton Global Youth Program: Tell us about The SWEY Corporation?
Alana: SWEY is an acronym for our target market, which is strong, wise, energetic youth. The whole idea for SWEY came out of a personal need that I had when I was 8 years old. When I was younger, my brother and I were both diagnosed as pre-diabetic. An 8-year-old is not taught how to handle being told that you're getting this so-called controllable disease. I was scared, I was frightened and frankly I had no idea what Diabetes meant. But I did know that five members of my family had passed away from this disease and 193,000 Americans under the age of 20 have this disease every single year.
After being bombarded with all these stats, I decided to not become its next victim. In order to do that, I had to build a healthier lifestyle. For me that meant training in tennis non-stop and running in track non-stop. After putting out all this effort on the court and on the track, we always need something to replenish. So that was my next step. Having this healthy lifestyle all around with food and with beverages. I would go to these stores and I would see these really beautiful colored drinks and these really creative labels, but they were hiding and covering the loads of sugar and chemicals in these drinks that I knew would only reverse my progress of not getting diabetes. I would see a wide array of options for adults and a wide array of options for younger kids, but there was nothing for the people in between, otherwise known as Gen Z. That's where the whole idea of creating a product for young athletes stemmed from.
Fast forward about nine years later and SWEY was born this past spring and has now become the natural modern sports drink specifically designed for young athletes.
Wharton Global Youth: I see this as a wonderful opportunity to talk with you about product development in business. You launched your first line of products this past spring. How did you get from idea to product launch? Tell me a bit about the process and also about the line of products?
Alana: Most definitely. This was truly a journey. The one thing I've learned from creating SWEY is that it's of course a great thing to get to product, but the most important reward is the lessons you learn throughout the journey. I created SWEY in about 2017. I was in the Young Entrepreneurs Academy (YEA!), a program where you're taught how to make a business plan and how to integrate the other components of the plan, like creating your prototypes. That allowed me to have a foundation of entrepreneurship.
After graduating from the Young Entrepreneurs Academy and creating the idea of SWEY, I began making prototypes. I would go into my kitchen and make home-made formula or ingredients off of Amazon, like organic honey powder or organic apple powder, just try to put everything together to make a healthy sports drink. I would blend it up in my kitchen and have my parents try it with me. That was during my middle school years, so I would even give it to my peers to try it. Of course, the first step is seeing if there's a market for it; seeing what people think about your drink.
After making the prototype in my kitchen, I would then move it on to a lab called Flavorman in Louisville, Kentucky. They helped us form it into an official beverage, which was so much fun to create with them. We went through a wide series of different flavors and minerals and vitamins to include in the other product lines. After that, we took it to our manufacturer Power Brands and they put together the whole drink. Of course, there's so many more steps within that, including making the label and establishing SWEY as a corporation and also working with other people and experts to help.
We launched the product line with three flavors. One is Major Kiwi, which is strawberry and kiwi; next we have Tropicalada, pineapple and coconut; and Citrus Sizzle, orange and tangerine. They all have B Vitamins, Vitamin A, Vitamin C, and minerals that are important for our target market.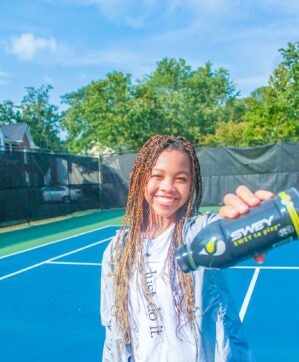 Wharton Global Youth: What about the sweetness factor? How do you incorporate that into the sports drink?
Alana: That was the main goal in creating SWEY was to have a low-sugar sports drink. That was what I had failed to find in the market when I defined this problem in the first place. After learning about the damaging effects of sugar, I knew that I did not want to include that in SWEY. Instead, we used different alternatives. We used Monk Fruit, Stevia and Erythritol. Erythritol is not an artificial sweetener. It is basically a sugar alcohol. And it is a healthy sugar alcohol. It is basically a carbohydroxyl group that does not influence your insulin or glucose levels. We include these other sweeteners to complete the SWEY flavor profile.
Wharton Global Youth: How has your product been accepted on the market?
Alana: We first launched with making a small batch of product line in order to test the traction in the market. Kind of like a soft launch. We made about 5,000 drinks and we sold out pretty quickly and exceeded our projections, which is a great problem to have. We've been hearing great feedback. For me, it's one thing to have people like the product and it's another to have people relate to the mission and the purpose behind it. It's been great to hear the feedback and to know we're providing a healthier option for people to have a healthier lifestyle.
Wharton Global Youth: Do you feel as though you're building a community around Gen Z and people who actually have Diabetes and understand the plight?
Alana: Yes, I definitely do think we are and that is definitely the goal of it as well. One of the main pillars of Gen Z is that they want to understand who is behind the product and who is behind the companies that they're buying from. So one of our main goals within SWEY is to create that community feel and to have inclusivity as a company and to make sure we're listening to our community when creating the product line.
Wharton Global Youth: How is the business doing? What are your sales to date? And tell me a bit about your pricing strategy.
Alana: We did launch this spring and produced a few thousand so we made a few thousand as well. As I mentioned earlier, we exceeded our production so we had to find a way to beat the supply chain and get the inventory we needed in order to produce again, which is what we're working on right now. We're preparing to produce again in December, about 55,000 bottles, so after selling out this summer we've been on that. It's been great to hear the responses.
Our pricing strategy is $15.99 per six-pack, which is about $2.70 per bottle. That is at the high quality, high-premium price range, which is what we want to say in the market, being the apple of sports drinks. We also are looking to decrease that as well for our next run. We're going to move toward selling 12-packs for $31.99 in order to decrease the pricing and it also helps the shipping prices on our end.
Wharton Global Youth: We like to call this a crowded market. There are so many sports drinks out there. As you mentioned earlier, you went out there and saw this array of colors. How has that been. Is it very competitive?
Alana: That is the No. 1 investor question that I get every single pitch. How are you different? I have been working on creating the whole idea and concept and profile of what makes SWEY different in the market. A few of the main pillars and differentiators are that we're made by Gen Z for Gen Z and we have a foundation that is clean at the start. A lot of our competitors are coming out with other versions like Gatorade Zero, which are low-sugar and organic, which is amazing to hear. But their foundations are in the sugar-filled, chemically enhanced areas. At SWEY, we're starting clean and we're staying clean, which is one of the main differences. Also, we target a neglected group of consumers, which we also call a white space. Gen Zers do not have products specifically made for them, at least not within the beverage field that we have noticed through our research. SWEY looks to fill that space and defy that neglected market.
Wharton Global Youth: What have you learned about the value of the brand? This Gen Z brand. Is it global? Do you have famous athletes endorsing you? Have you used social media to promote your brand? What have you learned about the power of the brand?
Alana: This brand idea is so important and I did not really understand the importance of it until about a year ago. I had a business bootcamp with our current CBO, chief business officer, and our first investor and board member as well. She is really invested in marketing. She helped us make our positioning statements, our creative brief and helped us put together the whole idea of SWEY. What does it mean to SWEY? What is the SWEY consumer? What is our long-term plan? What are our colors? What are our fonts? We nailed these down to have a standard or a constant brand that our community and our customers can identify with.
Expanding on that, I'm very grateful to say that we have worked with NBA athletes – Ty Jerome from the Oklahoma City Thunder and Joe Harris from the Brooklyn Nets. They partnered with SWEY at their different camps this summer. That's been a lot of fun. We're also working with another NBA athlete right now, which we're excited to announced next year, to become a full SWEY partner and really push the mission.
Wharton Global Youth: Tell me about your board of directors, advisors and investors. How, at 17, have you been able to connect with this powerhouse team and work with them effectively?
Alana: When I was creating SWEY, I truly had no idea how to take this formula and put it into market. But I did know that someone has done it before and that there is a way to do it. Immediately, I began going on Google and using the free tools we have and looking up different successful beverage companies, different people in the athletic field, different people in funding, experts in diverse fields that I could bring together within our board to have an accumulation of expertise that could help build SWEY and reach our full potential.
I like to share the experience of one of our advisors, Jim DeCicco. I was looking up a broad array of successful beverage companies and I found Super Coffee, a protein-based coffee. I was looking at their success. They're now one of the fastest-growing privately held companies in America. I knew that the people behind it must have some nuggets of gold in their toolbox that I hoped they would share with me. I couldn't find his email online. I went on Instagram. I had to be fearless with this. I found his email on Instagram. I emailed him that night. We met that weekend. And a year later he is our advisor and he's been helping us. After starting with him as our first advisor we've been working with other people, including Henry Brandon out in California, Tony Lawrence out of Texas, Shauna Harrison, an influencer and athlete in California; and Vicki Bendure, our publicist who has been working in marketing for over 20 years. We've been taking all of their different experiences to help build SWEY.
Wharton Global Youth: I'm going to go back to something you said there, which is 'I had to be fearless.' Was it hard for you to become courageous enough to reach out to these high-profile people and get them engaged with SWEY. What advice would you have for other young entrepreneurs about doing that? About becoming fearless?
Alana: This was definitely a challenge in the beginning. The No. 1 thing that allowed me to be fearless was to believe so much in my vision and to see it so clearly. I was doubtless about it and could ask anyone, 'Hey, do you want to help me with this? Do you want to create this together?' I think a no is just another step to getting your yes. Those "no's" always fueled me to continue to ask and to continue to put myself out there and to be in these conversations. I would say it was a challenge in the beginning but Mary Beth Fraser, our CBO and investor is the epitome of being fearless and has really inspired me to ask the questions and not take no for an answer and allow it to fuel you.
Wharton Global Youth: What's next for SWEY and for Alana Andrews?
Alana: My goal is to take SWEY globally and internationally. I have recently learned so much more about the damaging effects that unhealthy beverages can have on our youth, and the prevalence of them across different countries because of the low economic resources that a lot of countries have. I want to put SWEY into being an affordable brand and to help other people have a healthier lifestyle. Getting closer to allow them to make their visions move. [I also] want to teach the youth about the power of entrepreneurship. How to take that idea and not let anyone tell you that you can't do it and just run with it. Let that fuel you. Create your vibrant vision and have a roadmap of what you want to create and go for it. Entrepreneurship is less of a career and more of a lifestyle, so to really embed some of these key components within the entrepreneurship lifestyle within our youth so we can continue to progress with our visions and goals.
Wharton Global Youth: Let's wrap up with our lightning round. Try to answer these questions as quickly as you can.
If you could change one thing in the world, what would it be?
Alana: This is a great question. I would improve or help progress the prevalence of accepting creativity and accepting people wanting to challenge normality and to challenge conformity. And for us to nurture the importance of innovation and entrepreneurship. I think it is so important that we allow ourselves to create, and that's something that I would change in the world.
Wharton Global Youth: A pain point in product development that you never expected?
Alana: The financials, the number part.
Wharton Global Youth: What is your favorite emerging business trend?
Alana: Business is moving more toward brand transparency and having healthier products for their consumers.
Wharton Global Youth: Something that might surprise us?
Alana: I am pescatarian.
Wharton Global Youth: Athlete you would most hope to see guzzling your sports drink?
Alana: I would love for [tennis player] I would love for Coco Gauff to try SWEY. She's incredible!
Wharton Global Youth: You are debuting your own talk show…who is your first guest and why?
Alana: I think a lot of people would agree with me on this. I would choose Oprah and it's because of her progressive philosophies and her mindset and her studies in the mind and how we can create our own realities. I think she is someone great to learn from.
Wharton Global Youth: In only a few words, what is your personal brand?
Alana: My personal brand is challenging conformity and igniting fearless imagination.
Wharton Global Youth: Alana Andrews, thank you so much for joining us on Future of the Business World.
Conversation Starters
What are three business concepts you learned by listening to this podcast?
Why and how did Alana Andrews have to "be fearless?"
Would you drink SWEY? How do you feel about the "By Gen Z for Gen Z" brand?