Measuring Entrepreneurs' Social Impact: 'Our Generation Doesn't Want to Compromise'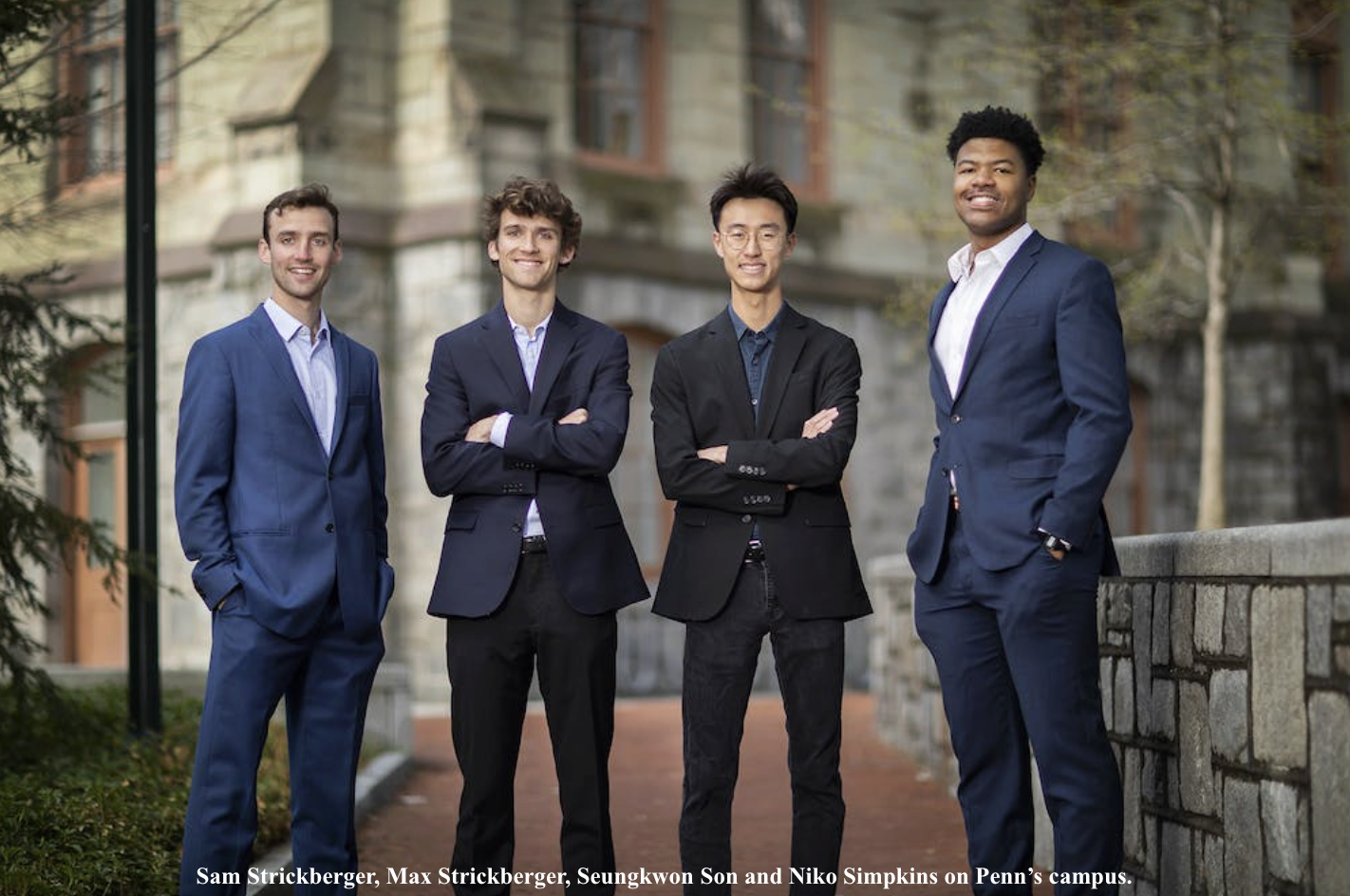 Fans of the Wharton School's Future of the Business World podcast featuring high school students talking about their entrepreneurial ventures, have listened to the stories of all kinds of social entrepreneurs – innovators who want to address and solve problems in society.
Divya Sijwali and Parth Puri from India are creating footwear out of discarded tires – while also paying a fair wage to cobblers who craft their sandals. Jiro Noor built an app that connects farmers in Jakarta, Indonesia directly with the consumers who buy what they grow. Social and racial justice activist and innovator Moniola Odunsi from Virginia, U.S., tells FBW podcast listeners that she is excited by the impact that Gen Z is making: "My generation wants to see and live in a future in which equality is not just an ideal, but an actual reality. A lot of people say we are the future changemakers. I would say that we are those people right now."
And yet, while so many high school students want to do well in the world, that passion is not enough to build a social venture that will last, cautions Tyler Wry, a Wharton management professor who champions the University of Pennsylvania's social impact community. "If you're not systematic about how you go about it, and then more importantly how you go about thinking about the cold, hard dollars and cents part of social entrepreneurship, you can end up building something that will never scale or sustain itself," he says.
Here, we explore what it means to be a sustainable social entrepreneur, from concept to implementation.
Finding Impact Founders
Social entrepreneurship is part of the broader ecosystem of social innovation. Dollars and Change, another Wharton podcast out of the Wharton Social Impact Initiative (now the ESG Initiative), sheds light on the landscape. In one episode, Cheryl Dorsey, founder of Echoing Green, a business that funds social entrepreneurship startups, defines the landscape.
Social innovation, she says, "is the process of developing and deploying effective solutions to challenging, often systemic, social and environmental issues in support of social progress…it's about how to use innovation as a disruptive tool to accelerate the pace of social change."
Social entrepreneurs start businesses that do the work of solving those social problems. Max Strickberger, 22, has another name for them: impact founders. These entrepreneurs start businesses to improve society – and to make money. "Our generation doesn't want to compromise," says Strickberger, a 2022 Penn graduate. "We believe that great businesses shouldn't trade their social ideals for financial ideals, or vice versa."
Max has given a lot of thought to the impact-business movement. A few years back he co-founded IF: Impact First Ventures on Penn's campus. Previously known as College Green Ventures, Impact First was among the winners of Penn's 2022 President's Engagement, Innovation and Sustainability Prize – and is focused on building the community of impact founders around the U.S.
"We already know that young people start outlier businesses — 20% of unicorns [fast-growth tech startups] were founded by 20-to 24-year-olds," adds Max, who started his business with his twin brother Sam Strickberger, Penn's 2022 class president; classmate Seungkwon Son, a double major in business analytics at Wharton and psychology in Penn's College of Arts and Sciences; and Niko Simpkins, who graduated from the School of Engineering and Applied Science. "At the same time, our generation thinks it's not enough for companies to push solely for financial returns. Our bet is that the best companies in 10 years will be impact companies and that disproportionately they will be founded by young people. They'll drive outlier financial returns alongside outlier impact ones."
"You're probably way more courageous while you're young – and when you're starting something from scratch, courage can feel like half the battle." – Max Strickberger, Co-founder, Impact First Ventures
Impact First sources and supports early-stage impact ventures on college campuses through developing an impact community, helping startups measure their impact, and connecting them with a network of advisors. They also help students find impact-oriented careers. In the past year, the business has created student teams at eight different colleges and universities, including Penn, Morehouse, Columbia, Howard, Stanford, Spelman, Princeton and Michigan.
"We want to create a one-stop-shop for social entrepreneurship," notes Sam, who in high school started a culture and identity magazine with Max that scaled to 30 schools and became Washington, D.C.'s largest student publication. "At these universities we work with students who are plugged in entrepreneurially and care deeply about making the world better. We run a six-week impact-education course that Professor Wry developed and afterwards students identify top companies in their school's ecosystem. The result is that we've begun to build a community of young people who are committed to using entrepreneurship for good."
Essential to IF's mission is to identify businesses that are unwavering in their financial aims and commitment to positively impacting society. To do so, they help student-led businesses understand how to measure sustainable impact, which comes down to recognizing the difference between a company's outputs – its products and services – and its sustainable outcomes — how it actually effects change.
"It's really easy to measure an organization's outputs because there's data, it's quantifiable and you can see how it changes over time (you can count how many women received loans through your microfinance organization)," says Dr. Wry, who teaches what's called the Theory of Change Model (see sidebar) in his six-week course for impact founders. "But it's really hard to measure outcomes or impact," says Dr. Wry. "It's important that founders who have an impact aim also follow a theory of change, which is a logic model, or else it's really hard to say with any confidence that you are doing something that should do actual good in the world."
Depth, Breadth and Additionality
With Professor Wry's help, Max and his team have developed a scorecard to assess impact ventures on how committed they are to the impact-alongside-profits mission and how likely they are to solve problems that shift society. They evaluate companies on their depth, breadth and additionality: How much good are you doing for one person and are they someone who really needs help? How many people are you doing something good for? Is what you're doing going to create an outcome that differs substantially from what would have just happened anyway? "A really important piece is also the founder's connection to the issue," adds Seungkwon. "Why does the founder care about this? If it's not something that they're obsessed with, then as the organization grows, they might shift away from their impact focus."
Through his work, Seungkwon has also identified key big-picture trends in social-impact startups. "We took data of all the impact startups coming out of universities and 50% of those impact companies were in the health care sector, 25% were in climate and 25% in financial empowerment," he notes.
At Penn specifically, he adds, three in every four founders have defined impact goals, a huge shift from 10 years ago. Some examples include Ophelia, a telehealth platform for people experiencing opioid addiction; Forage, a tech startup making it easier for low-income Americans to buy food stamps online; and Chariot, which helps people donate directly to charities from Donor Advised Funds. Collectively, these companies are valued at hundreds of millions of dollars.
Albert Katz, a 2023 Wharton MBA candidate and former medical clinic CFO, is the founder of Flagler Health, a startup that helps patients suffering from musculoskeletal disease (like lower back pain and neck injuries) get the surgeries they need. Albert, who has concentrations in computer science, law and finance, has created an artificial intelligence algorithm that finds patients in need and is able to recommend them to a physician or a nurse practitioner for care. The U.S. health care system spends $138 million annually treating musculoskeletal disease. Flagler's approach seeks to decrease that spend, while also helping patients.
"We just launched five months ago and already more than 120 patients have gotten spine surgery because of us," notes Albert, whose focus on health-care innovation is inspired by the loss of his parents and grandmother to an overwrought system (that personal connection). "Don't go into social impact just because you want to do good in the world. Find what you're innately good at and then try to figure out if you can benefit society doing it," adds Albert. "That's how you should go about solving issues and helping others."
So, will you be the next great impact founder to hit college campuses? Max and his Impact First team are watching. (Check out Max's pandemic project with his Penn classmate for some inspiration.)
"If you find something you care about, find a way – however small – to do something about it," Max suggests. "Ask questions. Get things wrong. Put one foot in front of the other. You're probably way more courageous while you're young – and when you're starting something from scratch, courage can feel like half the battle."
And think strategically and logically about how what you're doing will have a genuine, long-term impact on the world.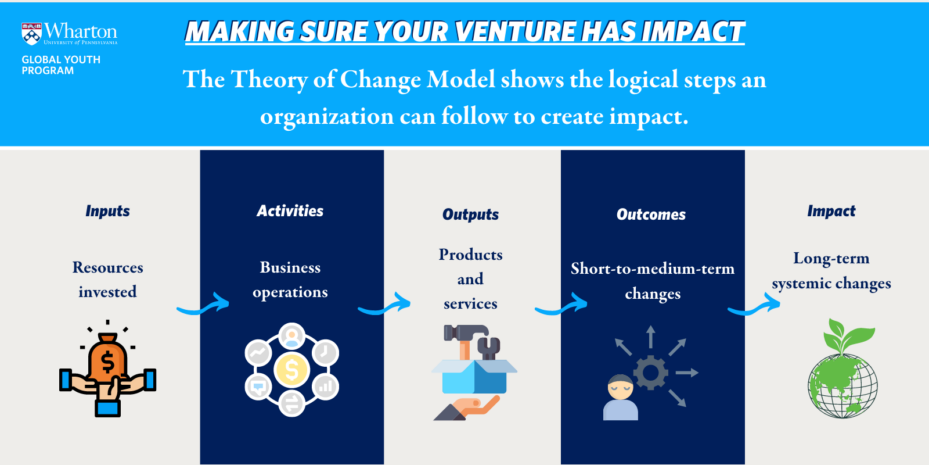 Conversation Starters
Impact First co-founder Max Strickberger says, "We believe that great businesses shouldn't trade their social ideals for financial ideals." What does he mean by this? Do you agree?
It's not enough to just want to do good in the world; you need to think strategically about it. Max and his team have a scorecard to assess impact ventures on how committed they are to the impact-alongside-profits mission. What is meant by depth, breadth and additionality? What is the Theory of Change Model?
Have you started an impact venture? Share your story in the comment section of this article. Think you might like to share it more broadly on Global Youth's Future of the Business World podcast? Send us your pitch!