A Memorable Wharton Summer for High School Students Around the World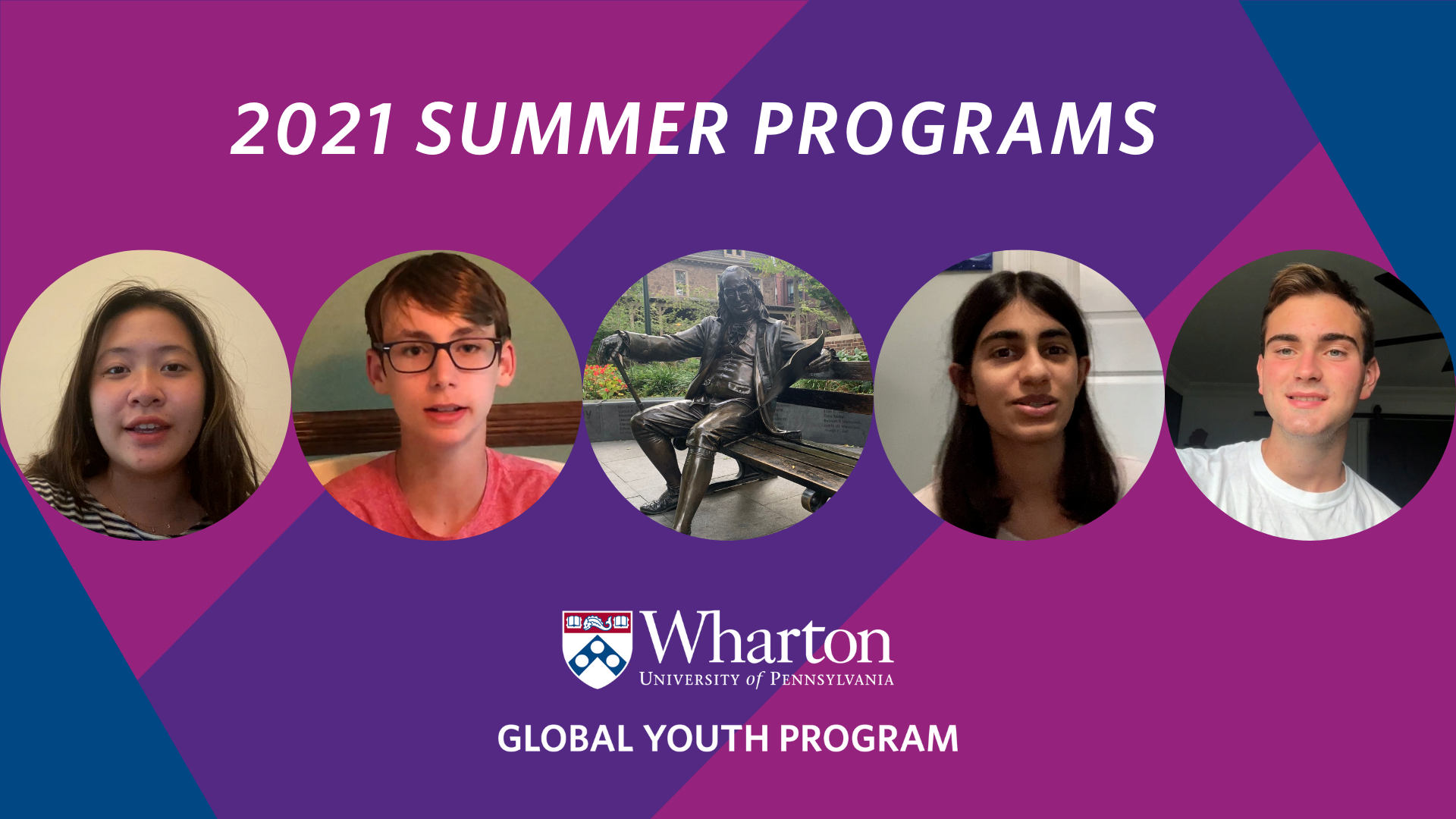 The time has come to reflect on the summer of 2021. For the Wharton Global Youth Program, the highlight is undeniable: The Wharton Summer High School Programs.
When we announced back in March that our summer 2021 residential programs for high school students were moving fully online, we were both excited for the challenge of engaging students virtually, as well as committed to creating online experiences that would keep students engaged.
We're happy to report that, true to form, the world's youth embraced this opportunity to discover Wharton and explore business and finance online. This summer we logged 2,730 enrollments across eight different Summer High School Programs, up from some 1,650 in 2020.
"We had a robust and rewarding summer beginning in June and running all the way through to our final closing ceremony in mid-August," said Lauren More, director of programs at the Wharton Global Youth Program. "Most of these opportunities, like Wharton Essentials of Finance, Wharton Data Science Academy, and our Business Leadership Academy, have never been taught virtually. The online model was a big success for us, mostly because of the students. They showed up excited to learn and brought their best to every session."
Key Wharton partnerships also strengthened the Global Youth online curriculum. For example, we developed the two-week Essentials of Finance with insight and expertise from the Wharton Social Impact Initiative. In addition to the fundamentals of finance, students explored impact investing and social entrepreneurship.
Building on the success of last summer, we offered four separate two-week sessions of our Future of the Business World (FBW) online experience, for high school students to ask big questions about a world in the midst of dramatic change.
"I met some of the most amazing friends and teachers and left the course so inspired."
— Jullea P., Future of the Business World Student
In addition to innovative classwork and dynamic speakers, FBW students participated in new business simulations like Wharton Interactive's BlueSky Ventures Game, where they learned how to evaluate ideas and businesses. Similarly, students in our new two-week Business Leadership Academy took part in Wharton Interactive's Saturn Parable, where they navigated a pioneering commercial space mission to Saturn's moon Enceladus to understand leadership and team dynamics.
With so much virtual connection, our Wharton Global Youth Meetup (GYM) was hopping this summer with more than 1,900 members representing some 60 countries and a daily schedule brimming with opportunities. Students enrolled in online programs were granted summer-long access to the GYM, a virtual hub of live and independent activities, games, presentations, and peer meetings that is an ideal platform for interacting with other high school students from around the world, while experiencing exciting aspects of the Wharton campus and culture. A dedicated team of community and teaching assistants interacted with students and kept the fun Kahoot contests coming (from BTS trivia to current events).
Among this summer's memorable GYM moments were a competitive stock market challenge, live chats with Wharton alumni and campus leaders like Wharton Dean Erika James, campus tours and workshops on everything from financial literacy to improving your mental health. "I was blown away by the tremendous amount of opportunities offered by the GYM…It far exceeded my expectations," said one GYM participant.
In the end, the students – with all their curiosity, critical thinking, networking and creativity – made our Wharton Summer great. We are feeling hopeful that we will meet many of them, along with a fresh cohort of new learners, on our Philadelphia campus in 2022.
Until then, we have plenty of student sentiments to sustain us. "I met some of the most amazing friends and teachers and left the course so inspired," said Jullea P. of her time in FBW 2021. "My favorite part was when my team won the Blue Sky Simulation by over a billion dollars, as it was so rewarding, fun and challenging to have worked together with like-minded people that I'm in touch with until now. I'm so excited to take Essentials of Entrepreneurship next summer in person!"
Stay tuned to Wharton Global Youth Program for updates about our 2022 summer programming. Questions? Contact wharton@summerdiscovery.com or call 1.516.414.5555.