Future of the Business World: Tackling Social Inequality One Fresh Apple at a Time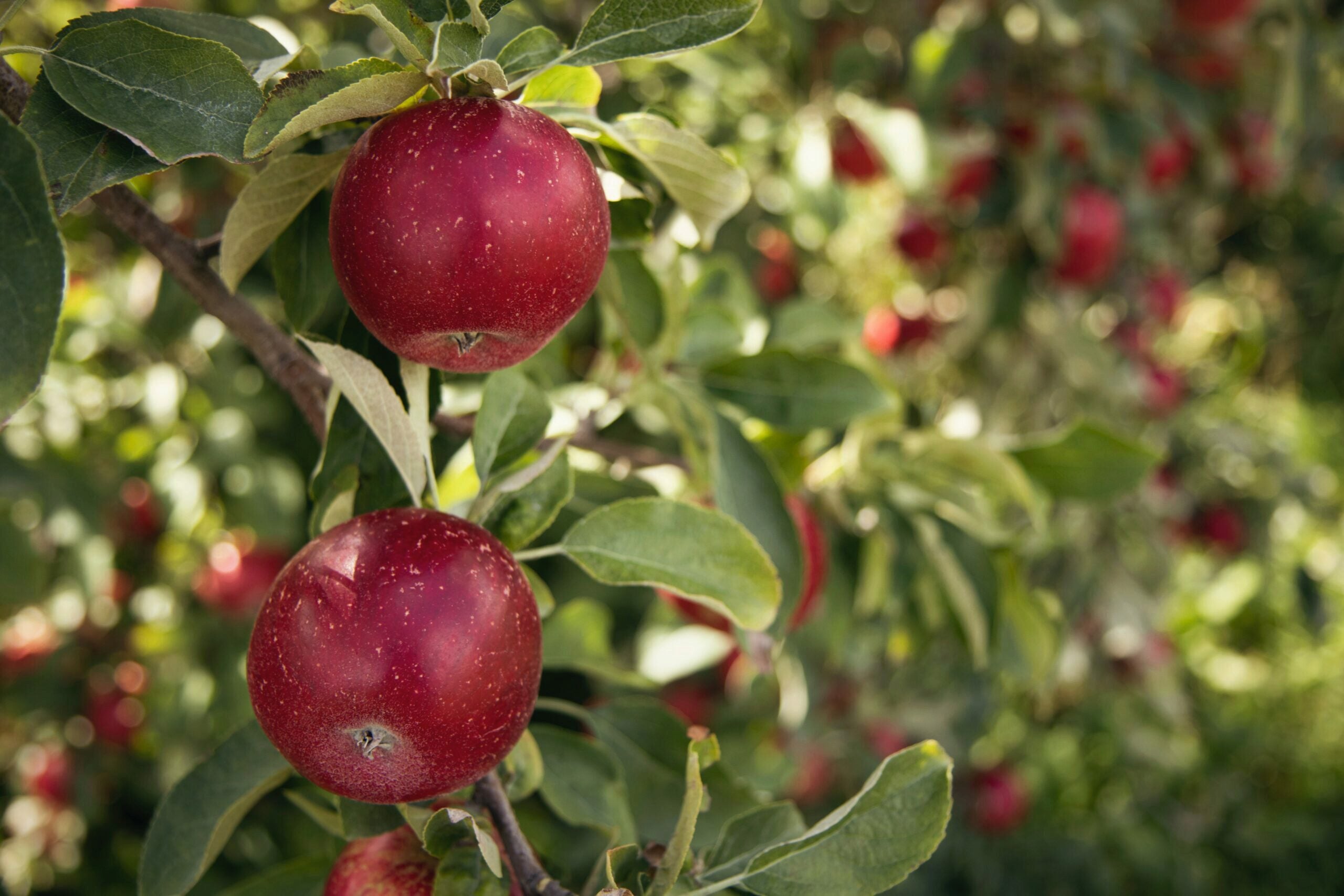 You might call this a very sweet dataset: 159 pounds of apples, 84 pounds of persimmons, 104 pounds of plums, 28 pounds of key limes. Carrie Lange calls it community-centered problem solving. Lange, 17, is the founder of Fruits of Labor, an organization in California's Bay Area that aspires to "end food insecurity one fresh fruit at a time." She and her team of "pickers" visit willing neighbors' yards and clear their fruit trees for donations. And after each session, Carrie logs their latest haul on the Fruits of Labor website. To date, they have donated some 3,000 pounds of fruit to feed needy families in Marin County — and counting.
Carrie joined Wharton Global Youth Program on this month's Future of the Business World podcast to talk about the process of building her nonprofit, launched in summer 2021, and why she sees herself as a social entrepreneur. Did you know pomegranates have thorns? Be sure to click on the arrow above to listen!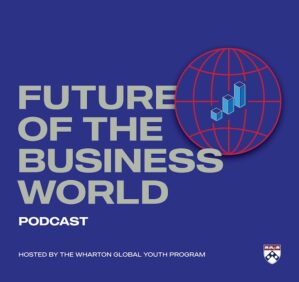 Wharton Global Youth Program: Welcome to Future of the Business World, a podcast featuring teenage innovators with the ideas and initiative to achieve real change.
I'm Diana Drake with the Wharton Global Youth Program at the Wharton School, University of Pennsylvania. Wharton Global Youth introduces high school students to business and finance education.
Business makes the world go 'round. And whether you might someday want to earn a business degree…or like most of us, you just want to understand how business impacts your everyday life, Global Youth has got you covered.
Our podcast is a way to discover business – always connected to youth and innovation. Each month on Future of the Business World, we explore a critical theme: The Entrepreneurial Mindset. Even if you don't want to start your own business…..you get to hear how an entrepreneur thinks, creates, builds and problem-solves – all essential skills for whatever path you choose.
Today, I'm happy to welcome Carrie Lange, a student from San Anselmo, California. Carrie is the founder of Fruits of Labor, a nonprofit organization supporting Bay Area families by helping to put food on their tables.
Carrie, welcome to Future of the Business World!
Carrie will also be learning with us this summer in our Leadership in the Business World program. We can't wait to have you and all our summer program students back on Wharton's Philadelphia campus!
Let's get to it. When I first read about Fruits of Labor, I immediately thought about the practice of gleaning, which is to collect leftover crops from farmers' fields and distribute them. I'm not sure if that was your inspiration, but can you tell us how you came up with the idea for your nonprofit and how it works?
Carrie Lange: That's a bit of a coincidence because I was just looking into You-Pick farms in my area to contact for leftover fruit. That wasn't my inspiration, but it's similar. My mom has a green thumb. She loves everything growable. She hasn't had much success with planting fruit trees, but we do have an older plum and pear tree in our backyard from previous owners. Fun fact about me: I don't actually like fruit. I'm fully aware of the irony. But these trees always give a ton of fruit year after year that goes to waste. Last summer I was watching my mom force entire bags of fruit onto her friends. I remembered the year before in Spanish we had talked about how COVID had disproportionately hit minority communities in my county and many were suffering from food scarcity. So, I asked my mom if we could donate the fruit to the San Francisco (SF)-Marin Food Bank. On the way, I saw that a lot of people had fruit trees in their yards that were dropping a lot of fruit. I realized that there were a lot of people and families in the same position that we were.
One thing led to another. I posted on Nextdoor Neighbor asking if anyone would be interested in allowing me and some friends into their backyard to pick their fruit and donate it. I ended up with five responses from all over Marin, my county, in two days. We ended up donating 300 pounds of fruit on the first day, which was really encouraging. I kept making posts and gathering friends to go to donors' houses, which is what we call people who volunteer their trees. On a weekend, we'll clear them. We bring our own pickers. People usually have ladders that they're willing to lend us. It could be completely non-contact, and we left as many fruits as people wanted to keep. We load up the car with the fruits and drive them to the SF-Marin Food Bank.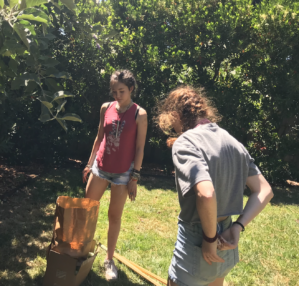 Wharton Global Youth: In economics, we talk about supply and demand. What have you learned about the market need for these homegrown fruits? Is the demand profound? Help us see the human side of what you're building.
Carrie: That's a flashback to my AP Macro and Micro test. I remember a time I was dropping off a load of apples to the SF-Marin Food Bank and there was this family there with a little girl who was maybe 5 or 6. She was absolutely adorable. She was eyeing my apples, so I took one out, washed it in the sink and gave it to her. And the way her face lit up hit me really hard. Even bigger, the mother thanked me and she said, "She doesn't get fresh fruit a lot outside of school." That was when I was like, yes, I want to continue doing this. There's this huge need for organic, homegrown fruits and not just for health reasons, though those are really significant. Fresh fruits are such a luxury for many people because they're produced in such abundance in a single season and they spoil so quickly that not everyone is fortunate enough to have access to fresh fruit year-round.
That's really important to acknowledge. In America, there are millions of people who may not be able to afford or have access to fresh fruit. I heard a statistic that 108 billion pounds of food is wasted in the entire U.S. per year and 1 in 5 people in my county suffer from food insecurity. Something that adds to the issue here is that a lot of people that struggle to put food on the table for their families, especially during COVID, don't qualify for governmental checks or food stamps or federal help because their income is just high enough to not qualify. But it's not nearly high enough to cover the price of rent here and provide food for their families.
Wharton Global Youth: The infrastructure you've put in place is interesting to me. It's very simple and straightforward, as well. Give us an illustration of pickers and an illustration of donors. What do the two sides look like?
Carrie: Donors are families in our neighborhood that have fruit trees with an excess fruit. Pickers are volunteers. They could be my friends. People as young as 12 have been contacting me. They want to become volunteers. Then we go to donors' houses and volunteer their backyards. We pick and clear their trees. The donors don't even have to come outside. They can, obviously. We've had really nice donors who offer us tea and cookies. That's always a treat. But we can also go into their backyards with no contact and pick their fruits. Sometimes they'll ask us to leave some and sometimes they don't. And then we take them to the food bank.
Wharton Global Youth: The variety of fruits is pretty impressive. I guess that's a testament to California climate. Apples, pears, persimmons, plums, key limes, lemons: you've got it all.
Carrie: Pomegranates were a memorable one. That's when I learned that pomegranate trees have thorns. It was an interesting discovery.
Wharton Global Youth: How do you ensure the quality of this? Are they just distributed so quickly that they get eaten right away. As you said, they have a short timespan before they spoil. How is the quality ensured?
Carrie: After gathering the fruits, pickers themselves bring the fruits to the SF-Marin Food Bank, where it gets donated and distributed. We're careful to keep track of the numbers. We'll know which fruits come from which donor, largely so we can report to the donor, but also so I can make logs on the Fruits of Labor website. Since the fruit is hand-picked and fresh off the tree, then donated within the day, each fruit that we pick before we put them in the bags or in the boxes we weed out all the bad apples (ignore the pun) and then we obviously won't donate those. The food bank distributes them within enough time that they won't go bad. Sometimes the fruits are also a little bit underripe, and the good thing about fruits is that if you let them sit even off the tree they'll ripen themselves. If they're a little bit underripe, there's more of a time window for the food bank to distribute them or even cook them into meals.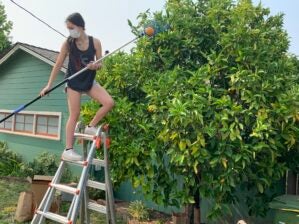 Wharton Global Youth: It sounds like your partnership with the SF-Marin Food Bank is essential to the success of your social enterprise. Can you talk about how you connected with them and how you were able to forge that partnership?
Carrie: The SF-Marin Food Bank has an amazing outreach program specifically that works with community nonprofits. So, I kept returning to drop off my donations and talking to volunteers and people who were picking up food, and they told me about this outreach program as I became more interested in how the food bank operated on an entrepreneurial level. What I do is quite similar to what the SF-Marin Food Bank does. I reached out over email and began speaking with the senior events and special products manager. It's been really invaluable because I've been able to speak to someone who is practiced in raising awareness for a cause. I've learned so much about promoting online just by scrolling through the food bank's Instagram and reaching out to people who may be interested in becoming donors. I've been able to get advice in events and fundraising games I can start once the season begins to pick up. I have an idea for a guessing game online or at a fundraising fair where people guess how many pounds of fruit I've gathered in that one day and then they donate one dollar for every pound they're off and the winner gets a free pie or the fruit donated to the SF-Marin Food Bank in their name. A lot of the latest ideas I've gotten to expand Fruits of Labor are inspired by conversations with the members of the SF-Marin Food Bank and things that the organization has done.
Wharton Global Youth: Speaking of pounds of fruit, the season will be in full swing by the time you get back from Wharton this summer. Do you have lots of fruit donors lined up? What is your picking time looking like?
Carrie: I'm really excited for this season. First of all, a lot of my past donors have emailed me expressing interest in being donors again, which is a good 20 houses from at least seven different neighborhoods all over Marin. Last year, one woman had an actual apple orchard in her backyard. There are five ginormous trees. No matter how hard we tried last year we couldn't really seem to clear the apples completely out. This year we're getting a jump on the season. I have a ton more volunteers who are willing and want to help out. I've been opening branches in neighborhoods with friends who live in them who are willing to become heads and help me out a bit. I'm optimistic for this year. I'm hoping to at least triple the 3,000 pounds we donated last year.
Wharton Global Youth: What has surprised you through this process of building your nonprofit? Innovators often start with an idea and then it gains momentum, and you find yourself needing more than a framework; you need serious operational skills. Just looking at the bigger picture, I see…the scheduling of pickers, I see making connections with families in your fruit network, I see lots of data in all those apples and pears. How have you risen to the business challenge and honed your leadership skills?
Carrie: Yes, I found that there is a massive challenge with organization. The most surprising thing about creating Fruits of Labor is the response I've gotten from my community. It's proven in a way that I've been able to donate the 3,000 pounds of fruit despite starting Fruits of Labor pretty late in the season last summer when I got back from summer plans.
The way I've been able to grow my organizational and leadership skills as Fruits of Labor has evolved is because so many people in my community have really taken an interest in Fruits of Labor, whether that's in becoming donors or sending emails about places I can reach out to to help raise awareness or even just reach out to become a donor. One woman emailed me about contacting a local university that has fruit trees on its campus that might be interested in donating. The thing that helped me the most is realizing that I'm going to need to be able to evolve. I'm always learning from experiences, from people, from flaws in my various ideas. For example, I created a flyer because a woman asked me if I could send her something she could post around her older-generational neighborhood who weren't on the Internet as much. I really had to learn how to adapt to people, whether that's organizing events, promoting and catching and holding people's attentions and just scheduling picking days. Fruits of Labor has taught me the value of building relationships with donors and volunteers and reaching out really early to make sure that no one is scrambling, if and when someone contacts me with fruit trees. I've been able to learn and grow through a good number of missteps and improve both as a leader and an innovative thinker.
"We really have to go to the root of racial and class inequalities to make enough lasting change, and that means addressing them as a collective issue." – Carrie Lange, Founder, Fruits of Labor
Wharton Global Youth: Do you consider yourself a social entrepreneur?
Carrie: If you go by definition of a social entrepreneur, then yes I would consider myself a social entrepreneur. Fruits of Labor is nonprofit, but I did create it not only to alleviate food inequity in Marin County but also raise awareness for the social inequities under the surface. The interesting thing about my community is that while we have a reputation for being high class and things like that, there's a really large population of people who are struggling financially. Marin is so segregated on a structural level that people aren't aware of the extent to which other families are struggling simply because they live in another neighborhood.
For example, we have a neighborhood called the Canal. The majority of occupants are immigrants. A large portion of those people struggle to make ends meet and rely on supportive organizations like food banks to provide for themselves and their families. So many people simply don't know that the Canal exists. Or if they do, the extent of the social gap between it and other neighborhoods, like Tiburon in Marin, is understated. I think Marin wants to change. The overwhelming response to Fruits of Labor is proof that people here genuinely want to help. That's another reason why I'm so persistent in continuing to grow Fruits of Labor. I can use it as a platform to raise awareness for the distinct class gap and maybe kickstart more movements in my community that strive to close the divide.
Wharton Global Youth: Has Fruits of Labor awakened your innovative spirit in other ways? Where else might innovation improve the situation?
Carrie: Fruits of Labor did start pretty casually. It's something I started with one or two friends over the summer. But then more and more people became interested in being donors and I realized how necessary Fruits of Labor was to the community and toward fighting for equality. The picking season ended soon after I started Fruits of Labor, minus a few outliers. We did have a persimmons trip in December that was really cold. That was pretty memorable.
I didn't get the chance to develop Fruits of Labor into what I wanted it to be. But then a couple months ago I was talking with a senior, one of my friends, who has a lot of experience in creating nonprofits and fundraisers and she gave me a ton of amazing advice and suggestions. This season I reached out to a number of philanthropic organizations in my area to help me promote and give advice. I obviously reached out to the SF-Marin Food Bank. I connected to some newspapers, I had a KCBS radio interview a month or so ago that got me some new donors. I also really started utilizing social media, which is something that I need to be more consistent about now that picking season is coming back in (@fruits_of.labor). And I'm also thinking about getting on Tik Tok, but I don't know how effective that would be.
As I mentioned, I do have plans to reach out to You-Pick farms in my area once they open to see if they ever have leftover fruit that I can come over and pick up. Those are some areas of improvement that I've been thinking about.
Wharton Global Youth: While you're doing this on a local level, hunger is a global crisis. What broader insights have you learned about food insecurity that you think might inform how you make decisions and solve problems in the future?
Carrie: Well, as you said, food insecurity is on a global level. It's so interconnected with so many other social issues, like race and class. That interconnectedness is my biggest takeaway when I'm brainstorming ways to work toward solving these types of issues. You really can't think of them as separate concepts. It's obviously a little daunting, but I think we have to start tackling these issues as one collective problem. That's the only way we're going to make lasting change. There could be a few steps forward in one area. But while we're hyperfocused on that specific area of inequality, another area could be taking several steps back. If you want to use the metaphor of supply and demand: the economy doesn't grow until long-run supply increases and that means an increase in the root number of products available for production. So otherwise, the economy will just adjust back to the quantity where we started and sometimes even with higher prices. We really have to go to the root of racial and class inequalities to make enough lasting change, and that means addressing them as a collective issue.
Wharton Global Youth: A question I ask all of our guests on Future of the Business World is if you could change one thing in the world, what would it be?
Carrie: I would make people pay more attention to current events and social issues. With more awareness, comes more forces and more calls for change. I would never have started Fruits of Labor if leaders of the Canal Alliance didn't come speak to my Spanish class about the class divide and the way COVID lockdown affected minority communities in my county. My generation is so passionate and so vocal in general. I truly believe that people my age want to see social change and we want to help and get involved in this world we've been given. Like I said, I had 12-year-olds contacting me interested in being pickers.
But as a generation, we're so exposed to so many issues that sometimes we feel overwhelmed and we don't really know what we can do to make that change. Both because we're young and there's so much we want to change. The greatest thing about Fruits of Labor is that I'm able to show kids that there are ways that we can make a difference. The key ingredient in improving social issues such as inequality — and not just in food but in class and gender and race — is really just going for it: Helping each other help people. It's collaboration, brainstorming and just going for it and seeing what you can make out of the resources you're given and the opportunities that you have.
Wharton Global Youth: Let's wrap up with our lightning round. What would we catch you binge-watching at midnight?
Carrie: Madame Secretary. It's on Netflix. It's very good.
Wharton Global Youth: What's your favorite fruit?
Carrie: Tomatoes! It's a copout, but yes.
Wharton Global Youth: Finish this sentence: In 10 years, I hope to be…?
Carrie: Proud of my achievements and the difference I've made.
Wharton Global Youth: What is your everyday superpower?
Carrie: Officially, time management. Unofficially, my ability to complete a Rubik's Cube. I'm very proud of that one.
Wharton Global Youth: You are the new host of a business-themed talk show. Who is your first guest and why?
Carrie: Marillyn Hewson. Partly because she is a really accomplished woman in the business world and I would love to learn everything I can from her. This talk show would be an excuse to fangirl and steal ideas. Also, because my dad was vice president of Lockheed's international operations, which is the company that Marillyn Hewson works for. He never got the chance to tell me about his experience working in the business field and managing for Lockheed and I think Marillyn Hewson would be able to fill in gaps and answer questions I have.
Wharton Global Youth: Carrie, I wish you the best of luck with Fruits of Labor and look forward to seeing you on the Wharton campus this summer. Thank you for joining us on Future of the Business World.