The Mission for this Teen's Drone: Locate and Destroy Landmines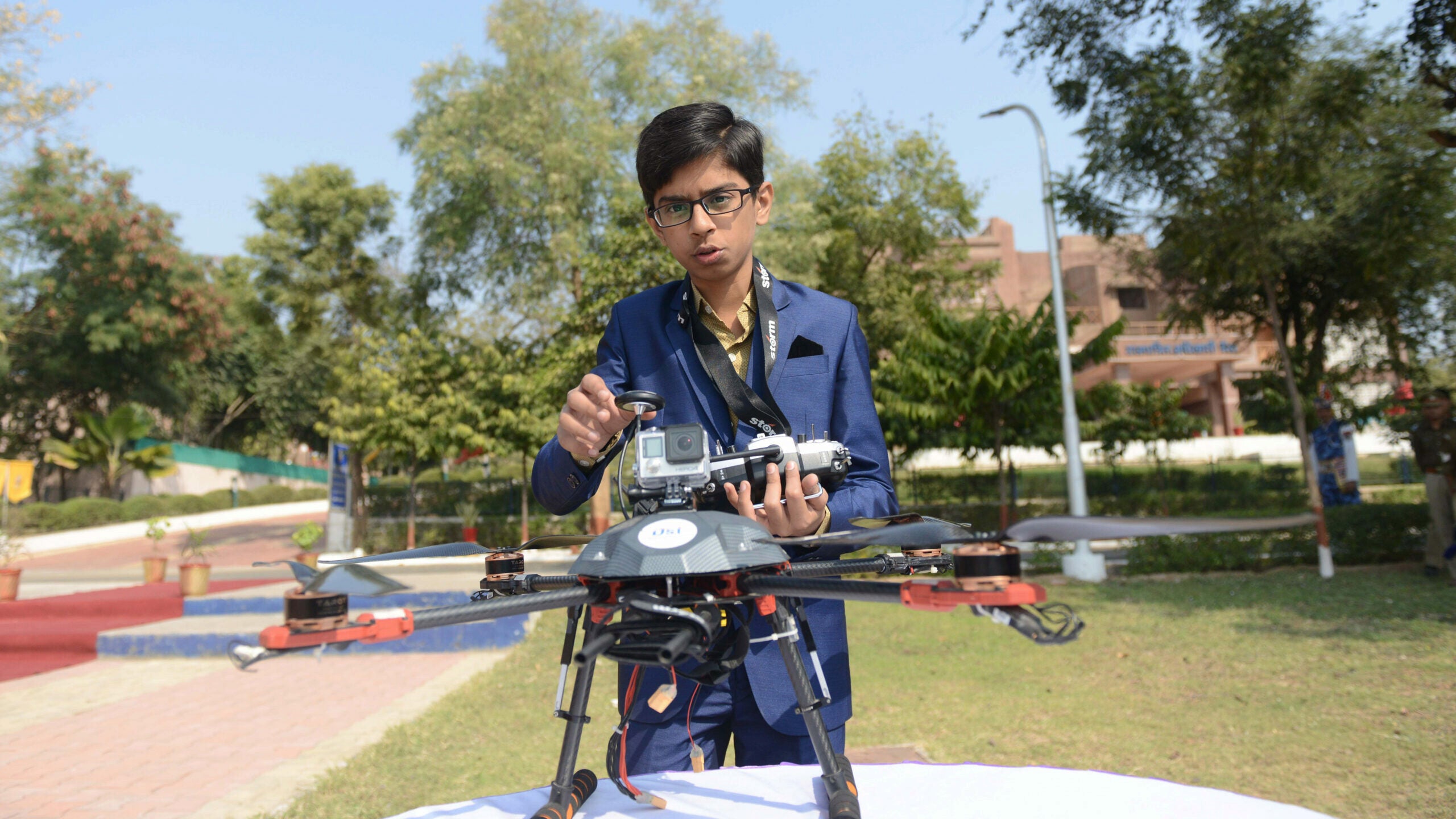 A childhood fancy with robots led Harshwardhan Zala, 15, on an inventive path that resulted in the design for a drone that could detect and detonate landmines.
Raised in the western Indian city of Ahmedabad by his accountant father Pradhyumal Zala and his homemaker mom Nisha, Zala is still getting used to the attention he's drawing from armed forces in a couple of countries who want him to perfect his prototype drone. Not far behind are angel investors and venture capitalists who see commercial potential in his drone. Meanwhile, he divides his 18-hour day between his home lab, preparing for his next academic pursuit of an engineering diploma, and all-paid trips to the U.S., France and Korea to collect awards and other honors.
Zala has a simple goal: "I want to run a campaign to destroy all the landmines around the world and I want to sign agreements with all governments." It is an ambitious and some would say commendable one. According to the International Campaign to Ban Landmines, these explosive devices, which are placed underground or on the ground often to thwart enemy forces, are designed to be detonated by the presence, proximity or contact of a person – whether it is a soldier or a child. A landmine can lie dormant for years and explode when an unsuspecting person steps in its path. The nonprofit organization CARE claims that 26,000 people a year or 70 people a day become victims of landmines, including hundreds of thousands of children who are severely disabled.
A Trip to Silicon Valley
Zala made his first robotic device when he was all of 10 years old. That was a "line follower and edge avoider robot," now common in do-it-yourself robotic kits, called so because it "follows" a set line and "avoids edges" by sensing any absence of surface below it. When he was 12, he founded a group called Robosoft with friends, with the idea of using that as a startup to develop robots.
The big turning point came in July 2015 when Zala saw a YouTube video of soldiers in Afghanistan getting blown up by landmines. Disturbed by that, he developed a drone that could remotely detonate landmines and save lives. Made of carbon fiber, the battery-operated triangular device measuring 700 mm on each side can fly nonstop for 52 minutes. He tested it on two landmine replicas that he placed below the ground in a field near his house, although he didn't use a real detonator.
The landmine-seeking drone, for which Zala has applied for a patent, sends out waves that cover an eight-square-meter area while flying two feet above the surface. The waves detect the landmines and communicate their location with a base station. The drone also carries a bomb that can be used to destroy the landmine.
In January 2016, Zala participated in Maker Fest, an event held in his city that is part of a larger program to encourage innovation and entrepreneurship in India founded by Asha Jadeja, a prominent Silicon Valley-based angel investor. Impressed by his drone prototype, Jadeja invited Zala to an all-paid trip to Silicon Valley funded by the Rajeev Circle Fellowship. The fellowship is named for Jadeja's late husband Rajeev Motwani, a Stanford University computer science professor who was an early mentor to Google founders Larry Page and Sergei Brin and PayPal, among other technology startups.
In that Silicon Valley trip in May 2016, Zala also visited Google's Palo Alto headquarters along with other Rajeev Circle fellows. He says he didn't get to meet or talk with any Google executives, but that he was fired up sufficiently to turn entrepreneur. By September that year, he had formed Aerobotics 7 in Ahmedabad to pursue his drone invention. It is set up as a 60-40 limited liability partnership between his father and mother; he cannot legally own any stock as he is still under 18 years of age.
His next big booster came in May 2017, when he was named one of the winners of the Billion Acts Hero award set up by the PeaceJam Foundation, a nonprofit based in Arvada, Colo., that aims to empower young leaders in promoting world peace. "Harshwardhan designed a smart solution in which drones can not only detect but also defuse landmines on war fields, saving many lives in the process," says PeaceJam in a release. PeaceJam invited him to Paris this June for the award. That is among the 15-odd awards that he has won for his invention in the last year or so. Others include the first prize at the Vibrant Science Summit in Ahmedabad in May 2016 and the Young Achievers Award 2017 from the P.A. Inamdar Institute in Pune, India.
Disproving the Naysayers
The drone kept Zala busy in many ways after that. Security forces in India such as Central Police Reserve Force and its Rapid Action Force wing invited him to demonstrate his drone. They want him to further develop his invention and want to use it in some terrorist-heavy parts of India to defuse landmines. He says they want him to deliver 50 drones in the first phase, and expects to get them ready in the next two or three months. He hasn't put a price tag on them as yet, but expects them to cost Rs. 5 lakh each (approx. $7,700 USD)
The South Korean military has also shown interest and had invited him to Seoul in July 2017 for meetings. He came back with two contracts and a Memorandum of Understanding (agreement between parties) meant to help him perfect his drone; specific orders for drones are some time away, he reveals.
Several investors emailed him expressing interest in Zala's project, but he has put all of those on the back burner. Asha Jadeja too seemed interested in investing but has not made any commitment as yet, he says. A rough estimate for start-up capital is $10 million, he adds.
Zala believes that he is the only teen entrepreneur in his space; Massoud Hassani, an Afghan native settled in the Netherlands, has also developed a drone to detect and detonate landmines called Maine Kafon.
Despite all the attention he has garnered, Zala seems grounded. He acknowledges that his pursuit of robots and drones has meant he's not a top student in school, and that he needs to find the proper school-work-life balance before he pursues his longer-range dream of studying at Harvard University or the Massachusetts Institute of Technology in the U.S. For now, a modest diploma from the Government Polytechnic in Ahmedabad, where he has enrolled, will do.
Zala recalls how some teachers and friends at Sarvodaya Vidya Mandir, his school in Ahmedabad, did not exactly encourage him in his early days as a budding inventor. They told him that all his inventive energy will end with his drone and advised him to equip himself for a regular job someplace. "They told me, 'It's enough; you cannot do more,' and so I created my mission statement as 'We Never Stop,'" he says. That is the signature line with his profile on his company website, which is still in beta form with fictitious numbers of projects won and revenues earned.
Related Links
Conversation Starters
Do you consider Harshwardhan Zala's drone an important invention? Why or why not?
One of our KWHS summer ambassadors wanted to better understand why militaries are interested in Zala's drone. Do they plan to use it to detect enemy landmines? What questions do you have after reading this article? Post them in the Comment section of this article and we will find the answers!
What is the Rajeev Circle Fellowship and how has it helped Harshwardhan Zala? Have you benefited from a similar type of scholarship? Share your story in the Comment section of this article.