Building an Ethical and Efficient Recycling Supply Chain in India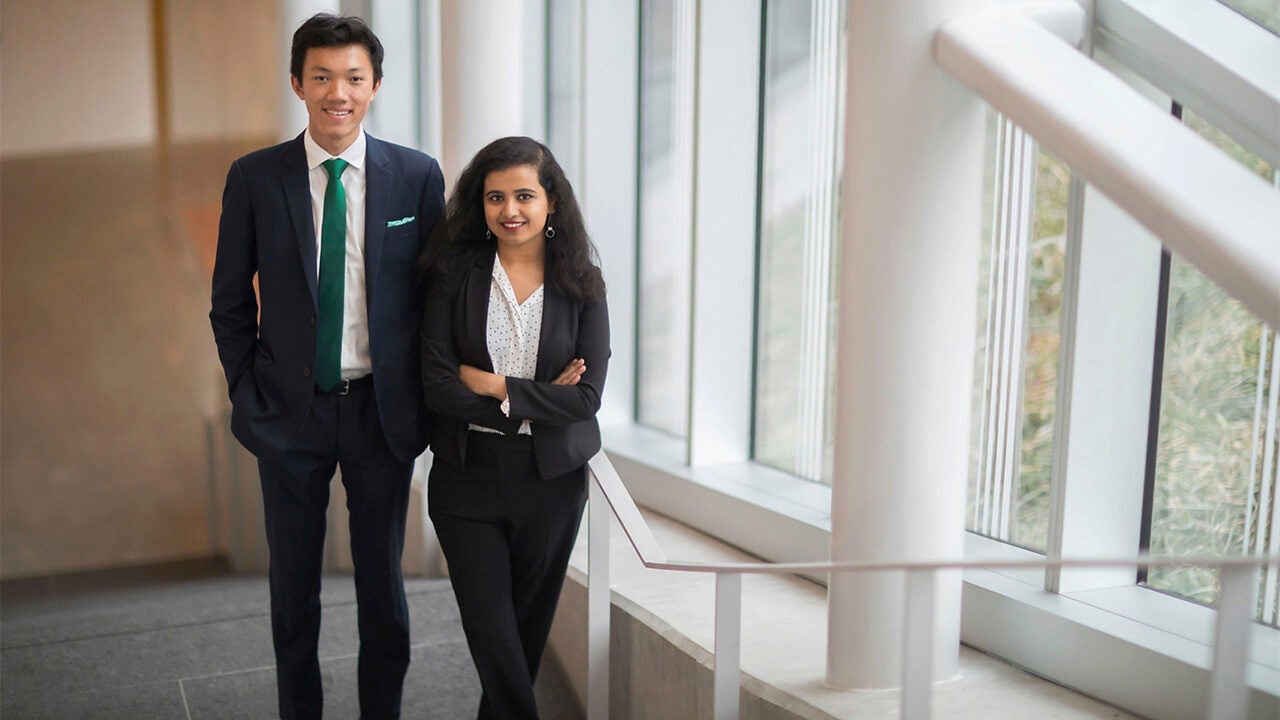 Knowledge@Wharton High School is often curious about the business talent right at our doorstep – namely undergraduate students who are exploring and pioneering in all areas of entrepreneurship and leadership. When we heard about rePurpose, a digital recyclable waste marketplace created by undergrads Peter Wang Hjemdahl, Svanika Balasubramanian and Aditya Siroya, we invited Svanika into the studio to tell us more about this unique social impact startup. Mumbai, India, is a city where 21 million residents generate 9,000 tons of garbage every day. How to divert much of it from landfills, while also boosting the annual income of marginalized waste pickers known as kabadiwalas? RePurpose has an app for that.
An edited version of the transcript appears below.
Knowledge@Wharton High School: Chances are, you haven't heard of the kabadiwalas of India. These unsung environmental heroes collect waste from individual households, sort and process the scrap, and sell the materials to larger recyclers for very small amounts of money. This is where rePurpose enters the picture. This non-profit social venture, launched by a team of Wharton undergrads, wants to create an ethical and efficient recycling supply chain. By doing so, rePurpose will double the income of kabadiwalas and divert waste from landfills toward recycling. Svanika Balasubramanian, who cofounded rePurpose, is here to tell us more about the startup that this year won a class of 2018 President's Engagement Prize.
Hi, Svanika. Thank you for joining us today.
Svanika Balasubramanian: A pleasure to be here. Thank you so much for having me.
KWHS: Our pleasure. So, I think a great place to start is for us to better understand the rePurpose business model. Can you tell us a little bit about your organization?
Balasubramanian: When we think about rePurpose, we think about it as being a marketplace for waste (garbage). So, if you want to buy anything [other than waste] — you know exactly where to get it from. And there's this kind of efficiency associated with it. But when you want to buy waste and you want to recycle it, there really isn't any one place you can go. And this lack of efficiency was what we wanted to correct.
RePurpose, at a very high level overview, is a marketplace that connects the different players. And so, I can go a little bit into who these different players are. On a high level, there are three players. First are the waste generators — like you and me. We get a bottle of Coke and we drink it. Now we have this plastic bottle and we don't know what to do with it. So the first link is just us, the people who produce this waste. And then the second link — especially in developing countries where you see most of it — are people who come in and they collect these bottles, paper, plastic — whatever it may be. We call them kabadiwalas. They bring it back to their stores, and they're the ones who sort it into the different subcategories of waste. So if you take a plastic bottle, the screw top is a thicker kind of plastic and so it recycles differently to the remaining part of the bottle. And again, the paper — the wrapper paper, that, again, recycles differently. So they differentiate it. They break it apart into little pieces and then they sell it to the third part. The third stakeholders in this marketplace are the recyclers. They're the ones with the machines that can actually take in these different products and crunch them, make [the waste] into little pellets. And then they go on and actually recycle it.
If you look at places like India, the Philippines, Brazil, you see this common problem that there really isn't any kind of good connection between these three links. And so, there's no way for people like you and I to efficiently reach these kabadiwalas in the middle. And what happens today is the kabadiwala wakes up and goes, "I need to sort waste today. So I'm just going to go knock on every household that I see. And I'm going to knock on their door and be like, 'Hey, do you have any paper? Do you have any plastic? Do you have any metal that I can buy off of you?'" Whatever this kabadiwala is able to salvage, he brings it back and this is pretty much the only way that recyclable waste gets into this chain, because everything else that this kabadiwala is not able to salvage ends up in a landfill. Places like India don't necessarily have recycling bins in all places. And there isn't that kind of a system put into place.
Then on the other side, this kabadiwala, once he finishes sorting it, has no clue who the recycler is that he actually has to sell to. So, suppose I'm the recycler and I have machines that I bought that can actually recycle plastic. And there's plastic type A, type B and type C. I wake up in the morning and I say, "My type A machine is at capacity. My type B machine I don't have enough waste. So I'm just going to send my truck to roam the cities of India." [Let's say] I'm in Mumbai. So, I'm going to have a truck roam through Mumbai and just see if I can find any kabadiwala who will sell me plastic. And so, if he finds it, good for him. If not, then you know, the type B plastic machine is not operating at capacity.
As you can see, it's a very haphazard system and there isn't much consolidation. There isn't much horizontal or vertical integration. That's where rePurpose comes in. We say we're just going to connect all of these different moving parts together. And so, again, just to re-cap — three links. You have the waste generators — people like us — houses, housing complexes, universities. Then you have the kabadiwalas in the middle. And then you have the recyclers on one end.
Instead of kabadiwalas going from door to door, we say, "Why don't you connect with us and we'll put you in touch with bulk waste generators, like, big housing complexes, like universities." Universities produce so much more garbage than a household would. And it's so much more efficient for us to connect individual kabadiwalas and pool them and take them to a housing complex because it's just way higher volume. And in that sense, we're able to double their volume. And then, on the other side of things, we are able to connect these recyclers with the kabadiwalas. The recyclers wake up and they send us a text message saying, "Today I need 3 tons of type B plastic. What can you do for me?" And we say, "Okay, we have a pool of 150 kabadiwalas we're working with and we know what kind of plastic they have. We know what kind of waste they have. So, we're going to send our truck to get 200 KGs from this guy, 300 from here, and we're going to pool that across and give it to the recyclers." It's making the whole system more streamlined. And in doing so, we're increasing margins. We're increasing volumes. And together, these kabadiwalas are doubling their income on an annual basis. So, by year one, we're thinking about a full $100,000 income increase for these kabadiwalas. And about 52,000 tons of waste that will be diverting away from landfills and into the recycling supply chain.
KWHS: It's really a social enterprise in both ways.
Balasubramanian: Yes. Environmental and [increasing income for] the kabadiwalas.
KWHS: How did you arrive at this idea? And my guess is that you probably did quite a bit of market research with the kabadiwalas, as well. Is that true?
Balasubramanian: Yes, we did. We spent a long time in India. We actually identified the environmental problem first. My co-founders and I were at one of India's — one of Asia's — largest landfills. It's called Deonar East. And this is an enormous landfill. It's almost like a city of waste. If you walk through it, it's just buildings of waste rising on both sides. And you're walking through it and you're like, "Is this going to fall on me at any time?" It's just tons and tons of garbage, dogs roaming about. And at one point we realized that we thought we were walking at ground level, but we were actually walking on 15 feet of waste. They just covered it with a layer of soil. But we were not at sea level. We were on 15 feet of waste. And there was like a 30-feet-of-waste continuum on either side. And we thought, "This is not sustainable." You have a growing city right next door, and as the population increases, their consumption is going to increase as is their waste generation. And so we needed to come up with a better solution that doesn't direct all the waste into these landfills.
We were thinking, "What are we going to do about this? What can be done?" And right at the gate of this landfill we saw a kabadiwala. At that point, we hadn't actually met many kabadiwalas. So we said, "Okay, he looks like he's dealing with some kind of garbage. There's trash in his shop. Let's go talk to him." And what he said to us — that first kabadiwala — really shook us, because he said, "I barely have enough waste on a daily basis to make any kind of meaningful income. I can't send my children to school. I don't have enough for health-care concerns. Dealing with waste, you get a lot of respiratory conditions. And I don't have any money to treat that. And I'm making less than seven dollars a day." He just had all of these complaints because he was not well connected. And he didn't have enough supply of waste. And we thought, "There's this fundamental mismatch between people like him who are impoverished, who need waste. They want to recycle waste and are not able to access it. And he's just feet away from this landfill that has tons and tons of recyclable waste that now cannot be retrieved because it's inside the dumps." And we said, "Okay, this is where we come in." And there's this way of redirecting this waste so that it solves both of these problems.
KWHS: You're a senior graduating in a few weeks. Have you always considered yourself an entrepreneur? Have you been developing this idea all throughout your time here at Wharton? What's your journey been like?
Balasubramanian: My journey? It's very interesting because I was born in India, but I grew up in the Middle East. I grew up in Oman. All my life, I've been raised in this mindset that there's a lot of change to be created in the world. My grandparents were very involved in the Indian independence movement. They ran refugee camps in India. My parents were involved in migrant rights issues in Oman. And so, I always knew that when I grew up, I'd be doing something to create social good. I came to Wharton — I chose to come to Penn — because I think for-profit social enterprises are the best way to create change in today's society. They're the most efficient ways of creating change. That's what my business education was informing me towards.
I'm a senior, and I'm in the Joseph Wharton scholars program. As part of the Joseph Wharton scholars program, we have to write a senior honors thesis. I was in this thesis class and one of my co-founders, Peter, also happened to be in that class. That's how we met each other. He was working with the Indian waste management industry. And so, we met and we got talking. We got very excited about it and we said, "Okay, let's look more into it." Peter had been working on some variation of this for a year before. He started working on it through the Hult Prize that Penn also hosts. But he'd just been going through different models. Once I got on board, we also [brought on] a third member, Aditya Siroya, who's a junior. Then, the three of us made multiple visits to India. Through the course of last semester, we were there in January. We were there for an entire month doing market research, putting together a proposal. That all just snowballed together. I think rePurpose fits very, very well with my interests, because I always wanted to have a social enterprise. So, it all came together.
KWHS: What's the future for rePurpose? Now that you're graduating?
Balasubramanian: It's been very exciting because we're extremely honored and so grateful to have won the President's Engagement Prize for 2018. And as part of that prize, we get a $100,000 grant that goes directly towards the project. [We also get] $50,000 as individual stipends. We've been really fortunate to get a few other grants from other sources at Wharton, Wharton's social impact initiative and other Penn organizations. And so, we're going to take that funding that we have and [build on] the idea. Now it's just implementation — putting it together and making this vision we have in our heads into reality. So we're moving. The three of us are moving officially to Mumbai where we're going to start operations end of July-beginning of August. And we're going to just kick it into high gear and see how it goes.
KWHS: That sounds great. I wish you luck.
Balasubramanian: Thank you so much.
KWHS: So, what would you say is your greatest takeaway, thus far, from this process of developing your idea and becoming an entrepreneur? What would you say has really stuck with you and something that you feel is maybe life changing in the way you perceive things?
Balasubramanian: That's very interesting. There are so many takeaways. And I think being an entrepreneur is amazing because you get to wear so many different hats every day. You go into work and today, you're fundraising. Tomorrow, you're brainstorming about different prototypes. The next day, you're trying to come up with partnerships, you're thinking about marketing initiatives. Every day is like a new discovery and you're finding new talents that you didn't know you had.
But I think maybe the biggest takeaway is that a lot of times people think that just having the passion and this ambition — this fire inside you to help people — is never enough. You think, "Before I can go ahead, get my feet wet, I need to have the perfect idea. I need to have the perfect solution at day one, or it's not going to work." Through this journey, my co-founders and I [have learned] that you're never going to have the perfect solution at day one. And the real thing is to just keep pushing. You're going to fail a few times. And it's okay because you're learning from it. I know it sounds clichéd and you hear this when you're not doing it. You never internalize it. But it's true. As long as you really, really believe in what you're doing, you just keep persevering and things will work out. You need to have that faith that things are going to work out, because what you're doing is meaningful and it's going to help people.
KWHS: Svanika, thank you so much for joining us.
Balasubramanian: Thank you.
Related Links
Conversation Starters
How is rePurpose giving structure to an informal marketplace?
Why are the kabadiwalas so critical to the rePurpose business model? How did rePurpose's market research put them in touch with kabadiwalas and inform their path forward?
Svanika Balasubramanian says, "Through this journey, my co-founders and I [have learned] that you're never going to have the perfect solution at day one." What does she mean by this? Why is this such an important realization?