Mark Cuban's 'Mini-Me' on What It's Like to Work with an Investor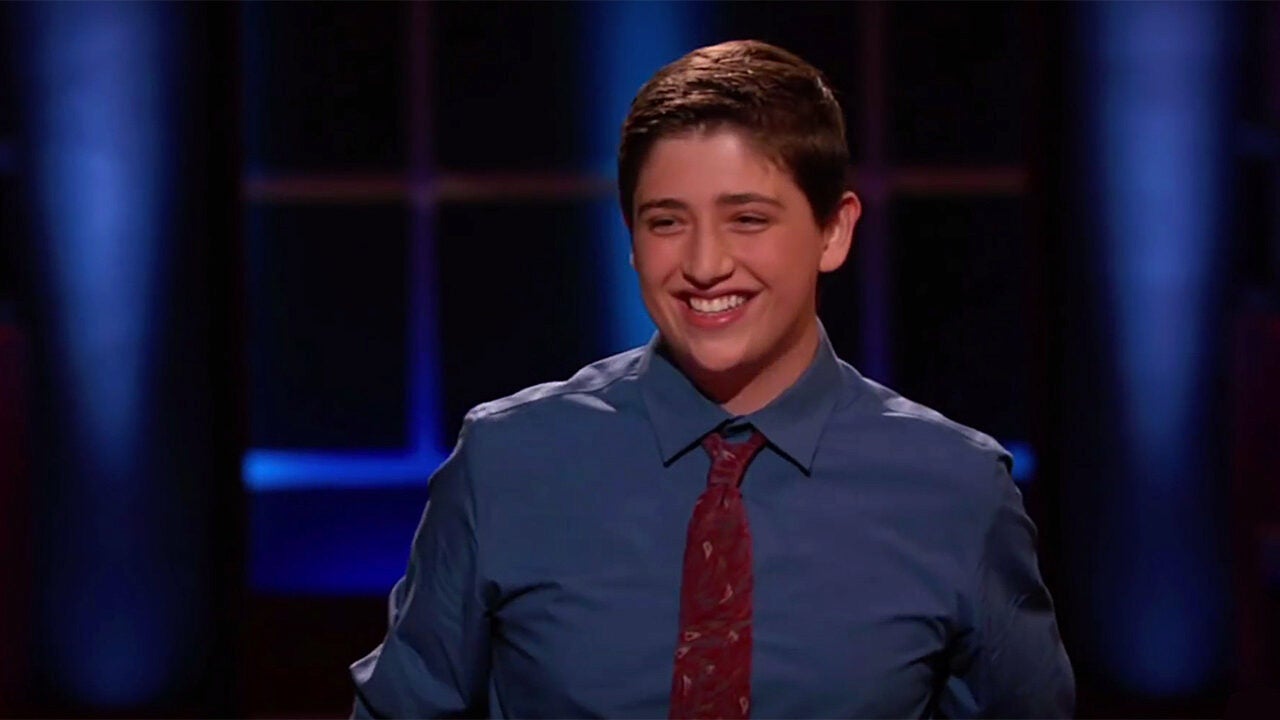 If you're a fan of Shark Tank, ABC-TV's hit show on which entrepreneurs pitch their ideas to a panel of potential investors in hopes of landing an advisor and/or partner with both expertise and money, then you might remember Benjamin Stern. The 16-year-old from Melbourne, Florida, made an appearance with the "Sharks" in February, winning over the panel of investors with his eco-friendly shampoo company Nohbo.
"I was extremely nervous," admits Stern, who impressed many by presenting with all the confidence of a seasoned pitchman. "I'm very passionate about my company, so talking about it was easy, but I put a lot of work into preparing my pitch since I knew getting a deal from even one investor was a long shot."
Ron Flavin, a growth and funding strategist and Stern's business advisor, estimates that less than 4% of young entrepreneurs are successful in securing a big investor. But he didn't let those odds prevent him from encouraging Stern to go for it. He even helped him get ready, guided by the principle: you never know until you try.
Their efforts paid off. Stern's impressive presentation resulted in offers from three of the "Sharks," including billionaire investor and Dallas Mavericks owner Mark Cuban. Cuban referred to Stern as his "mini-me" and offered him $100,000 in exchange for 25% of Nohbo — a deal Stern quickly accepted.
Before the Tank
Stern's inspiration for Nohbo came after watching a documentary in his 9th-grade biology class about how damaging plastic bottles can be to the environment. In an effort to help reduce the amount of plastic bottles thrown into landfills each year, he came up with the concept of a water-soluble, single-use ball that would replace plastic bottles. The soft, powdered ball disintegrates into a sulfate and paraben-free shampoo. Within a year, he found a chemist to produce his product, a law firm to patent his idea, and he formed the company, for which he serves as CEO.
One of the biggest challenges most young entrepreneurs face is that they lack the credit history, revenue and experience required to gain funding the traditional way. Luckily, a new generation, like Stern, is finding other ways to get their businesses up and running — by identifying potential investors, applying for grants, using crowdfunding campaigns, participating in business-pitch competitions and turning to incubator programs.
"Most times young people don't see the need for $10 million to get something off the ground," says Chris Kosednar, chief product officer at Catapult, a startup incubator in the San Francisco Bay Area for promising high school entrepreneurs. "They are resourceful and see far fewer obstacles to success."
While that was definitely the case for Stern, he soon realized he needed capital. "It was exciting to create a great product that I believed in, but I was struggling to cover the initial start-up expenses," says Stern. "I got part-time jobs, but $7 an hour didn't go very far when I was paying my chemist more than $50 an hour."
Stern also tried to get funding through a Kickstarter campaign, which was unsuccessful. Instead, he borrowed from family and friends and dipped into his college savings. With licensing and distributing expenses looming, he knew he had to set his sights on bigger fish to fund his business — namely the investor "Sharks."
Kosednar points out that young people often come to Catapult saying they need between $10,000 and $50,000. "This is an easy investment for someone like Mark Cuban to make or for the hundreds of other venture capitalists, especially if they are more excited about supporting a young person's dream than finding the next Dropbox," he says.
Before appearing on Shark Tank, Stern committed himself to learning as much as possible about what was involved with securing and working with an investor. To do so, he formed an advisory team, which includes Flavin. In preparation for Stern's TV debut, Flavin helped him firm up his business model and make sure his funding request, equity offer and company valuation (how much Nohbo was worth) were realistic. These are all things that can make or break a deal with an investor, and as any fan of Shark Tank will tell you, often do.
"Benjamin also did a lot of preparation on his own," says Flavin. "He watched the show over and over, reviewed pitches online, wrote and rewrote his introductory pitch and he practiced, practiced, practiced and then practiced some more so that his presentation was smooth and natural. As a result, it was flawless and, of course, successful."
Other factors that Flavin says helped Stern shine, which he believes can set any young entrepreneur apart and improve their value as a potential investment, include "having a good, realistic idea that has strong market potential; having a plan to make things happen; and most important, demonstrating a willingness to listen, take advice and to set ego aside."
What Do Investors Bring to the Party?
Stern also had to consider what it means to take on an investor for your business. For example, a young entrepreneur should definitely consider what they are getting besides the money, says Hagop Soulakian, who teaches a business incubator course at Barrington High School in Illinois. Does the investor have experience and success in the industry? Will they challenge you to grow as a business owner? What are their goals for your company?
"Investors come in all different styles," adds Kosednar. "Some are more hands-on than others, while some give free reign. Once you know what kind of support you want to come along with the money, it becomes a lot easier for you, as the founder, to actually [evaluate] the investors."
Flavin points out that young entrepreneurs also need to accept that having an investor may mean they no longer call all the shots and must give up a percentage of their company and some control.
"Benjamin's approach to this was very smart," notes Flavin. "He knew he needed outside expertise so he assembled a team of knowledgeable advisors, each with different but necessary skill sets. He was very careful about what he offered in exchange for their contributions. He didn't give too much away early on, because if you do that, then your company can become unattractive to investors."
Investors also bring industry knowledge and connections, says Tom Schryver, executive director for the Center for Regional Economic Advancement at Cornell University in Ithaca, N.Y., which runs Rev Ithaca Startup Works, an incubator for new businesses. "Especially for first-time founders, this kind of real-world experience can be extremely valuable. Investors with industry experience can provide valuable warm introductions and help attract a team and new capital."
On the flip side, Schryver says that some investors cross the line from engaged to meddlesome and can detract from an entrepreneur's efforts in bringing a new product or service to market. Worse, they can have unrealistic expectations about the trajectory of the company, leading a young entrepreneur to block new investors or deals that could keep the company going and growing. "I often tell students that all investors add value — the question is whether there's a plus or minus sign in front of it," says Schryver.
Making It Work
For a business partnership to be a success, both the investor and the founder have to be transparent in their goals for the company, as well as their roles and responsibilities, says Soulakian. "Young entrepreneurs have to be willing to put in the time that investors are expecting to see," he adds. "That's a struggle for most of the kids in my class. They have extracurricular activities, after which they come home, eat dinner, study and then dedicate whatever time is left to their businesses."
Stern agrees that time has been a big issue for him, as well. He used to be involved in extracurricular activities, but now he dedicates almost all of his free time to Nohbo. Last year, he even decided to be home-schooled to make it easier to manage the company.
"I'm a straight-A student, but it's very stressful to juggle my company, school, and my other responsibilities," says Stern, who is now a junior at Viera High School in Florida. "I love seeing my company grow, so it's been worth it."
In a new world of superficial SnapChat interactions, Catapult stresses to teen entrepreneurs the importance of building "authentic relationships," with investors and business partners, says Kosednar. "Odds are, you won't be successful [with your business] at first. If you just take an investor's money and run, that's it, you've burned that bridge. It's better to build a symbiotic relationship that will stand the test of time."
Since making the deal with Cuban on Shark Tank, Stern says things have been going great. He talks regularly with Abe Minkara, business development director at Mark Cuban Companies. And thanks to the guidance of Cuban and his team, Nohbo now has a revamped website and a manufacturing deal. Taking full advantage of the Shark Tank buzz, Stern also launched another crowdfunding campaign through Indiegogo in early March, which had most recently raised $26,199 for Nohbo's launch, exceeding its initial fundraising goal.
"In just a few months, Mark and his team have helped me avoid a lot of mistakes that I most likely would have made on my own," says Stern. "I'm excited to continue working together to grow Nohbo. The possibilities of where we can go are endless."
Related Links
Conversation Starters
Benjamin Stern says that he is so passionate about his eco-friendly shampoo business that he could talk about it forever. And yet, he spent quite a lot of time preparing for his Shark Tank appearance. How did he get ready? Why was it so important for him to practice? Additionally, what helped Stern "shine" in the Tank?
Start-up incubator Catapult teaches young entrepreneurs about the importance of building "authentic relationships." What does this mean and why is it so important in business? Research the power of the relationship further with entrepreneur Sachin Rekhi in the "Related KWHS Stories" tab.
Now that you know a bit about venture capital investment, check out the K@W article in the "Related Links" tab that discusses the recent slow-down in VC investment. What does that mean for entrepreneurs?