Future of the Business World: Confronting Educational Equity and Student Wellness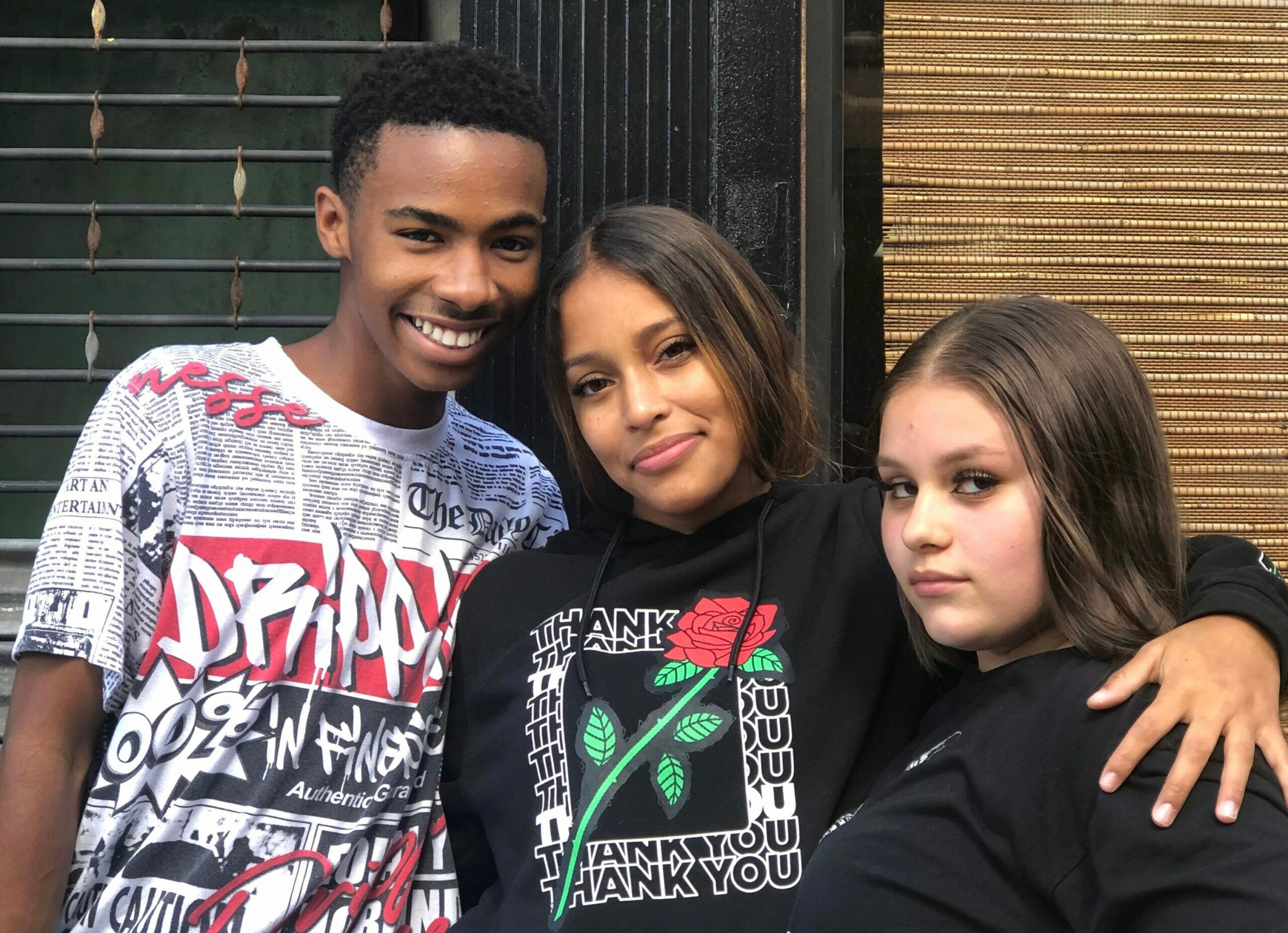 This month on Future of the Business World, we travel to Newark, N.J., to speak with Dashawn Sheffield, 17 and a junior at North Star Academy Washington Park High School. Last year, Dashawn (pictured above, left, with two of his high school friends) took second place in the Educational Equity challenge of the National Foundation for Teaching Entrepreneurship World Series of Innovation with his business pitch for EduMatch, a mentorship program to help low-income, first-generation students overcome obstacles to college enrollment and navigate the college application process.
In this interview (click on the arrow above to listen to the podcast), Dashawn, who plans to attend college in a few years to study business and psychology, or possibly nursing, talks about implementing his business idea, as well as taking on a separate challenge to improve mental wellness among his peers (a story that may be featured in an HBO documentary).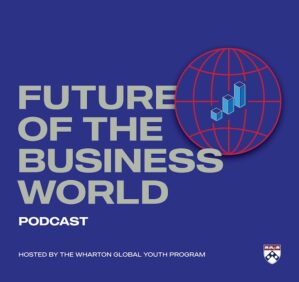 Wharton Global Youth Program: Hello and Welcome to Future of the Business World! I'm Diana Drake with the Wharton Global Youth Program at the Wharton School, University of Pennsylvania.
Each month on Future of the Business World, we meet enterprising young entrepreneurs from around the world and discuss their innovative ideas and inspirations. And we learn a lot about business and finance along the way.
I'm excited today to speak with Dashawn Sheffield, a junior at North Star Academy Washington Park High School in Newark, New Jersey.
Dashawn, welcome to Future of the Business World!
Dashawn has discovered his entrepreneurial spirit in the past year and has been letting it run wild, you might say, as he embraces student leadership and helps guide other high school students toward success. We're going to talk about education equity, mental wellness and more…so, let's get started.
Tell us about yourself?
Dashawn Sheffield: Good afternoon. My name is Dashawn Sheffield. I'm 17 years old. I live in Newark, N.J. I'm a junior at Northstar Washington Park High School And I'm also an avid tennis, badminton and volleyball player.
Wharton Global Youth: And you're also an entrepreneur. Last year, you took second place in the Educational Equity Challenge of the National Foundation for Teaching Entrepreneurship World Series of Innovation. Your winning idea is an initiative called EduMatch, a mentorship program to help low-income, first-generation students navigate the college application process. Can you tell us what led to that idea? What was the inspiration for it?
Dashawn: I first got the idea when I was 12 and I was living in Georgia at the time. I had an older friend [Samir] who was a senior in high school. He was one of my role models because he had good grades and he was such an over-achiever and one of the top students of his school. I really took note of that. I know I'm going to sound like I'm going on a bit of a tangent, but I want to mention this memory of the two of us. We were sitting on the swings at the park around the corner from our house because we lived close to each other and I could see that he was sad. I turned to him and asked why was he sad and he said he felt like a failure. He had worked so hard throughout school only to not know how to apply to college. I told him it would be alright because I didn't know what to do. You have to keep in mind that I was also 12 at the time. I had no idea what the college process was like, nevertheless high school. I saw him a couple of years later and he was working at a job that wasn't really the greatest. When I was writing in my journal back in 2020 when I was brainstorming ideas, that exact memory came to mind.
While that was a main source of inspiration for me, I took into account the disproportionate rates of college enrollment between low-income minority students and the wealthier, typically white, counterparts and I felt as if there weren't many businesses tailored toward fixing that.
Wharton Global Youth: Can you talk more about the lack of college enrollment from low-income students and also the gap in critical information to help students make informed decisions. These really prompted you to want to do more when you looked into the data, right?
Dashawn: Yes, I was looking at this data from I believe it was Ad Council and it was talking about how low-income schools typically have a very bad student-to-college-counselor ratio. For instance, when I was conducting research myself I asked one of the college counselors at my school about how the data seemed so skewed, unbalanced and disproportionate. She said that when she worked at a public school, she was helping 500 to 600 students. I felt that was bad because you're not able to give them the type of attention that they need. This is a very critical moment for seniors as they're going to the next stage in their life and they need that type of guidance. I took that along with the personal connection that I had, and as I said I also have a personal journal where I write down ideas that come to my mind. I'm in a rush to get them out because if I don't write them down I'm going to end up forgetting. I was writing keynotes and little bullet points. As I was working on EduMatch's subs, I took that as a reference.
Wharton Global Youth: How does EduMatch work?
Dashawn: EduMatch is an online platform where the high school seniors known as applicants are matched with undergraduate students at different types of universities, known as mentors. The mentors serve as volunteer college counselors throughout the course of the students' application process. For instance, the mentors work one-on-one with applicants on the website to navigate the college application process on things like where and when to apply to college, how to write a compelling admission statement, how to fill out the FAFSA and so many of the services.
Wharton Global Youth: The competition you won rewards innovative ideas, but you've actually moved forward on implementing EduMatch. How has it taken shape and can you give us an example or two of how you've provided support and mentoring to other students?
Dashawn: After and even during the course of the competition, even though I wasn't sure if EduMatch was going to win, I was still determined to implement it myself. I collaborated with some colleagues and some peers of mine to design an online program. I didn't want to put myself out there on a grand scale because this is a startup, so I wanted to start small. I recruited 25 students from public high school around where I live and 25 students from community college. And this first started around May. Over the summer we experienced great results. The students learned from a curriculum that covered all the facets of learning the college application process. And some have already applied to colleges and they got in. And when I found out I was stoked beyond imagination, that something I came up with was being beneficial and helping these kids who didn't receive that amount of help in their own school. I take a lot of pride in that. And in terms of providing support and mentoring for other students, I'm a peer tutor at my school. I tutor three or four other students, which I've been doing since sophomore year. I co-founded a program in 2019, a student-led initiative that aims to provide leadership training and resources that would allow and inspire students to advocate for issues they're passionate about. I'm currently in the process of attempting to form a diversity, equity and inclusion committee within my school and another school, as well.
Wharton Global Youth: I want to go back for a minute to EduMatch and the fact that you feel the impact that you're making on other students. Do you have one example of where you saw a lightbulb moment of another student understanding the college process? What were some of the areas you felt were most useful as you were teaching them about admissions and all the steps that they needed to take.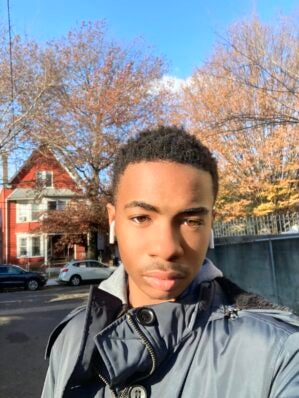 Dashawn: One of the students I was helping to teach [Veronica] did not know how to write a personal statement. We have them do a rough draft to give an idea of where they're at and then toward the end of the program, we have them do another draft to mark their improvement. When I first saw her statement with the rough draft, it wasn't really good. There were a lot of errors and issues and things that needed to be fixed. Towards the fifth meeting I had with her – they work with their mentors and then they have a meeting with me so I can keep track of their progress – I was going over her draft with her and I could just see the improvement and you could feel the radiation of her pride. She was very proud of herself. She should be because she came from a very far place from where she was at first. So, just the feeling that she was proud of herself and felt accomplished and I think I will cherish it for the rest of my life.
Wharton Global Youth: What is the very essence of the impact EduMatch can potentially have? Why do you feel it is a powerful idea in helping to drive racial equity across education?
Dashawn: I feel like it's a drive toward racial equity in education mainly because I feel like each student should be ensured that whatever they receive is going to help them be successful. In terms of higher education: reexamining the curricula, placing a greater emphasis on active learning, elevating student voices. Things like that must happen. With EduMatch, this would allow them to happen. Mainly it helps low-income students and first-generation students who are typically silenced with the college application process because most of them do not typically know how to go through the process. It helps them get a voice and it opens more doors for them as well, providing more opportunities and allows them to advance more in their lives, which I feel like everyone wants for themselves. Everyone wants to succeed, but some people just don't have those opportunities. But with those opportunities, it will be a great keystone for them.
Wharton Global Youth: I read somewhere that pandemics historically have forced humans to break with the past and imagine their world anew. For you, the pandemic was both a time of personal strife, as well as empowerment. It inspired you toward leadership. Can you talk a bit about the Student Wellness Council at your school? How it started and what it works to achieve?
Dashawn: I'd love to talk about the Wellness Council. It first started last year when I was a sophomore. COVID shut everybody at home doing virtual learning, etc. Being at home was different for me. I went through most of my academic environment learning from people and being with other people. Having the luxury to be able to speak with your teacher face-to-face. It's very different over Zoom. There's different obstacles. You have to help take care of your family. You have to work. Internet issues. Around that time, because I was in a new environment and one I was never placed in before and [one that led] to me sequestering myself away from other people, for the first few weeks when it started I wouldn't eat, I wouldn't do nothing. My mom put me in counseling, and my counselor could relate because working from home was something new for her, as well. And so I was like, you know what, I don't want to just sit here and waste away in my room when I have so much energy, negative energy, that I could turn into something positive.
So once again, I had my journal. I was writing in it. I'm thinking, what can I do with something about wellness. I felt a lot of students were going through this right now. After writing it down, I got on Facetime with about six of my friends and said, 'Look guys, I have a plan and I feel that it will be really beneficial.' I got my notebook and I read them key components of the council when it was in its initial stages. When I first went to get it implemented in the school, I got shut down by the principal. I thought, there has to be someone to go to that's higher than him. That's what I did. I emailed the president of my school's Network on Common Schools. We had a phone call back in August for about half an hour. She got in touch with my principal. Eventually it got greenlit. There were some delays at first, I believe it was on September 17 I got the email that it was greenlit. I called my friends, the ones I was on Facetime with before, and said, guys, this thing is becoming a reality. We've got to get started. And so we did.
The Student Wellness Council is a student-led initiative where me and seven other students get together and come up with different plans revolving around mental wellness, and we implement them. We have a workshop dedicated to mental health. For instance, we just had a workshop a couple weeks ago that detailed how to spot mental illness in students. I feel as if teachers don't get that type of training unless you're a guidance counselor. I feel as if all students, staff, personnel, whoever, need to know. They need to know how to spot these things to help students better. I feel as if there's a stigma around mental health. Why, I don't know. Students aren't really trustworthy of the counselors, so they don't feel as if they have anyone to turn to. I want to let them know that they have other students who empathize and know what they're going through and can help them.
Wharton Global Youth: What was the initial resistance from your principal. Why did they not want to greenlight the idea sooner?
Dashawn: I'm not sure. If I had to take a guess, it was probably because the plan I had was very detailed. I was putting all my ideas out there. I [said] I would form partnerships with community-based mental health organizations and I'll do X, Y and Z. Because I was younger than I am now, I wasn't seen as mature enough to take on such a big responsibility. And so maybe to avoid possibly having me risk failure in a way, maybe that's why it wasn't greenlit.
Wharton Global Youth: You seem like you're very oriented toward problem-solving. Your journal plays an important role. You've got to jot down those ideas and return to them later. What have you learned about your peers and about yourself through this time of personal growth and activism? Do you feel like problem-solving is the essence of what you're trying to do? What have you learned about yourself? And what would you like others to know?
"I wish I could change the stigma around mental health. If there wasn't such a negative connotation with people seeking out help, then a lot more people would come forward and a lot more people could be helped."
Dashawn: About my peers, I would say that different people handle different things differently. I'm not sure if that makes sense. A lot of people aren't going to experience the same things the same way. People have different emotional aggressors and different emotional reactors. That needs to be taken into account. Emotions play a part in everyone's lives, including mine. Especially last year with virtual learning, there were a lot of negative experiences with my peers. For instance, one of my friends tried to commit suicide because they had ADHD and Bipolar. Having those types of things and being secluded when you're used to social interaction is not good for anybody or for your mental health. It's better having that face-to-face interaction.
In terms of myself, I've grown more determined and more steadfast in my goals. I've learned to not overload myself, mainly because when I first came into high school I felt like I had to be one of those students who was the captain of this team, the captain of that team, debate team, XYZ. I was overloading myself too much and it led to burnout. In a way, that virtual learning last year was a blessing in disguise. It helped me reorganize myself and get a lot more things started like EduMatch and the Wellness Council. I'm also taking on different projects like the Diversity, Equity and Inclusion Committee and I'm in the process of having an HBO documentary filmed. So I'm also learning time management.
Wharton Global Youth: Tell me about the HBO Documentary?
Dashawn: Chalkbeat published an article back on June 28. I met with one of the reporters, Miss Carolyn. And one of the producers [from HBO], Amy Schatz, reached out to me the day after the article was published. We talked over the summer and we started filming in the middle of October. It's going to take a whole year, and I'm just busy.
Wharton Global Youth: Is it related to the pandemic? What is the theme of the documentary?
Dashawn: It's related to the Wellness Council. She saw that I had a whole wellness system going on and that drew her in. That's one of the main things we talked about over the summer. I would say the pandemic plays a part in it too, but overall, I would say the Wellness Council.
Wharton Global Youth: I want to stick on the Wellness Council for one more minute. First of all, I want to say that I'm so sorry about your friend who tried to commit suicide and all the struggles you've seen among your peers. Is the Wellness Council making a difference? Do you feel as though you're making strides within your school community and within your own community to improve the health and wellness of other students? And what would you like to say to students out there who might be struggling?
Dashawn: I would say that we are making an impact not only in school, but in our community. I've definitely noticed. A lot of students have come up to me and told me how much me and my other seven team members who work [on the Wellness Council] have helped them. We helped implement the peer tutoring system, because before last year it wasn't really a thing. We got a meeting with the principal and told him that peer tutoring is going to help students, help their mental health, help them be motivated and this is something they need. Which it did. It helped them a lot. A lot of people have said the peer tutoring helped them. I would definitely say to students out there that someone's door is always open. Don't feel as if you're alone or as if you have no one to talk to. You're always going to have someone to talk to.
Wharton Global Youth: One question I like to ask all our guests on Future of the Business World is: If you could change one thing in the world, what would it be?
Dashawn: I wish I could change the stigma around mental health. If there wasn't such a negative connotation with people seeking out help, then a lot more people would come forward and a lot more people could be helped. That would avoid a lot of grief, a lot of tumultuous relationships and a lot of negative things.
Wharton Global Youth: Now for our lightning round. Try to answer these questions as quickly as you can:
What is your favorite United Nations Sustainable Development Goal, and why?
Dashawn: My favorite goal is educational equity, what we talked about before, the disproportionate rates. Those aren't really addressed by the government. And it's up to students. Gen Z, I believe we're called? It's definitely up to us. I've noticed that there's a lot more activism within us and we need to push toward these goals. I would definitely say educational equity.
Wharton Global Youth: The soundtrack that inspires your life?
Dashawn: Mariah Carey. I will continuously say this, no matter what. She's saved me through her music. She's been through a lot of things herself: her breakdown in 2001, her family using her for money and things like that. She's been sabotaged a lot of times. I feel because she writes her own songs I can personally connect to it knowing that she went through the same thing.
Wharton Global Youth: In a word or two, what does entrepreneurship mean to you?
Dashawn: It means ownership, self-ownership.
Wharton Global Youth: Finish this sentence…Greater educational equity will create a world that…
Dashawn: has a lot of innovative people.
Wharton Global Youth: Something about you that would surprise us?
Dashawn: I dance to Britney Spears. Maybe that won't surprise you guys, though.
Wharton Global Youth: You are the host of a new business talk show. Who do you invite as your first guest?
Dashawn: Business? Hmm. I would probably invite Tyler Perry because he has a lot of businesses besides his film studio. I believe he also has a fashion line, I'm not sure. But I know he'd have a lot to offer in terms of gleaning and acquiring entrepreneurial spirit and energy, and information as well.
Wharton Global Youth: Dashawn, thank you for joining us on Future of the Business World.
Dashawn: I'm so grateful that you allowed me to speak to everybody. Thank you.
Conversation Starters
Why do you think the pandemic was a time of entrepreneurial energy for Dashawn Sheffield in which he grew more "determined and steadfast" in his goals? Did you have a similar experience? How so?
EduMatch seeks to create more racial equity across education. Dashawn says, "Everyone wants to succeed, but some people just don't have those opportunities." What have you observed that can contribute to this conversation and the viability of his idea? Share your thoughts in the comment section of this article.
Would you benefit from an initiative like the Wellness Council? How, specifically, could a student-led group like this make the greatest impact?