High School Students Experience the Wharton Entrepreneurship Game
Youth entrepreneurship education is a big priority at Kern High School District in Bakersfield, California. It's fitting that 13-17-year-olds from this district were the very first middle and high school students in the U.S. to pilot an entrepreneurship simulation developed for students at the Wharton School of the University of Pennsylvania.
More on that soon – but first, some background.
Kern High School District's Entrepreneurial Spirit
The public high school system that serves the county of Kern at the southern end of the San Joaquin Valley is the largest 9-12 school district in all of California, with 24 high schools and 43,000 students. Entrepreneurship skills are fundamental to the surrounding oil, gas, and agriculture economy. Some 85% of residents who grow up in Bakersfield choose to live in the region after high school and work locally, often starting their own small businesses.
For this reason, community educators, politicians, employers, and families collaborate to strengthen Bakersfield's future workforce and equip students with entrepreneurship skills. "We don't just teach students about starting a business, we teach them the entrepreneurial mindset – seeing a problem as an opportunity, knowing that you're the one who can solve it and knowing that you can create value," says Angel Cottrell, manager at the district's Entrepreneurship Resource Centers (ERC), a Kern High School District (KHSD) program launched in 2021 that develops that mindset in local 7th-12th graders by encouraging them to engage in creative problem-solving, critical thinking and entrepreneurial business activities. ERC offers weekly non-academic-credit courses in Exploring Entrepreneurial Mindsets, Entrepreneurial Essentials and Endeavors, and Advanced Entrepreneurial Topics.
A long-time entrepreneur herself, Cottrell is both a champion and a composer of youth entrepreneurship education in Bakersfield, becoming deeply invested in student success largely outside the high school classroom as an educator, marketer, supporter, and even competitor.
The district has competed in Virtual Enterprise International (VEI) for the past 28 years, a national education nonprofit that partners with schools to prepare students through authentic business experiences. Student-led enterprises ultimately compete for top honors. VEI is considered a rigorous and comprehensive preparation for aspiring entrepreneurs. Cottrell, a former VEI judge in California, has gathered support from the Bakersfield business community to advise several teams to win the competition. In 2023, five KHSD schools sent 75 students to New York City for the national competition, and ultimately the district boasted of having made Virtual Enterprise history by sweeping the national business plan competition with first, second and third-place wins.
Enter Wharton Interactive: Bridging the Gap Between Theory and Practice
This is all to say that Cottrell and her team seek to provide authentic, hands-on entrepreneurship training and education to KHSD students. "I've written curriculum and brought it into the ERC program," notes Cottrell, who has been actively teaching students entrepreneurship concepts and activities each week since ERC opened more than two years ago.
"This actually gives high school students the experience of what it's like to work in a business. They have to make real-time decisions, respond to these businesses' changing conditions, and learn how to work together in a team." –Angel Cottrell, Instructor
Cottrell continually researches the market in her course development and explores ways to elevate entrepreneurship education for KHSD's youth. "One of the concerns I had for students was how actually to practice entrepreneurship experientially," she notes. "How do I create the natural consequences that occur when you start to make decisions in your business? Sometimes those consequences are positive, and sometimes you have to pivot from something to keep the business alive and flourishing. I started looking at the national conversation around youth and entrepreneurship and looked to higher education to see the growth in entrepreneurial education. That's when I found Wharton Interactive."
Wharton Interactive, co-founded by Ethan Mollick, a Wharton professor of management, takes ideas from pedagogical research and the world of games and applies them to make teaching easier and more effective. Wharton Interactive's simulations guide and scaffold students through business experiences, like team leadership and learning to effectively run and analyze randomized experiments to inform product and market strategies.
The Wharton Entrepreneurship Game: A Deep Dive into Business Reality
Cottrell was most intrigued with one of Wharton Interactive's flagship simulations, the Wharton Entrepreneurship Game, which gives learners the experience of running a high-growth startup. Originally designed for MBAs, the Wharton Interactive team – with the help of the Wharton Global Youth Program — planned to pilot the simulation to the high school market. While high school students may not have the depth of knowledge or perspective that MBAs possess, they can greatly benefit from the simulation, gaining invaluable exposure to a real-world startup environment and its challenges.
The Wharton Entrepreneurship Game is a multisession game requiring a commitment of 15-20 hours. Learners enter a hyper-immersive world and work in teams to run a startup and experience the challenges of leading a business to success. Through built-in instruction, feedback loops, expert insight (delivered by Wharton faculty), and adaptive storylines, student teams persuade customers to buy their product, conduct disciplined business experiments, pitch investors, negotiate with key stakeholders, hire employees, manage finances, explore business models and practice hypothesis-driven product design.
Intrigued by the experiential nature of the Wharton Entrepreneurship Game, Cottrell was given the opportunity in February 2023 to test out the simulation with her 25 entrepreneurship students, who attended class three hours each week for a total of 14 weeks.
She formed five teams of five students each, shored up the class's internet access to accommodate the virtual platform, and launched her class headlong into the startup culture, where they interacted with in-game characters via video and received online instruction that challenged them to make key decisions about how their businesses would progress and grow. Every decision teams made changed the course of their business.
Over 12 weeks, Cottrell's class tackled a new Entrepreneurship Game chapter for a few hours each week. While the game was created for graduate-level MBAs, Cottrell says she (and her students) welcomed the advanced material and rarely felt it was too rigorous for the high school learner.
Real-world Entrepreneurship from a Classroom
"It was experiential, real-time learning," says Cottrell. "I had students who would say, 'Ms. C., I'm feeling so stressed out because these emails keep coming that we have to reply to!' I looked at them and said, 'Welcome to adulting!' It changed the way they started to understand the work behind a business. What does it actually mean to do business and be in business? We can read about it, talk about stories, bring in guest speakers, but until you're living the experience, you just don't fully get it. There's nothing I can create that matches this level of understanding for them."
While Ms. C. was providing light in-class oversight, the game ran on its own – tracking student decisions and progress, providing built-in additional help for those students who needed it, and challenges for advanced students. The game assessed students throughout, and they received adaptive feedback after every major decision, helping them improve as the game progressed and giving them the tools to apply that knowledge outside of the game. Class performance was stellar, and Cottrell says this is a testament to ERC's deep entrepreneurship preparation, including vocabulary and concepts. "I believe my kids did so well because this wasn't the first time they got introduced to entrepreneurship," she reflects. "These are kids who were involved in an entrepreneurship curriculum for a minimum of a year or year and a half before they got even close to this game."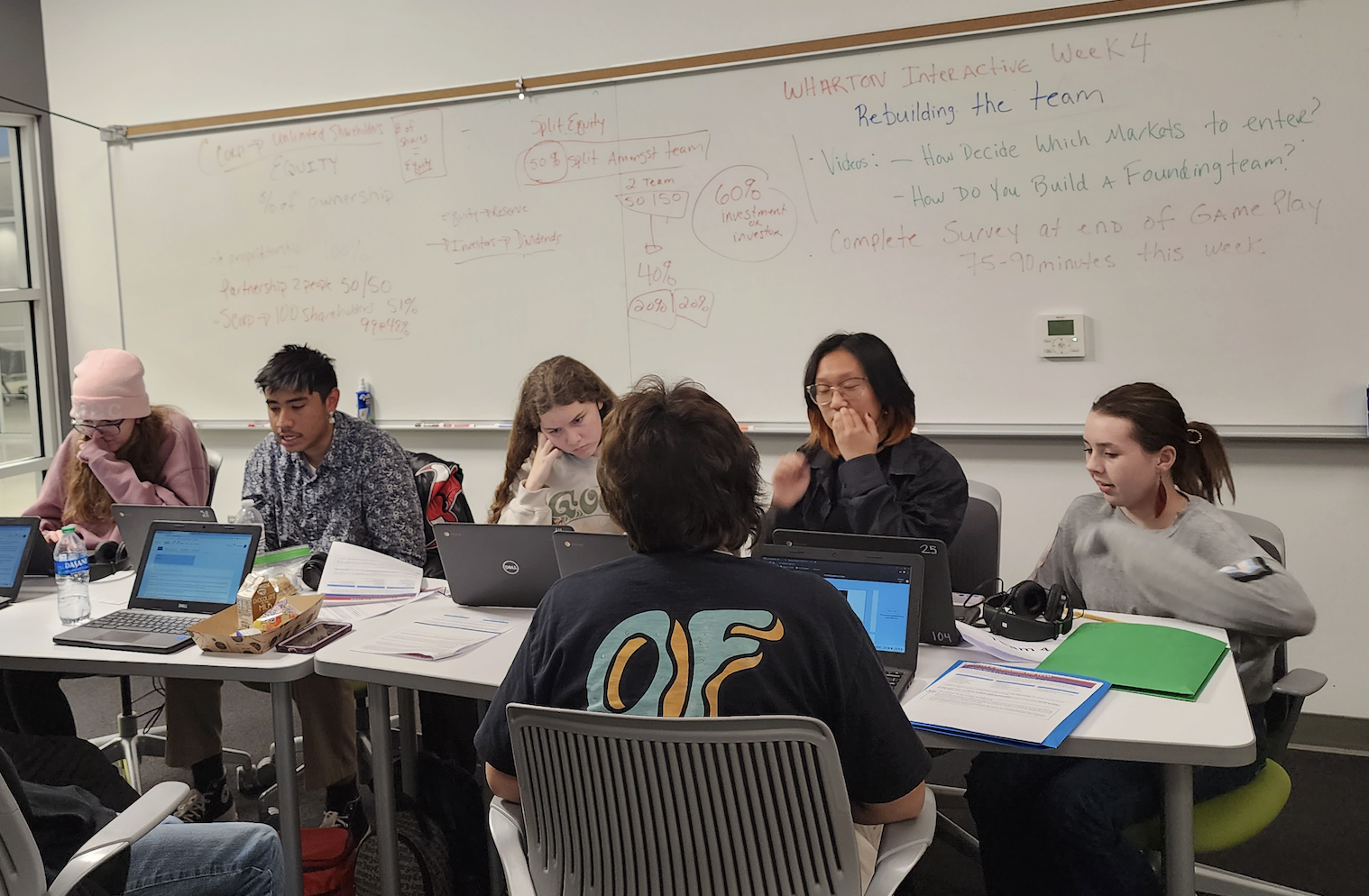 The High School Student Perspective
Cottrell believes the Wharton Entrepreneurship Game would pair well with high schools and districts using Virtual Enterprise International. "VEI runs in a parallel lane," she says. "One of the hardest things about leading those VEI student teams over a year is that they're picking a business idea, writing a business plan in six or eight weeks, taking on different company positions, and they don't know anything and are trying to compete. Something like the Entrepreneurship Game the year prior would throw everybody into what it means to take the ideas that have been generated and get them to perform. It would allow them first to learn the inner workings of a business." She adds that the Entrepreneurship Game would be most successful with students and teachers who have an inherent interest in and passion for business and entrepreneurship.
Emery O., 15, a rising sophomore in the Kern High School District who was among the group to pilot the Entrepreneurship Game in Ms. C's class, definitely fits that profile. "I love entrepreneurship because you have the freedom to choose what you want to do for your workplace, and I love being able to create everything about it. It's hard, but it's really worthwhile," says Emery, who aspires to live near Bakersfield and own a wildlife rehabilitation or animal education business.
She says of her very first business simulation experience: "I've never seen anything that cool before."
Along with her four "wonderful" teammates, Emery (designated CEO) navigated each session of the Entrepreneurship Game intending to do the best for their business's success. "This simulation really pushes the point that your actions have consequences. Your entire business could fall at any moment," notes Emery, who at one point did a deep dive into the instruction manual and coached her classmates on managing their financials. "It was cool how our experiences were completely different. So, we might choose to hire one employee, and another team would choose to hire someone else. Despite doing the same game as a whole, we could all choose completely different paths from each other."
Emery's most memorable Entrepreneurship Game moments included her first time reviewing the résumés of potential employees to hire and pitching her team's business idea to actual angel investors. "This was a simulation, so it's probably easier than it would be in real life. But I felt the stress of pitching to real people!"
Emery advises that high students are briefed on entrepreneurship concepts and know what they're getting into before tackling the simulation. "You should know what entrepreneurship is and what you should expect about the decisions you have to make. My teachers printed out the basics of the game and showed them to us so we knew what would happen at each phase — the descriptions of the different episodes."
The Wharton Interactive team, which recommends less of a roadmap for more advanced students, stresses flexibility in how educators approach the game, suggesting that they decide what materials to provide to students based on experience and ability. The comprehensive teaching guide has lots of information to share, including learning objectives and game overviews.
Emery and her teammates only stumbled a few times, including when someone who manufactured their company's product asked for specific numbers. Still, they were able to push through any confusion and move to the next level. "We are going to play the Entrepreneurship Game again in the fall. This next time I plan to take a completely different route to explore the ins and outs of the game," says Emery. "I want to see the different consequences of my decisions."
Looking Ahead: The Future of Entrepreneurship Education in Bakersfield
Cottrell is also excited to build on the success of their first Entrepreneurship Game experience. "My students are eager to come back again, rejoin their teams and work at figuring out the game," she says. "What I enjoyed about this as an instructor is that in the past year and a half or so that I've been taking these students along the entrepreneurial journey from a theoretical and conceptual place to providing them opportunities to present their business to the public, this actually gives them the experience of what it's like to work in a business. They have to make real-time decisions, respond to these businesses' changing conditions, and learn how to work together in a team."
She hopes to expose even more Bakersfield community students to this unique learning opportunity. "I could not be prouder to bring something of such high-level expertise to my students. I'm grateful to open up Wharton, one of the best business schools in the world, to create this opportunity for others and make it accessible for them."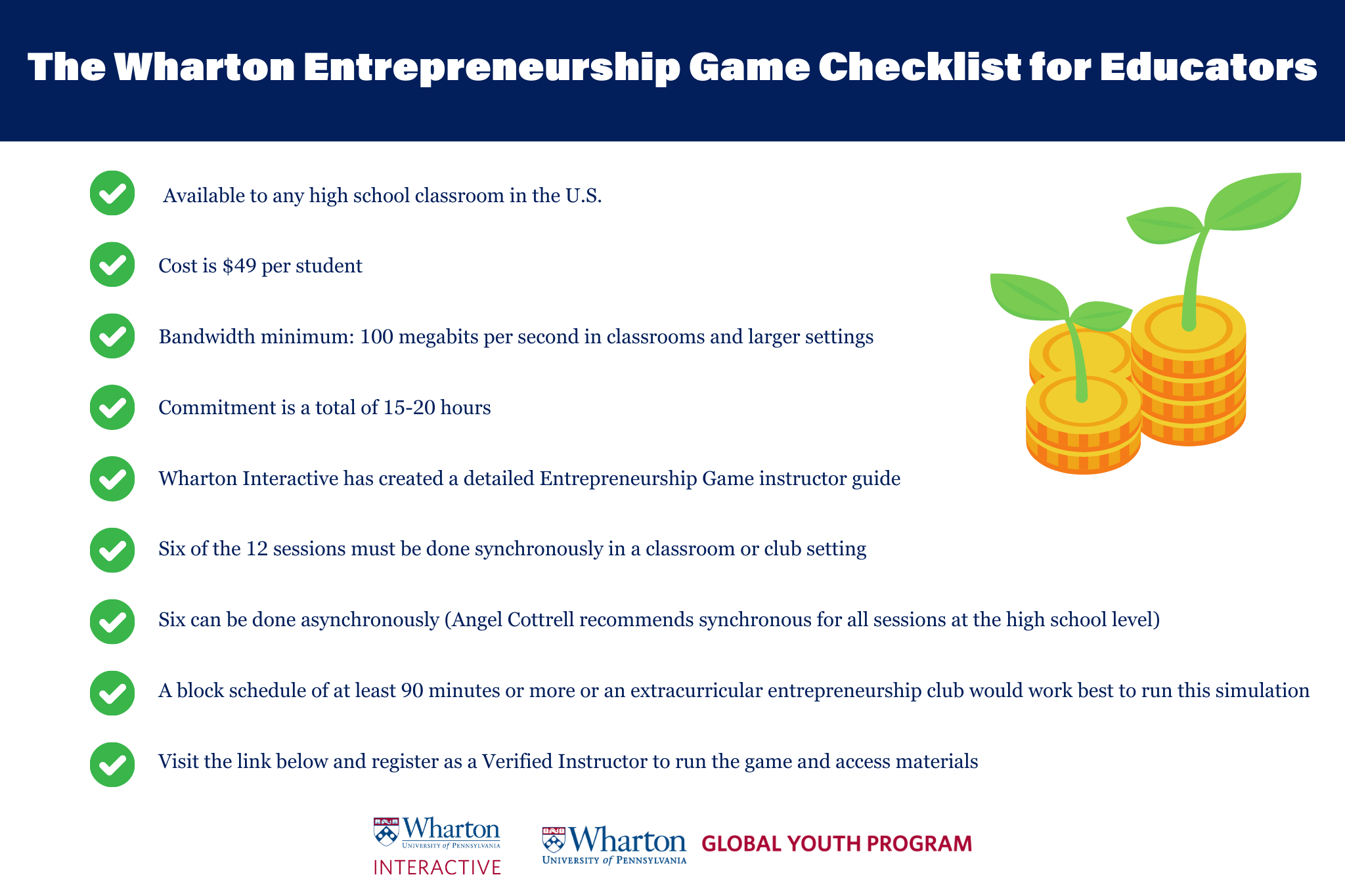 Visit the Wharton Global Youth Program to discover more about the Entrepreneurship Game and how to become a Verified Instructor with Wharton Interactive – and watch a video with Angel Cottrell. You can contact the Wharton Interactive team at interactive@wharton.upenn.edu with questions.