How an Investment-minded Student Started Financial Literacy for You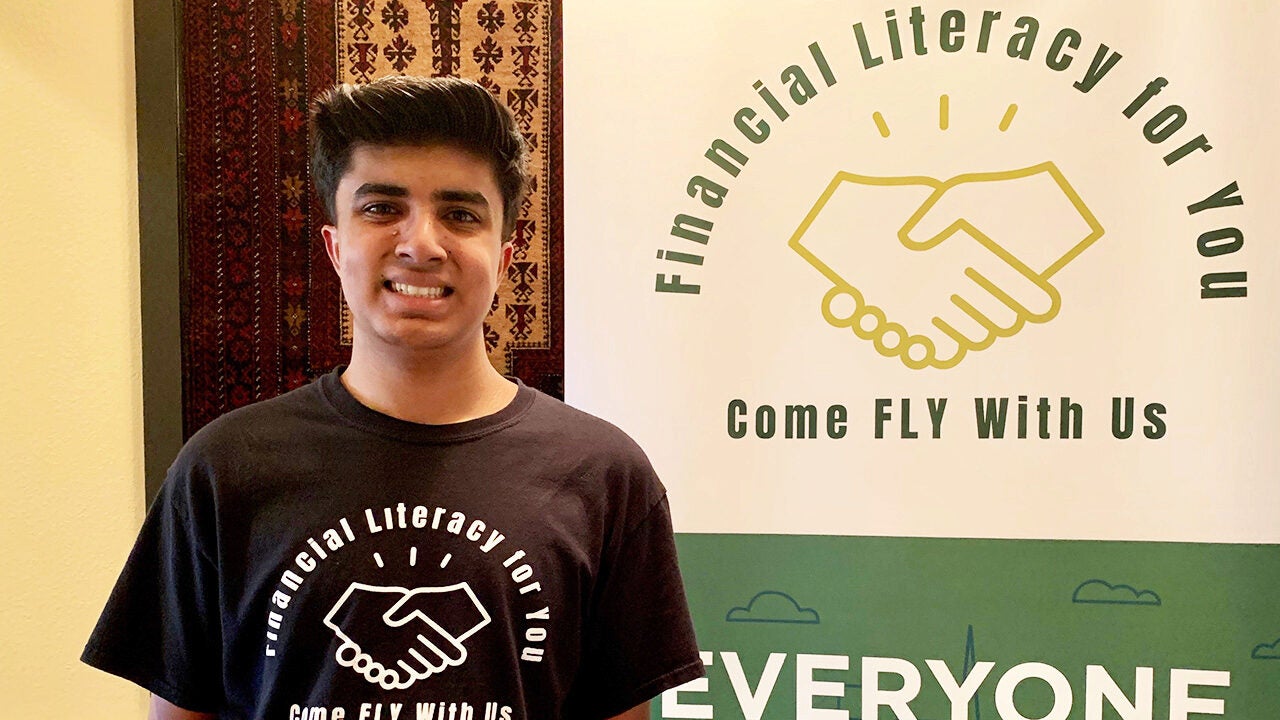 Sohil Varshney, 16, is a junior at Oak Ridge High School in El Dorado, California. Last year, he led the team Oakridge Investment Enterprises during the KWHS Investment Competition, ultimately competing among the top 12 Region 3 finalists during the Global Finale at Wharton in May 2018. While there, Varshney became inspired to share his new financial knowledge with others. He traveled back to the U.S. West Coast, and soon after launched Financial Literacy for You, a 501(c)3 nonprofit organization that builds financial literacy skills among youth and families across Northern California. Since then, says Varshney, "Our impact has expanded and we have reached more than 1,000 youth with life-changing knowledge on personal finance."
April is Financial Literacy Month in the U.S. To honor the importance of personal finance and the power of making smart decisions about the money we earn, KWHS asked Varshney to share his story as a true teen "Fin Lit" champion. His personal essay is below.
I was skeptical and surprised when I first discovered a massive paradox about the U.S.: The largest and most powerful country in the world; the land of opportunity where immigrants from all over the world flock in search of a better life; the country that boasts billionaires and successes, such as Apple, Google, and Facebook — doesn't know all that much about money. Did you know that half of all Americans have less than $1,000 in savings, one-third of all baby boomers have no money for retirement, and, more pertinent to Gen Z'ers like ourselves, only 19 out of 50 U.S. states require high schools to teach financial skills? How can you survive and potentially prosper without the important life skill of financial literacy?
Here is my story. I became seduced by the stock market in the 6th grade, as I became more interested in self-managing my earnings from chores and dog-sitting, than just passing the money over to my parents or blowing up the earnings on candy and video games. In the 8th grade, my dad opened my Ameritrade account in the hope of educating me on the value of money. I forced myself into basic investments literature that, at first, seemed vague, tedious and uninspiring. Reading The Wall Street Journal was one requirement enforced by my Dad for keeping ownership of this money – and I disliked every moment of it at first.
And then one day the light bulb came on. I became even more financially curious as I began to understand how to make my money work for me by actively investing money within the safety of blue chip stocks. By this time, I realized I wouldn't be getting much financial training at school, and it was evident to me that many of those in school around me were in need of them.
Process Is More Important than Outcome
Fast forward to May 5, 2018, the day of the KWHS Region 3 and Global Finale, in which my all-sophomore team, Oakridge Investment Enterprises, was among 18 other high school teams selected from around the world to present a final investment strategy designed for a hypothetical client to a panel of judges at the Wharton School. After presenting, my teammates and I took a seat and looked on as other teams gave their presentations. I was astounded by the teams' sheer depth of knowledge. What inspired me the most was when certain teams spoke about their efforts to give back to their schools and communities by sharing their new financial knowledge with others.
As the event came to an end and the judges shared some reflections, one quote from Scott Stimpfel, a financial professional who helped to start the KWHS Investment Competition, truly stood out to me. He said, "As a leader, it's not just about what you do here, but it's about what you can do with this [knowledge and experience] to give back and improve the opportunity for others." Process can be more important than outcome, and every step to improve the world, no matter how small, can eventually better our lives.
"Schools don't teach students enough about the importance of money, let alone how to manage it." — Subha Alluri, FLY Instructor
Upon our return to El Dorado Hills, California, I realized that I was passionate and excited by the topic of financial illiteracy, and felt inspired to do something to share my experience with those who could benefit from that knowledge. I decided that the foundation of my future organization, now known as Financial Literacy for You (FLY), a 501(c)3 corporation, was to offer a peer-to-peer resource that would teach core concepts such as budgeting, credit, and savings to youth audiences in an exciting and engaging style, and fill in the void not addressed by other nonprofits.
Marina Village Middle School was the first outreach partner that agreed to give me a shot, thanks to my own past teachers willing to trust my knowledge and believe in my passion. Resources provided by Junior Achievement and Visa Practical Money Skills (and, of course, Knowledge@Wharton High School), allowed me to not only review the educational materials I would soon be teaching to others — like defining down payments and 401K retirement plans — but also basic guides such as to how to manage a classroom of rowdy students, and, most importantly, how to convey the knowledge in a way that was fun and effective.
Soon, the time came… As an inexperienced, slightly nervous, solo instructor, I worked in a class full of 8th graders on my first teaching day, delivering a lesson about money relating to life goals. Instead of the boisterous behavior I expected from middle school students on a Friday afternoon in August, the students paid close attention, actively participated, and connected the topic at hand with their own personal situations, such as saving for the upcoming iPhone XR or even setting aside funds for college. Maybe the candy I gave out had something to do with this!
For the students and for me, teaching this lesson was a brand new experience, and a rewarding one. Now with a story to share back at school, I was able to draw in more students to FLY, some who were passionate about giving back to the community, and others who were interested for the reason of also becoming financially literate. In the following weeks and months, FLY educated and trained instructors to ensure they were equipped with the knowledge and skills needed to confidently teach the core concepts to additional youth outreach partners.
We have taught more than 1,000 youth through numerous organizations, such as the Boys and Girls Club, Big Brothers and Big Sisters, Stanford Youth Solutions, Sacramento Children's Home, and regional middle and elementary schools across Northern California. To ensure sustainability of our efforts, FLY has received support from big-name financial-services and communications companies, including Morgan Stanley, BlackRock, Wells Fargo and AT&T.
High school students learning and then teaching financial literacy topics is what not only makes our organization's foundation unique, but is really beneficial to the youth we teach. We relate well with our students as a result of our closeness in age, and that also helps them understand ideas like credit score or variable expense through generationally relevant examples. Additionally, by working with students who are not that much younger than our FLY instructors, teaching concepts such as the finer details that affect creditworthiness seems more like an interactive conversation than a lecture.
Tight Budgets and Credit Scores
In the process of reaching more than 1,000 youth in the past year, our instructors — myself included — have gained new insights on the deep value and impact of financial literacy as a pathway to success and making the best possible decisions. Students feed their curiosity and questions with real life, financial-responsibility situations they envision for themselves, even months and years away.
Here are a few of the fin lit questions we hear most often:
Q: How do you properly balance a budget in college when you have a part-time job?
A: In order to create an effective budget, you must pay attention to your cash flow and take into account your income stream. If you find that your budget is too tight, you may need to consider options such as reducing some of your 'want' expenses or finding alternate sources of income, like driving for a ride sharing company or giving campus tours.
Q: What are the keys to holding a high credit score?
A: Your credit score is based on your creditworthiness (how trusted you are in the eyes of a lender), which is based on factors like how quick you are to pay back your debt after incurring it, how much money you currently owe and for how long you've owed it, and your history of paying back previous debts. The better you are with paying back credit, the more creditworthy you are, and the higher your credit score will be.
Q: When should I use credit to buy something, versus other methods of payment?
A: Although buying on credit means immediately incurring debt that should be paid off ASAP, it can come with benefits, such as better security, and, often times, rewards in the form of travel points or cash back. If you have a steady income stream and a strong credit history, making especially large purchases on credit like a car or house on a long-term basis may be a good way to continue building creditworthiness and maintaining a high credit score as you make your monthly payments.
Our FLY team is always learning, too! We love to hear all the questions students toss at us. "Before I joined FLY as an instructor, I was pretty much financially illiterate. FLY not only allowed me to improve my own financial understanding, but it also showed me that teaching other students wasn't as intimidating as I thought it would be," says Isabella Neal, one of my high school classmates and FLY instructors. Adds Subha Alluri, another instructor: "Schools don't teach students enough about the importance of money, let alone how to manage it. Being able to educate myself and others on such a crucial topic through this organization has been rewarding." And one more from instructor Aidan Campbell: "As an instructor in FLY, I have learned the importance of creating an effective financial plan in order to track cash flow over time. This knowledge has allowed me to help guide my sister in creating a budget to monitor her earnings and expenses on her new debit card, which has helped her increase her savings and has helped me improve my understanding of effective budgeting."
Learning and inspiring, with financial literacy as the outcome – I'm grateful for this new path and how it will prepare me in so many ways for the future.
Related Links
Conversation Starters
What is financial literacy and why are people talking about it? If you need some help, check out the "Money Makes the World Go Round" article found in the Related KWHS Stories tab accompanying this article.
How can financial literacy empower individuals, as well as entire communities?
We have discovered that lots of students who learn about finance are eager to share their knowledge in different ways with others. This article gives a few more examples: https://globalyouth.wharton.upenn.edu/news/kwhs-launches-summer-finance-high-school-program/. Have you developed new money skills and done something unique to "pay it forward?" Share your story in the comment section of this article.