IHOP Flips to IHOb and Gets People Talking about the Business of Burgers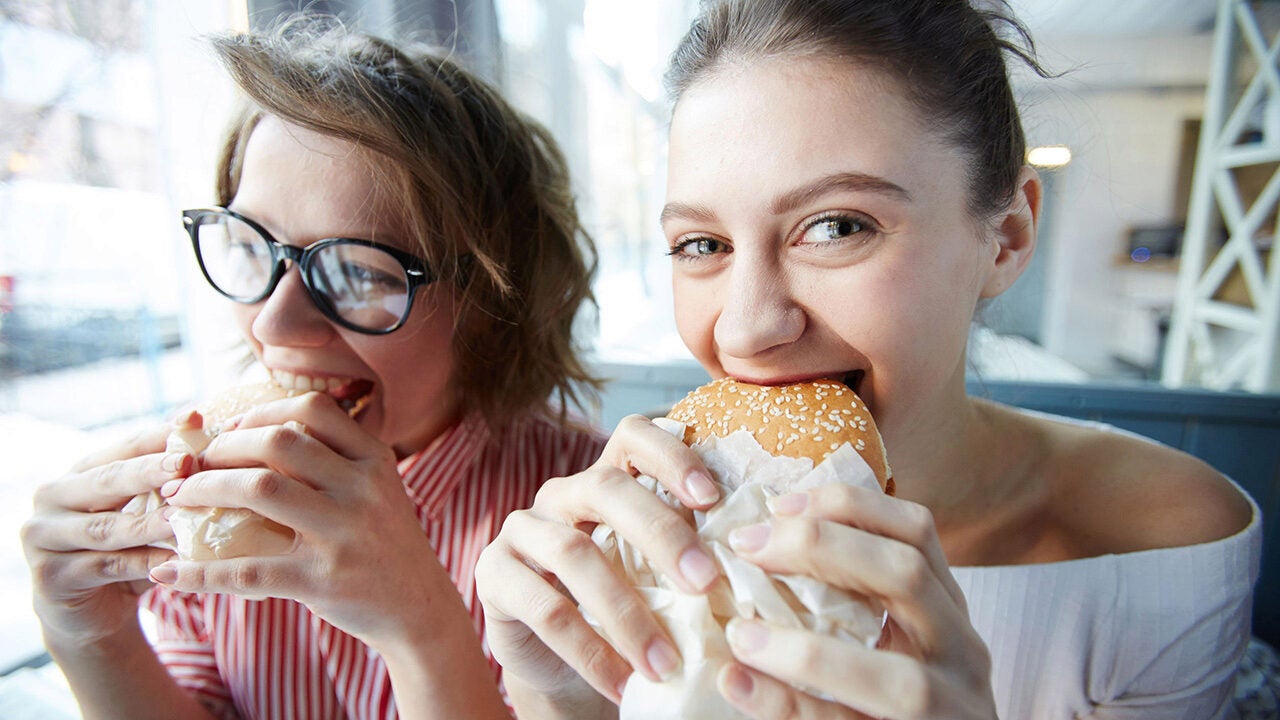 The pancake-burger brouhaha began on June 11. On its official Instagram account IHOP, also known as the International House of Pancakes, posted this: "We're flippin' from pancakes, pancakes, pancakes to burgers, burgers, burgers. #IHOb." And with that, the "P" became a "b," at least temporarily, and the food started flying.
The pancake house (a favorite flapjack destination at every meal) has always served burgers, but this bold rebranding move – really a teaser campaign launched on social media to gauge interest in the idea – was meant to draw attention to the restaurant chain's other culinary delights, like its new "steak burger."
Wall Street Responds
IHOP lovers and haters flocked to Twitter, FB and Instagram to weigh in on the flip. Puns were prevalent: "IHOBe they're kidding." It seems that Wall Street also weighed in. Stock in IHOP's parent company, Glendale, Calif.-based Dine Brands Global, Inc., has gained 30% during the IHOb hub-bub, to a high of more than $80 per share.
In the end, this name change is not a company-wide reality. But it has led to some interesting discussion about rebranding, pancakes vs. burgers, and how a restaurant might use its newfound social media cred to sell more stuff.
According to experts at Wharton (visit Related Links for the full Knowledge@Wharton story and to listen to the podcast on the Knowledge@Wharton show on Wharton Business Radio on SiriusXM channel 111), IHOP could see big gains if it can invest in product improvement (read: better burgers) and ensure quality control at its 1,650 locations. It also has to find ways to overcome the declining popularity of sit-down casual food restaurants and compete more effectively with fast-casual and quick-service restaurant chains like Chipotle, Shake Shack and Five Guys Burgers, they said.
More immediately, the social media momentum IHOP has gained is of course a boon that money cannot often buy. "Just the sheer volume of talk about IHOP and IHOB is a fantastic win for that company," said Wharton marketing lecturer Jason Riis. IHOP should find profit in the talk about it, even if what's said is not always complimentary.
In the days before the "b" in IHOb was revealed to represent "burgers," "it created all kinds of speculation, and the new social media environment thrives on that kind of thing," Riis said. "They got people guessing, and lots of people making fun, but their campaign has been goofy and playful and lighthearted from the beginning. On the manipulation or playing with social media, they did that brilliantly. I don't think there's any way they could have predicted this level of success."
A worry for IHOP is that it is getting into the more challenging part of the burger market. "A lot of the headwind they're facing is that broad category of fast-casual where you can go in and just pick up a burger or a meal without table service that's reasonably high quality," said Riis. That category is growing, he added, and cited Chipotle and Shake Shack among the chains in that space. "Casual dining is where you sit down and order, and that category is declining – that's where IHOP sits."
That said, it does make sense for IHOP to make a bid to enter that market and compete with the entrenched brands there, Riis said. "They don't have to win. They just need a basic level of parity [with the other brands] that gives people another reason to go in there."
Any meaningful impact on IHOP's sales "is not going to happen unless there has been some kind of substantial change in the product," said Riis. "All good rebranding programs, brand refreshes and rebrands start with a fundamental and also symbolic change in the product…Maybe now that they've got enough momentum, they can start to put their marketing dollars into product development and find ways to get a better, more consistent burger than they've had in the past, and find ways to compete better on a product basis with some of these successful chains," said Riis.
Unlimited Fries
IHOP needed to do something to address declines in casual dining restaurants, pancake consumption and in revenues at its own chains, Riis said. Dine Brands Global, which also owns the Applebee's chain, posted losses of $330 million for 2017 on sales of $605 million that were a big drop from $681 million in 2015. The company expects IHOP revenues to stay flat or grow 3% at most in 2018, but it has to contend with longer-term trends that aren't exactly helpful. Riis noted that "pancakes are all about carbs, and the low-carb diets are up." And for a chain that counts on families with kids, it isn't promising when "people aren't having kids as much as they were in previous [years]."
IHOP's "Ultimate Steak Burger" is priced at $6.95, with unlimited fries. Rees found that pricing policy smart. In their "mental accounting, people may attribute the cost to endless fries." He said it might be a smart idea to offer unlimited fries because margins on those may be small in any case, like with unlimited refills in sodas, and "there are only so many servings of fries a single person can eat, anyway." The $6.95 price also sets higher expectations of quality on par with a Five Guys, so that it is not seen to be in the same space as quick-service restaurants like Wendy's, Burger King and McDonald's, he added. "Of course, now IHOP has to deliver on that value proposition in terms of how consumers perceive the actual quality of their burgers."
Riis noted that a handful of others have attempted rebranding, such as Pizza Hut calling itself The Hut or Pasta Hut a decade ago. With IHOP, "it really was a fundamental play on the name, and the part that they got right was creating a little bit of suspense and a teaser," he said.
Rebranding generally brings positive results, noted Riis. "Brands have to do some amount of refreshing on a regular basis to slightly change the meaning or tinker with what it is that consumers are coming in for and having new offerings," he said.
IHOP's core business of pancakes will likely be unaffected if the restaurant chain fails to capitalize on the current social media buzz around burgers. At best, the chain's patrons might shrug off the burger experiment as unwise. "They will be lauded for trying something different" and loyal IHOP customers will continue visiting its restaurants, said Americus Reed, a Wharton marketing professor.
"It's not like the pancake narrative has been lost," Riis said. "Lots of the social media discussions [about IHOP] still revolve around how great or how lousy the pancakes are, but a lot of people are having nostalgic feelings for the chain. And that's all money in the bank, at least short term."
Related Links
Conversation Starters
Are you an IHOP customer? What do you think about the company's online IHOb campaign to focus more on its burgers?
How do you think IHOP should capitalize on the buzz around its IHOb burger campaign on social media? How might the company really maximize all the talk about the restaurant chain right now?
Rebranding is an interesting concept: making over your brand and having success with a fresh new look or approach. What companies do you recall rebranding for successful outcomes? If you need some help, visit the Related Links in the side toolbar. Report to a group or to your class about a company that had an effective rebranding. How might you rebrand yourself? What changes would you make to show the world a bold, new you?