Top Teams 'Sail to Success' in the 2022 Wharton Investment Competition Global Finale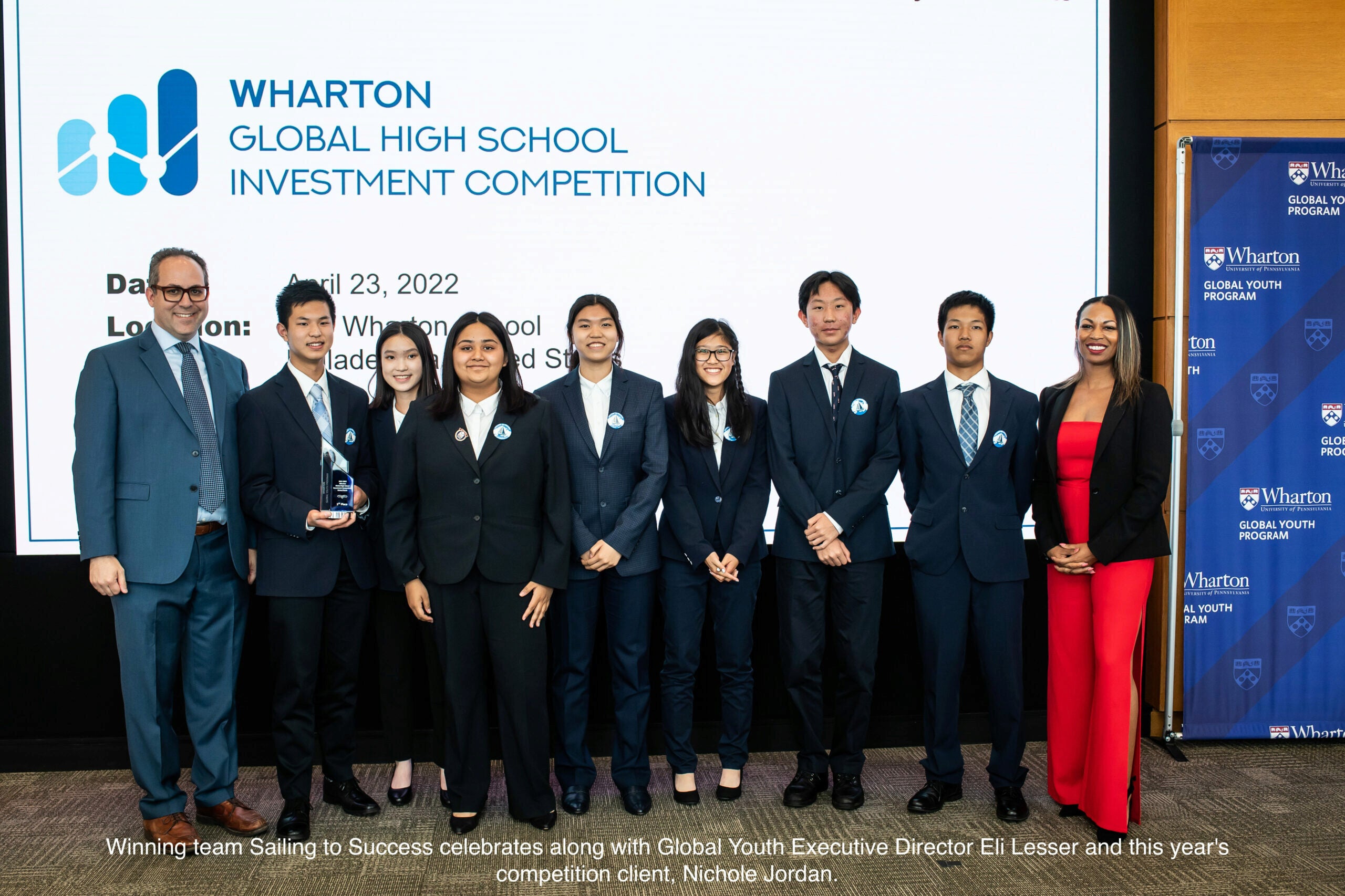 On April 22 and 23, the Wharton Global Youth Program welcomed finance-hungry high school students back to the Wharton School, University of Pennsylvania campus for the first time since 2019.
More than 50 students along with their parents and teachers traveled to Philadelphia from as nearby as Northern New Jersey and as far away as Indonesia to compete in the 2021-2022 Global Finale of the Wharton High School Investment Competition. The festivities began on Friday with our first on-campus competition Learning Day in three years.
'Let the Competition Begin!'
Saturday featured the big event, during which this year's top 10 finalist teams from around the world presented their unique investment strategies, analytical expertise, and competition takeaways to a panel of four judges from the finance industry. The judges included John Zaia, senior vice president — regional sales manager with Citi, this year's competition sponsor; Muk Rao, product manager and architect at Wharton Research Data Services; Joe Rava, an investment analyst on the North American equity team at Abrdn; and Andrea Vittorelli, Wharton alum and global chairman of J.P. Morgan's Insurance Investment Group.
Students gathered at 8 a.m. on the 8th Floor of Wharton's Jon M. Huntsman Hall, huddling with their teams to brainstorm last-minute presentation tweaks. Soon enough, Citi's Zaia stepped up to the dais to kick off the investment rivalry. "Students, the amount of work that you put in and the amount of learning you've had through this competition are going to prove invaluable as you develop and grow in your careers," said Zaia. "Congratulations and good luck to all of you. Let the competition begin!"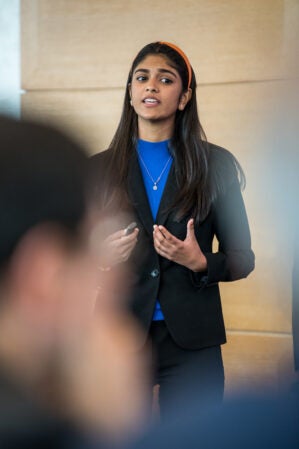 During the next four hours, teams presented their 10-minute strategy pitches designed to win the business of potential client Nichole Jordan, a TransitTech exec and Wharton West Executive MBA who made the trip from San Francisco to attend Saturday's Global Finale in person. Teams showcased their new knowledge and skills with client-focused talk of dividends and growth stocks, ESG and risk management, all the while mindful of looming macrotrends like inflation and COVID-resistant economies. Their work featured case studies that aligned with their strategies, including such diverse companies as Mastercard, HDFC Bank and The Hershey Company. They were evaluated not only on their content, but also their delivery.
Following a long deliberation over lunch, the judges, led by Wharton Global Youth Program Executive Director Eli Lesser, presented the 2021-2022 Global Finale winners. They are:
1st Place: Sailing to Success, Schools in Arizona, U.S.
2nd Place: Sky Investments, Bergen County Academies, New Jersey, U.S.
3rd Place: M&R Investments, Marvin Ridge High School, North Carolina, U.S. (defending 2020-2021 champs)
The three winning teams received trophies, and members of the top team Sailing to Success won the opportunity to attend either this summer's Future of the Business World or Essentials of Leadership online programs free-of-charge. All top 10 teams and their teacher-advisors were presented with certificates, as well as Global Youth t-shirts and swag.
A Few Takeaways
While judges praised all the students' dedication, know-how and skills, the parting messages that resonated most related to both excess and restraint.
Nichole Jordan, who joked about the steady barrage of emails and social media requests during the competition from eager teams hoping to connect with their client, concluded that she had never felt more "seen" in her life as students worked to meet and exceed her specific financial goals. "I feel totally blessed and really honored to be your client this year," she said.
Meanwhile, Vittorelli urged competing teams to embrace an important piece of feedback from the financial professionals in the room: less is more. "All of us spend a lot of time presenting to audiences that are very sophisticated — presenting complicated concepts, exactly what you were doing today," he noted. "Cut slides, cut words, cut minutes…It's easier for the audience, who will say: 'they said five things and I remembered them all because I had time to actually process them.'"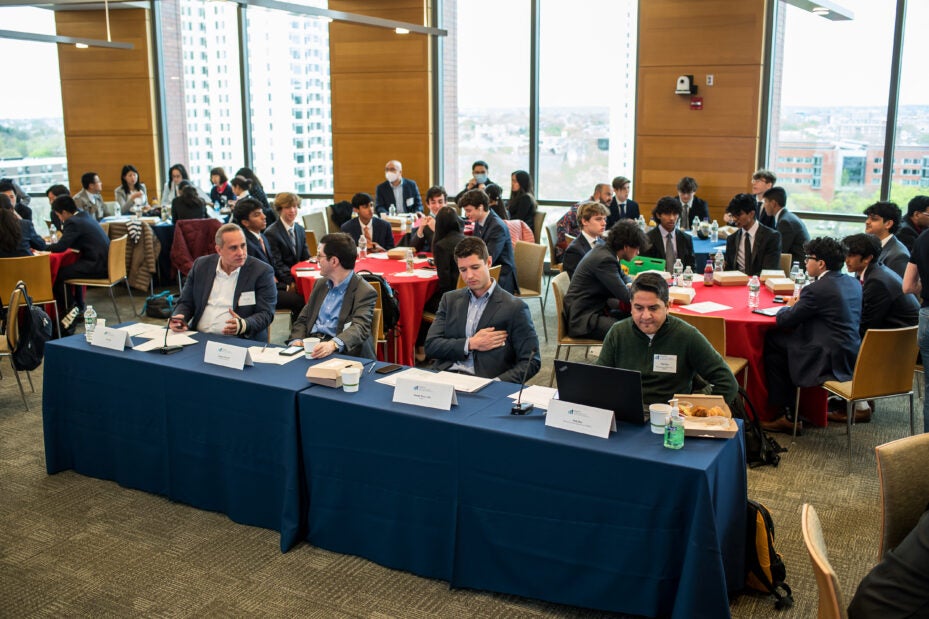 Frank Liu, a high school freshman and leader of the winning team Sailing to Success, was listening closely to the judge's advice as he too thought about his greatest lesson from the seven-month competition journey – adapting to change. "Over the course of the Wharton Investment Competition, our team has had to face a lot of different challenges and hardships, and we've had to learn to adapt to changing market conditions… It's important to be able to improvise and to take things one at a time and to deal with new issues as they come up, because in reality, that's the way life is."
And that's a wrap for the 2021-2022 Wharton Global High School Investment Competition! Trading began on September 27, 2021 with thousands of teams; 1,300 teams submitted final reports on December 13; the top 50 teams from around the world were announced on January 20, 2022; and the top 10 teams were named during the virtual semifinals on March 14, 15 and 16.
Registration for the 2022-2023 competition begins on June 1, 2022. Are you ready? Contact us with questions and subscribe to our monthly newsletter to get all the latest details.