Announcing the Top 10 Teams Advancing to Our 2022 Investment Competition Grand Finale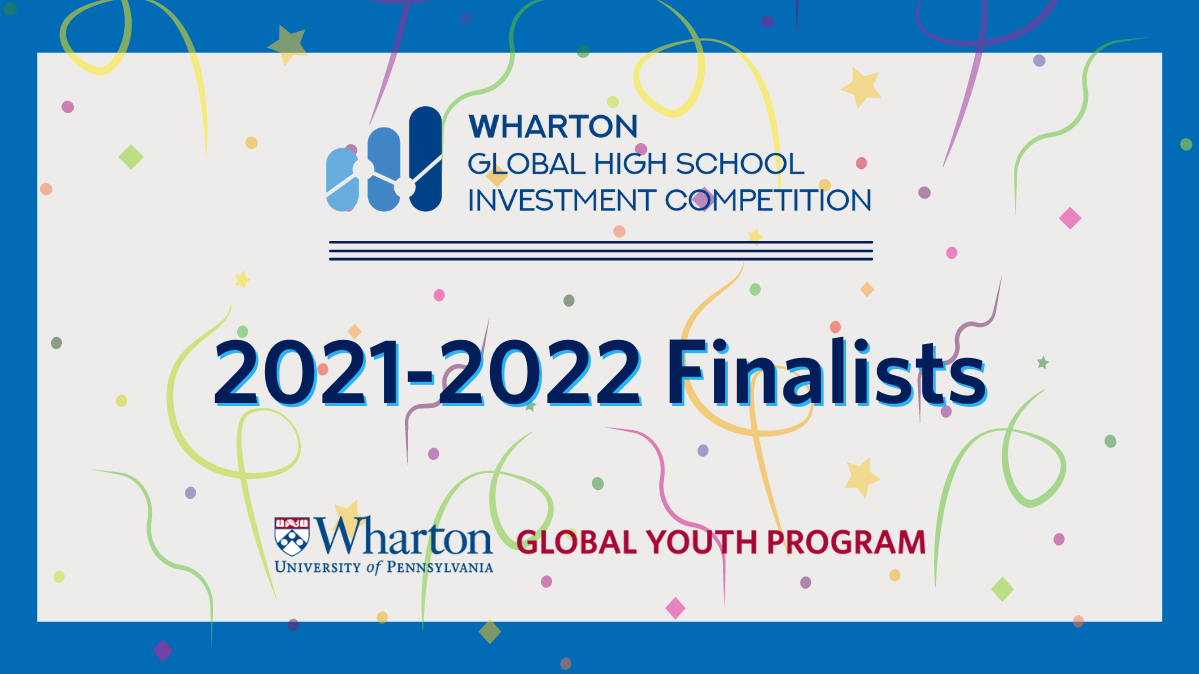 It's been an incredible week for the Wharton Global High School Investment Competition and the Wharton Global Youth Program!
Starting on Monday, March 14 at 8:30 a.m. Eastern, we began connecting virtually with the Top 50 competition teams – divided into five groups of 10 — to celebrate their semifinalist presentations and to reveal the top two teams from each group that would advance to the Wharton Global High School Investment Competition Grand Finale in April.
Over the course of three days, we held five virtual events featuring this year's competition client, Nichole Jordan; nearly all the top 50 student team leaders sharing moments from this year's competition; and a few of our semifinalist judges providing feedback and wisdom.
We would also like to take this opportunity to recognize and thank Citi. This competition would not be possible without the support of our corporate partner.
All events collectively culminated in the moment many have been waiting for: the naming of the 2021-2022 Top 10 Wharton Global High School Investment Competition teams. And here they are:
Group 1
DMV's Finest, Virginia, U.S.
Sky Investments, Bergen County Academies, New Jersey, U.S.
Group 2
Parnassa Group, Ramaz Upper School, New York, U.S.
The Penny-wise Group, Lexington High School, Massachusetts, U.S.
Group 3
Baka Co., Schools in New Jersey, Pennsylvania, Texas and Virginia, U.S.
Wu-Tang Capital, Global Jaya School, Banten, Indonesia
Group 4
Brazen Bulls, Schools in Florida, Massachusetts and California, U.S. and Ontario, Canada
Sailing to Success, Schools in Arizona, U.S.
Group 5
Inspire, Schools in Massachusetts, U.S. and Woodlands, Singapore
M&R Investments, Marvin Ridge High School, North Carolina, U.S.
While student team leaders attending this week's five events highlighted their new knowledge, the challenges and successes of teamwork, and an appreciation for the creativity and camaraderie of the competition, featured judges agreed on one theme: the supreme talent of the Top 50 teams.
"It was an incredibly robust competition," said Dr. Dan Young, director of the Wharton Alt-Finance Institute and a judge for Group 2. "I've been judging entrepreneurship competitions for the last 13 years…and what these teams put forth was pretty incredible. It was unbelievably difficult to come to a final decision. The level of analysis of understanding for Nichole Jordan's situation was top-notch."
Shawn Snyder, head of investment strategy, Citi U.S. Wealth Management and a judge for Group 5, provided a professional perspective on the value of the competition. "The Wharton Global High School Investment Competition is an excellent example of the skills needed for a career on Wall Street," he noted. "The competition requires students to focus on quality control, the client experience, presentation skills, and teamwork."
In addition to Young and Snyder, 13 other judges provided their time and expertise to review team presentations and select this year's finalists. The full judge roster included:
Group 1
Yanbing Qiu, Chief Investment Officer and Managing Director, CICC Fund
Jean Gannon (WG'97), Managing Director, Private Wealth Management Group, UBS
Shant Sood (WG'08), Co-Founder, Sanctum Capital Management
Group 2
Rajesh Sehgal (Wharton Executive Education: Advanced Management Program), Founder and Managing Partner, Equanimity Investments
Kenneth Chiang (WG'90), Managing Partner, CIO and Founder, Redwood Peak
Dr. Dan Young, Director, Wharton-AltFinance Institute, the Wharton School
Group 3
Heather Crist (Wharton Executive Education: Securities Industry Institute), Managing Director, Head of Field Engagement for Wealth Management USA, UBS
Eric Linn (W'92), President, Oak Point Partners
Dr. Wayne Williams, Assistant Professor of Accounting, Fox School of Business at Temple University
Group 4
Patrick Gannon (WG'97), Co-Founder and COO, BlueTape
Manpreet Singh (WG'09), Chief Investment Officer, Singh Capital
Group 5
Patrick Yung (WG'00), Senior Vice President, Independence Blue Cross
Valerie Ramirez Mukherjee (WG'03), Founder & Executive Chair, MindStreet, Inc.
Shawn Snyder, Head of Investment Strategy, Citi U.S. Wealth Management
The 10 finalist teams are now preparing for the competition's Global Finale, to be held April 22 (Learning Day) and 23(Competition) on the Wharton School, University of Pennsylvania campus in Philadelphia. Who will take top honors? We can't wait to find out. Be sure to subscribe to our monthly Wharton Global Youth newsletter to get the latest competition news and results.
Chances are, this year's competition client will also be on campus for the big event. Just as all the 2021-2022 competing teams started with Nichole Jordan, let us wrap up this phase of the competition with a few of her thoughts from this week's celebration of the semifinalist teams: "As a Wharton alum (WG'08), I think investment in our future is extremely important. I was the first person in my family to go to college," said Jordan, senior vice president, global partner success at Via in San Francisco. "I'm extremely impressed, excited and enthused that you've all made it this far. Good luck, continue working hard, continue being a good teammate and partner to your group. These types of skills will serve you well."