Brighter Business: A Student Researcher Measures the Impact of His Solar-Power Nonprofit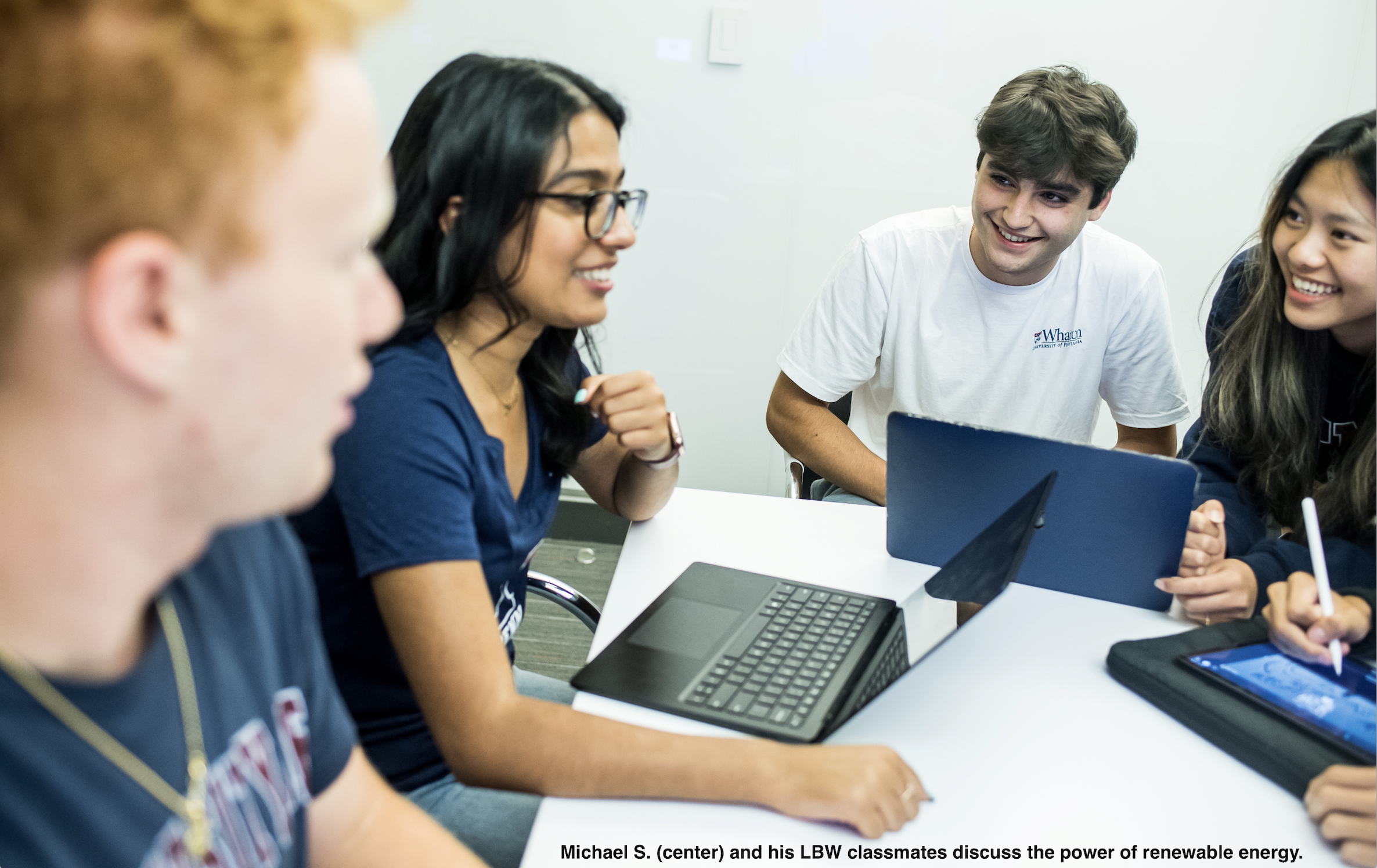 As you sit at your desk or reading chair illuminated by the glow of your computer screen and a bulb brightening the room from above – literally bathed in electric light – the concept of energy poverty may seem totally out of reach.
Energy poverty is when people lack access to modern energy services, like the electricity that powers our lights and our lives. It means that many families around the world fall into darkness the moment the sun goes down.
According to a recent report by the European Union, across the globe nearly 800 million people live without any access to electricity – about 600 million of them in Sub-Saharan Africa (which includes 46 of Africa's 54 countries). Energy poverty is most common in developing countries, particularly in rural areas. In place of electric-powered light, families turn to using polluting fuels for cooking, heating and lighting, such as kerosene and coal, which are dangerous for the planet and for those using them.
About five years ago, when he was 13, Michael S. began learning all he could about energy poverty and renewable energy. It was a family-inspired mission. His father Manny was CEO of Elumis, a solar energy company in Franklin Lakes, N.J., and encouraged Michael and his older sister Eva to start the Elumis Foundation, a nonprofit committed to bringing light to those without it. They did so by distributing solar kits, powered through solar panels drawing energy from the sun, that once charged could provide light and electricity to a family for up to 24 continuous hours.
Since 2018, the Elumis Foundation has targeted kit distribution throughout Africa, Southeast Asia, Central America and India. "We help people who don't have electricity," says Michael, who is now a high school senior at Bergen County Academies in New Jersey. "We raise money to buy solar kits, which are boxes containing a solar panel, lights and a fan. The kits also have charging cords to charge phones and different necessities that people without electricity might need." The nonprofit's first big donation delivered 1,000 solar electricity kits in the Mekong Delta region of Vietnam. The ultimate goal: distributing 100,000 kits to families in need.
A great high school passion project, right? With the potential to improve the circumstances of so many families who, without access to modern energy services, can't search the Web, get an education, communicate, and break the cycle of poverty in which they live.
A Powerful Connection
But the Elumis Foundation story doesn't end with a niche nonprofit. It instead becomes bigger and more compelling – for families in Africa, insights about renewable-energy use, and Michael's ability to gain a profound understanding of the impact his nonprofit is having on people's lives.
Michael's interest in economics led him in 2020 to pursue several Wharton Global Youth opportunities, starting with the Future of the Business World online program, moving on to the Wharton Global High School Investment Competition (his team Sky Investments came in second in 2022) and culminating in the three-week Leadership in the Business World program on Wharton's Philadelphia campus in the summer of 2022.
During his first FBW experience, Michael met Serguei Netessine, Wharton's senior vice dean for innovation and global initiatives who had previously worked on renewable-energy research, most recently in Rwanda. Dr. Netessine is also Wharton Global Youth's academic director. "We began talking about my nonprofit," recalls Michael. "I had no thoughts of where this might lead; I was just looking to connect over our interest in renewables. We exchanged emails, hopped on a few Zoom calls and he introduced me to his colleague."
Professor Netessine and his renewable-energy research partner Bhavani Shankar Uppari, a professor at Singapore Management University, spotted an opportunity to use the Elumis Foundation's work to explore the effectiveness of off-grid lighting solutions for energy-poor people. Their initial conversations with Michael sparked a research-driven collaboration between student, nonprofit, academic research, and surveyors in Africa that has put Elumis kits in the hands of families in Ghana to analyze the impact of solar light in developing nations.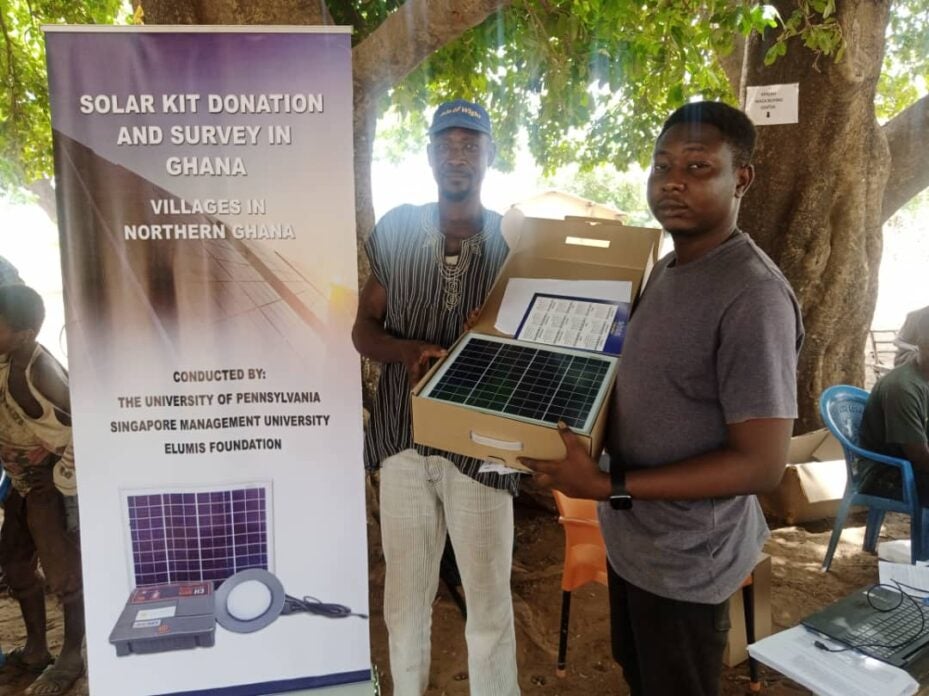 The Elumis research project unfolded during the past two and a half years, prompting Michael to go deep into the process of analysis. "The first year or so was all planning, writing abstracts and researching past papers. We wanted to see what was already known, because we can't just restate what's already in past papers," he notes. "The first thing I was tasked with was reading through these 100-page research papers on solar energy and the impact that it's already had, and seeing how we could adapt on what has been studied."
Professors Netessine and Shankar Uppari provided guidance and context. "Nobody has ever thought of measuring what is the right quality of solar kits to dispatch," says Netessine. "Should it be one bulb, two or three? Should it be bright or not so bright? How big should the solar panel be? That's exactly the experiment we are running with Michael. Let's do a field experiment, distribute different qualities of kits, and then measure the impact. And figure out what would be the optimal distribution strategy."
In the past six months, the Elumis-Wharton team of three has been deploying these solar kits and gathering data to assess the impact they have on energy-poor Ghanaian families, with a focus on optimal kit quality. "We currently have about 1,000 kits deployed for the study," says Michael. "I take the data from around 1,000 files every month and put it into a Dropbox folder, making it easily accessible, determining what is missing and how we can attack those problems overall."
How Better Companies Make Decisions
Professor Shankar Uppari recently returned from a visit with the survey families and team in Ghana and reported on some initial results, though they are still collecting and analyzing data related to kit quality. "People actually found a very interesting use for the lights to improve security," says Netessine. "Some of them, instead of using lights inside their buildings, would use them next to the building for security. Another unexpected finding involved safety. People commented to us that there were remarkably fewer attacks by snakes, scorpions, poisonous frogs and insects. They are afraid of light, and you see them in the light, so you don't step on them. We didn't think of that."
He adds that it's important to recognize how research can reveal the unknown to improve outcomes. "Research is how better companies and better organizations make decisions," says Netessine, who regularly supports undergraduate involvement in faculty research through the Penn Undergraduate Research Mentoring Program. He also brings his research expertise inside corporations. "I work part-time for Amazon and all we do is run experiments to improve customer decisions and reduce costs. That is the most scientific way to answer any question because there are so many unknowns. You think it should work, but then your experiment finds something you didn't expect, like people using light to help with safety and scorpions."
As for Michael, he could never have imagined how an unexpected connection would open a path of discovery about the power of research to change the world – and to enrich the work of his nonprofit. He plans to do more research in college and pursue a degree that combines economics with renewable energy and sustainability.
"This project has been a revelation of how important renewable energy is. And it's almost life-changing to understand how much research can cover," says Michael, who hopes to travel to Ghana in the next eight months to meet the families in their study and conduct surveys first-hand. "I was under the impression that research had to be medical or in a lab. Just understanding that the data we're collecting can help further society's knowledge about a topic motivates me. This is also a moment for me to understand the impact that our Elumis solar kits are making. We are creating a positive change. Seeing that come to life is truly amazing."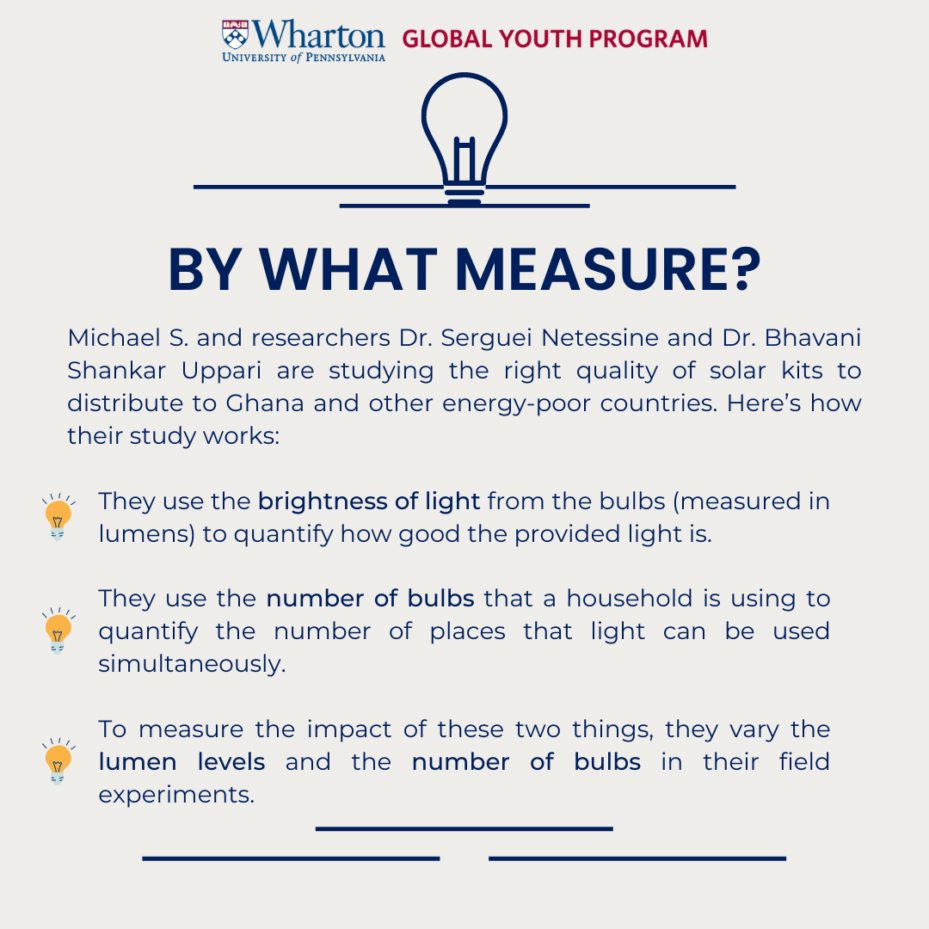 Conversation Starters
What is energy poverty?
Does this article open your eyes to the depth and breadth of research? How so?
Have you conducted a research project related to climate change? Share some of the highlights in the comment section of this article.