DECA Student Tomas Martinez Talks Cookie Dough and His Life as a CREAM Franchisee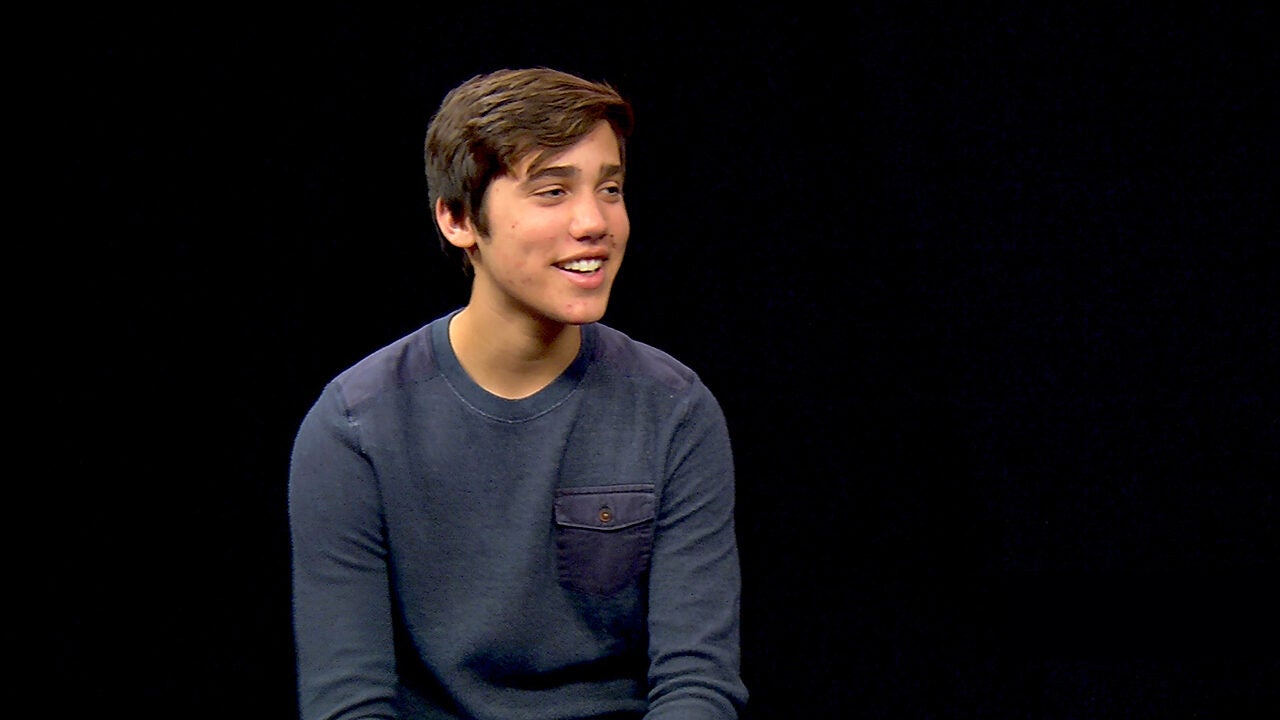 Tomas Martinez is a senior at Cypress Bay High School in Weston, Florida, U.S. He has a unique experience with entrepreneurship, helping to operate two CREAM (Cookies Rule Everything Around Me) ice cream franchises that his family currently owns in Florida – a business relationship that began as a project for DECA, a global organization that prepares students through competitions to become effective leaders and entrepreneurs. With the help of investors, the Martinez family opened its first CREAM franchise in Florida in 2016 (which was also the first CREAM store on the East Coast), and was given the master franchise rights for the entire state. Its third store will open in Pembroke Pines, Florida, at the beginning of December 2017. The family has also sold additional franchise rights to investors in Palm Beach and Miami-Dade. While visiting Philadelphia in November for the recent Ultimate DECA Power Trip conference, Martinez sat down with KWHS's Anthony Williams to talk ice cream, inventory, and what it takes to make a franchise business work.
Knowledge@Wharton High School: Hi. I'm Anthony Williams from Knowledge@Wharton High School. I'm joined by Tomas Martinez. Tomas, his brother Armando, and their parents, own and operate several franchises in Florida of the California-based company CREAM. And it all started in a classroom with a DECA project. I understand your parents are both Stanford graduates and that, not too long ago, they were well established in their careers. Fast forward a few years, and you all now own and operate several CREAM franchise shops in Florida. First, tell me a little bit about CREAM, and then help us to understand how this became your family venture.
Tomas Martinez: CREAM started in California as a family business. They would always make ice cream sandwiches for their kids, so they thought it was a good idea to open a store. When we were going to visit California one time, my brother had to do a project for DECA called the International Business Plan. He was thinking about what company to do, and we just saw this line pouring out [of the CREAM store]. We were like, "Oh, what is that?" It was an ice cream sandwich store; it was CREAM. We loved it. I kept going back. I had like five sandwiches that day!
So, my brother decided to do the business [plan] on CREAM. This was when I was in 8th grade. And around a year and a half, two years later — after my brother and I would always casually tell my dad and my mom, "Oh, we should open this store," as a joke — they were in contact with the company. [We opened our first CREAM store in Aventura, Florida in 2016]. After my brother competed in DECA, I had seen how much fun he had and how much he learned from that experience, that I wanted to do it myself. [Now that we owned the CREAM franchise,] I competed in the franchise business plan. How that works is it's basically what we did in real life, but I wanted to apply it to a location that could actually be opened in the future. [I wrote a franchise business plan] for Gainesville, where the University of Florida is [located]. It was an incredible experience [and we did well in the competition]. We got to travel all the way back to California, because that's where [the DECA International competition was held]. It was just really cool to see how it went full circle from starting in California, to opening [CREAM] in Florida and then competing at internationals with it, and actually getting second place.
KWHS: Interesting. So could you talk a little bit more about that whole competing in internationals and second place in DECA? What does it mean?
Martinez: DECA is a business-oriented club. It teaches entrepreneurship and it shows you how to go into a career in the future in the areas of marketing, finance, all those different areas that apply to the business world and different aspects of it. And in the company, there are obviously different areas, depending on what you're interested in. I competed in a written event. So, you actually write a business plan of how you're going to open the store, what marketing techniques you're going to use, the projected financials of the business. And then you have to give an oral presentation to a mock investor, trying to convince them to invest in the company so that you can open the store. There are many rounds to that — there are districts, states, and then all the way to California.
KWHS: Getting back to your business, you described it as a franchise. What is a franchise?
Martinez: A franchise is when someone tries to look for an already established, proven-to-be-successful business. And then they get in contact with them and open their own store, but with [the franchise owner's] materials and the naming and the brand. So, you're opening your own business for the first time, but you already have that brand recognition. People are going to be able to at least have a little bit of an idea of who you are as a company. It's just easier to start up when you have that base of a corporate background that can help you with many different details of how to get the business started.
KWHS: We've mentioned your parents. We've mentioned the idea of how this came about. Could you give me a little bit more? What is your role in the business?
Martinez: All right. When the business first started, it had to do with construction and all those things. I wasn't necessarily always at the store. But every single time when my parents would come home at dinner, we would always sit around, and that's all I wanted to know. "What happened today in the business? What did we do? How far are we? Show me the pictures of the store." Then, once the store opened, I've been working as an employee, trying to do each individual area — in the front with customers, in the back with managing inventory, and trying to get a little bit of each thing so that I can have a better grasp of the entire business.
KWHS: What's that like for a high school student?
Martinez: It's really interesting. When it comes to being able to talk to my parents about exactly the details of things outside of just working, it's really cool, because I get to have more knowledge about what I'm learning in the classroom and what I had to write the [DECA plan] on. It was a unique experience, because if I had a question that most other businesses wouldn't really answer a typical high school student, I would be able to ask my parents and get [the answers I needed]. Not a lot of people have that opportunity.
KWHS: What would you say has been your greatest challenge?
Martinez: Individually for me, I think the greatest challenge is when you're working with your other employees. I don't find the customer interaction that difficult. I think it's more when you see another employee doing something that maybe you think could be done a different way, like how to approach them and tell them, "I think it should be done this way or this way," and just trying to have that relationship with your coworkers. I think that will make the dynamic more effective. It would be a smooth business operation [when you know how to communicate effectively with your coworkers].
KWHS: It seems like this has been a very large learning process for you. What advice would you give to other teens who may aspire to do the same thing?
Martinez: I think that whatever business you're working at, or obviously if you have that opportunity, take every single possible chance you have to gain any piece of knowledge you can. But even at whatever company you're working at, at home, just try to get a little bit of every position and put yourself in a managerial role so you can see how you would run the business in your mind, and see what decisions you would make differently, and what it seems like the company's doing right. And obviously, just learn from every single position, because they're all important to make the business work.
KWHS: You sound like you have it all figured out.
Martinez: There's still a lot to learn, but it's been an interesting experience.
KWHS: What do you think you're going to want to do after high school?
Martinez: I'm not 100% sure yet, but definitely something with a business aspect to it. [I want] a managerial type of experience where I can, as I said, look at the different roles and try to make them act as a unit to make the business successful.
KWHS: Let's pivot from these questions with business. I'm interested to know, and this has been the question I've been wanting to ask, what is your favorite kind of ice cream?
Martinez: My favorite kind of ice cream depends on where I'm having the ice cream. I'm very particular with ice cream.
KWHS: Fair enough.
Martinez: Cookie dough is my usual go-to. But at CREAM, all the ice creams have their different, unique, I don't know, manufactured qualities. And the chocolate ice cream is really dense in comparison to the other ones. I don't know why, but it's so good. That's what I get at CREAM.
Related Links
Conversation Starters
What is a franchise and what are some of the advantages of owning one that Tomas Martinez talks about? What could be some of the disadvantages of taking the franchise route to entrepreneurship?
People are the heart and soul behind businesses. How does the power of relationships play into what Tomas has learned thus far in the franchise business?
Do you have a cool DECA story that you want to share with KWHS readers? Either tell us about it in the comment section of this article or contact us at https://globalyouth.wharton.upenn.edu/feedback/ to possibly get your story published in the KWHS business journal.