Connecting the Dots Between Architecture, Marijuana, Marketing and Life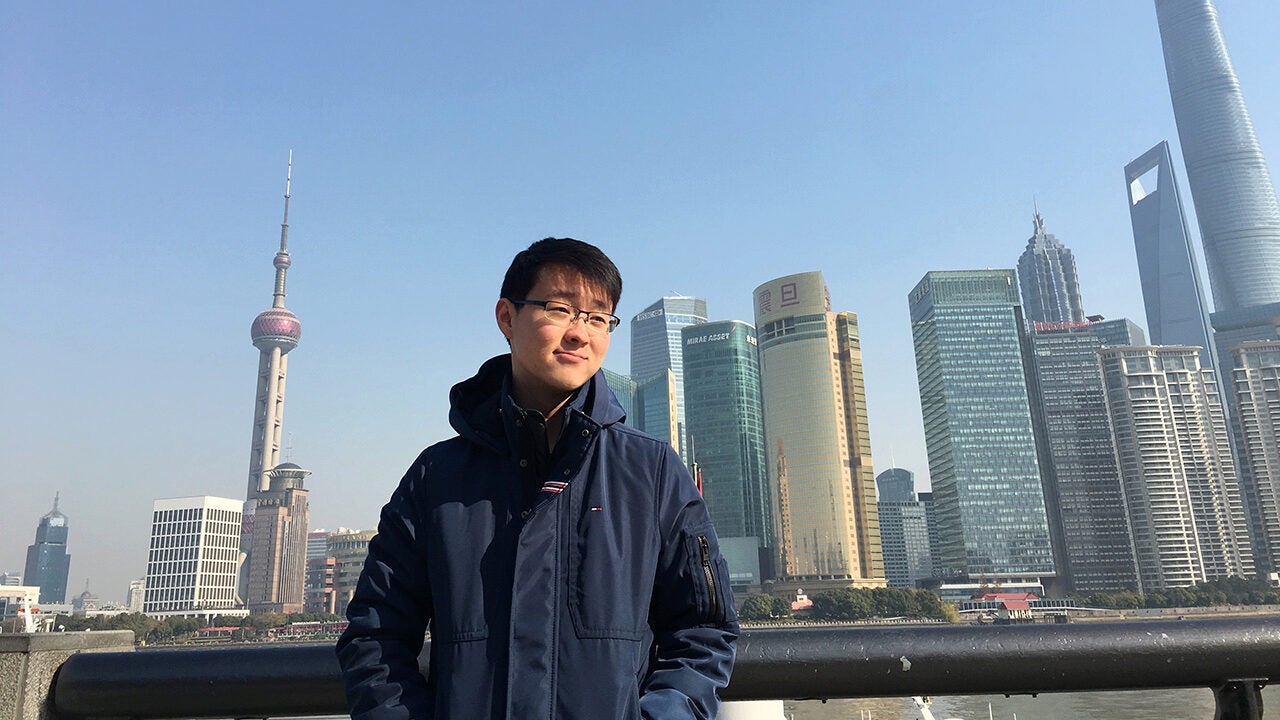 J. Victor Pan, 17, is a senior at Hawken School in Gates Mills, Ohio. Having lived near the central financial district of Shanghai, China, for seven years, he has long been interested in finance and business. As a U.S. high school student, he has pursued business in different ways. This summer, Victor and his friend Jacob Reitman worked as marketing interns at Fabo Architecture, a local business based in Cleveland, Ohio. Victor and Jacob are also co-leaders of their school's finance club, which recently established a $15,000 student-run investment fund. Victor, who conducted scientific research at Case Western Reserve University last summer, hopes to combine his interests and pursue a dual college degree in business and engineering.
In this first-person essay, Victor shares what he learned about marketing, architecture and marijuana as a summer intern at Fabo Architecture.
My friend Jacob Reitman and I have worked together on many business-related passion projects, from presenting our research to professionals during our economics seminar to establishing a student-run investment fund worth $15,000 for the finance club. As this summer approached, we began scouting around for an internship as a way to continue exploring the business world. Our school's entrepreneurship club connected us to Fabo Architecture in Cleveland, Ohio.
Next, we landed a meeting and had to convince Fabo to hire us as interns. As Jacob and I stepped into Fabo, the combination of rough exposed brick and smooth concrete flooring reminded us that we had arrived at an architecture firm. We were directed into the conference room, where Jacob and I hurriedly rehearsed our pitches. Soon after, Mr. Brian Fabo, the company president, and his marketing team walked into the room and sat down on the other side of the conference table. We shook hands, handed over our résumés, and began pitching our internship ideas in hopes of convincing them to hire us for the summer. Jacob and I talked about our past business projects and expressed our desire to help out a local Cleveland business while acquiring marketing experience.
Mr. Fabo said that he had not considered hiring summer interns, especially high school students. Still, we managed to convince him. He offered for us to work from home as marketing interns and convene with his team every two weeks to update them on our progress.
He then suggested a research topic: The business of marijuana.
Jacob and I exchanged looks of surprise and confusion. Was he joking? "What does architecture have to do with marijuana?" I asked.
Well, to begin with, the marijuana industry is booming. Multiple states, such as Ohio, California, Florida and New Jersey, have legalized marijuana in recent years for either medical or recreational use. According to an article in Forbes magazine, the marijuana market is expected to double in sales by 2023, reaching $22 billion. Architectural services are needed to designing cultivation sites, buildings where marijuana is grown, and dispensaries, buildings where marijuana and related products are sold. As Mr. Fabo and his team went into more detail about a recent project with a local marijuana business, our assignment became clear: provide marketing research and strategy that would help Fabo succeed in this emerging and extremely profitable industry.
Jacob and I started off small by evaluating the marijuana market in Ohio, but after several meetings at Fabo, we were able to deliver a comprehensive evaluation of the industry on a national scale, while also providing marketing strategies tailored to Fabo's interests and resources. As part of the research process, Jacob and I each worked 12 hours a week, and we met every other day at a café or at our houses. We shared our findings and worked on our presentation slides together. We read through all sorts of documents, ranging from governmental licensing procedures to generic news articles. The following are some key takeaways from our unique summer experience:
Understanding trends informs marketing decisions. Conducting marketing research is similar to studying history: you have to absorb a lot of information, but more importantly, you have to identify trends and patterns that suggest opportunities. I quickly learned that the California marijuana market has been experiencing a rapid increase in sales for recreational marijuana products. Such demands have led to a trend among marijuana growers to transition from outdoor cultivation to indoor cultivation, which creates a more controllable environment for growing high-end marijuana strains. Given that California has always been a trendsetter in America's marijuana industry, I predicted that many other states would experience similar transitions, effectively creating demands in architectural services for designing indoor cultivation sites. The marketing team at Fabo later remarked that my ability to identify marketing opportunities based on these trends was particularly effective in making informed marketing decisions.
Gain perspective. Having a unique perspective on commonly accessible information is often needed to make a successful marketing decision. As I furthered my research on the national scale, I realized that while many of the northeast states have legalized marijuana for recreational use, most of them lacked a stable source of supply due to in-state legal complications or logistical challenges. However, despite not yet legalizing recreational marijuana, New Jersey is pushing for legalization while moving to license many cultivation sites and dispensaries. Under these circumstance and untapped market potentials in neighboring New York City, I predicted that New Jersey might become the marijuana supply center of the northeast region. After explaining my perspective to Fabo, they were impressed and said they would certainly pay special attention to finding clients in New Jersey. When it came to expressing my perspective, I was not afraid to face disapproval, as what mattered to me was being able to engage in an educational dialogue where I could learn from professionals while enhancing my own communication skills.
Identify partnership potential. While our assignment was to strategize for Fabo Architecture, I was thinking larger scale throughout the project to potentially benefit as many Cleveland businesses as possible. I found that most of the successful marijuana-consulting services, such as Medicine Man Technologies in Denver, Colorado, and Cannabis Design Build, a builder of medical marijuana cultivation, processing and dispensary facilities in Quarryville, Pennsylvania, had their own powerful networks of partnering companies that provided services ranging from legal consultation to architectural planning. I thought Fabo could initiate a similar network in Ohio, where emerging companies relevant in the marijuana industry could partner together and provide a one-stop service for potential clients. This not only saves the client some hassle, but also creates a more business-friendly environment in Ohio, fulfilling my original intention of making Cleveland a more entrepreneurial city. Often times, success is greater when it's shared. The symbiotic relationship between collaboration and competition is not only a crucial marketing lesson, but also an invaluable life lesson for my daily interactions with others.
Dots will connect. It may seem like marijuana and architecture are still random topics that would not play a large role in my future. But Jacob and I have figured out a hands-on way to stay connected to the research we did this summer. We included a few marijuana stocks such as Canopy Growth Corp. (CGC) and Cronos Group (CRON) in our investment fund. If nothing else, we have a new appreciation for the growth potential in the emerging marijuana industry. In addition, working with Fabo Architecture has prepared me for an architecture class that I am taking this fall. I never anticipated how these different projects in my life would align. I have little doubt that this internship experience will prove valuable in other ways, as well. Like Apple Computer's Steve Jobs said in his famous 2005 commencement speech at Stanford University: "You can't connect the dots looking forward; you can only connect them looking backwards. So you have to trust that the dots will somehow connect in your future."
Go out and do something. Don't fear it will become a wasted effort. Trust your intuition will connect those dots for you, and don't worry about needing the foresight to plan how they will all fit together.
Related Links
Conversation Starters
There are all kinds of ways to land summer internships. How did J. Victor Pan land his? What motivated him to pursue an internship?
Were you surprised by the relationship between architecture and the marijuana business? What other professions might have new opportunities as this emerging industry gets a foothold in the U.S. and global markets and begins to grow?
Which of Victor's marketing takeaways from his internship experience interests you the most? Why? Aside from his bullet points, what else have learned from this essay?