Essentials of Leadership: It All Starts with You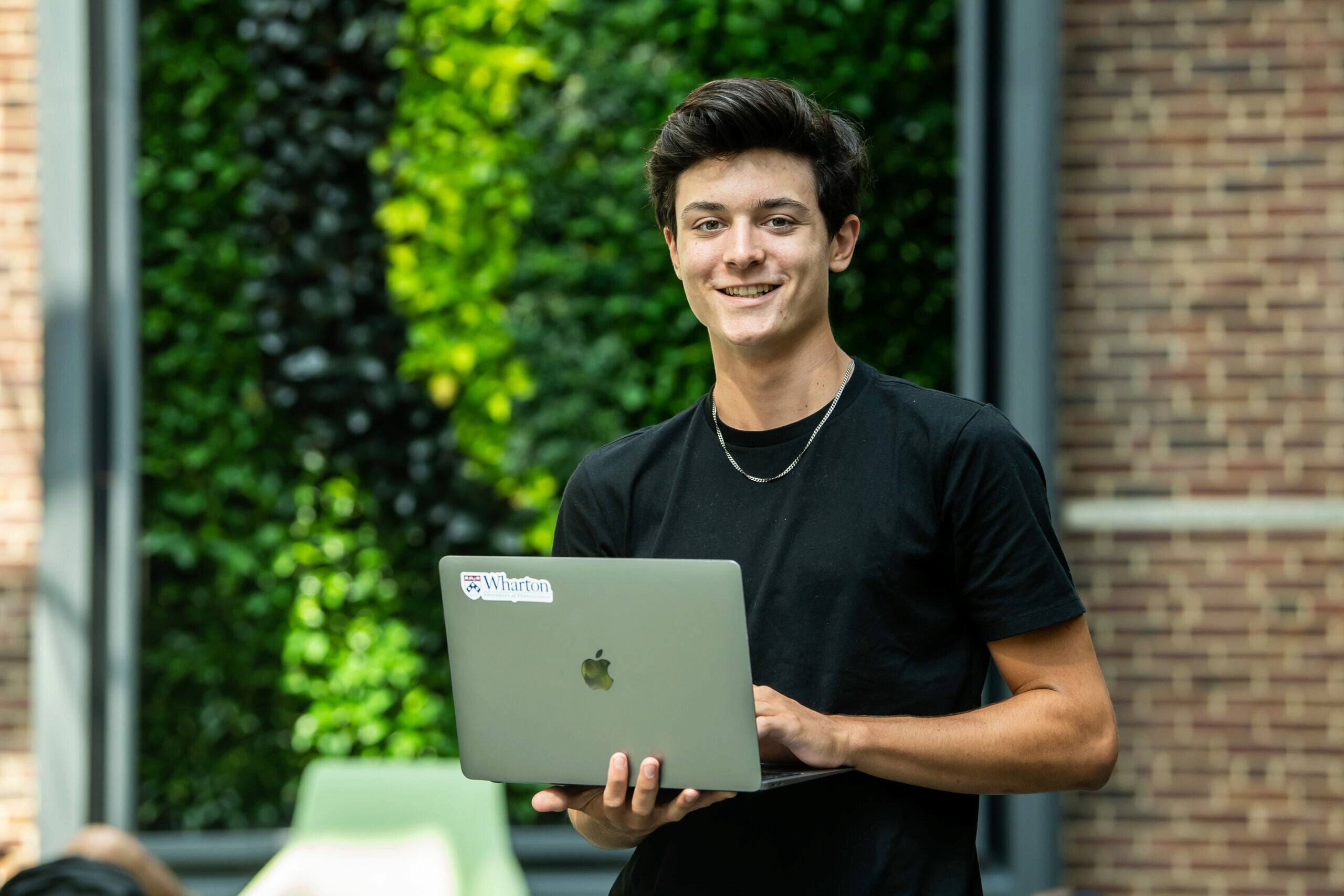 Ask someone to explain the lifeblood of leadership and you're likely to get different answers. Leaders need to be effective communicators, critical thinkers, problem-solvers and decision-makers.
Ultimately, however, all these skills gather strength from self-awareness. How can you lead others if you don't understand yourself?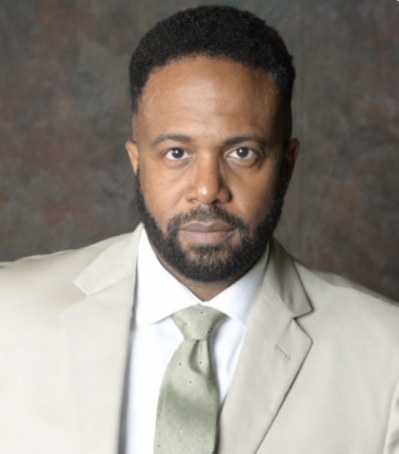 This is the foundation on which Wharton Global Youth's Essentials of Leadership online summer program is built. "The purpose of the course is to introduce the fundamentals of leadership, emphasizing self-awareness as the starting point for achieving improved results in our lives and relationships," notes Keith Ellison, Essentials of Leadership program leader who also teaches management communication at the Wharton School, University of Pennsylvania.
Here, Ellison shares some "essentials" of the two-week online program, which culminates in a simulated trip to Saturn, where small groups must navigate the obstacles of interstellar travel to achieve the goals of the mission.
Wharton Global Youth: How do high school students prepare for Essentials of Leadership?
Keith Ellison: Before the first day, the students complete an Emotional Quotient (EQ) assessment, which rates and describes five dimensions of emotional intelligence, including self-awareness, self-regulation, motivation, social awareness, and social regulation. We build on the EQ concepts throughout the course and discuss strategies for strengthening interpersonal connections.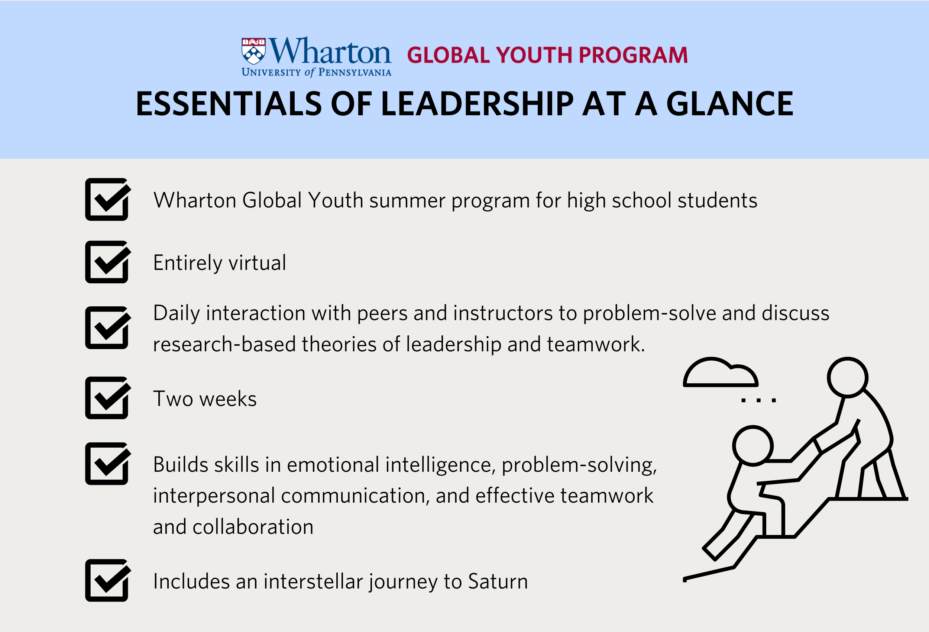 Wharton Global Youth: Do your classes get the opportunity to practice those interpersonal skills?
Ellison: The course includes several team assignments where the students hone their problem-solving and collaboration skills. Two that come to mind are the OPEQ simulation and the Saturn Parable. The OPEQ simulation groups students into oil-producing countries. Based on game theory, they compete to determine how much oil to produce that will yield the most profit. The Saturn Parable occurs in 2087 when society has colonies on different planets. The teams represent coalitions of various organizations that race to Enceladus, Saturn's moon with vast frozen oceans, to claim the right to drill water, a universal scarce resource. OPEQ and Saturn present opportunities for the students to reflect on how they solve problems and interact in high-stress situations. It is the most popular part of the course.
Wharton Global Youth: Essentials of Leadership brings together students remotely from across the globe. Do they adapt well to the unique cultural perspectives of their classmates?
Ellison: Students typically come from Asia, Europe and Africa, as well as throughout the United States. They learn and adapt to different cultures almost immediately. On the first day, they present their Coat-of-Arms with images highlighting 1) a recent success; 2) something few people know about them; 3) their greatest communication skill; 4) a memorable team experience; and 5) their personal motto. The exercise gives them a sense of their classmates' cultural backgrounds. The team assignments enrich their perspectives on diversity and inclusion, too.
Wharton Global Youth: What are a few specific ways that you are empowering students to become effective future business leaders?
Ellison: Two assignments come to mind: the personal mission statement and the industry analysis. The mission statement involves identifying core values and setting long-term goals. With the industry analysis, the students work in teams to assess the dynamics of a fast-growing, global industry, select one of the leading companies in that industry and conduct a SWOT analysis (i.e., Strengths, Weaknesses, Opportunities, and Threats). The students evaluate a product or service to determine its value proposition. Finally, they profile the CEO and list some of their leadership traits.
Wharton Global Youth: You typically teach adults who are well established in their careers and businesses. What have you learned from your Essentials of Leadership students?
Ellison: I enjoy the students more because they are like sponges regarding leadership development. Students ask thoughtful questions without feeling judged or embarrassed and express their excitement about learning.
My experience teaching Essentials of Leadership also allows me to explore new topics under the leadership umbrella. For example, one of the critical components in the class is ethical decision-making. As I prepared the content last spring, I learned about moral disengagement. This fascinating subject explains how we use language to convince ourselves and others to make bad decisions or commit reprehensible behavior.
Wharton Global Youth: What do you hope people will understand about this program that you continued to develop over the past two years?
Ellison: Essentials of Leadership lays the foundation for empowering students to create their paths to success, assert themselves when facing fear, develop resilience when experiencing setbacks, and foster life-long, positive relationships.