A First Visit to the Wharton School: 'Put Their Feet Where You Want Them to Go'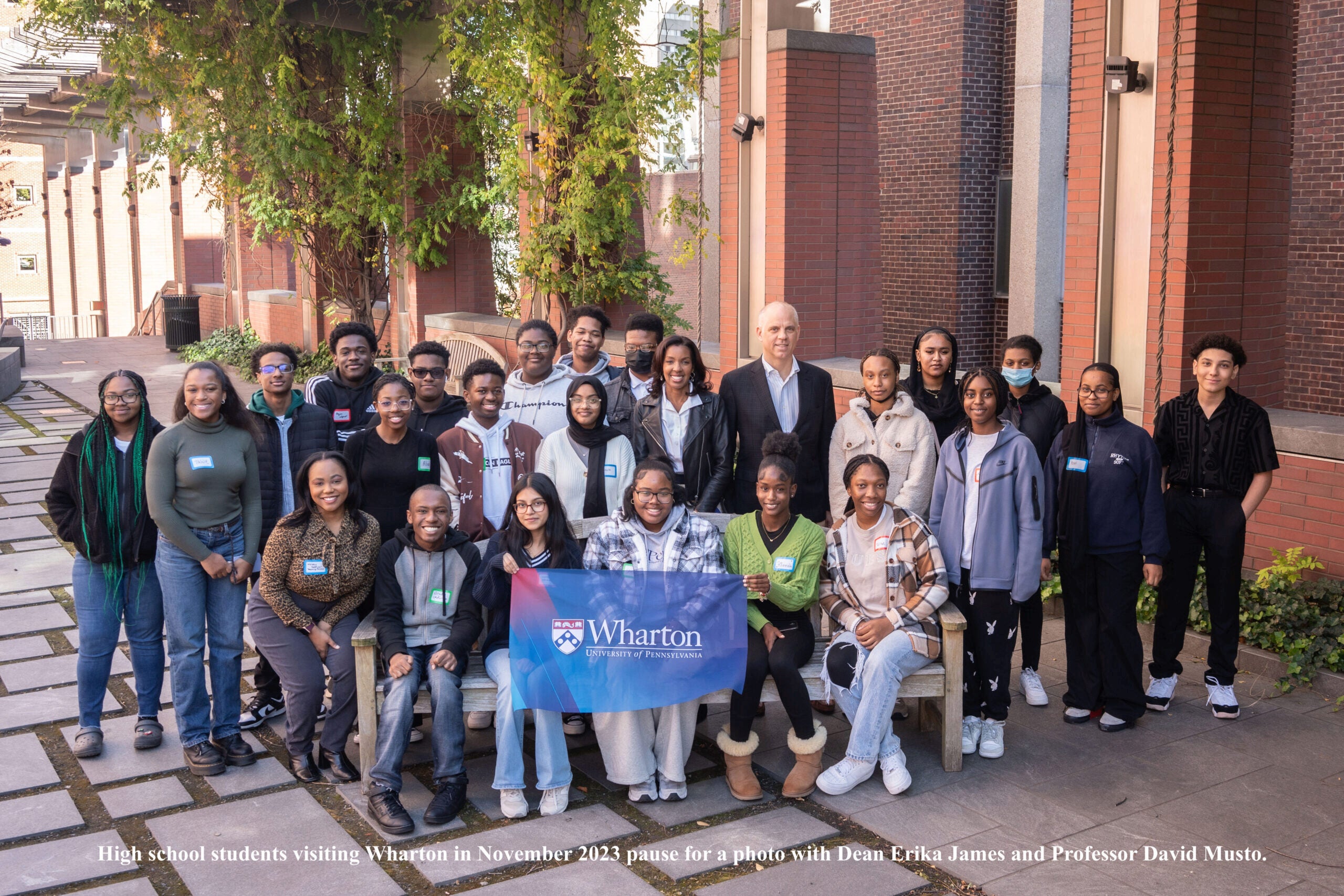 Who doesn't look forward to the excitement of a field trip — stepping away from the day-to-day school environment to explore someplace new?
Nearly 150 students and a handful of teachers from eight public high schools in New York City experienced that feeling on Friday, November, 3, 2023, as they boarded buses in Brooklyn, the Bronx and Queens to travel to the Wharton School of the University of Pennsylvania for a day.
These students – hailing from the Academy for Conservation and the Environment in Brooklyn, Claremont International High School in the Bronx, Crotona International High School in the Bronx, Cypress Hills High School in Brooklyn, Flushing International High School in Queens, Frederick Douglass Academy II in New York City, Mott Haven Village Preparatory High School in the Bronx and the School for Classics High School in Brooklyn – are all learners in Wharton Global Youth Program's Embedded Pre-baccalaureate Program Essentials of Personal Finance course.
Helping Youth Discover Business and Finance
The Embedded Pre-baccalaureate Program provides a unique delivery model for Global Youth's dual-enrollment Pre-baccalaureate Program. Instead of individual students applying and enrolling in courses, an entire class of students is admitted and takes the course together directly from their high school, supported in part by their own classroom teachers. Global Youth's personal finance course, led by Wharton professor Dr. David Musto and supported by the Stevens Center for Innovation in Finance, is a collaboration with the National Education Equity Lab to educate students in historically underserved communities.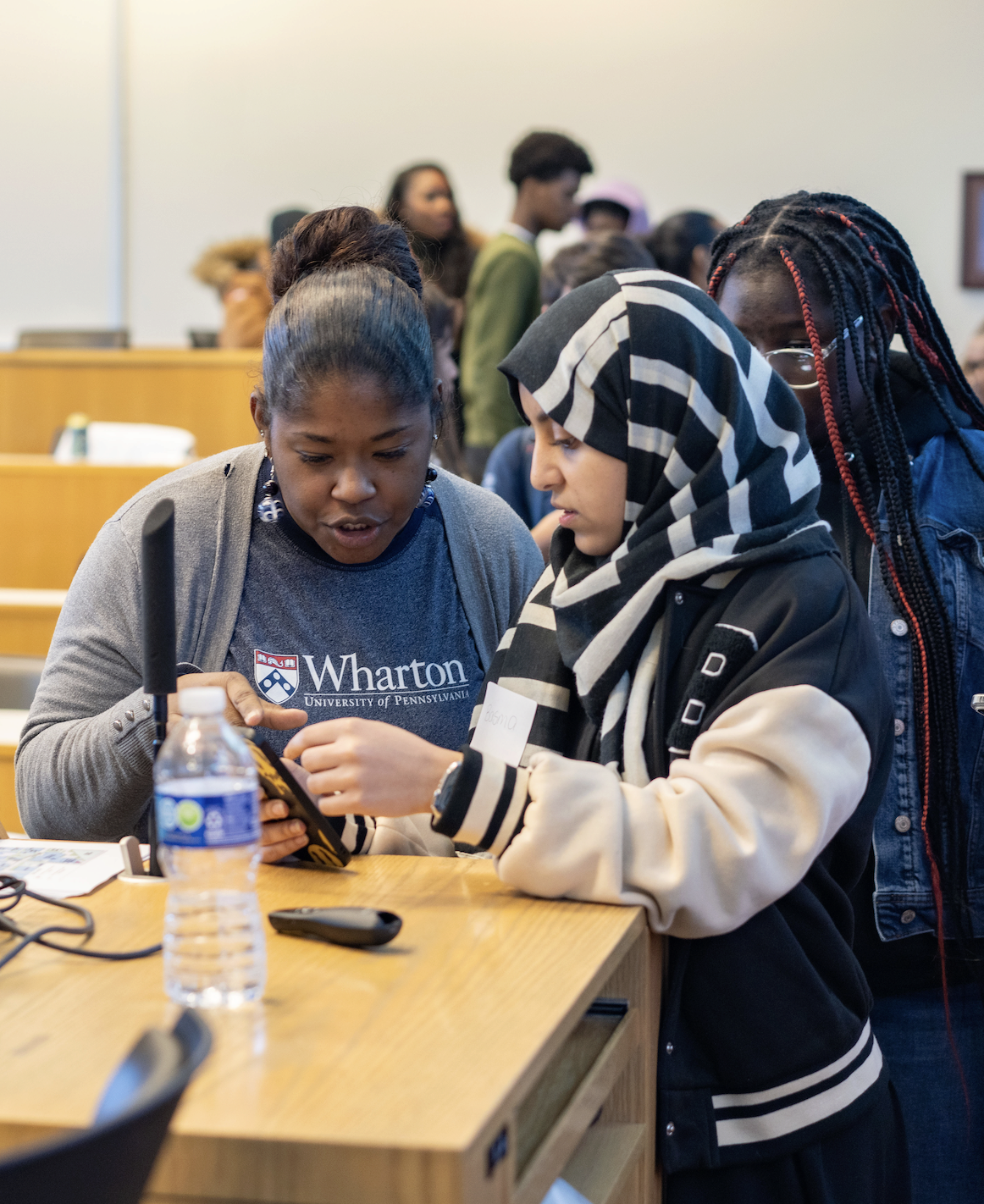 For many of these personal-finance students, the fall trip to Wharton marked their first college campus visit. "It's interesting, because I didn't think about wanting to go away to college," said Victoria R., a senior at the Academy for Conservation and the Environment. "I've always just wanted to stay in New York. Seeing how this campus looks is definitely changing my mind. It's helping me to see how I can live outside of Brooklyn."
A goal for Victoria during her Wharton excursion was to "hear about other people's experiences to give me something to follow."
She began fulfilling that hope with the day's first speaker, Wharton Dean, Erika James, who met up with the group in a Jon M. Huntsman Hall classroom. Dr. James shared how grateful she felt to be at an institution so committed to exposing the concepts of business to youth as early as possible.
"Many people don't know what it means to have a career in business or what a profession in business means," said Dean James. "The more we can introduce you to the ideas around leadership, the ideas around finance and the jobs that are available to you, the more prepared you will be." A vibrant Q&A followed, with the dean addressing student questions on everything from higher-ed class sizes to career opportunities for Wharton graduates.
The high school students maintained that deep college exploration throughout the day, during interactive sessions with Dr. Musto, who talked about his first job mowing lawns and learning to make smart decisions with his money, and undergraduate students from the Wharton Ambassadors program. The students were clearly hungry for inside information, asking a steady stream of questions as they sought to understand the nuances of the college and Penn experience and how best they might manage their time between the demands of paying jobs and heavy school course loads.
Compelling Content and Conversations
While the Embedded Pre-baccalaureate Program strives to equip high school students with the knowledge to make informed financial decisions, it is also a window into higher education through conversations with Wharton teaching fellows and teaching assistants and, for some, visits like November 3.
Attendee Amy Lau was not surprised by the students' curiosity. As an Embedded Pre-baccalaureate teaching fellow, she has been meeting online each week with her Essentials of Personal Finance high school students from Harlem, to teach them about student loan debt, credit cards, taxes, and more. "During our sessions, the students are inquisitive and ask very detailed questions," said Lau, a second-year Wharton MBA. "For instance, when we talked about investing, they really wanted to know how they could invest."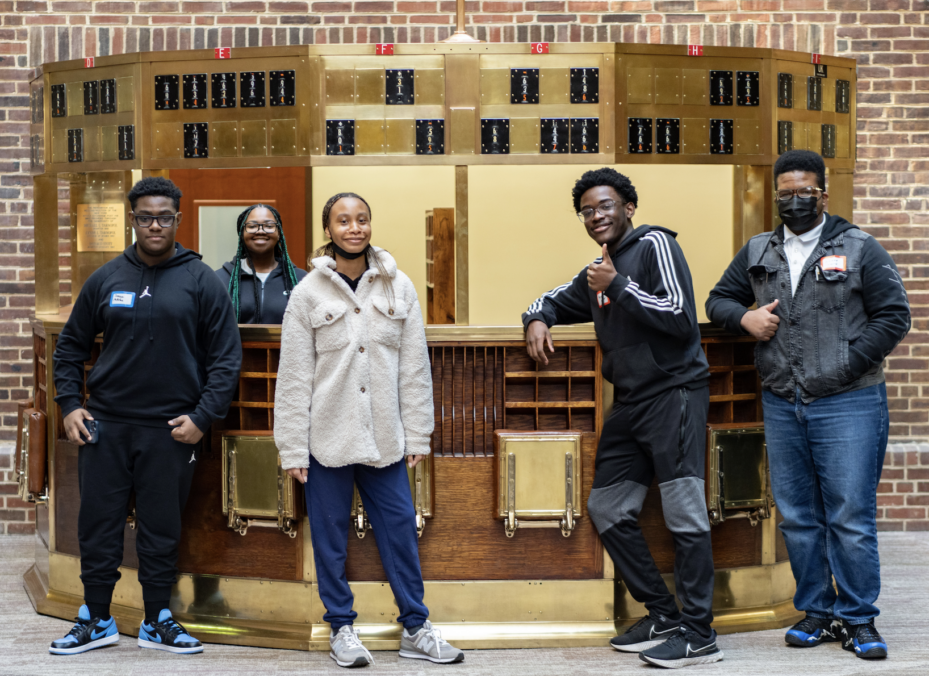 These spontaneous discussions provide valuable exposure to broader perspectives. "We feel like this program brings multiple opportunities to students," said Laura Moore, managing director of strategy and policy at the National Education Equity Lab, who traveled from Washington, D.C. to attend the November 3 event. Ed Equity Lab works with Wharton Global Youth Program to identify schools around the U.S. to participate in Embedded Pre-bacc. "Not only do we want to deepen their content knowledge in a really important area that maybe they would not have access to at their schools, but also provide them with opportunities like this, that let them engage with real life. My mother always says, you put their feet where you want them to go."
Locust Walk Awaits
For the New York high school students spending time at Penn, it wouldn't be a campus visit without at least one dash down Penn's Locust Walk – and beyond. After lunch, they teamed up in groups of five-to-seven to tackle Global Youth's Wharton Scavenger Hunt, an opportunity to explore campus, discover Wharton traditions and culture, and upload their discoveries to an app for the chance to win Global Youth swag.
We caught up with Tasia T. as she and her team flooded back into the room in Huntsman Hall. "The scavenger hunt was great, but it was difficult. I had to do some running; I feel like I put in a lot of steps today," joked Tasia, a senior at the School for Classics in Brooklyn. "We found the lion and the compass, but we couldn't find one of the portraits."
Alaysha Suggs, manager of the Pre-baccalaureate Program, and Effie Zhou, Wharton Global Youth's instructional content manager, reviewed the uploaded scavenger hunt selfies with the students, handed out prizes to the teams with the most finds, and wished everyone well as their Wharton day came to a close.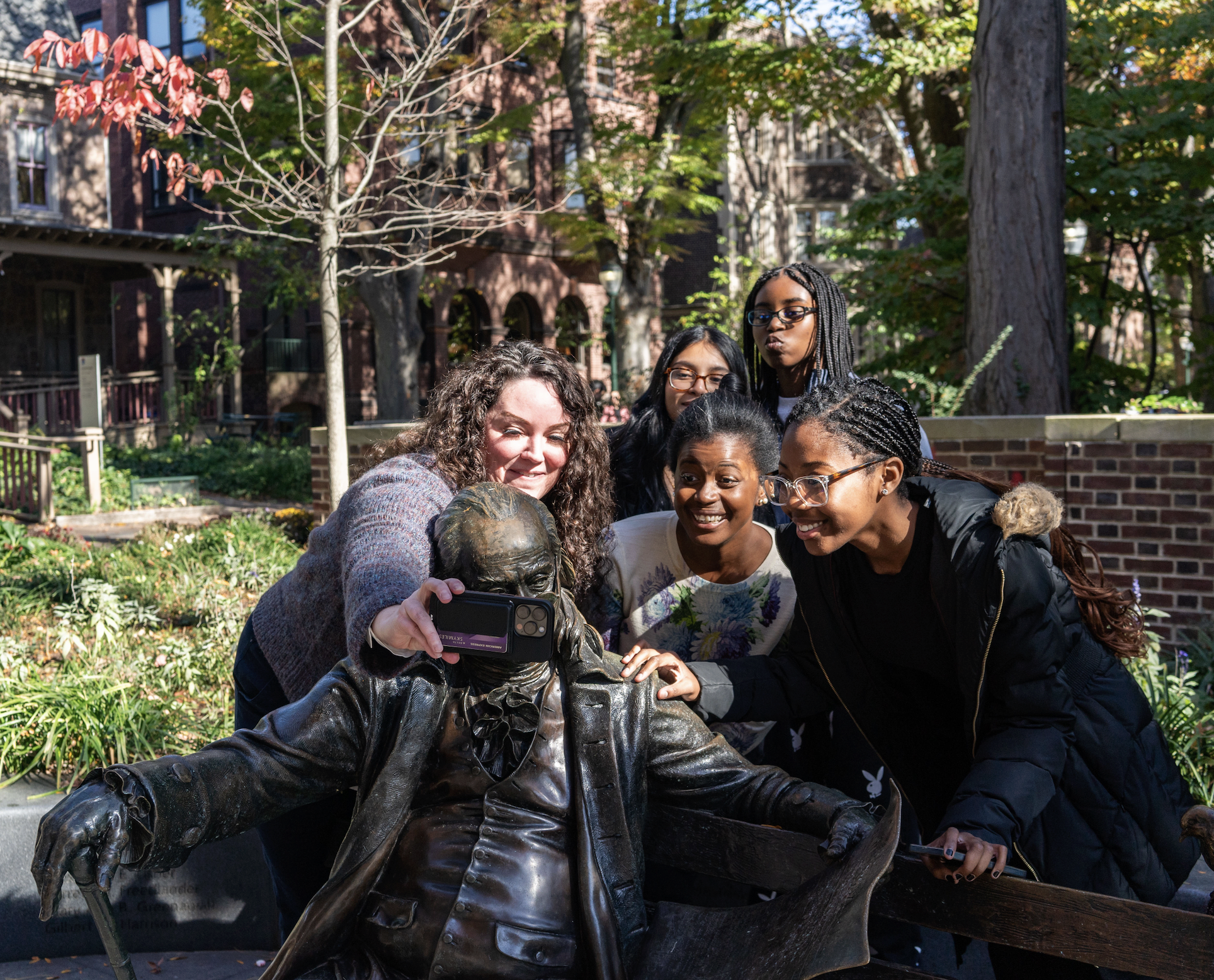 Zhou, who helps to manage the Embedded Pre-baccalaureate Program, said she appreciates working at a university that acts on its commitment to inclusion, equity and access. "The Penn community embraced these students today with great campus vibes (including a fun pie-in-the-face moment on Locust Walk!)," she observed. "From hearing Dean James's talk on the value of a business education to Dr. Musto's college advice, I feel proud to be a part of shaping these students' education journey."
And possibly most important, added student Tasia, was a chance to experience a first in her lifetime. "What a beautiful campus," she said. "The University of Pennsylvania is my dream school and I want to study business. I hope I get accepted and make my way back here."
Photo Credits: Shira Yudkoff