Future of the Business World: A Mini Goldendoodle Inspires Pet-Tech Innovation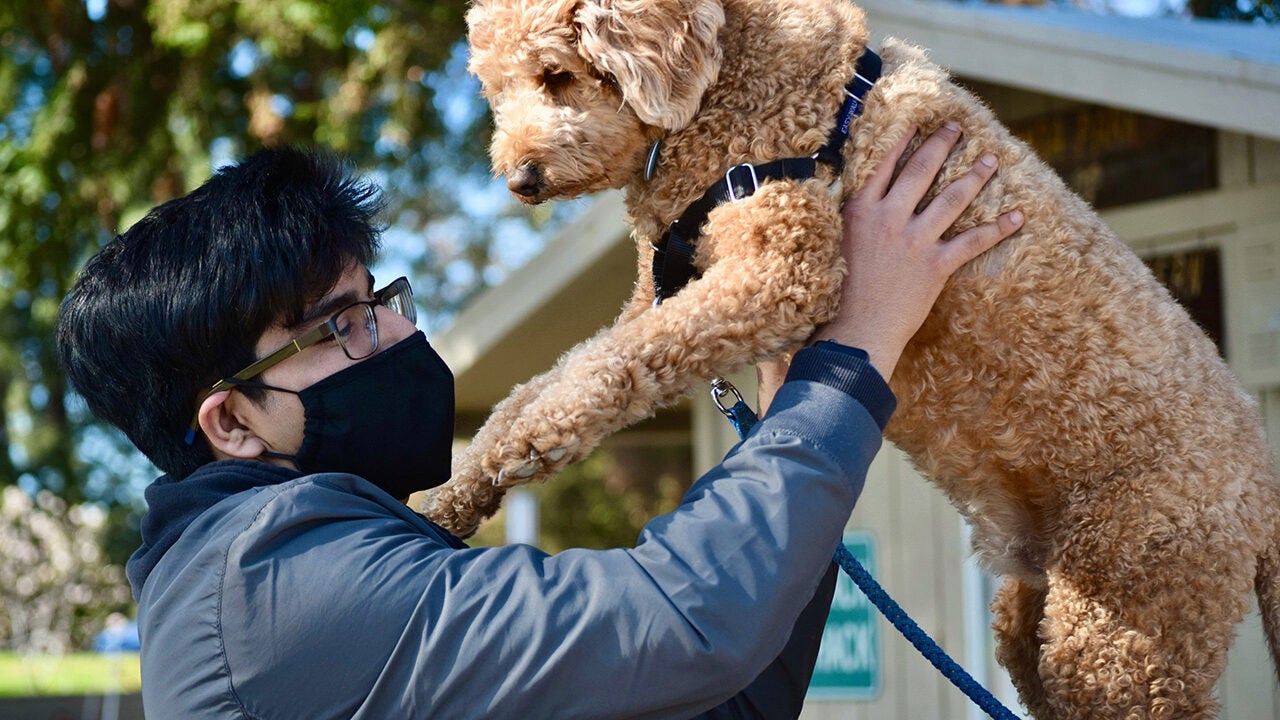 Pet owners are familiar with the booming billion-dollar pet-technology market, including everything from smart pet doors to high-tech crates, beds, feeders, bowls and toys. Karan Dalal, a high school student and long-time dog owner, was no stranger to these clever gadgets, especially from his home in the heart of tech innovation, Silicon Valley, California.
When Karan began spending more quality time with his Mini Goldendoodle Teddy last year during quarantine, the inspiration hit. Karan and his friend Arnuv Tandon, also a dog lover, started developing a pet-tech product to help owners quickly locate their lost dogs. And thus was born PetCode, the "smart pet tag for smarter pet care."
The Wharton Global Youth Program recently connected with Karan over Zoom for our latest Future of the Business World podcast episode. An edited transcript of our conversation appears below.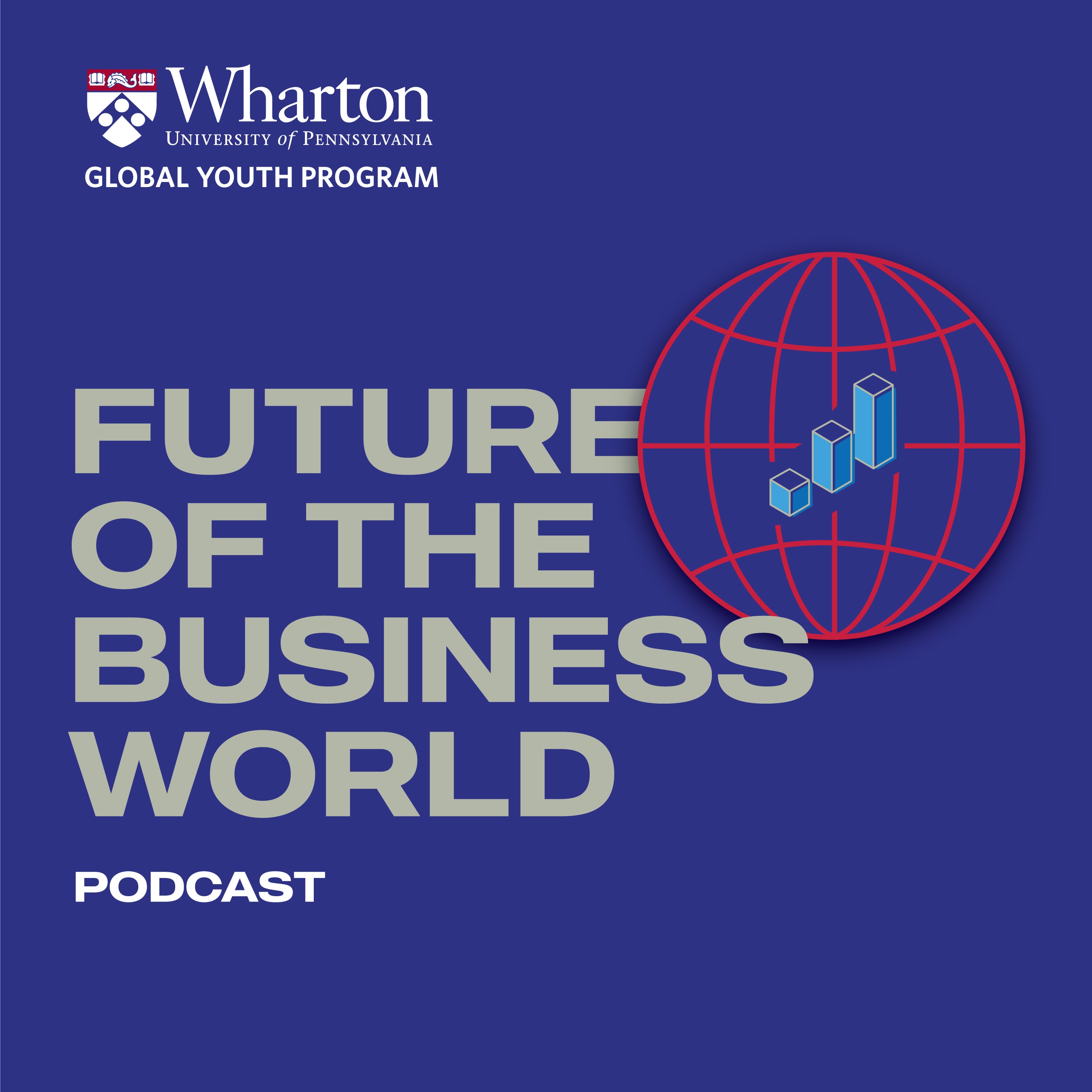 Wharton Global Youth Program: Hello everyone and welcome to Future of the Business World! I'm Diana Drake with the Wharton Global Youth Program at the Wharton School, University of Pennsylvania.
While the pandemic has been defined by isolation and frustration, it has also been a time of great innovation. It seems that high school students didn't spend all those extra hours binge-watching Outer Banks. They instead looked around them and discovered problems and pain points that needed addressing in the world.
Today's guest, Karan Dalal, didn't have to look much further than his pet Mini Goldendoodle's adorable face. Since May 2020, Karan and a friend have been developing PetCode, a startup business in the pet technology world. They've made some solid progress, building a minimum viable product, launching a successful Kickstarter campaign, and even spending time refining their business model in an accelerator. These young entrepreneurs, who happen to live in Silicon Valley, California, are making the standard metal engraved pet tag a thing of the past.
I should mention that Karan is also learning with Wharton Global Youth this summer in our online Business Leadership Academy. Karan, thanks for joining us today!
Karan Dalal: Thank you for having me.
Wharton Global Youth: First question: What is your dog's name? After all, he was the inspiration for this, right?
Karan: My dog's name is Teddy and part of the reasoning is that he actually looks like a teddy bear.
Wharton Global Youth: Who knew that pet tech was actually a thing? Can you tell us about the landscape of this industry?
Karan: Before starting PetCode, I didn't know much about pet tech either. I was familiar with products like smart dog feeders, but I didn't know too much about the industry as a whole. It turns out it is a huge product marketplace, upwards of $5 billion this year, I believe. Part of the reasoning behind this industry's massive momentum is that people will buy anything and everything to make sure that their pets are safe, happy and healthy.
Wharton Global Youth: What is the story of PetCode? Other than your puppy, what inspired this idea for you and your friend?
Karan: We started back in May of 2020 right when the pandemic was going into full swing. We wanted to spend our time more productively and as primary caretakers of our pets, we definitely wanted to find a solution to something that most pet owners have in common. We were inspired by fading pet tags. As I mentioned, both of us are the primary caretakers of our pets and we realized that the typical metal engraved pet tag is completely archaic when you look at it in comparison to the technology in the 21st century. Also, due to COVID policies, restaurants had begun to implement QR codes on their tables so that way you could scan and get all the information about their menu without having to talk to a physical waiter. We decided, what if we took this and combined it with a pet tag so that way anytime someone finds your pet they get access to not only the limited amount of information on the back of a tag, but unlimited information that can be updated anywhere, anytime?
Wharton Global Youth: How did a hackathon [collaborative computer programming] help you to take this to the next level?
Karan: Hackathons are a great way to meet and network with new people, especially people of your age. A hackathon helped take PetCode to the next level because we used platforms such as Devpost to reach out to a lot of people with our idea. It's how we met our current CTO (Chief Technology Officer) and scaled our business.
Wharton Global Youth: How many team members do you have?
Karan: We currently have nine team members from around North America and we are a completely student-led initiative. The majority of our team members we met through LinkedIn, hackathons, using the power of people and networking to reach people who shared our values and wanted to see our idea become a reality.
Wharton Global Youth: In terms of your business model, I would think that the idea of having a QR code on any sort of tag is not new. How are you differentiating yourself in the market?
Karan: The idea of tracking items using a QR code is not relatively new. But the lens that we look through this type of technology is definitely innovative. We are completely focused on pets, and that really differentiates us from these other one-unit-fits-all solutions. For example, we recently released a premium plan, which focuses on reuniting pets with the information you already store in our product. It includes items like shelter notifications and community alerts, which send out blast radiuses of your information so that way you can reunite with your pet faster. Our app also comes with other pet-care features, like logging your pet's events and storing their vaccinations. By focusing on one use case, we're really maximizing the potential of this technology.
"Measuring impact through social media likes and through comments, it's really a good-feeling moment that, hey, I'm doing something that's giving a lot of people peace of mind and keeping pets safer, happier and healthier." — Karan Dalal, Co-founder, PetCode
Wharton Global Youth: Are you a profit-driven venture?
Karan: Yes, we are. This question fits into one of my favorite quotes by Nike founder Phil Knight. He says that business is no more about making money than the human body is about making blood. Yes, you need the stuff, but only to serve your higher aims. I feel that every venture is primarily mission driven, and in our case, profits allow us to achieve our mission more effectively.
Wharton Global Youth: How did you decide to go with Kickstarter to raise money and what helped to drive the success of that campaign? You ended up making $10,000, right?
Karan: Yes, we did end up making more than $10,000. We decided to go with Kickstarter because we knew there was a lot of difficulty in raising money from investors. And with the added barrier of being a teenager, that hope was almost impossible. We decided we needed money to incorporate our organization and legitimize our business. Kickstarter also serves as a great proof of concept to know that other pet owners are also interested in a product like this.
Wharton Global Youth: Do you think that's what made your campaign successful? Appealing to other pet owners?
Karan: Primarily what drove our success in this campaign was all the planning that we did before we even launched. Any Kickstarter guide out there will tell you that your pre-launch is much more important than your actual launch. Kickstarter these days has become a platform where people don't go to discover products, but instead it's a medium they back and fund products through. It's very important to have a successful pre-launch where you gain email lists and you create a community of backers that you know are going to support your project the minute it goes live on Kickstarter.
Wharton Global Youth: And you have to have a robust social media following too, right? Has social media helped you in other ways?
Karan: Absolutely. Social media serves us a couple of purposes. As you mentioned, it helps us build brand and product awareness, as well as a community of pet owners who really love our product — especially TikTok; we're very popular on TikTok. We've had many posts with tens of thousands of likes, which has directly converted into sales. Social media also provides a platform for you to legitimize your company; to put forth a professional image that pet owners would like to see when considering a product that will affect their pet's safety.
Wharton Global Youth: Is Teddy in the TikToks?
Karan: Teddy is our company TikTok star. We feel that our product is very demonstrable and that allows us to show off its capabilities, even in a 15-second video. Teddy is always there wagging his tail, showing off his tag and typically our TikToks showcase scanning the tag, its capabilities, and he's very happy to be featured in this.
Wharton Global Youth: Can you tell us about your accelerator experience?
Karan: Sure, so a week ago we finished a month in the Replit Ventures accelerator, and it was completely awesome. For those who don't know, accelerators are essentially a place that you go as a young startup and you look for support, which we got tons of. We got to meet amazing founders of Y Combinator [an accelerator for startups and a seed capital firm that is based in Silicon Valley, California] companies and got support from some amazing mentors that worked at Replit. Accelerators serve to support you and provide a seasoned perspective on your business. For us, it helped us narrow down who we were as a company and what exactly our product was by placing emphasis on safety, which is really seen in our premium plan.
Wharton Global Youth: When you first reached out to me with your idea, you mentioned there had been many lows, as well as many successes. Can you expand on this? What have been some of the challenges and even failures, and what have you learned from them?
Karan: The biggest failure we had is in how we began. When me and my cofounder came up with the idea, it was in a Snapchat group chat. We immediately thought this was something that could be useful, let's just start building. We didn't even take the time to build a minimal viable product, getting feedback from other pet owners or anything like that before we just went forward with that idea. I think that ties into one of the biggest challenges with even starting a business. It's planning out your full roadmap ahead of you. We've learned a really important lesson. Before you make any moves on the chess board, analyze the entire thing because you never know when something is going to capture your queen.
Wharton Global Youth: Where do you go from here?
Karan: I'm super excited for the future potential of PetCode. I feel there are so many industries and places it could be used. My favorite example is something we want to do in the near future, which is helping pet-fostering organizations. For those who don't know, typically foster pets switch homes every month or even a couple of weeks. Each owner has to buy new tags for the pet that they get. With PetCode, they can easily update the pet information as well as their contact information with a couple of clicks. They also have access to the pet's previous vaccination documents, medication reminders and daily schedules. We're looking to expand PetCode and get it into as many pet-owning homes as we can in the world.
Wharton Global Youth: What has it meant to launch this venture during the pandemic?
Karan: It comes down to impact. It's almost every day that someone's posted something on Instagram tagging PetCode saying: 'Oh my God, this pet tag is amazing. It's so inexpensive and it really provides me that peace of mind that whenever my pet gets out I have that capability to make sure all their information is up to date so that way they have the best chance to be reunited with me.' Measuring that impact through social media likes, through comments, it's really a good-feeling moment that, hey, I'm doing something that's giving a lot of people peace of mind and keeping pets safer, happier and healthier.
Wharton Global Youth: A question I like to ask all my Future of the Business World guests is, if you could change one thing in the world, what would it be?
Karan: If I could change just one thing in the world, I would eliminate human greed completely. I feel that is the root of all evil that humans commit. So, I would definitely eliminate human greed.
Wharton Global Youth: We like to end up with our lightning round, so please try to answer these questions as quickly as you can. What is your favorite emerging business trend?
Karan: Artificial intelligence in the workplace.
Wharton Global Youth: What is something that would surprise us about where you live in the Bay Area?
Karan: I actually go to the same high school as [Apple founder] Steve Jobs. The house where Apple was built is just a few blocks from mine.
Wharton Global Youth: Briefly, how do you define leadership, having been in our leadership program this summer?
Karan: Understanding, influencing and guiding members of an organization towards a common goal you've established.
Wharton Global Youth: What innovation, other than your own, do you value most as a pet owner?
Karan: I'd definitely say robot vacuum cleaners like Roombas because pets like to make a mess.
Wharton Global Youth: What business person would you most like to invite to lunch and why?
Karan: Paul Graham, the founder of Y Combinator. He has a very unique perspective on the world and the future of startups in this world.
Wharton Global Youth: Karan, thank you for joining us on Future of the Business World.
Karan: Thanks so much for having me.
Related Links
Conversation Starters
What is your favorite pet technology?
How did Karan and his team use the tools available to entrepreneurs to help develop, launch and market PetCode?
What questions would you like Karan Dalal to answer about his startup PetCode and the experience of developing a company in the pet-tech space?