Aspiring Scientists Launch the World's Lightest Satellites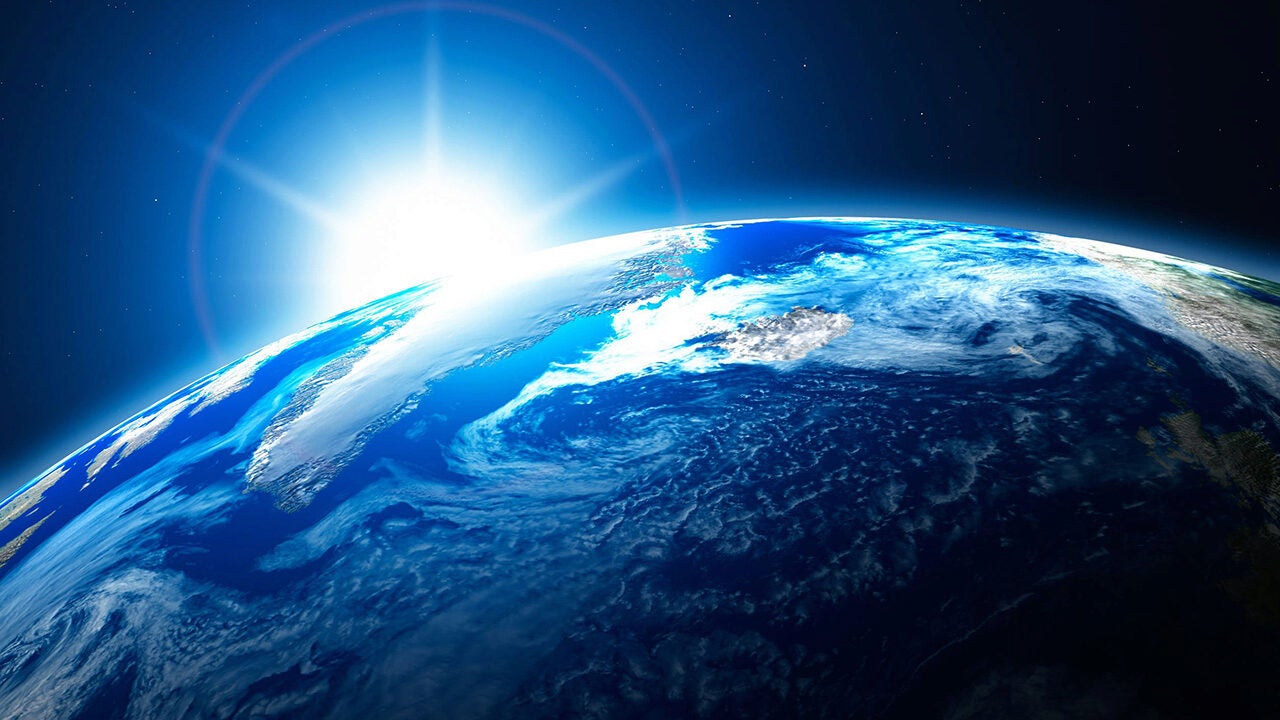 The countdown has begun. In less than a month, on December 3, 2018, KalamSat 2 is scheduled to launch from the Baikonur Cosmodrome, a spaceport located in an area of southern Kazakhstan (in Eastern Europe) that is leased to Russia. It will be destined for a two-month stay at the International Space Station.
When it comes to space travel, KalamSat 2, a 3-D-printed graphene device fitted with ham radio equipment and software to test research applications in blockchain and IoT (internet of things) technologies, is significant for two reasons: First, it is the next generation of the world's smallest satellite to travel into space. Second, it was designed and built by a team of Generation Z scientists from India who have been immersed in space research and small satellite design since they were 13 years old.
Smaller and lighter satellites – also known as SmallSats and CubeSats – are gaining popularity around the world. Lighter-weight satellites like KalamSat 2, which weighs 50 grams, "will lead to more economical satellite launches because once the weight is reduced, the amount you need to pay to the rocket [for the satellite's launch] will drastically decrease. Smaller satellites are also more eco-friendly," Rifath Shaarook, KalamSat's creator, recently told Forbes India Magazine. On November 11, 2018, a rocket launched from New Zealand carrying a satellite no larger than a Rubik's Cube that was created by high school students in the Irvine CubeSat STEM program in California, U.S.
Shaarook, who is 19, is the lead scientist in a team of 15 young scientists with Space Kidz India, a Chennai, India-based organization that was founded eight years ago by Srimathy Kesan to mentor high schoolers in science and engineering and prepare them for careers in those fields. Kesan is mission director of the Space Kidz India satellite program.
How It All Took Off
In June 2017, The Space Kidz India team successfully launched KalamSat 1, a 64-gram device made from 3-D printed plastic, reinforced with carbon fiber that was then the world's lightest satellite. According to Shaarook, the team was asked to make a payload (cargo) that could fit into a four-centimeter cube, but instead they decided to make that four-centimeter cube into a complete satellite. Launched from NASA's Wallops Flight Facility in Virginia, KalamSat 1 stayed 15 minutes in space before its planned descent into the Atlantic Ocean.
Shaarook, who was introduced as a child to electronics and the wonders of space by his late father Mohamed Farook, an electronics professor and scientist, was the lead scientist for KalamSat 1, as well. Back then, he was a 12th grader at the Crescent Matric Higher Secondary School in Chennai. In addition to Shaarook and Kesan, the other team members of KalamSat 1 were Abdul Kashif (lead engineer), Yagna Sai (lead technician), Vinay S. Bharadwaj (structural engineer), Thiru Gopinath (biologist) and Tanishq Dwivedi (flight engineer). Kesan had personally funded the $10,000 project cost of KalamSat 1. The satellites are named after the late A.P.J. Abdul Kalam, who was India's president and previously led its space and missile programs.
How did Shaarook and his team master the intricacies of electronics and space research to build their satellites? "It's all about experience," Shaarook says, adding that his team has been working on space research for six years, while he began when he was in ninth grade. They tapped the internet for most of the skills needed to build the satellite. For KalamSat 1, they also received some guidance from a University of Central Florida student named Anthony Tran, who was then an educator with NASA. The team went through a series of experimental launches over the years. In 2015, it built a high-altitude helium balloon to launch and retrieve a satellite instead of using a conventional rocket. In later years, the team built a few more satellites to perfect their skills.
The Space Kidz India team is also working on its version of a Moon Rover that is planned for launch in December 2019 from Baikanur Cosmodrome. That venture grew out of Google Lunar XPrize, a challenge Google sponsored from 2007-2008 to privately fund teams to land a robot on the moon. The $30-million prize has gone unclaimed after it passed its March, 2018 deadline. Space Kidz India has partnered with a couple of the teams that participated in the Google competition to create the lightest rover to aim for a moon landing.
For Kesan, Space Kidz India has been a welcome break from her life as a homemaker. She was first inspired by a 2010 NASA conference in Miami. She followed it up by encouraging high schoolers in Chennai to participate in Cubes in Space, a series of global competitions for teens that Idoodledu, inc., a nonprofit in Virginia Beach, Va., organizes in partnership with NASA. Over the years, she has also taken some 1,500 school children to three-day camps at NASA's Kennedy Space Center.
"We want to make the space race more affordable and help school kids come out of the box," says Kesan of her vision. A few educational institutions in India have approached Space Kidz India to tap its expertise for their students. Government support has thus far been limited, barring a Rs. 10 lakh ($14,000 USD) research grant from the Tamil Nadu government, and offers from Rajasthan state to host future satellite launches.
Shaarook is currently in the second year of a bachelor's degree in science from Madras University in Chennai. Following his studies in physics, he wants to make a career as an entrepreneur in space technology and blockchain applications, and as a professor of computer science and electronics. His short-term goal? A successful KalamSat 2 launch on December 3.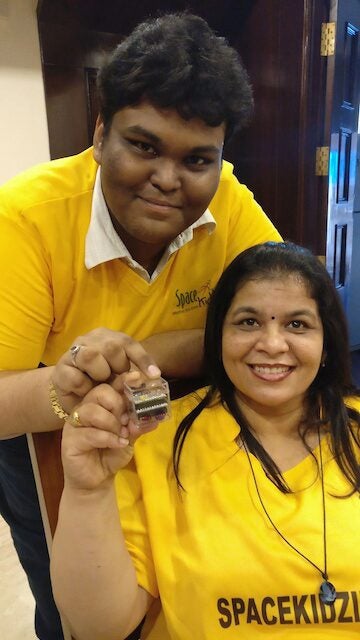 Related Links
Conversation Starters
What are SmallSats and CubeSats and why are they important in the world of space exploration? Use the Related Links for deeper research.
How is this story an example of what you can accomplish through DIY?
Space is still considered "the final frontier." Where do you think space exploration will be in five years? What new discoveries will we make and how will science and technology fuel that journey?