Why Forever 21 Filed for Bankruptcy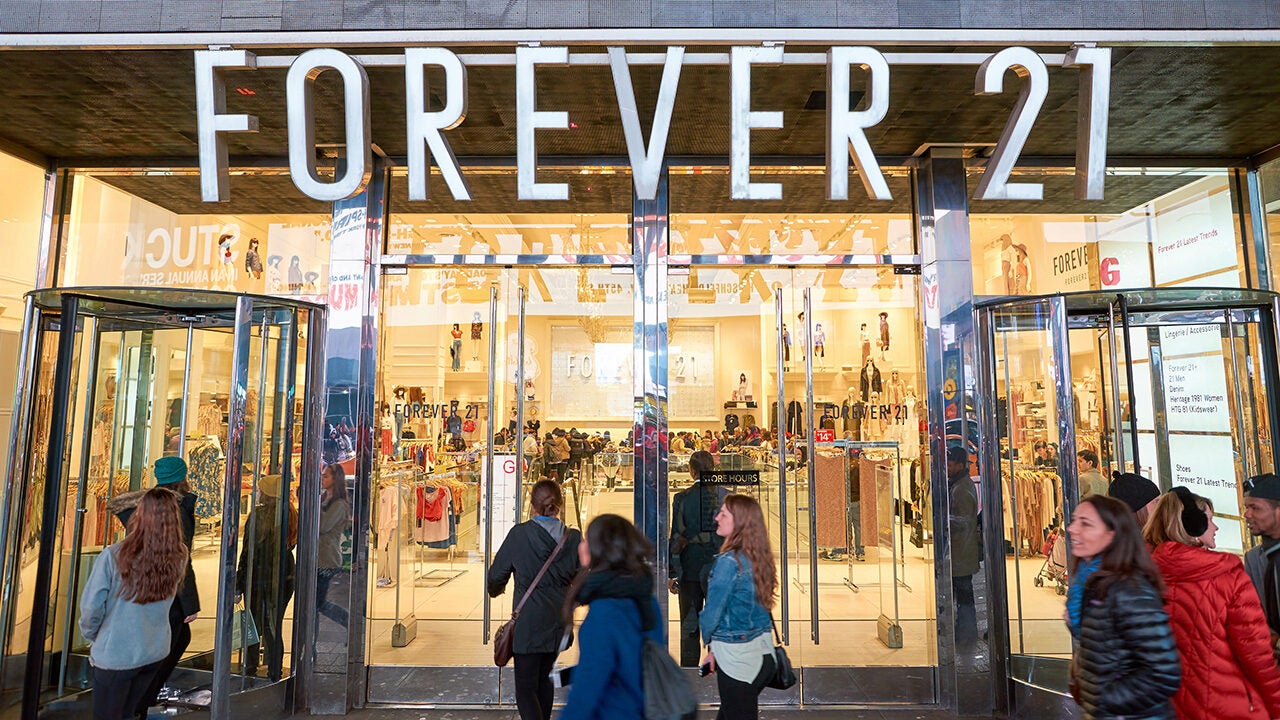 YouTubers love Forever 21. Take, for instance, Kayleigh Noelle, a beauty and fashion vlogger with nearly 700,000 subscribers. This spring, she posted her Forever 21 Try On Haul video, gushing, "Forever 21 is super affordable and some pieces I still have in my closet from many seasons ago. I am and have been a huge fan of their clothing for years."
Kayleigh and lots of other tweens, teens and twenty-somethings are wearing their fave Forever 21 faux suede crop tops and high-rise skinny jeans this week in tribute to the troubled retailer, which just announced that it has filed for Chapter 11 bankruptcy protection. In a statement Linda Chang, the company's executive vice president, said, "This was an important and necessary step to secure the future of our company."
The good news for deal-loving fashionistas who are headed to the mall: Forever 21 is not going away – at least, not yet. But the well-known retail store is making changes.
Here are some details to help decipher the business behind the Forever 21 bankruptcy:
The Next Chapter. In announcing its Chapter 11 bankruptcy, California-based Forever 21 said that it might close up to 350 stores globally and 178 U.S. stores, including several in its home state. Florida, New York and Texas can expect several store closings, as well. The company also plans to keep operations in Mexico and Latin America, and shut down stores in Asia and Europe, claiming that it wants to maximize the "value of our U.S. footprint" and shutter certain international locations. Bankruptcy, which is when a person or company cannot repay the debt owed to creditors, can take different forms. While a Chapter 7 bankruptcy calls for a company to liquidate all its assets and close down, a Chapter 11 bankruptcy allows a company to reorganize under the protection of bankruptcy court. It's a second chance at success. Michael D. Sirota, a bankruptcy lawyer with Cole Schotz in Hackensack, N.J., told KWHS, "Chapter 11 is a period of time for an entity to get and take a breathing spell from the pressures of its creditors. During that breathing spell, the company hopes to restructure its financial affairs and balance sheet to emerge a stronger and more well-balanced company."
But, why? Forever 21, around since 1984, is a major player in what's known as fast fashion, clothing designs that move quickly from concept to mainstream retail stores and must often predict the latest fashion trends. Merchandise in the stores also turns over quickly, with new displays every few weeks. Zara is a well-known brand in the fast-fashion space. This business model, however, likely contributed to Forever 21's financial troubles. "There is a growing trend toward sustainability, which leads consumers to rent clothing, or share clothing – and Forever 21's model is fast fashion, which is not built to last. It is less in keeping with a sustainability model," notes Barbara Kahn, a Wharton marketing professor. "Also predicting [trends] like that, especially for young women, is always difficult." Kahn adds that the U.S. retail market has been "overstored" for a while, especially as online shopping has hit its stride. Forever 21 "overbuilt stores up until 2016 apparently, just when the retail apocalypse was starting and consumers were increasingly shopping online," she points out.
Retail Apocalypse? The retail industry has been experiencing a shakeout in the past few years, losing all or significant chunks of big brands, such as Sears, Toys 'R' Us, Gymboree, Claire's and Charming Charlie. "We have had too many physical stores, so we were probably going to see more stores close regardless of any other factors – and indeed Forever 21 probably overexpanded, as Gap did earlier," notes Kahn. "Many legacy retailers have not been keeping up with changing consumer tastes and shopping patterns. They have been resting on old models and ways of doing things." Creative retailers, like Amazon Go stores, have found ways to integrate their physical and online experiences to meet consumers' shopping needs. Smart retailers, Kahn has said, know when and where to open and close brick-and-mortar locations.
A New Normal. The company has stressed that people who come into its stores (at least those that remain open) will have a shopping experience that "will continue to feel like a normal day." Still, the retailer's protection under U.S. bankruptcy court is proof that it is struggling financially. The company reports that it has secured $350 million in financing, including $275 million from investment banker JPMorgan Chase. An additional $75 million in new capital from TPG Sixth Street Partners, a finance and investment firm, will reportedly enable Forever 21 to take care of business, like processing gift cards and reimbursements. "The financing provided by JPMorgan and TPG Sixth Street Partners will arm Forever 21 with the capital necessary to effect critical changes in the U.S. and abroad to revitalize our brand and fuel our growth, allowing us to meet our ongoing obligations to customers, vendors and employees," said Forever 21's Chang.
Mall Fallout. Forever 21, which currently has a total of 549 U.S. stores, will continue to operate hundreds of stores, many of which are major tenants in malls across America. The company invested heavily in the mall model, at one point operating stores in some 800 locations. Malls will undoubtedly feel the pain of Forever 21 store closures, especially heading into the holiday retail season. "Many of the Forever 21 stores are big stores, not quite the anchor roles of the department stores, but nearly so. When they close, foot traffic to malls will likely decrease, which may indeed cause other mall stores to close," suggests Kahn.
Moving forward, the shoppers and analysts will be watching to see if Forever 21 is able to reorganize its business over the next several months and emerge successfully from Chapter 11 bankruptcy "as a stronger, more competitive enterprise that is better positioned to prosper for years to come."
In the meantime, experts recommend that you spend your Forever 21 gift cards ASAP, just in case. More than 17 million gift cards were left unswiped when Borders liquidated its stores in September 2011. That $210.5 million disappeared, along with the books.
Related Links
Conversation Starters
What is Chapter 11 bankruptcy?
What factors contributed to Forever 21's financial woes?
How do you feel about Forever 21's "fast fashion" business model? Do you think the sustainability trend is real and here to stay, or will young shoppers follow more traditional fashion and deals?