Fighting for Environmental Justice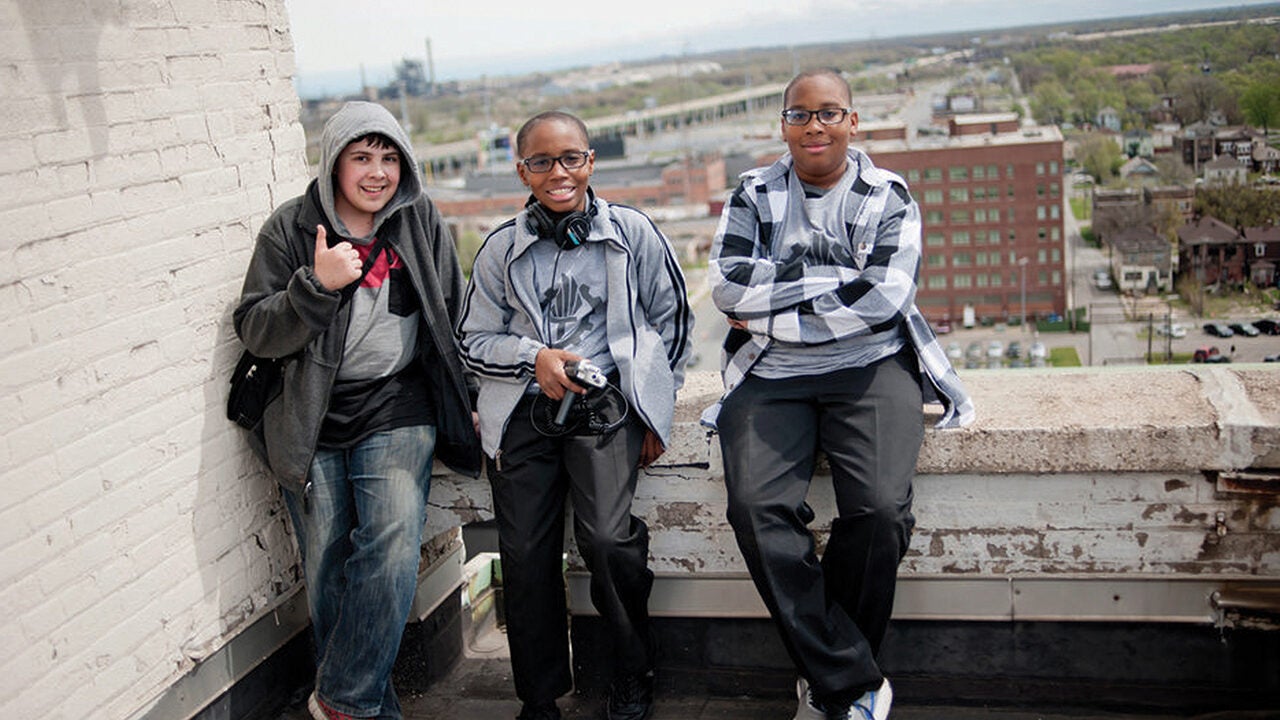 Residents of Detroit, Michigan in the U.S. recently won an important victory. It had nothing to do with World Cup soccer, politics or even a lottery jackpot – and everything to do with how they live.
After a fight that lasted decades, the largest municipal trash incinerator in the U.S., known as Detroit Renewable Power, was shut down. The incinerator, which burned one million tons of solid waste from 13 counties in Southeastern Michigan to create steam and electricity, polluted the air and caused health problems like asthma in local residents, according to research and reports.
"We won, after 33 years!" resident and activist Kathy Rashid told the Energy News Network, after the plant was shut down in late March. "Everything we ever said about this poisonous monstrosity was borne out. What environmental destruction and money wasted."
'Zip Code Is the Most Potent Predictor'
This case in Detroit – pinning big business against grassroots activists like Rashid – is an example of environmental justice, a field that has grown up around the idea that low-income and minority communities should not face a higher share of pollution, and if they do, it constitutes a form of discrimination.
Robert Bullard, a professor at Texas Southern University who is thought to be the father of the environmental justice movement, describes it like this: "Environmental justice embraces the principle that all people and communities have a right to equal protection and equal enforcement of environmental laws and regulations….Today, zip code is still the most potent predictor of an individual's health and well-being. Individuals who physically live on the "wrong side of the tracks" are subjected to elevated environmental health threats and more than their fair share of preventable diseases."
Brian Berkey, a Wharton assistant professor of legal studies and business ethics, notes that the environmental justice movement operates in a highly decentralized way, often involving relatively small groups focusing their attention on issues in their respective local communities. These groups, while separate, have unifying values. "One of the core values is that no one should be subjected to significantly greater risks from environmentally harmful activity, especially business activity, just because they're, for example, poor or African-American," says Berkey. "It's worth noting that even for people at the same income level, African-Americans are more likely to live near facilities that expose them to environmental risks. In other words, these facilities are more likely to be located near predominantly African-American neighborhoods with a particular income profile than near predominantly white neighborhoods with the same income profile. So, the justice issues aren't limited to those having to do with poverty, though that is a central issue."
Through the years, the environmental justice movement has empowered urban residents to speak out about their right for clean air, clean water and the same quality of life as people living in less economically depressed areas. The movement has also given rise to statistics like this: According to the U.S. Environmental Protection Agency and the Sierra Club, poor communities have a 35% higher burden from particulate-matter emissions. Studies have also shown that race is the biggest indicator in the U.S. of whether you live near toxic waste. In other words, most landfill or waste facilities are disproportionately placed near people of color and economically disadvantaged populations.
High School Students Investigate EJ
This last fact is all too familiar to twin brothers Erin and Evan Addison and Andrew Arevalo, classmates at Steel City Academy charter school in Gary, Indiana. The three friends, who are all 15 and rising high school sophomores, are founders of the award-winning Steel City Academy podcast. They were featured last week in a radio segment on National Public Radio's All Things Considered (see Related Links).
Last year, the stuff of great storytelling literally landed in their laps. Their podcast reporting led them to delve deeply into an environmental justice case involving their high school and their community, where more than a third of the people in Gary live in poverty. A company known as Maya Energy was proposing to build a waste-to-energy facility across the street from Steel City Academy, where, according to filed permits, the business would receive waste from 5 a.m. to 5 p.m. each day, with processing continuing until 11 p.m. As the teen hosts pointed out in their podcast — "What's a waste-processing facility? Just a fancy word for a dump."
The proposal, which the school learned about from a newspaper article, spurred Steel City Academy into action. The Steel City podcasters, along with their classmates in the Year Zero environmental justice club, joined their teachers, parents and principal Katie Kirley to speak out against Maya Energy operating next to their school. They worried that the new facility would create noise, odors, constant truck traffic, diesel air pollution from trucks and air emissions from the plant, and possible water contamination during heavy rains and floods. For months, they waged a campaign against Maya Energy, organizing rallies, attending hearings and recording interviews. While Maya's proposal was pulled late last year, it was reinstated this February. The students continue their fight.
"This shows our school's might and our grit, our purpose too, and our power," Erin Addison told Energy News Network.
And their chops as reporters. During one of the meetings, the Steel City podcasters relentlessly asked Maya Energy founder Jimmy Ventura, the man behind this proposal, if the new plant would "release fumes." Ventura urged them to stop taping, and he never actually answered their question. Erin Addison said during the NPR interview: "If you're going to build a facility like that next to our school, I'm not nervous at all. I'm going to come to you. You're going to know I'm going to be a podcaster. I'm going to have a bag. I'm going to have an audio recorder in my hand. You're going to know that I'm here for answers."
Cheap Land, Low Taxes and Available Labor
Erin's interaction with Ventura brings up an essential aspect of the environmental justice movement: every story has two sides. Ventura, who grew up and still lives in an East Chicago, Indiana, neighborhood, describes Maya Energy, as an ecologically sound way to recycle and turn garbage into "refuse-derived fuel," while providing economic development and jobs to Gary. He sees his business proposal very differently than the Steel City Academy community, which is often true of environmental justice cases.
Many businesses claim that they do consider how their facilities will impact low-income and minority communities, and that they try to keep an open dialogue with their neighbors through ongoing communication and a transparent process that invites residents inside their operations. They are not always the evil-doers that many environmental justice cases characterize them to be.
Eric Orts, A Wharton professor of legal studies and business ethics who runs Wharton's Initiative for Global Environmental Leadership, says, "In general, I'd say it's unfair to cast business in these situations as "bad guys." Environmental justice issues are usually more complicated, involving distributions in what Ulrich Beck called our "risk society." What is needed are good laws, including zoning policies as well as environmental regulation. A standard problem is that business may often make decisions that impose external risks and harms — hence "externalities" — on others if there is no legal structure to encourage or mandate them to "internalize" these risks and harms." He adds: "The optimal solutions are legal: better liability regimes [such as specifying the responsible party and how they must compensate others for their actions], perhaps more contemporary disclosure requirements, and scientifically grounded pollution/waste control regulations."
"At least sometimes the needs and interests of others have to take priority over the pursuit of profits." — Brian Berkey
Wharton's Berkey suggests, however, that companies are driven by their bottom lines, which indicate profits or losses. Berkey specializes in moral and political philosophy, including business ethics and environmental ethics. "Businesses locate their facilities where they do primarily because it's cost-effective. That is, all else equal, the land is cheapest, and/or the taxes are lowest, and/or there's a large supply of available labor nearby, which keeps wages low," Berkey says. "Representatives of businesses that do this are likely to argue that they are simply making standard business decisions using standard cost-benefit analyses in service of making profits for shareholders. They might claim that it's the role of government to structure their incentives so that the disparities that we observe [in environmental justice cases] don't occur, but in the current state of things they're not doing anything wrong by doing what they're most incentivized to do, even if this has disproportionate harmful effects on poor and minority communities."
Berkey's not buying it. "I'm unpersuaded by this line of argument," he adds. "I don't think that, generally, businesses can appeal to what the government perhaps should be doing, but isn't, in order to justify adopting practices that risk significant harm to people who are already unjustly disadvantaged. At least sometimes the needs and interests of others have to take priority over the pursuit of profits."
Berkey also points out that environmental justice cases don't just target low-income residents, but also those who appear less equipped to fight back. "In the case of facilities that expose those nearby to environmental risks, one of the considerations is likely to be that the surrounding community will be less able than others to effectively resist the imposition of risks on them by, for example, appealing to lawmakers or regulators. So, companies take advantage of the vulnerability of poor, often minority communities, in order to be able to operate in a way that's cheaper, even though it exposes the members of those communities to (often avoidable) risks. They typically wouldn't be able to get away with doing this near wealthier communities, since the members of those communities would be able to successfully appeal to lawmakers or regulators to protect them from the risks."
That is why the voices and actions of resident advocates in cities like Detroit, Gary and countless others form the backbone of environmental justice cases — and can lead to real change for residents who feel at a disadvantage. For the students at Steel City Academy, the Maya Energy proposal has helped them see their world and their worth in a new way. "I really felt empowered, I felt like we should do this more often," Steel City student Danielle Sipp, 15, told Energy News Network. "If we stood up for ourselves like we stood up at the community meeting, we could actually change Gary for the better."
Related Links
Conversation Starters
What is environmental justice? Have you experienced any personal EJ-related issues, either as a resident suffering from pollution or any other personal connections? Please share your story in the Comment section of this article.
The Wharton professors quoted in this article provide very different perspectives on the role of business in the environmental justice movement. Where do you land on the business ethics question? Do you think companies should just avoid locating in low-income, urban areas entirely because they can't do so ethically? Or is it the responsibility of laws and regulations to guide more just decisions?
How would you fight for environmental justice? Using the related links and other resources with this article, take sides in the Steel City Academy case. Some students represent the school community while others identify with Jimmy Ventura. Debate the key issues that define each side.