A 'Sneakerhead' Shares His Simple Strategy: Buy Low and Sell High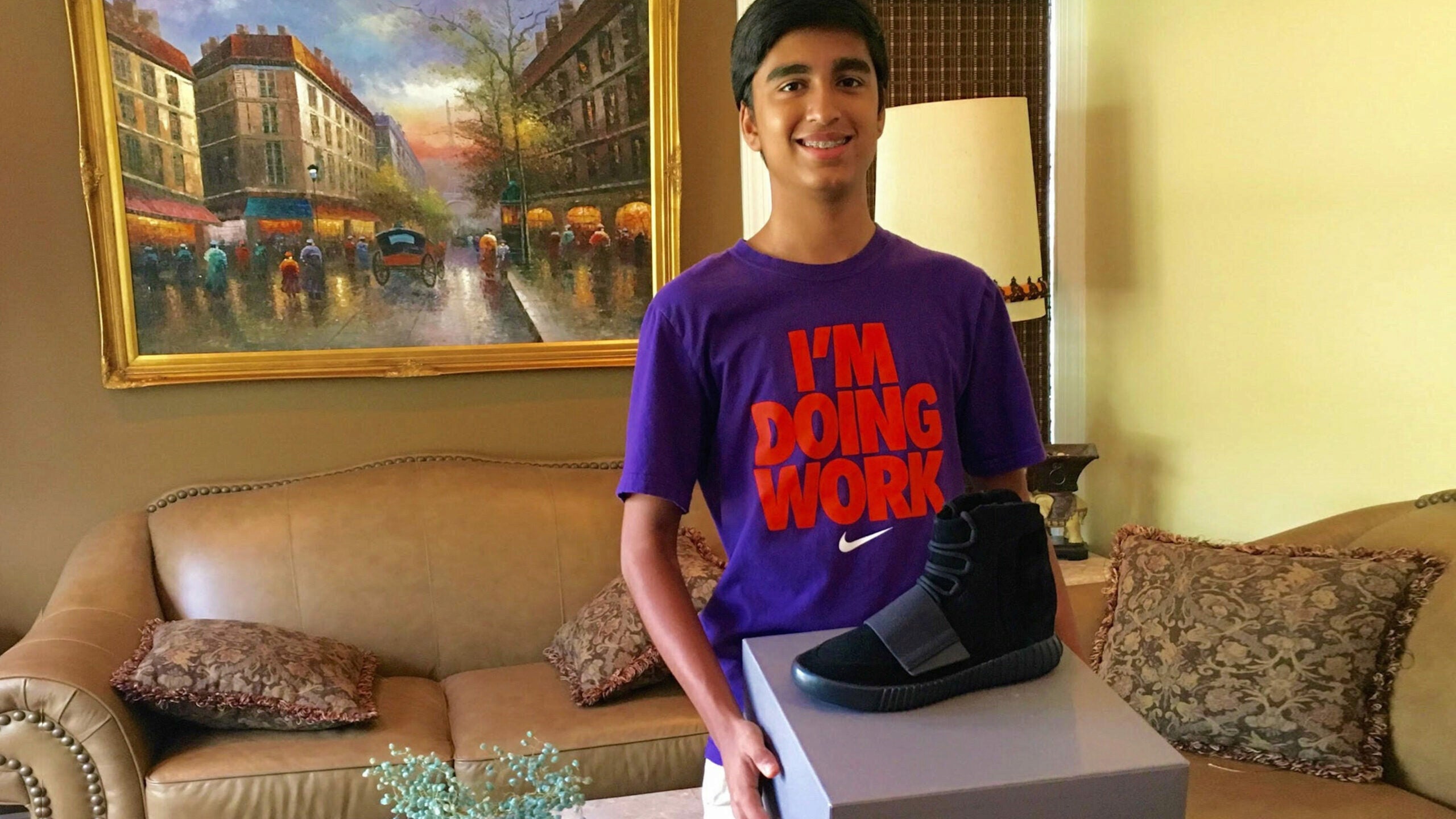 Update: We were excited to see Srijan featured in 2019 in this YouTube video . Thanks for first sharing your story with us, Srijan!
Srijan Sharma responded to our recent outreach for student entrepreneurship stories by contacting us to say, "I would love to share my experiences maintaining my online business with the readers of the KWHS business journal!" So, whether you have heard of the Adidas Yeezy or not, here is a tale in entrepreneurship and shrewd market trading.
The popularity of limited-edition sneakers has turned certain shoes into must-have purchases – and it has turned Srijan Sharma, 15, from a mere wearer into an expert in aftermarket sales. And he's done it all by using social media as the platform to attract customers and resell the shoes for big bucks. How big? He says he's earned thousands of dollars in profits.
Sharma, a soon-to-be sophomore at Robbinsville High School in Robbinsville, N.J., has made finding, buying and reselling elite runs of Nike, Adidas and Jordan footwear his business at Trunxs Kicks, his resale shop. Sharma buys multiple pairs of the most in-demand sneakers – consider Nike's popular Basketball collection featuring signature shoe models from superstars like Kevin Durant, LeBron James and Kyrie Irving — and resells them for way more than he spent. A $200 pair of shoes will usually go for at least $400, he says, but sometimes they can sell for $1,000 or $1,500 a pair. The Nike Air Yeezy II Red October, a shoe designed by rapper Kanye West, currently captures around $4,000 a pair.
Aunt Pearl and an Idea
It all started three years ago when Sharma, then in junior high, bought a pair of Nike Kevin Durant 6 Aunt Pearls. "I was interested in this sneaker because it paid homage to Kevin Durant's aunt, who died of breast cancer," says Sharma.
He knew that the major sneaker companies put a few limited-run releases on the shelves each year. It didn't take him long to discover that the sneakers, even used, could be resold online to help him recoup his initial investment.
From there, he began to increase his profits by buying and selling shoes in their original condition. "These sneakers are popular for their 'snob value,' and also genuine collectors buy them as proud collectible pieces," notes Sharma, who was first lured to limited-edition sneakers as a basketball and tennis player. "The aftermarket popularity is driven by extremely high demand and non-sufficient supply. Just like any other collectibles, such as pieces of art, old coins or rare stamps, these sneakers have an aftermarket for the people who love them. Young males all the way to grown adults buy them. Asia, especially China and Japan, has a huge aftermarket for limited-edition sneakers. Ironically, most of these shoes are actually manufactured in China and get rerouted to affluent youngsters in China who pay premium prices to own them."
Sharma has developed a successful acquisition strategy. He started with the tried-and-true method of camping out at stores to get the shoes. It was a great way to experience the nuances of the limited-edition sneaker culture – and to convince his dad that Trunxs Kicks was a smart idea. "Once, I requested my Dad to take me to a Manhattan store to pick up a well-sought-after sneaker model. He was very reluctant," recalls Sharma. "After a lot of negotiation over the dinner table, he agreed and was surprised when I bought the pair for $230 in-store and immediately sold it within minutes to another person in line for $900."
But traveling to bricks-and-mortar stores was not always possible, so Sharma transitioned to buying and selling online. He spent a few hundred dollars to buy a computer program "bot" that would scour websites and buy the shoes quicker than any human could click on the mouse and secure a pair. "It comes down to a game of nanoseconds," says Sharma. "When one person would be adding shoes to their cart, I would be checking out."
His inventory stacks up in his bedroom – typically 20 or 30 pairs — until he can sell the shoes and ship them back out. "Monthly purchases can vary between 30 to 40 pairs, depending upon the number of releases," says Sharma. "Most of these I sell even before they reach me. My biggest learning curve has been to fine-tune the timing of my selling decisions. The formula for commercial success is very simple – buy low and sell high. However, the implementation of this is very tricky. I have made my fair share of mistakes by selling earlier than I should have. In this market, knowledge of when and where the [sneaker] release is going to happen is key. I leverage my network to know. Although the timing of selling is important, it is buying the right models at the right times that is critical."
He adds that, much like someone who plays the stock market, he sometimes follows his gut to decide whether to sell or hold certain models. For example, Sharma has been holding on to 10 pairs of Adidas Yeezy, which he bought at an average of $250 each. These shoes are currently selling for $1,500 a pair in the aftermarket. "This market is very competitive, but is still a niche area where only the passionate and knowledgeable operate," says Sharma.
Retweets and 'Sneakerheads'
To reach buyers, Sharma hired someone to build a website, but has found that using social media, largely Twitter and Instagram, is a more effective strategy.
After he purchases new shoes for resale, Sharma posts photos to his Twitter account and website. People respond quickly with their offers, and then he uses his negotiation skills to meet on price. "I don't even need my website," he says. "A lot of people are fine with just sending me money over PayPal or Venmo, and they know I'm reliable. Or they can (direct message) me and say they're interested in that show and size, and negotiations can begin [on price]." Many of his 3,000 Twitter followers are "sneakerheads" who pursue the buying and selling of limited-edition sneakers as a full-time business.
Sharma's use of social media as an ecommerce platform is putting him on the cutting edge of what platforms like Facebook, Instagram and Twitter are trying to do – get people on their service and keep them there to do their reading, shopping and chatting. Most of the major social media sites have rolled out the ability for users to purchase products with a "buy button" that appears directly in the post. Although Sharma's not using that tech yet, he is putting his shoes on the most popular platforms for teens.
"The networking aspect of social media has been a big contributing factor to my success," he says. "I try to get as many retweets as I can. Usually each tweet will have between 5,000 and 10,000 views. Once I had a good reputation and long-term followers, they [now] only come to me for their sneakers."
In this business, one skill prevails over reputation-building — time management. "I'm always organized with my time," says Sharma, who also excels academically. "Instead of playing Xbox or doing other things, I'm spending my time investing into growing my business. Effective time management is the key to success in any field. After all, each one of us gets the same 24 hours a day. It is how we use this time that differentiates leaders from followers."
From here, Sharma is using his sharpened business and finance prowess to take the natural leap into stock market trading. "I am already using the skills I have learned in the sneaker business to actively trade stocks," he notes. "They are both about buying low and selling high."
Related Links
Conversation Starters
Do you own a pair of limited-edition sneakers? Were you aware of the aftermarket for these shoes, both new and used? How does this change your perspective on owning a pair of limited-edition sneakers?
What are three ways that Srijan Sharma has been able to build his sneaker business? Has he made any mistakes along the way?
What does this story tell you about supply and demand? What happens when supply is low and demand is high?
Are you a 'sneakerhead?' Log in and share your insights in our comments section. What else would you like people to know about the limited-edition sneaker market?