Brand, Image and How Pizza Innovators 'See the World'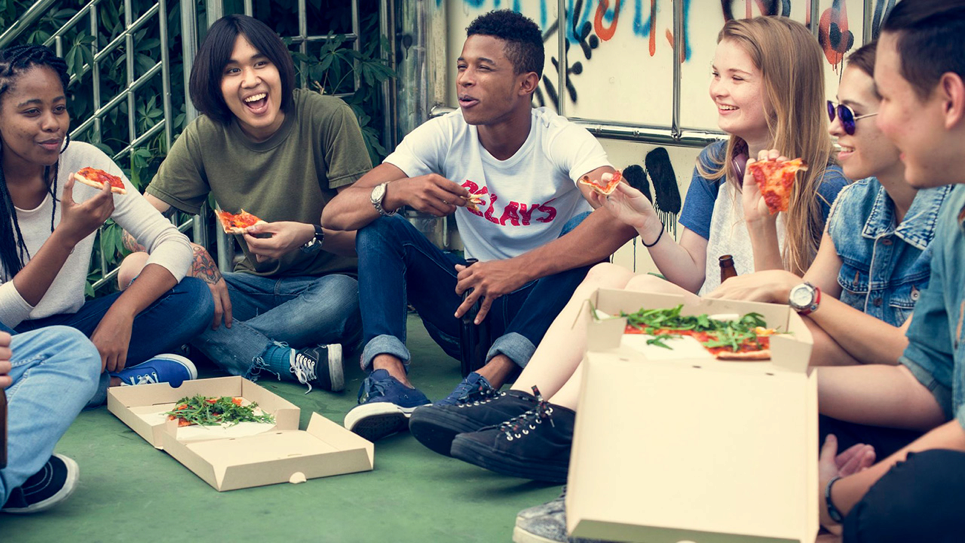 The pizza industry generates around $45.1 billion annually in the United States, according to PMQ Estimates, and accounts for nearly $134 billion abroad, according to Euromonitor. Thirteen percent of Americans consume pizza on any given day, and there are approximately 75,243 pizzerias in the U.S. in 2018, according to CHD Expert. While this cheesy dish is often used as a classic example in high school economics to illustrate the law of diminishing returns (the third slice rarely tastes as good as the first), there are also many unexpected but profound lessons to be learned in the business world from that slice in your hand.
Here are key lessons we can take from innovative pizza companies like &pizza and Domino's, and some pitfalls to avoid with snafus like Papa John's.
&Pizza: Tackling A Market Ripe For Disruption
There's not been a company as young, rebellious, and disruptive as &Pizza in recent years. As a self-described "anti-establishment establishment," &pizza was created in 2012 by Michael Lastoria and Steve Salis. The chain sells oblong, flatbread-esque pizzas made to order in the restaurant, with unique flavors like American Honey (spicy honey on pepperoni) and seasonal flavors like The Extra Helping (short rib, mac and cheese, and pickled red onion).
According to Lastoria, &pizza creates intense loyalty with its customers by focusing on creating a strong brand through embracing individuality and freshness. &pizza's unique, rebellious brand image attracts young customers and millennials, as does its unusual marketing tactics, like a promotion where &pizza promised a year's unlimited worth of pizza for the first 22 customers who got a free permanent tattoo of its logo, the ampersand.
"We're not as buttoned-up and polished as some other companies are, but we're uniquely us, and it's how we see the world — that's our vision, and &pizza's vision of a pizza shop," Lastoria told Fast Casual.
Domino's: Staying Ahead of the Tech Curve
Domino's, the Ann Arbor, Michigan-based pizza company, faces regular competition from similar chains like Little Caesar's, Papa John's, and Pizza Hut. However, Domino's has made a name for itself with its love for innovation and embracement of the latest technologies. With a value proposition that emphasizes convenience for customers, Domino's has gone above and beyond as a business to make sure those key needs are met.
The company's willingness to think outside of the box and utilize tech to solve problems can be seen in initiatives such as Domino's DXP vehicle, which introduced cars with warming ovens that could store up to 80 pizzas each and deliver them faster and fresher to customers. In recent years, Domino's has also experimented with self-driving cars to deliver their pizzas. Demonstrating true ownership of the delivery space, Domino's was also the first company to introduce an online live pizza tracker, which let people know what stage their pizza was in and when they could expect it delivered to their doorstep.
Pizza Hut: Marketing to International Customer Tastes
While pizza is a food with Italian origins and an American fan-base, it is also wildly popular around the world, from France to Indonesia. To the average American, pizza joints are a building block of the fast food landscape — simple, cheap, satisfying, and no-frills. However, these same fast food companies often have completely different brand identities, brand personality, and product offerings abroad, and it takes smart business leadership to understand and target these markets properly.
Take Pizza Hut, for example — in the U.S., it's considered your basic fast food pizza place, but in Asian countries like China or Korea, you may not even recognize the brand. In Beijing, China, Pizza Huts are full-service, sit-down restaurants, with elaborate plating and menu items like fig cranberry pizza, roe stuffed shrimp balls, and even Durian pizza. Families might go visit a fast food restaurant like Pizza Hut or Kentucky Fried Chicken as a fun excursion or a treat on weekends, rather than just for your average Wednesday night meal when you don't feel like cooking.
American fast food brands often translate to a more upscale dining experience in developing countries, as they serve as a passport to a foreign mode of cuisine, and a sort of novelty. Pizza Hut's willingness to embrace market differentiation teaches a good lesson on how understanding different markets is the key to successful expansions. Different target groups, such as Chinese customers versus U.S. customers, may require a completely different approach to product design, marketing and execution.
Papa John's: A PR Disaster Hurts Sales
Papa John's has had a pretty rough year in 2018, thanks to a negative news scandal that surfaced about the company. In July, the pizza chain's founder, John Schnatter, was reported to have uttered a racial slur in a private meeting, leading to national boycotts of the brand. In November, Papa John's is still struggling to bounce back according to CNN, with same-store sales in North America falling by "9.8% in the three months ending in September."
In a corporate landscape that is becoming increasingly political, Papa John's mess-up shows clearly the steps that all companies, even pizza stores, must take to ensure a clean brand image that does not alienate customers in any way or destroy the unity of company values. CEOs and founders play an integral role in representing a company, so when they fall from grace, the business's bottom line suffers.
Schnatter resigned after the scandal, and Papa John's has since attempted to mend its image with an inclusive ad campaign highlighting diverse employees, as well as a mandatory bias training program for its 14,000 team members.
Related Links
Conversation Starters
What would you have done if you were in charge of improving Papa John's image after its PR disaster, and do you agree with the steps that the company took?
What's your favorite pizza place? What innovation have they introduced that makes their brand appealing? Share your stories in the comment section of this article.
What are three key business takeaways from this article?