Wharton School Dean Erika James Prepares You for Crisis Leadership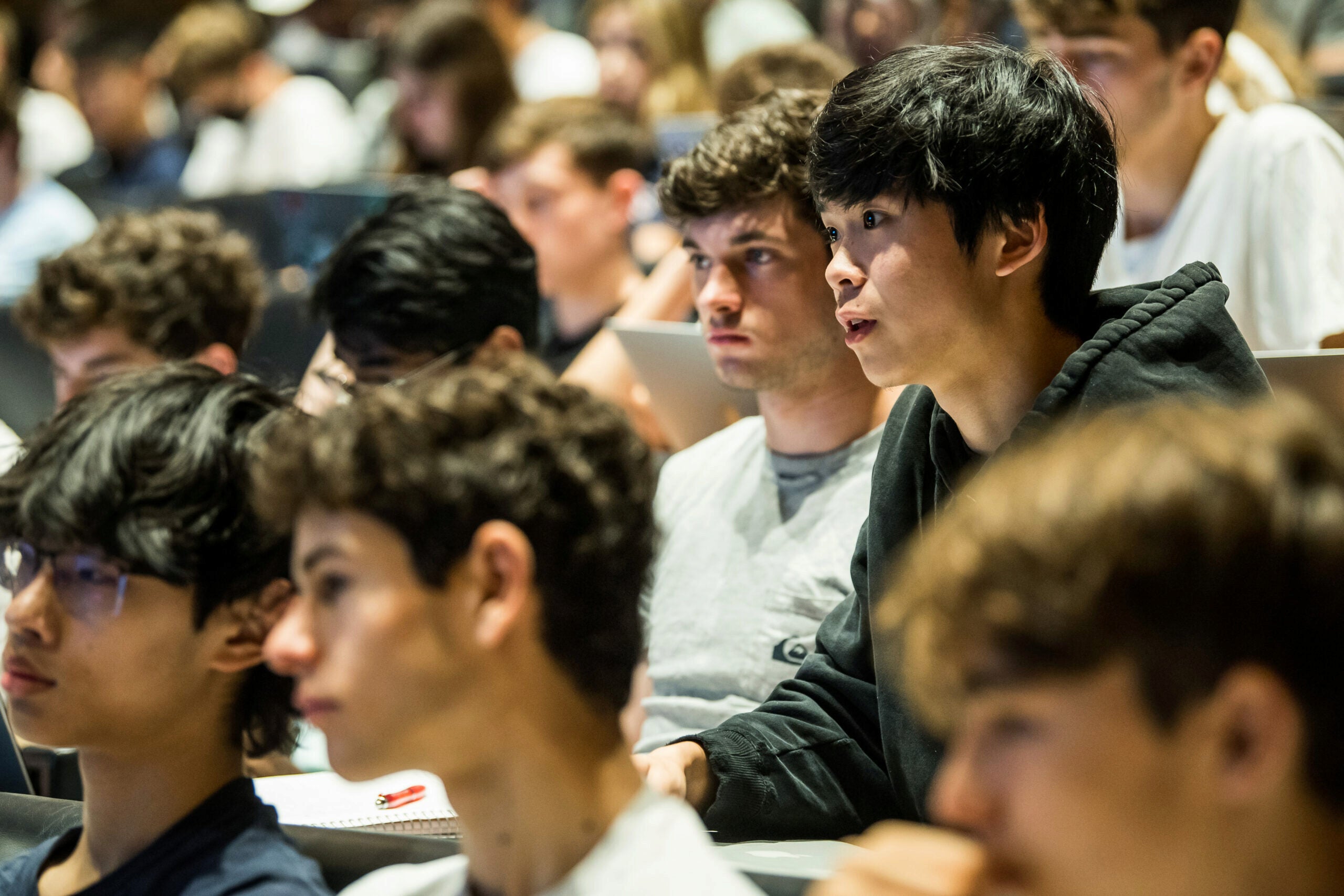 The business world often talks about the triple bottom line of people, planet and profits, which is to say a company performs well financially (the standard bottom line of profits), treats its employees and the community well, and takes care of the environment.
Erika James, dean of the Wharton School of the University of Pennsylvania, suggests that you add a fourth bottom line to the diagram of business success: prepared leadership.
"Prepared leadership is what will determine your ability to lead through the next crisis," writes James in her book The Prepared Leader: Emerge from Any Crisis More Resilient Than Before (Wharton School Press, 2022), which she co-authored with Lynn Perry Wooten, president of Simmons University. "Prepared leadership is the one determinant that will help you navigate uncertainty – even chaos – in order to shape better outcomes and a better outlook for you and your organization."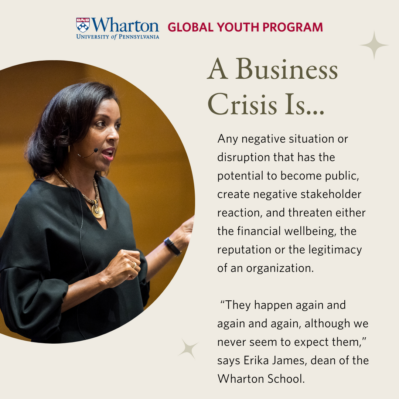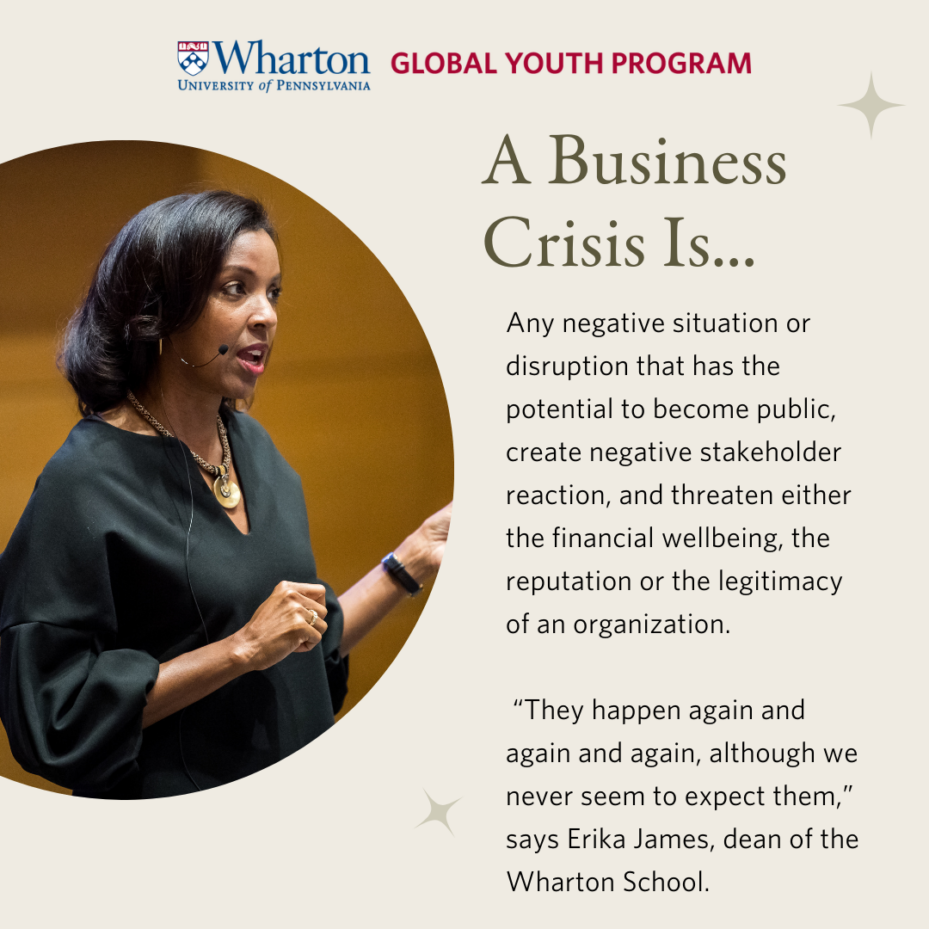 Dr. James, an expert in crisis leadership, spoke recently to hundreds of high school students studying on Wharton's Philadelphia campus with the Wharton Global Youth Program, whose mission is to prepare tomorrow's business leaders.
Someday, she told the group, you are going to be leading workforces where problems and crises emerge. "As a crisis leader, sometimes you've got to do the nuts and bolts of fixing a specific problem, but so much of that leadership is also how you engage with the people you are working with," said James to the audience of high school students. "It's not just how you respond when something happens. It's what you do to prevent something from happening and to create the kind of work environment that allows people to flourish."
James pointed out during her lecture that there are things that happen before leaders get to the point of battling a crisis – especially if it's a kind of smoldering crisis that emerges over time — and things that happen afterward. In their 20 years observing and researching crisis leadership, she and Dr. Wooten have identified five phases that characterize crisis management. They are:
💥 Signal detection. "One of our core responsibilities is to pay attention to what's happening in the environment that lets us know that we might be experiencing a smoldering crisis. What are the cues? What are the small, errant issues or problems that seem insignificant, but if we're really paying attention and we're looking at data from all sources within the organization, we might realize we've got a bigger problem here?" said James. "Your responsibility as a leader is to engage in signal detection and to read what is happening in the environment to give you insight that you might need to take action to prevent something from happening."
💥 Preparation. "There are a lot of biases that exist in our heads that prevent us from ever thinking about anything going wrong," noted James. "We think, 'That is never going to happen to me! My company is never going to have that experience!' When we have these biases and we assume we are invulnerable to problems or crises, we never prepare for them. Which then means we are on our back heels when something does in fact happen."
💥 Containment. "This is the essence of what most people think about when they hear the word crisis management," observed James. "There's a problem, there's a crisis that hits. You immediately have to contain the problem. You have to engage in damage control. That is a necessary, but I think insufficient, part of our responsibility as leaders. Of course you've got to fix a problem once it happens. But if that's all you do, then you're missing out on your ability to think about what you can do to take initiative before the crisis hits or even after the crisis hits."
💥 Business recovery. "During the pandemic we heard, 'I can't wait to get back to business as usual. I can't wait to get back to the way things were. If we could just go back to pre-2020,' recalled James. "The reality is once you've experienced a crisis, it's never going to be the same. And you've missed the opportunity to execute on a strategy that would take you to a different level, which is what your competitors have been doing all along. Business recovery is thinking about how to elevate and leapfrog ahead, given that you've had this restraint."
💥 Learn from the crisis. "Lastly, your responsibility as a leader is to help your organization learn from the crisis," said James. "Make lemonade out of lemons. You must stop to reflect on what you've experienced and what new you have learned. If we don't reflect and learn from the pandemic, for example, then we're not going to be able to take advantage of those experiences to create something new going forward."
Without effective leadership, the impact of any crisis will always be worse, stressed James, who has put her own research to the test since becoming the leader of Wharton at the very start of the pandemic.
Successful crisis management, she added, is related to the work environment you establish. "To me, one of the fundamental responsibilities of a leader is to generate trust within the organization," said James. "That means that you have to demonstrate yourself to be a trusted leader, both competent in what you do and that you communicate truthfully and follow through on the things you say you're going to do."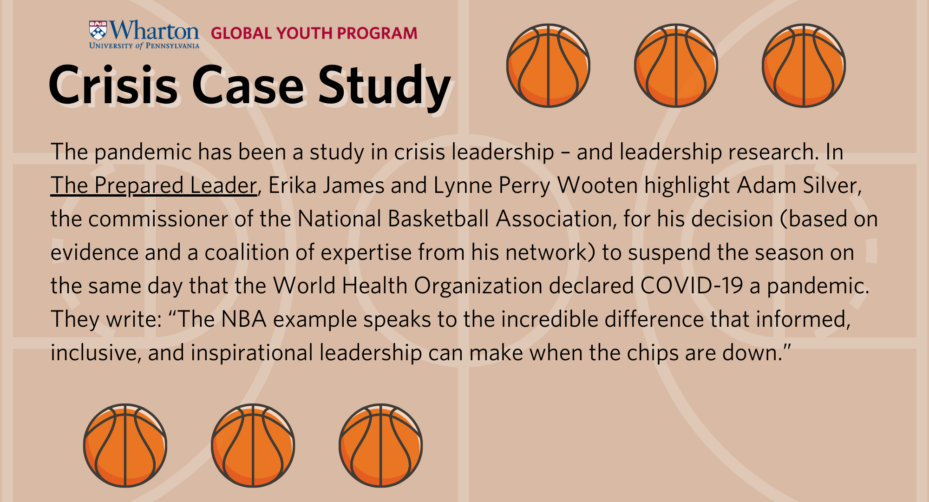 Conversation Starters
What is crisis leadership and why is it so important?

Erika James says, "Your responsibility as a leader is to help your organization learn from the crisis." What have you learned from a recent crisis, either business-related or otherwise? Share your insight in the comment section of this article.
Why does Dr. James say, "Prepared leadership is the one determinant that will help you navigate uncertainty?"