How Will AI and Hybrid Work Change Your Job?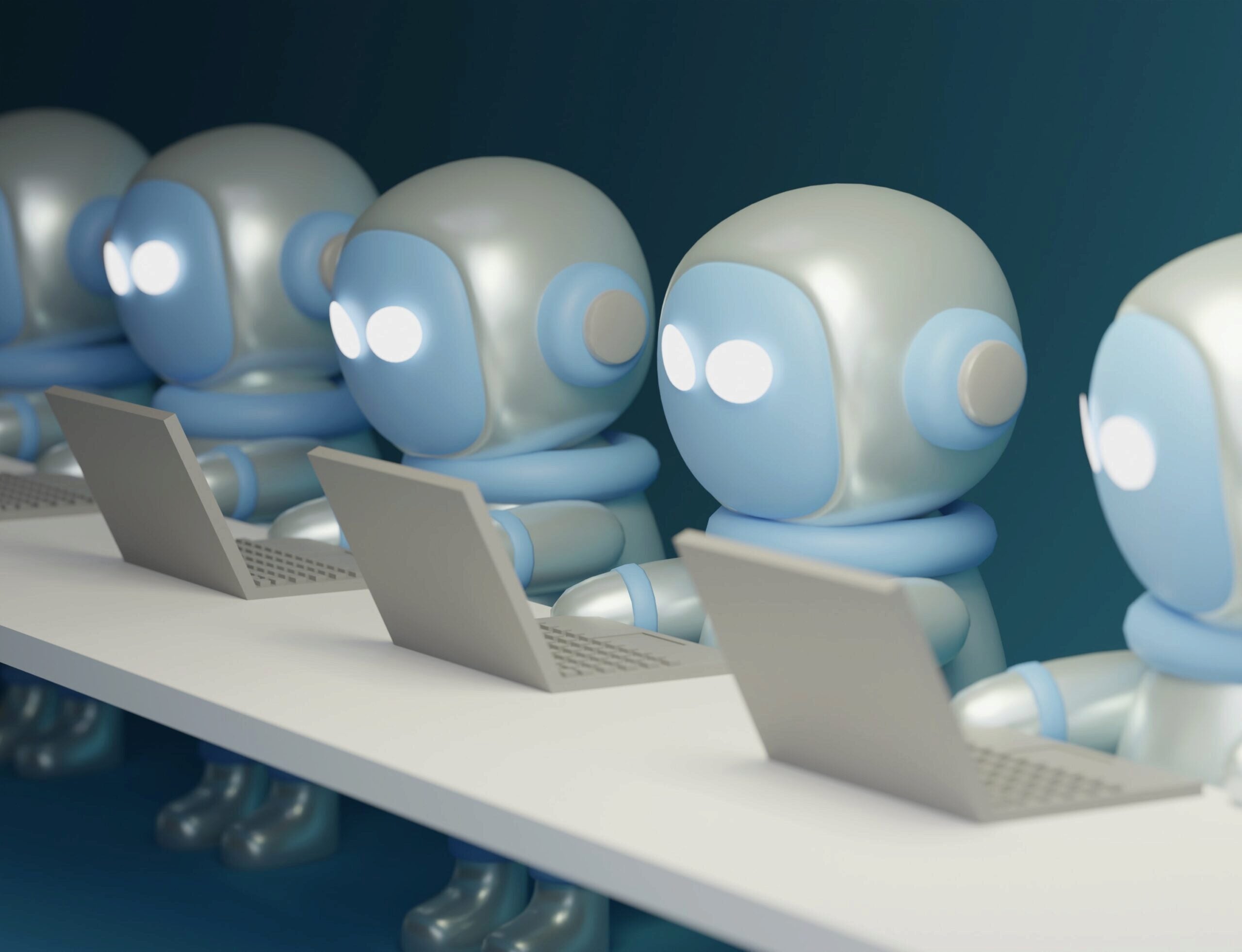 Nikita Q., a high school junior from Washington state, U.S., already has a clear vision of where she fits into the future of work. The 17-year-old Wharton Global Youth Pre-baccalaureate student aspires to be an artificial intelligence (AI) ethicist, exploring and problem-solving how society can responsibly use advancing tech.
"I decided that I wanted to be a lawyer, but I didn't really have a path in mind. With the release of ChatGPT and the recent AI explosion, a new possibility showed up," says Nikita, who is immersing herself in all things data and analytics as she builds her AI subject-matter expertise. "I began to look into artificial intelligence and realized how innovative and awe-inspiring it really is. It is human nature to be curious, creative, and innovative, but with this we should be careful not to lose our morality and potentially endanger the human race. I want to work on the policy side of law and make sure we continue to innovate, but in a safe and ethical way."
The Robots Have Arrived
Nikita, recognizing that we have entered a life-changing era of computer-generated intelligence, is embracing the transformative power of AI as she envisions her future employment. The AI revolution is not just informing what we pursue as a profession, but also how we do the work once we get there. AI is one of two powerful forces that is reshaping the future of the workplace, and the other is hybrid or remote options (working some days in the office and others from a remote location, like home).
With AI, people are considering the worker impact of products like ChatGPT, as well as robotics. Will these ever-smarter machines replace employee skills and force people out of their jobs? What are the implications for how we approach our work tasks?
"Every time we see a technology that could potentially change the way we work, change our lives, there's a human visceral reaction to it," notes Lynn Wu, a Wharton professor who studies the implications and influences of cutting-edge technologies on the workforce. "We tend to overestimate what the technology can do, and we think, 'I'm going to lose my job now.' It's really important to take a step back and figure out what that technology is doing before we make any decisions."
Dr. Wu's research does just that, analyzing the effects of robot adoption on employment at the company level. She draws some conclusions about whether businesses lay more people off because technology promises to do their jobs more efficiently, or they hire more people to operate and support these technologies. "We found that robots did not replace human workers," notes Wu. To learn more about her research, visit the Rise of AI: Are Robots Taking Our Jobs episode of Knowledge@Wharton's Ripple Effects podcast.
"I'm skeptical about the argument that the computers are going to do it all for us."
–Dr. Matthew Bidwell
Matthew Bidwell, a Wharton professor of management, agrees that automation has historically not forced jobs to disappear altogether, but instead shifted the responsibilities related to those jobs. "AI could be a huge change for the future of work, or it could be much more incremental," he suggests, pointing to professions like lawyers, copy editors and writers as examples of where generative AI (ChatGPT) will likely have major influence.
"There are big questions about how quickly these new AI models will continue to improve and become more reliable," Dr. Bidwell adds. "The most terrifying prospect is that we see a shift of high-skill cognitive pay going to the people who own these AI models. You end up with this tinier class of people who are being paid for running the models and everybody else is doing drudge work (a sci fi scenario). I'm skeptical about the argument that the computers are going to do it all for us. Even if the computer is writing most of the code, a high-level understanding of what's going on there, what code can and can't do, and when it is working well is valuable."
These are among the questions and scenarios that aspiring AI ethicists like Nikita will need to tackle.
Productivity and Relationships
Dr. Bidwell is certain, however, about the effect of AI on the bigger economic picture. "The positive is obviously that AI makes us more productive," he says. "If it's quicker to do things, we can get more done. That's a good thing. A big challenge for the richest parts of the world has been that productivity growth has been fairly slow over the last 15 to 20 years. Ultimately, as a society we get richer because we're able to do more per person than we used to be able to do."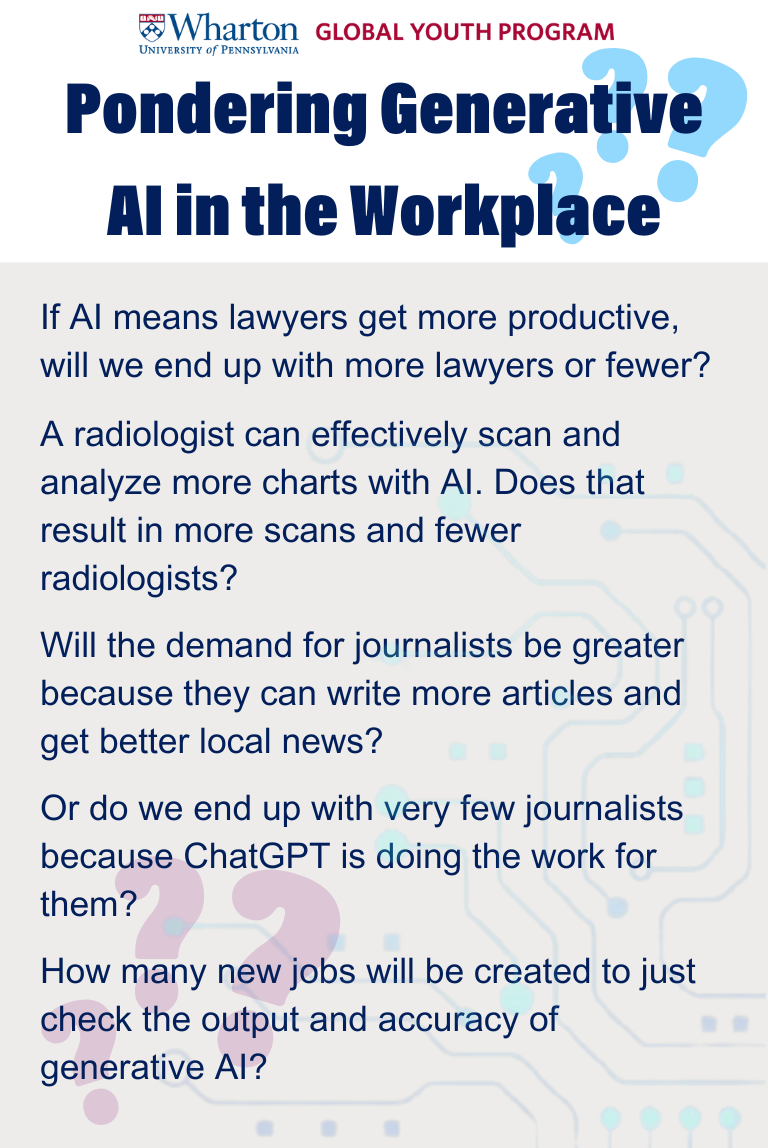 Productivity is also a consideration as companies think about where employees will do their best work in the future. The potential for more hybrid work has grown an enormous amount in the past several years, prompted by the pandemic, says Professor Bidwell. And it has sparked conversation and debate among business managers. While they may want employees in the office all the time, that is not necessarily the ideal model for employees and companies to thrive.
"We had this default assumption that you had to be in the same place to work together. And we don't have that assumption anymore," Professor Bidwell observes. "Something we underestimate is that pretty much all the work we do is interactive in one way or another. You work in a company because you need to take the input from somebody else in the company and you need to provide output to another person in the company; what you do affects others. Everything we do is around interaction and interdependence. The positive is that hybrid work starts to put more of a spotlight on that kind of interaction. There's some work I can do independently and there's some work that we need to do together. Where should I do each of these pieces of work?"
Your future of work will probably involve a mix of at-home and in-office demands, suggests Dr. Bidwell. He also believes that employees' workplace needs change at different times in their careers. Early on, for example, building strong relationships is super valuable. "High school students should understand the value of being together in the office," he notes. "People worry that we lose things when we're not together in the office: there's less mentoring, less development and fewer opportunities to learn from people. When you're starting your career, those networks are really important."
Conversation Starters
Like Nikita, are you thinking about pursuing a career path related to the AI revolution? Share your story in the comment section of this article.
Dr. Bidwell worries about a society where "a tinier class of people are being paid for running the AI models and everybody else is doing drudge work." What worries you about the impact of the explosive growth of AI on work and society?
The pandemic made us rethink the way we do so many things that we have done the same way for very long: like the "default assumption" that we had to be together in the same place to work effectively. What other business systems and operational approaches might also be ripe for change?