Students Explore the Design Research Process in Our Product Design Academy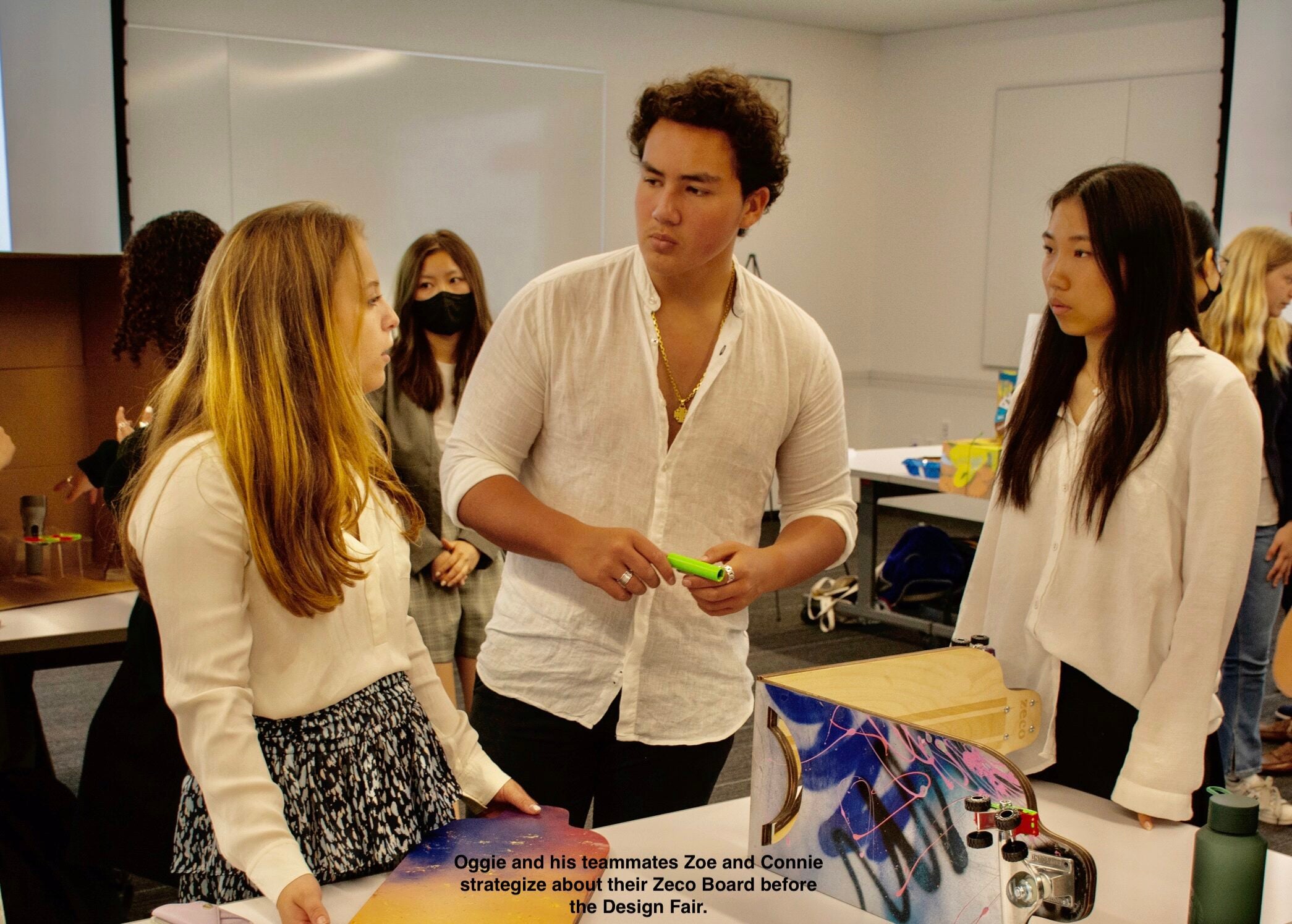 It's a summer Friday on the Wharton School's Philadelphia campus and the hallways around Wharton's new Academic Research Building are popping with activity. More than 50 high school students on 13 teams have come together to present at the Product Design Academy Design Fair (formerly Essentials of Entrepreneurship), which is a few frenetic hours of product showcasing and pitching that signify the culmination of three weeks of ideating, creating and refining during Wharton Global Youth's summer entrepreneurship program.
'Live More, Worry Less'
Program leader Taylor Caputo welcomes visitors to the fair and gives a quick introduction above the din of student voices. "They've been working in teams over the past three weeks to solve a problem they've identified," says Caputo, a product designer, artist, and academic with a background in fine arts. "They've been using the design research process to think of ways to solve that problem, brainstorm ideas and then prototype and test those ideas with their classmates. In the Design Fair, each team has a prototype. They've been utilizing the studios at Venture Lab [the entrepreneurship center at the Wharton School], which is a university-wide maker space and workshop that I run. They've also learned some Pad designs to laser cut and 3-D print."
A few steps inside the classroom and the passionate pitches begin. "In our research we found that the average person forgets four things a day. That means four times a day people are unprepared," says Sophie W., a junior from Pine Crest School in Fort Lauderdale, Florida. "That's why we invented Remembo, a solar-powered, customizable key chain that you can add your initials to. It connects to sensors that you can put on your items. You make a checklist in our app and then, if you're missing something from your checklist, you'll get a notification on your phone sending you a reminder to pack it. We created this so you can live more, worry less and always be prepared."
"You have to understand the people you are trying to sell to, instead of just thinking of a new invention or a cool idea." -Tristan R., Product Design Academy student
Each team's designs, prototypes and pride infuse the Product Design Academy Design Fair with an undeniable entrepreneurial spirit. The high school students are echoing the energy of three weeks of innovative thinking and Venture Lab collaboration, as well as lectures and presentations from Wharton faculty and instructors.
Everyone, from the team of Twist and Tie shoelace innovators to the developers of an app that allows you to leave your spot in a long line, are eager to share the experiences that helped them grow as entrepreneurs.
For Sophie W., communication is the key takeaway. "A big part of our teamwork was understanding where our skillsets were. We had another idea, but it wasn't necessarily tailored to our skillsets as much," she notes. "We had a big discussion about that and decided we could really show what we were good at with Remembo. It was a problem we could all relate to."
'No Idea Is a Bad Idea'
Across the room Team 6 is pitching to anyone who will listen. "Do you ever get toothpaste mess on your counter and in your drawers? Our product is Everything But the Counter, a revolutionary way for you to clean your teeth." The team demonstrates its laser-cut prototype, into which you screw a tube of toothpaste, fill the hatch with water and pump out the paste to eliminate wasted toothpaste and cluttered counters.
While product creation was fun, admits team member Tristan R., the design research process was especially revealing. "Researching our user base was everything," says Tristan, a junior from The Waterford School in Sandy, Utah. "You have to understand the people you are trying to sell to, instead of just thinking of a new invention or a cool idea."
Surveying potential users (often their classmates) also provided the team with some surprising intel for positioning their product. "We walked into this thinking that toothpaste waste was a big problem," adds Sophia M. from Hollywood, Florida. "But what we learned was that people are conscious about water waste instead. That changed how we thought about our product."
The importance of user feedback led another group, Team 12, to brainstorm more than 60 questions they could ask potential users of their foldable longboard with a cutout handle, which they call Zeco Boards. And even more time was spent ideating. "It was quantity over quality in terms of generating actual ideas," says Augustus "Oggie" H., a junior from the Bishop's School in La Jolla, California. "From there, once you have one good idea you can start building your prototype. No idea is a bad idea."
Oggie and his teammates recall how they were excited when they walked across campus with their prototype tucked under their arms and people wanted to know where they could get that cool portable longboard.
So, do they have plans to commercialize? Not so fast, says Oggie, who is clearly thinking like a product designer. "We would make way more prototypes first before going anywhere with this," he explains. "Because every time we do, we find something to improve upon."