The 2019 Investment Competition Region 3 Finale Features a Yeti and a Whole Lot of Talent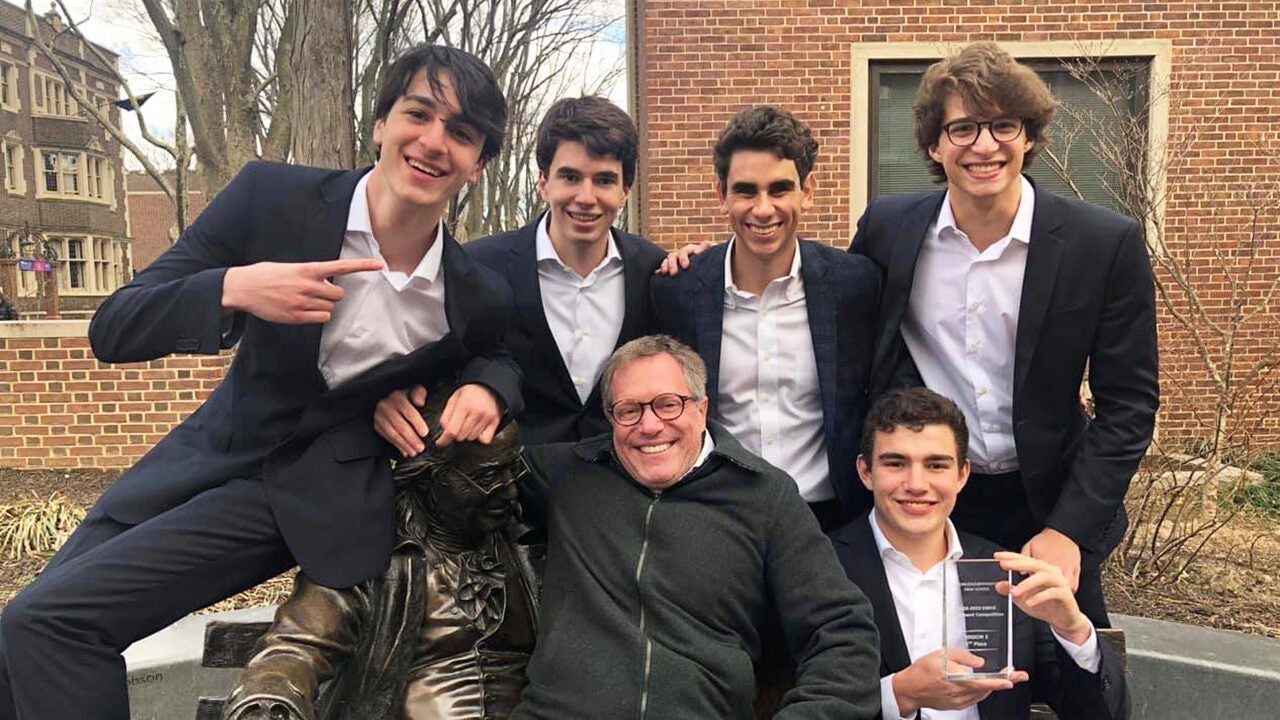 Madeleine Roberts admits that the thought of competing in the KWHS Investment Competition Region 3 finals gave her moments of anxiety prior to the big day on Saturday, March 16. Even so, her fears quickly subsided as she stepped off the elevator onto the 8th floor of Wharton's Jon M. Huntsman Hall in Philadelphia and began to survey the landscape. "The worst part by far was all the time leading up to the competition," said Roberts, a junior at Maclay School in Tallahassee, Florida, U.S., who led the four-student competition team, Yeti Investors. "Once we saw the room, I felt very relieved. It wasn't the giant, cold lecture hall I was expecting. We were very excited to share our strategy, and that seemed to lessen the fear of presenting."
That kind of confidence and enthusiasm, developed through 12 weeks of absorbing new investment concepts and strategies, and then packaging them into colorful and compelling presentations, was a signature trait of all 12 student teams competing in the Region 3 finals last Saturday.
The event, the third of three global semifinal rounds in February and March to identify the top nine teams to advance to the competition's Global Finale at Wharton in May, brought together more than 100 students, teachers, parents, professionals and supporters from several different countries within the boundaries of the competition's "Region 3," including Brazil, Canada, the U.S. and the U.K.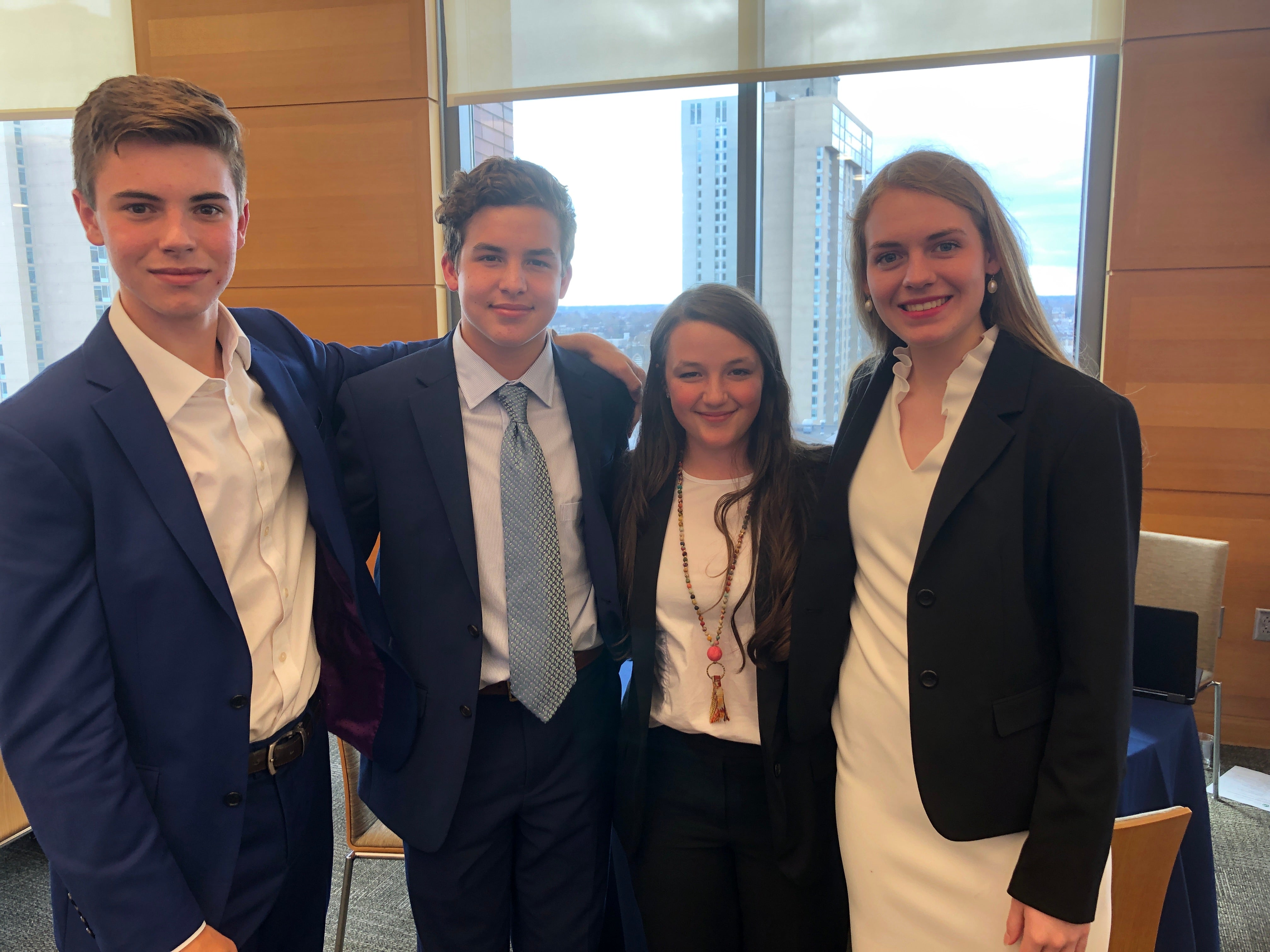 The 12 teams each delivered powerful 10-minute strategy pitches, navigating P/E ratios, share prices, SWOT analyses and macroeconomic trends with ease and conviction. And they all survived – if not thrived — through five minutes of provocative questions from the four industry experts invited to sit on the March 16 judging panel. Those professionals were: Matthew Carlone, a certified financial analyst and Wharton MBA candidate in finance; Heather Crist, divisional director of the Midwest Region for UBS Global Wealth Management; Caitlin Cronin, junior analyst with Aberdeen Standard Investments; and Mukund Rao, senior technologist at Wharton Research Data Services, which operates Wharton's OTIS Online Trading and Investment Simulator.
In the end, Roberts' eagerness to share her team's strategy projected well to the judges. The winners of the 2019 Region 3 Finale were:
1st Place: EVA (Eagles Value Added), Graded American School of São Paulo, São Paulo, Brazil
2nd Place: Yeti Investors, Maclay School, Tallahassee, Florida, U.S.
3rd Place: Sage Hill, Sage Hill School, Newport Coast, California, U.S.
The winners received engraved glass plaques; $500, $300 and $200 respectively for their winning schools from competition financial awards sponsor, Brickwork Ratings; and an invitation to compete against the winners of Region 1 and Region 2 during the upcoming KWHS Investment Competition Global Finale at Wharton in May.
The winning Region 3 teams had unique strategies and experiences to share in their presentations. EVA built a value-oriented portfolio for the competition's potential client Sachin Rekhi, that was customized to his long-term needs by, in part, creating a Social Value-added (SVA) evaluation model for their stock choices. "Our biggest challenge this year was looking into more complex investment tools, such as SVA and the Markowitz Efficient Frontier," the team noted. "This year's teamwork, cooperation, organization and commitment to learning proved to be essential when building a long-term investment portfolio."
Yeti Investors built a sound strategy enriched by innovation and humor, creating the character Freddie the "money-managing" yeti through which to deliver their approach and help showcase their new financial knowledge. The team's FRED quantitative, bottom-up criteria made "finding stocks in sizable snowdrifts easier" by screening portfolio stock choices through Fifty RSI (a stock's relative strength index value must be under 50 at entry point); Relative value (a stock must trade at a discount to its peers and its historic levels); Earnings (a three-year trailing earnings growth of at least 10%); and Dividends (a stock must pay quarterly, semi-annual or annual dividends). The team mentioned that they faced unexpected challenges in their competition journey when they suffered heavy power outages resulting from Hurricane Michael hitting the Florida coast.
Sage Hill's long-term strategy targeted "financially solid companies that have a strong potential for future growth." The team also specified a short-term strategy totaling 20% of its total investment strategy to meet Rekhi's annual donation to the ASPCA. The teams OMG or Operating Metrics Grade, a point system used for quantitative analysis that was similar to school GPA, looked at factors such as return on invested capital, free cash flow sales, five-year past growth and financial health to funnel out portfolio choices. A separate qualitative analysis predicted if companies would remain profitable for the next five years, an important forward-looking perspective within the team's approach.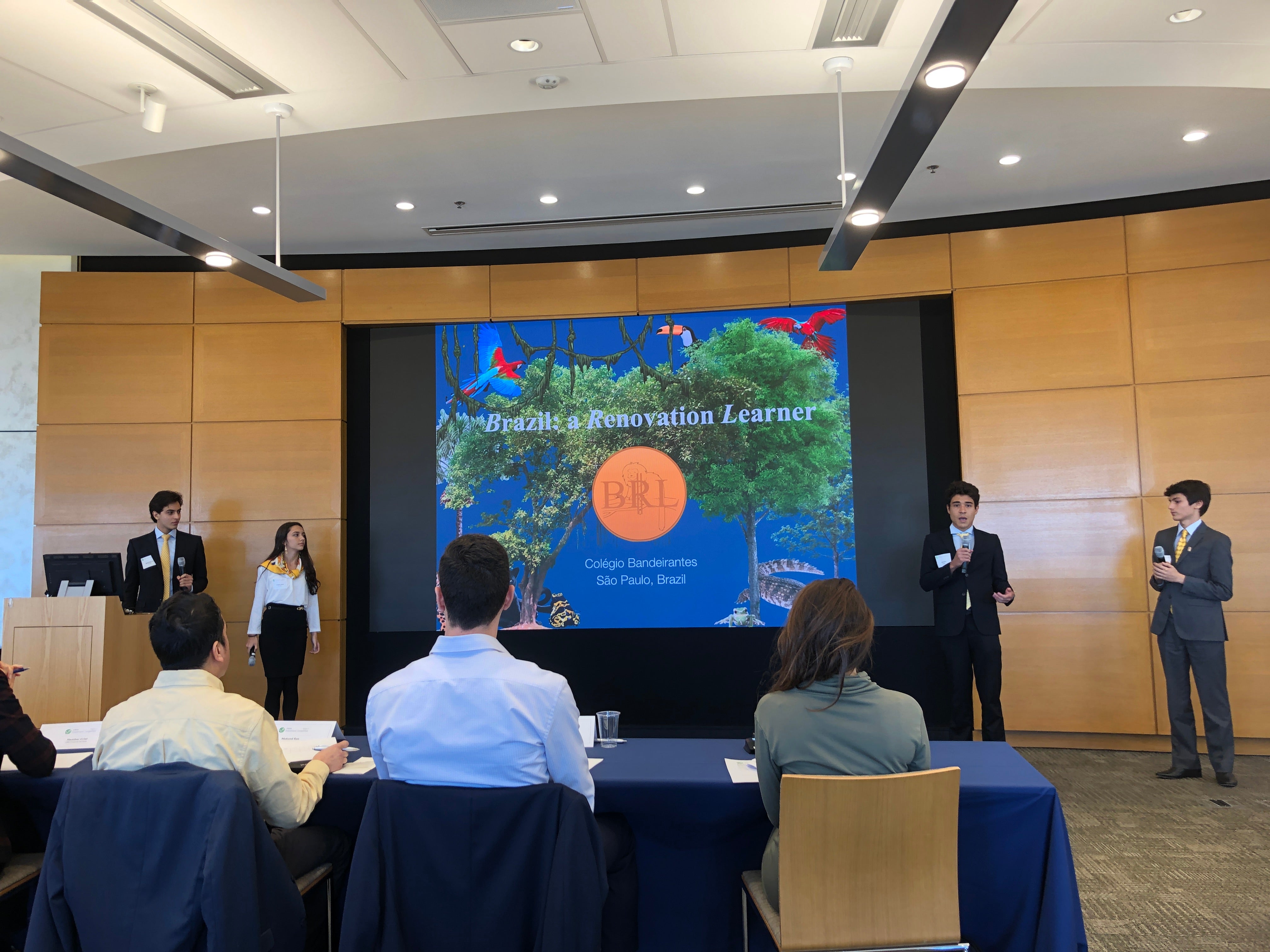 In a time of reflection during Saturday's competition, the judges all had high praise for the 12 teams' presentations and client pitches. "Your sophistication in investment knowledge is amazing," said Carlone, who also encouraged the group of novice investors to "focus on forward-looking company performance, rather than on the performance for the last 10 years" when designing a sound long-term investment strategy.
Crist of UBS urged the teams to remember their audience when developing a strategy for a specific client. "While returns and a solid investment framework are absolutely foundations of any good investment philosophy and strategy, returns only matter so much in the relationship with your client, whether it's an institutional client or, in this case, a retail client," Crist noted. "I don't think anyone mentioned Sachin's wife, Ada. Dexter the dog got some honorable mentions. What if while you were making this pitch, your client had turned to his wife and said, 'What do you think about this, they showed my picture, my quotes, only me?' You're all going to have good and bad returns. The best portfolio managers have years when their returns aren't great, but what they rely on is the relationship with their client. Keep that in mind because it will carry you through everything."
Region 3 teams were treated to a visit by the leaders of last year's Global and Region 3 winning team, All You can Eat Buffett from Virginia. Sid Muralidhar and Suchet Taori, who are now freshmen at Virginia Tech and the University of Virginia, shared insights and advice about how the KWHS Investment Competition has created new opportunities for them this past year. "Talking about this achievement can really help, whether you win or lose," said Muralidhar. "We've leveraged our success in this competition and the knowledge we've learned through this competition to get different internships and job opportunities and when talking to employers." They both advised students in the room to share their new financial knowledge with others and to step outside their comfort zones and continually try new things. For example, Sid and Suchet have combined their separate interests in finance and neuroscience to explore the field of neuroeconomics, or how brain signals determine financial choices.
Reflecting on the overall experience, Madeleine Roberts of Yeti Investors was grateful for her heightened financial awareness and knowledge. "There aren't many opportunities like this for high schoolers; the ability to gain hands-on experience with money management and investing is truly amazing," she said. "We're all very excited for the global competition. It's such a wonderful and unique experience that I feel very privileged to get to attend!"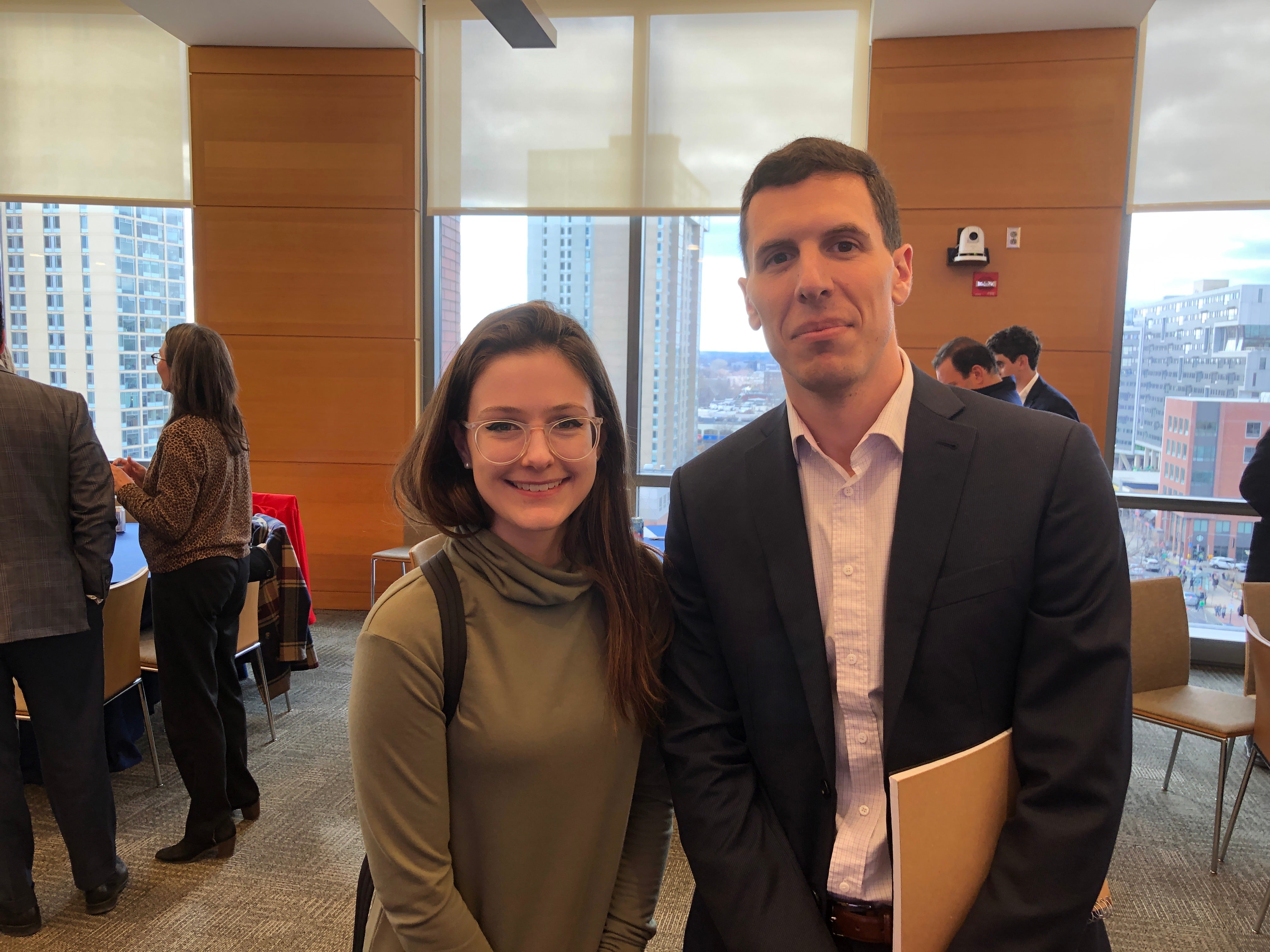 Looking ahead to the 2019 Global Finale, the stage for a competitive showcase of winning teams from around the world is now set. The following teams will be returning to the Wharton campus in a few weeks to present their investment strategies and competition highlights on May 4. They will also be invited to participate in a special learning day on May 3, which is a chance for them to learn about careers in finance and the admissions process, as well as meet one another before the big day.
The 2019 KWHS Investment Competition global finalists are:
Pegasus – Region 1, China, First Place
Filter Coffee Investments – Region 2, India, First Place
EVA (Eagles Value Added) – Region 3, Brazil, First Place
OG – Region 1, China, Second Place
Scion Capital – Region 2, India, Second Place
Yeti Investors – Region 3, U.S., Second Place
CFuture – Region 1, China, Third Place
OLYMPIANS – Region 2, India, Third Place
Sage Hill – Region 3, U.S., Third Place
DC Capital – Region 3, U.K., KWHS Team Wildcard Pick
Stay tuned for the news of this year's top global asset-management teams. In fact, don't miss any KWHS news, including our plans for next year's investment competition! Sign up today for our biweekly newsletter. #KWHSInvests