KWHS Holds Its Region 2 Investment Competition Finals at India's National Stock Exchange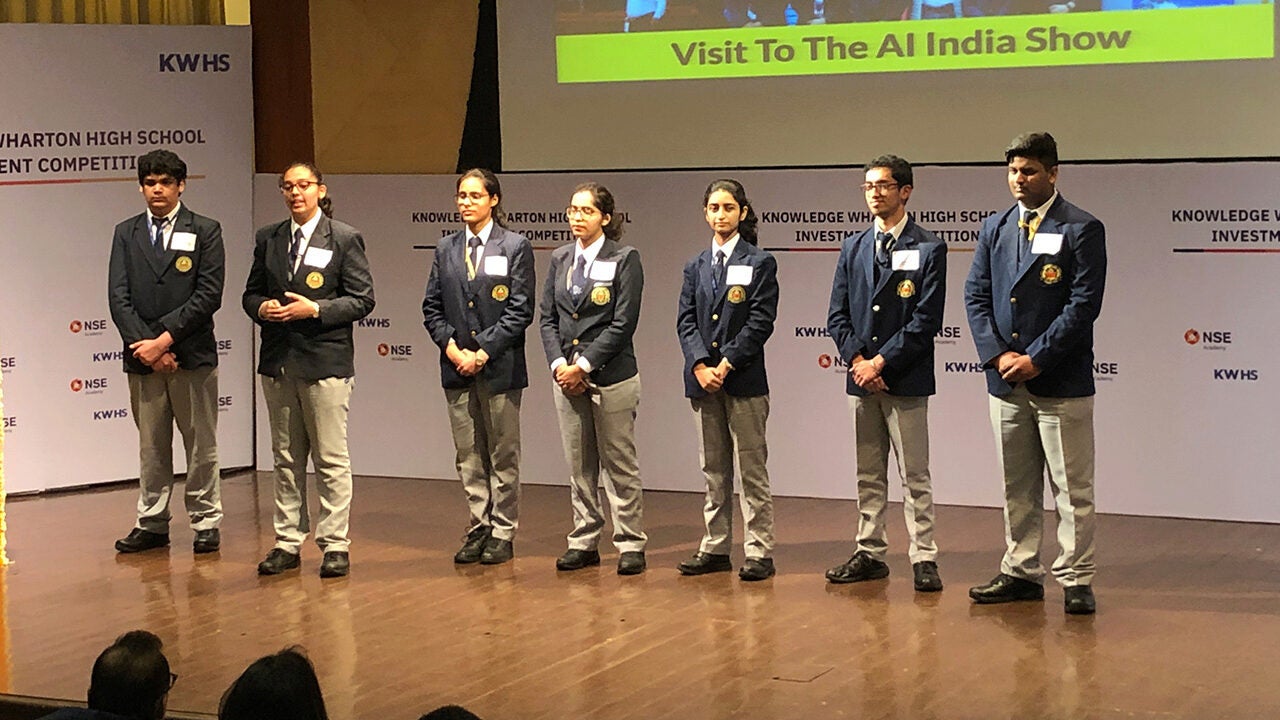 On the morning of Saturday, February 23, 2019, teams of high school students and their advisors streamed into the sunlit atrium of a Mumbai-based financial hub that few outsiders ever access: The National Stock Exchange of India. Many of them gazed in awe at the NSE logos, banners, and monitors delivering news about the financial markets, and they took a moment to visit the vibrant rangoli, a colorful, floor-based design of rich red, blue, green, pink and orange powders, that was created especially for this day. Manvir Singh Rana, a teacher at Amity International School in Noida, India, noted that he has long taught a unit on the NSE to his students, adding: "It's incredible to actually be here."
And so began the fourth-annual KWHS Investment Competition Region 2 Finale, during which the top 12 teams from Region 2 – this year all from India-based high schools — spent a full day at the NSE for a chance to present their team strategies and new investing knowledge to a panel of six professional judges. The judges included: Pankaj Dinodia of Dinodia Capital Advisors, Kisha Gupta of Infosys, Vivek Kulkarni of Brickwork Ratings, Rajat Kumar of ABP Digital, Rajesh Sehgal of Equanimity Investments, and Yatrik Vin of the National Stock Exchange of India Limited. The National Stock Exchange partnered with KWHS to host the event and Brickwork Ratings was an event sponsor, providing financial prizes for the winners. Dr. Biswajit Saha, director (skill education and training) of the Central Board of Secondary Education in India, was the keynote speaker.
The 12 teams each delivered powerful 10-minute strategy pitches, navigating P/E ratios, share prices, SWOT analyses and macroeconomic trends with confidence and conviction. And they all survived a tough five minutes of provocative questions from the judges. Even so, only three teams could be selected to advance to the upcoming KWHS Investment Competition Global Finale at Wharton in Philadelphia on May 4. The winners of this year's Region 2 Finale were:
1st Place: Filter Coffee Investments from Amity International School, Noida
2nd Place: Scion Capital, Jayshree Periwal International School, Jaipur
3rd Place: Olympians, Amity International School, Vashundhra Sector-6, Ghaziabad
As the presentations wrapped up, Dinodia, who along with Kumar and Sehgal has judged the regional competition in India for the past several years, remarked, "What a day! The bar just keeps getting higher and higher."
While all the teams were technically sound, their creative and thoughtful investment strategy themes – and how they expressed them – were often a key differentiator.
Filter Coffee Investments went all the way with its java theme, pouring it throughout the energetic presentation. The pitch? "What is a perfect cup of coffee? A bitter shot of espresso, a frothy cappuccino or a steamy latte? Well, the truth is, there is no one recipe for a perfect cup, as it is a function of different tastes and preferences. Similarly, there is no single portfolio ideal for all individuals." The team created "The Percolator," a software that filters potential investments to present "the best possible options for analysis." The team also incorporated The Magic Cup Model, which identifies under-performing and over-performing stocks, and a COFFEE model of analysis that looked at a company's competitive standing, financial past, ethics and other key factors.
Scion put forth an equally impressive "Swaying Iceberg" model that inspired the team to use machine learning to inform both its long-term and short-term strategies. The team followed up with a comprehensive analysis of the company Under Armour. Scion's extensive research and deep understanding of its client's needs really elevated the effectiveness of its teams strategy.
Olympians, building on potential client Sachin Rekhi's resolution to run a half marathon, focused on "investing in food, fitness and new technologies that enable us to live longer and healthier lives." The team spotlighted Nike as a company that followed its strategy and ideals, and the team took on different Greek god roles to illustrate their individual strengths.
Each of the winning teams took home trophies, as well as $500, $300 and $200 respectively from Brickwork Ratings for their schools.
'I Loved Everything'
The competition marked most teams' first exposure to trading and investing. And while nine of them couldn't claim prizes, many valued the weeks of learning. "Our knowledge regarding investments increased manifold over the course of the competition," said Ketan Kedia, student leader of Mr. Stock's Enterprise, which traveled to Mumbai all the way from D.A.V. Model School in Durgapur, India. "We were the first team to participate from our school. Our school will continue participating in such competitions both to learn and to become experienced. This competition is a torchbearer for entry of financial literacy into our school curriculum. Indian school children are deprived of basic finance education, which adversely affects their decisions in the future." Added his teammate Harsh Agarwal: "Traveling to Mumbai and delivering at NSE is a memory I will cherish throughout my life. I loved everything about it."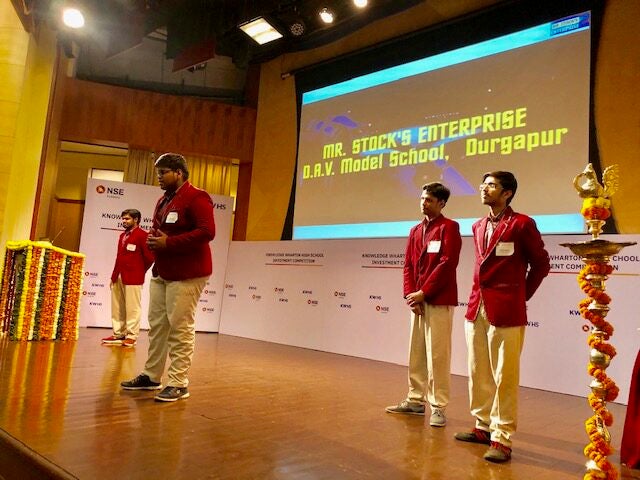 The 2019 KWHS Region 2 Investment Competition represented a first-time partnership between Knowledge@Wharton High School and the National Stock Exchange of India, including the NSE Academy Limited. During the event, Vikram Limaye, CEO of the NSE, said, "NSE has been engaged in promoting financial literacy and financial market courses in the country. A step in this direction is the collaboration with Knowledge@Wharton. Financial education for students is an important tool to improve the financial capability of our youth and our communities. We are confident that our collaboration with Knowledge@Wharton will further strengthen our mutual efforts in financial education."
Serguei Netessine, Wharton's vice dean of global initiatives, echoed those sentiments, saying that Saturday's competition in Mumbai illustrated "what can be achieved when partners collaborate on a shared mission of financial literacy and building skills to empower the next generation of global leaders."
Filter Coffee Investments, Scion Capital and Olympians have already begun to prepare for the KWHS Investment Competition Global Finale at Wharton on May 3 and 4. They will be presenting their strategies to the judges, along with the top three teams from the regional finals in Beijing, China on March 2 and Philadelphia on March 16. Be sure to register with KWHS to get all the results of this year's KWHS Investment Competition – and updates about when it's time to sign up for next year's challenge. For more information, visit the KWHS Investment Competition website.