Teams Pegasus, OG and CFuture Take Top Honors for the Region 1 Finals in Beijing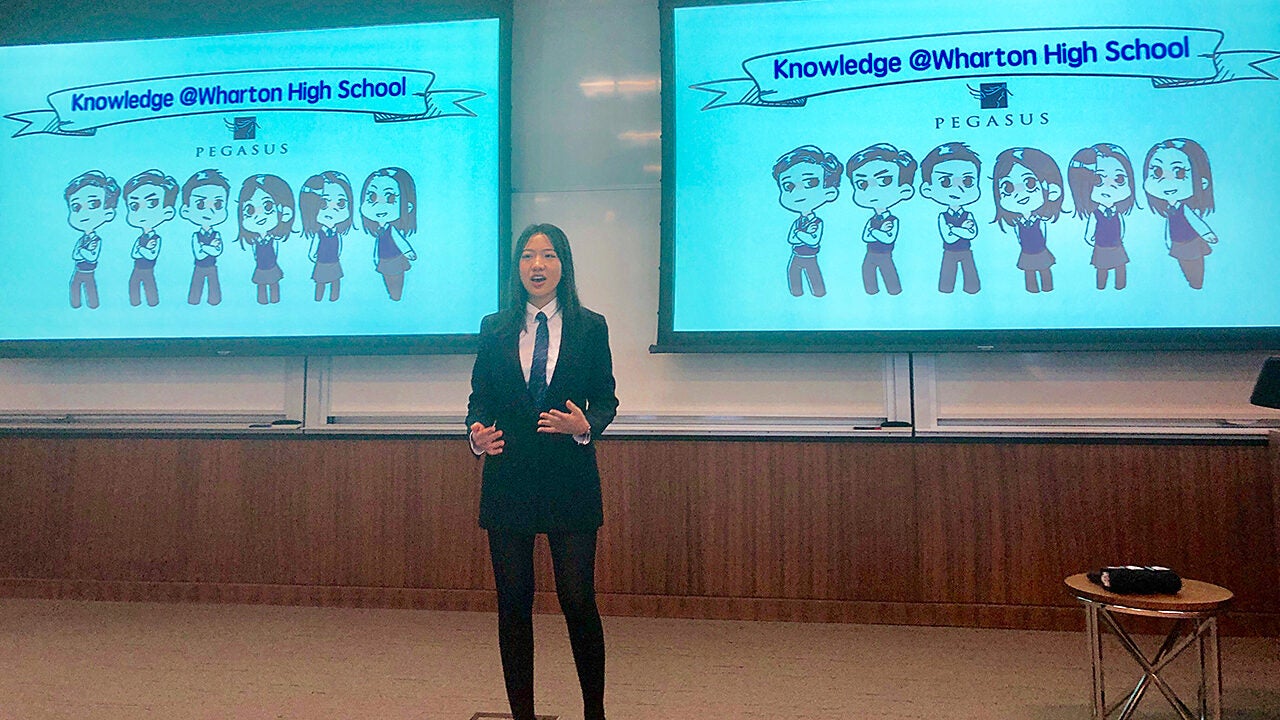 Students arriving at the Penn Wharton China Center in Beijing, China, on the morning of Saturday, March 2, 2019, for the KWHS Investment Competition Region 1 finals, were greeted by a statue of Benjamin Franklin sitting on a bench — a familiar icon to anyone who has visited the Wharton School, University of Pennsylvania campus in Philadelphia, Pa. Franklin, in addition to being a founding father of the U.S., founded Penn in 1755.
These high school students were also familiar with a Ben Franklin quote found on the KWHS Investment Competition website: "An investment in knowledge pays the best interest."
The March 2 event was a living testament to that sentiment. Throughout the day, 12 teams of high school students from Region 1 who had been selected to compete in the semi-finals – primarily from schools in China, and one from Mongolia – presented their compelling investment strategies and demonstrated their new financial knowledge to a panel of industry judges and an audience filled with students, teachers and parents.
David Lin, a teacher from YK Pao School in Shanghai, watched with particular interest as the presentations unfolded. Lin was the mentor and advisor to two finalist teams from YK Pao, Pegasus and YKPS Unicorn. "I am in total agreement with KWHS's mission to spread financial literacy among young people through this Wharton Investment Competition," Lin noted. "It's becoming even more important nowadays for the next generation of the rising wealthy families in China, who are mostly single children, to receive earlier business/financial education to help them preserve and better manage their wealth soon to be inherited in the next decade or so."
The KWHS mission of financial literacy was an unmistakable theme of the day, as students pitched dynamic investment strategies informed by everything from micro and macro economic (interest rate hikes!) and stock market trends, to corporate profits and portfolio values. In the end, however, the judges selected three top teams to proceed to the KWHS Investment Competition Global Finale at Wharton's Philadelphia campus on May 3 and 4. The winners of the Region 1 finals were:
1st Place: Pegasus, YK Pao School, Shanghai, China
2nd Place: OG, The HS Affiliated to Renmin University of China, Beijing, China
3rd Place: CFuture, WHBC of Wuhan Foreign Languages School, Hubei, China
Evaluating the day's presentations were I Chuan Tao, executive general manager of wealth management, China Merchants Bank; Eric Leng, managing partner at Crescendo Capital Management, a hedge fund based in Beijing; and Yanbing Qiu, chief investment officer and board secretary at Hetai Life.
The judges were especially impressed by the logic and data used by the winning teams to support their creative investment strategies, as well as those teams that expressed a charismatic teamwork style that set them apart from the lineup of finalists.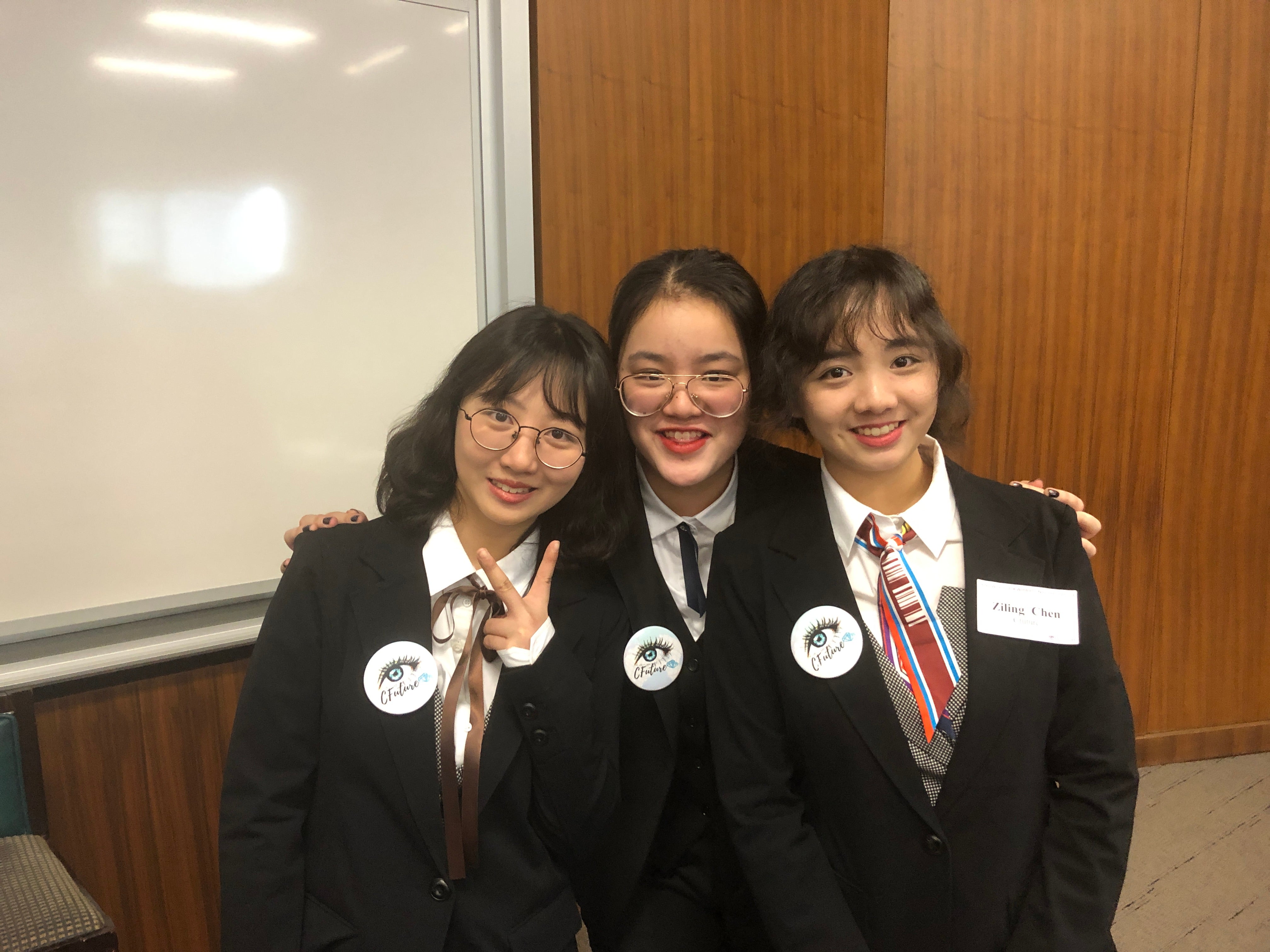 The six-person Pegasus team, for example, incorporated clever animation into its presentation that elevated its creativity scores and added a new dimension to its solid "High Yield ESG [Environmental, Social & Governance] Equity Portfolio Proposal." Judges loved the team's holistic presentation approach, incorporating the technical, analytical and teamwork aspects of their competition journey. The team declared, "As we worked together as a team through all the late nights, weekends, and after-school meetings, we ensured that we met at least eight hours per week. Now that we are at the end of the investment process, we have gained confidence both inside and outside of our class as well as the fulfillment knowing that we have acquired financial knowledge that can serve us for a lifetime."
The seven members of Team OG used both top-down and bottom-up analysis to evaluate investments and risk and develop a tech-focused strategy fitting for tech entrepreneur and potential client, Sachin Rekhi. The team focused on industries with stable growth rates and companies with "good leadership, strong monopoly power, less cyclical earnings, and high ethical standards." OG team leader Hangbo Guo was also a member of last year's Region 1 winning team, RDFZICC.
CFuture delivered an especially energetic presentation as the team's six members detailed a creative "Rock and Roll" investment strategy for short and long-term investments. The team's deep commitment to learning was evident: "Initially, we hardly knew anything about real-world investment," they said. "We started fresh from learning terminology, to investigating industries, analyzing corporation's financial reports and finally designing a portfolio of our own. We are amazed that we successfully analyzed different sectors and companies by using a variety of methods (SWOT analysis, Porter's Five Forces, and all kinds of financial ratios)."
The winning teams were awarded plaques, as well as $500, $300 and $200 USD respectively for their schools, given by generous KWHS Investment Competition award sponsor, Brickwork Ratings. All the teams were also treated to words of wisdom by the day's judges, who urged them to keep working hard and to look to the "humanity" of their financial decisions, not just the numbers. They also reminded students to drill down to the basics through all the many layers of new financial knowledge. "Investment is a very uncertain business," suggested Qiu of Hetai Life. "It's very hard to find the right way to do it. Go back to the fundamentals of risk and return and that will serve you well."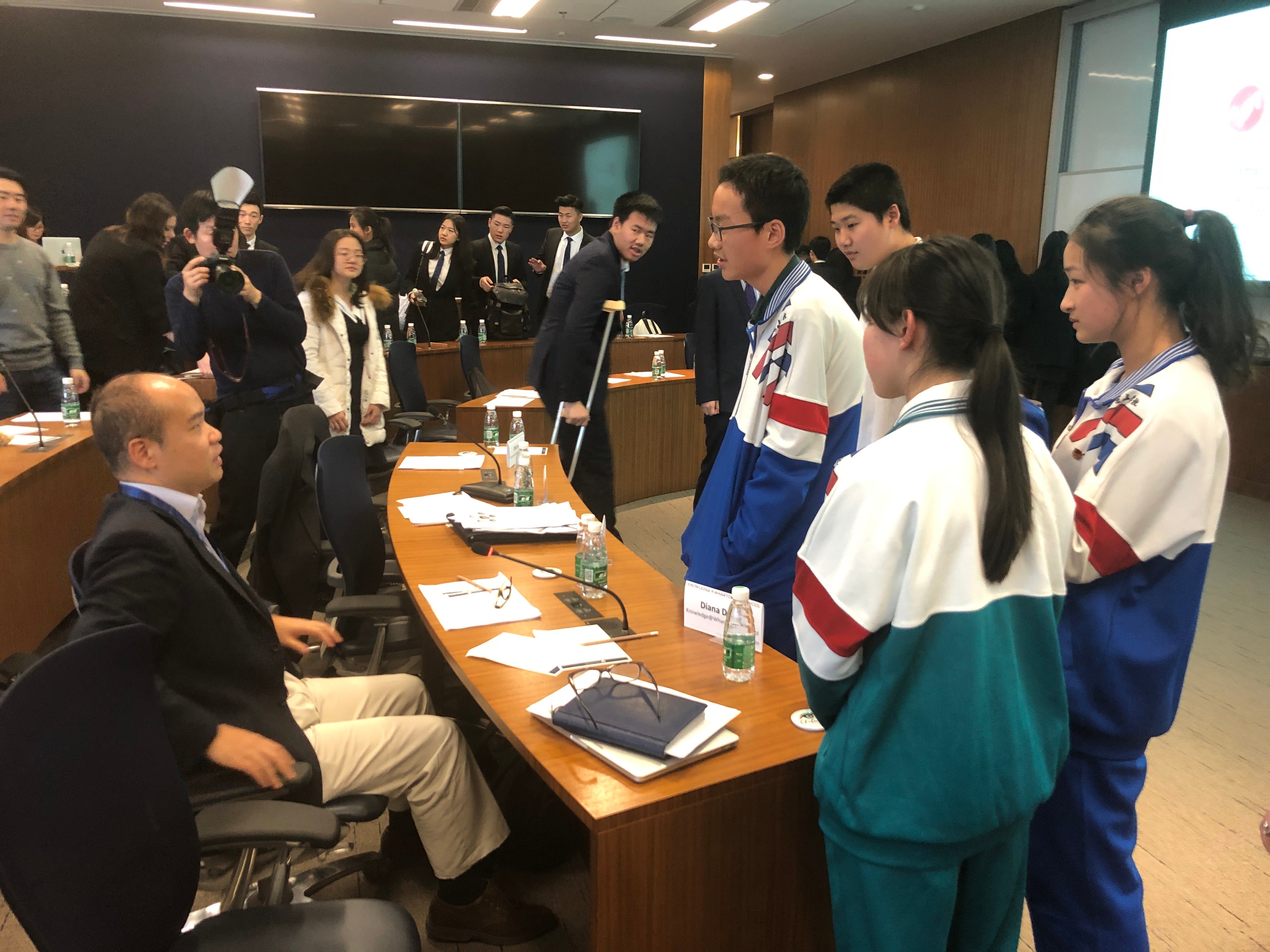 After a busy few weeks traveling the globe, during which the KWHS team also held a dynamic Region 2 investment competition finals at the National Stock Exchange in Mumbai, India, we are now preparing for the third semi-final round to be held this Saturday, March 16, at Wharton in Philadelphia, Pa. With teams from Brazil, Canada, the U.K. and the U.S., it promises to be a powerhouse of financial skills and collaborative creativity. Stay tuned for the results and for a final list of the winning teams that will advance to the KWHS Investment Competition Global Finale at Wharton on May 3 and 4.
Don't miss any KWHS news, including our plans for next year's competition! Sign up today for our biweekly newsletter. #KWHSInvests