A Founding Wharton Educator Advisory Board Member Says Farewell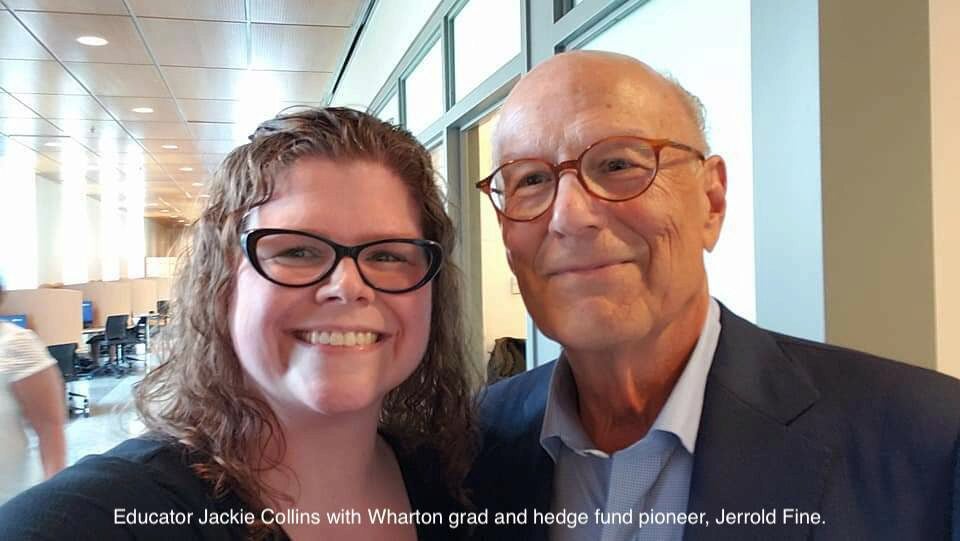 Jacqueline Collins is a National Board Certified business educator at Mansfield High School in Mansfield, MA. She was the 2021 National Business Teacher of the year and has served in many leadership roles at both the state and national levels. Her passions include entrepreneurship, financial literacy, instructional technology, and #geekyshirtFriday.
In this month's Essential Educator blog, Jackie takes a moment to reflect on her three years as a founding member of the Wharton Global Youth Program Educator Advisory Board.
As I walked into the Wharton School's Jon M. Huntsman Hall in July 2019 for the first in-person gathering of the Wharton Global Youth Program Educator Advisory Board, I knew I was about to embark on a special journey. One by one, I met a group of educators like no other. They came from different cities, subject areas, grade levels, and types of educational institutions. We instantly bonded over our love of business education and the desire to do more for our students. Each member of the board had such rich experiences to draw from, sharing examples from their own classrooms and intently listening to each other.
We started to soak it all in. The next few days were filled with a summer session with international high school students, a talk with author Jerrold Fine, a cryptocurrency session led by a Wharton undergrad, and many collaborative activities to chart the course for our team going forward. What did we want our students to learn? How did we want our students to learn it? And how could the Wharton Global Youth Program best provide these services to both educators and students? This would become the focus of the Educator Advisory Board, a new initiative of the Wharton Global Youth Program that, following this in-person meeting, would collaborate monthly on Zoom.
"I'll miss my fellow Wharton Educator Advisory Board members dearly, but know that I am a better educator for having been a part of this amazing group." -Jacqueline Collins, High School Business Educator
Throughout our boards' time together in the past three years, that collegiality and teamwork we established back on campus never faltered. Our monthly meetings became like mini family reunions. Members were happy to see the smiles on the screen at the start of each meeting. We were truly excited to hear about each other's accomplishments, struggles, and implementation of Wharton Global Youth lessons, contests, and programs.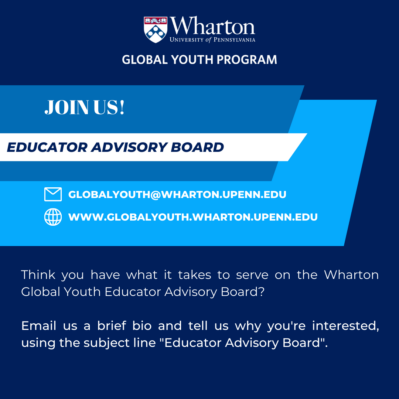 For example, I shared my love for one of Wharton's newer additions to its offerings for high school educators to engage their students – the mini-sites featuring Explore Business speaker panels with alumni of the school. In one of these panels, Wharton Dean Erika James addressed important topics in a series entitled "Race and the Entrepreneur." I reported back to the group on how I initially piloted the lesson and tweaked it going forward as a new lesson in my own Entrepreneurship course.
During our monthly meetings, directors of special initiatives within the Wharton Global Youth Program presented strategic plans on new initiatives and asked our group for our expertise on the implementation within the classroom with students. We had so many great conversations around these initiatives! I marveled at the vast knowledge and experience held by my colleagues. They consistently impressed me with what they were able to accomplish with their students and how they advised the new initiatives introduced to our team. I sometimes worried that I may have taken more from the advisory board than I contributed.
After the May Educator Advisory Board's meeting, the last of the 2022-2023 school year, I was left with a strange feeling of happiness and a twinge of sadness. It was my last. I would be cycling off the board after serving a three-year term as an original member of the team.
To all my fellow educators out there, if you're considering serving on a board or doing work on a small committee, I say go for it! The connections you make and the knowledge you gain are well worth the effort and lost lesson-planning time. It is an opportunity to build relationships with other professionals, learn from them in an intimate setting, and develop your own leadership skills as you become more confident contributing your opinions and ideas regularly to the group.
I'll miss my fellow Wharton Educator Advisory Board members dearly, but know that I am a better educator for having been a part of this amazing group. I don't consider this a goodbye, but more of a "see you later" as I'm sure our paths will cross again in the future. Thank you to Wharton for all you provided me to expand my horizons and challenge me professionally. For that, I am truly grateful.
You may follow Jackie on Twitter at @JCollinsMA.