Western Trade Wins Again — With a Little Help from Amgen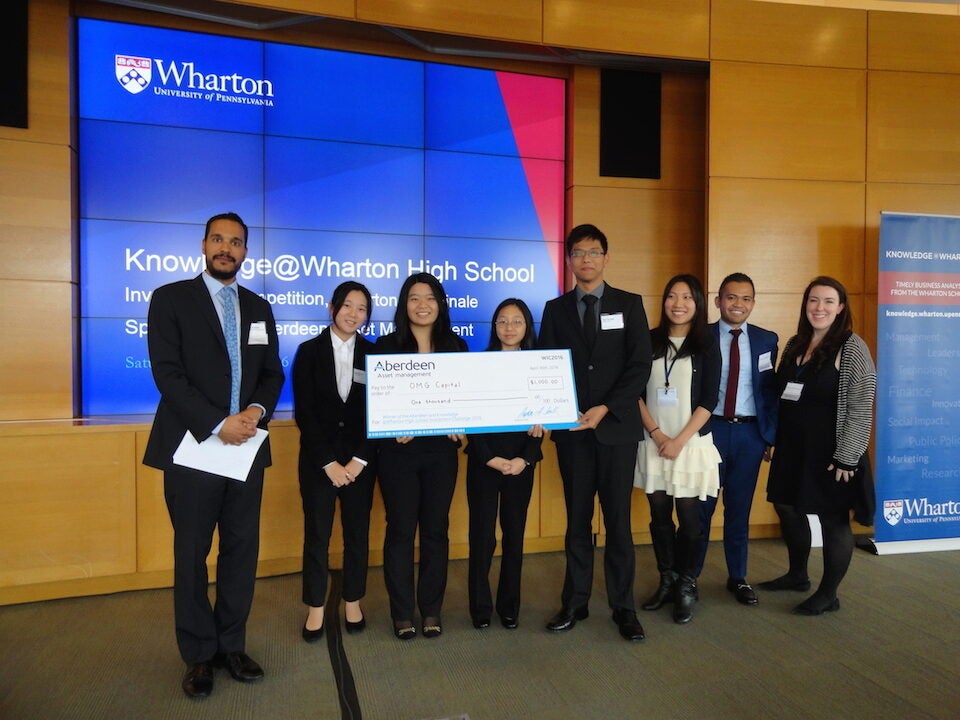 How do you measure the success of financial education for high school students? Get some 80 freshmen, sophomores, juniors and seniors from around the world into a high-tech conference room atop Wharton's Huntsman Hall, and let their financial knowledge and conviction lead the way.
Knowledge@Wharton High School and Aberdeen Asset Management, a global asset management company with U.S. headquarters in Philadelphia, did just that on Saturday, April 30 – also the final day of Financial Literacy Month in the U.S. — during our fourth-annual Investment Competition Wharton Day Finale.
We welcomed more than 130 invited high school students, educators, parents and financial professionals to participate in the presentation, observation and evaluation of the 16 finalist teams from this year's 2015-2016 KWHS Investment Competition, sponsored by Aberdeen. Fifteen student teams competed the day of the Wharton Finale event (and one via conference call during the prior week) by presenting their final investment strategies to a panel of four Aberdeen judges. A total of 13 teams traveled to Wharton to present live, while two teams presented remotely via Skype. Among the live presenters were the top three Indian teams from the KWHS South Asia and Middle East regional competition.
The finalists were selected from a group of more than 200 teams that submitted investment policies in January and March. Those final written policies were the culmination of 10 weeks of learning investing concepts, developing strategies in teams of four to nine students, placing online trades through Wharton's OTIS platform, and thinking critically and creatively.
And without further ado…the results. Defending champs Western Trade, a team of seven students from West Ranch High School in Stevenson Ranch, Calif., won Aberdeen's first-place prize of $1,500. OMG Capital, a team of four students from Moanalua High School in Honolulu, Hawaii, won the second-place prize of $1,000, and The Wolves of D-Street, a team of seven students from Amity International School in Noida, India, won the third-place prize of $500. The Erudite Wits, a team of four students from Amity International School-Pushp Vihar in India, and the Charlottesville Student Investment Group, a group of nine from Charlottesville High School in Virginia, received honorable mentions.
The remaining 11 finalists and presenters were: Fantastic Four from John L. Miller Great Neck High School in Great Neck, N.Y,; Guilderland Hedge Fund from Guilderland High School in Guilderland, N.Y.; Methacton Investments from Methacton High School in Methacton, Pa.; Moorestown Marketology Investment Group from Moorestown High School in Moorestown, N.J.; On Our Way to Wall Street from West Windsor-Plainsboro High School North in Plainsboro, N.J.; Quants from John P. Stevens High School in Edison, N.J.; The Rainmakers from Amity International School-Saket in Saket, India; Stella Rosea Holdings from Dulwich College in Beijing, China; SWOT Team from Bodine High School for International Affairs in Philadelphia, Pa.; Troy Colts from Troy High School in Troy, Mich.; and Wolverines of Wall Street from Westview High School in San Diego, Calif.
"It has been exciting to see the evolution of this competition, which began in early 2012 as a pilot project with a handful of Philadelphia teams, into a truly global experience," says Diana Drake, managing editor of Knowledge@Wharton High School. KWHS started the challenge as an extension of its business and personal finance resources for high school students and educators. "The growth is so much more than the fact that we are now reaching thousands of students through the game," added Drake. "The inspiration comes in what students do with their new financial knowledge. For many, this is their first exposure to investing and the stock market. Ultimately, the deep learning they encounter both inside and outside the classroom helps to inform their investment strategies. We also witness such impressive teamwork and communication skills, and so appreciate the students' stories about the struggles and triumphs with these types of dynamics. From start to finish, this competition is a testament to the value of engaging, hands-on learning – often with high school business and finance teachers guiding the process."
Finalists' investment decisions seldom start and end with only stock prices. Strategy development extends far beyond the numbers game. Take, for example, first-place team Western Trade. In order to better understand their investment in Amgen, a leading biotech company based in Thousand Oaks, Calif., Western Trade students visited the company's headquarters for a tour and information session. Similarly, they met with stock and financial analysts and conducted further primary research through a team-designed survey. Second-place team OMG Capital developed its own IMUA strategy for portfolio development – Investment Model for Uncertain Atmospheres – a word that also means "go forward" in Hawaiian. The team's presentation involved clever humor, including a nod to Federal Reserve interest rates with an image of a Fed chairman Janet "Yellen Yoda." Third-place winners The Wolves of D-Street created The D-Street Chronicle, a monthly newsletter with a mission of spreading financial literacy to their peers and the community.
As has been the trend, KWHS is expecting a bigger and better investment competition in 2017, registration for which will begin at the end of this year. Stay tuned to the KWHS Bulletin for more details, or email kwhscompetition(at)wharton.upenn.edu to participate.