The Rainmakers Top the Teams at the KWHS Investment Competition Finale in India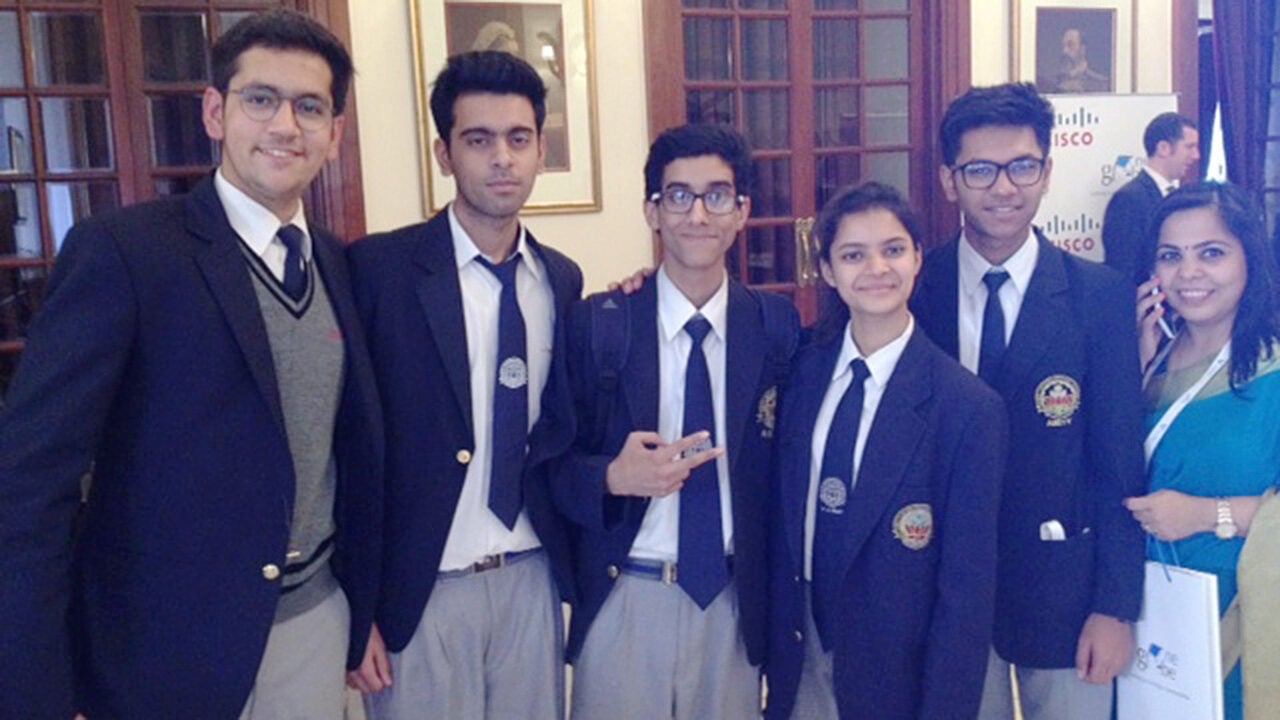 The results are in, and it was an Amity sweep! Three teams from high schools belonging to Amity International, a network of educational institutions located in and around New Delhi, India, won the top prizes during the first annual KWHS Investment Competition South Asia and Middle East Regional Finale on February 6.
Teams taking home trophies were first-place winners The Rainmakers from Amity International School-Saket; second-place winners the Wolves of D-Street from Amity International School, Sector-44 Noida; and third-place winners The Erudite Wits from Amity International School, Pushp Vihar.
The finale event, held on February 6 during the One Globe Conference at the Imperial Hotel, New Delhi, featured 12 finalist student teams presenting their investment strategies to a prestigious panel of judges from Indian finance and academia. The jury included Pankaj Dinodia, CEO of Dinodia Capital Advisors; Rajesh Sehgal, senior executive director of the emerging markets group at Franklin Templeton Investments; Rajat Kumar, vice president of transaction monetization for SnapDeal, one of India's top e-commerce firms; Kanu Priya Sekhri, associate vice president at SOIL, School of Inspired Leadership, in Gurgaon; and Kunal Nandwani, CEO of uTrade Solutions.
In addition to the three winners, the following teams were among the top 12 chosen to compete in last Saturday's finale event: Stock Genius of Amity Global School, Gurgaon; GammaPapa Investments of Neerja Modi School; Stock Sense from St. Kabir Public School; Goenkan Consortium of G.D. Goenka World School; JBP Partners from Cathedral & John Cannon School; Chronos Capital of American International School; Wall Street Wizards of The International School Bangalore; The Indian Investment Inc., also from the International School Bangalore, and the Inveterate Investors, of Dhirubhai Ambani International. All the teams displayed extensive hard work, deep learning from the competition process and impressive presentation and teamwork skills. While eight teams presented their final strategies in person, four teams, including Chronos Capital, Wall Street Wizards, The Indian Investment, Inc., and the Inveterate Investors, presented over Skype.
Following the finale event, judge Kumar said, "To see young minds come up with not only great presentations and discussions, but to think of the hard work and hours of teamwork that would have gone on in the background was honestly humbling! I think I can say on behalf of all the other judges that we were floored by some of the presentations."
The winning teams emerged victorious because they energetically presented comprehensive strategies with an impressive understanding of new investment concepts, and they had full-team participation. In addition, they often took unique approaches to their strategy development and presentation, highlighting customized methods of stock selection and weaving quotes and creativity into their strategy discussions. Many teams also performed well under pressure during the Q&A session with judges that followed their presentations. Judges observed that teamwork – as well as some solid preparation – was fundamental to success in the investment challenge finale. Even so, they added that the journey was much more important than the outcome, in that it was evident that every team deepened its knowledge of business and investing.
The annual One Globe Conference, hosted by Salwan Media Ventures, brings together global thought leaders to discuss how to build a 21st century knowledge economy in India and South Asia. Both Salwan Media Ventures as well as its affiliate, BrainGain Magazine, a study abroad magazine for students, their parents and mid-career professionals in South Asia, were instrumental in organizing and executing the first South Asia regional KWHS Investment Competition finale.
The KWHS Investment Competition is a free, online investment game run by Knowledge@Wharton High School, that encourages high school students to learn and practice investment concepts, while also building a portfolio of stocks using Wharton's OTIS investment simulator. Students, competing in teams of 4 to 9, are ultimately judged on how well they develop and articulate their investment strategies. The Rainmakers, the Wolves of D-Street and The Erudite Wits have been invited to participate in the grand finale of the Global Regions competition on April 30, 2016 at Wharton in Philadelphia, which is sponsored by Aberdeen Asset Management. To find out more about the KWHS Investment Competition, please visit our online resources at https://globalyouth.wharton.upenn.edu/competitions/.